Betrayal and Extreme Revenge
"Call yourself lucky Medea not to get worse than exile."
Jason
Medea is the story of a woman's revenge when betrayal leads to hate replacing the passion of love.  It is of course a crime of passion when she decides to kill her children to hurt their father and hurting herself.  It may have originated in Euripides' version five centuries BC but the eternal triangle still is relevant today.  It is more common to find this crime of infanticide committed by men rather than women but it still happens as an act of revenge on the other parent of the children.   
Medea, here played magnificently by Sophie Okonedo, as a woman with magical powers which she has used to help her husband Jason (Ben Daniels) conquer all kinds of demons is stranded in Corinth.  We first hear her, we don't see her as she wails "Let me die!" downstairs off stage.  Jason her husband has bought her here to Corinth which is ruled by King Creon, some years' before.   Jason's recent plan is to marry Creon's daughter Glauce which will see him adopted as Creon's heir.  Creon knows that Medea will present a threat to his daughter.  
In Dominic Cooke's production, Ben Daniels will play all the men Medea will meet to attempt to secure her future.  Ben Daniels will hauntingly walk in slow motion round Sohoplace's oval stage when he is not involved in a scene.  His pacing forms a compelling, psychological vortex of masculinity.  To become the children's tutor he will pick up a satchel, to become Creon his jacket is like a uniform, as Jason he'll wear a different jacket and as Aegeus, King of Athens  he has a gay persona.  Making all men played by one actor has a powerful message for the central woman Medea.  The other adult actors are Marion Bailey as Medea's children's nurse, and a chorus of the Women of Corinth, Amy Trigg, Jo McInnes and Penny Layden placed among the audience.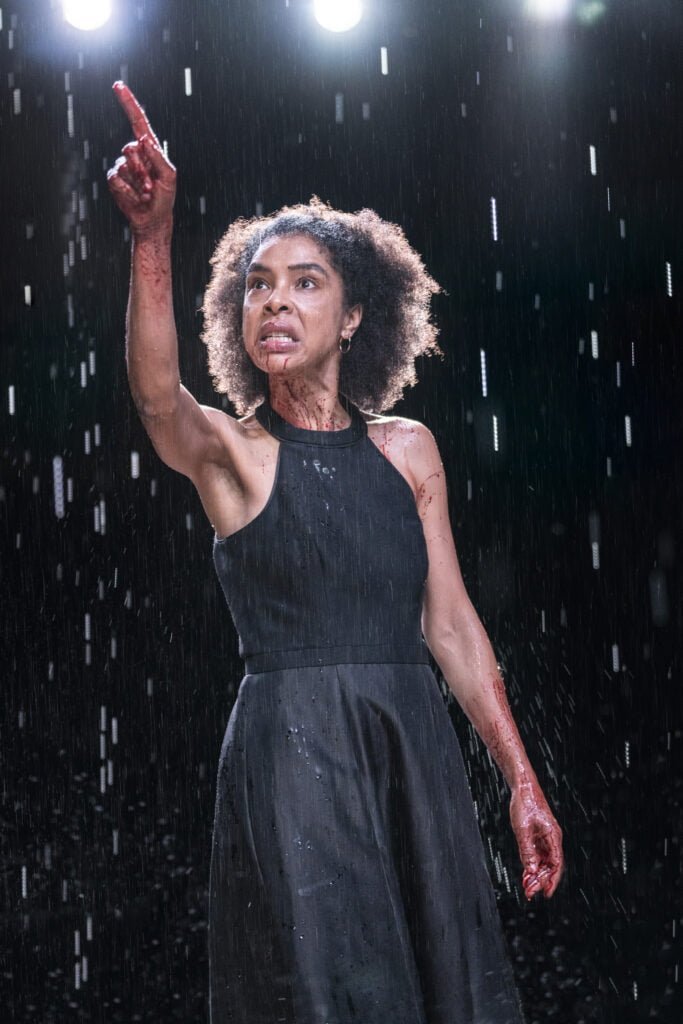 Robinson Jeffers' 1947 adaptation of Euripides' play is poetic and full of stone/flint/granite metaphors.  It is amazing how potent this ancient tragedy is in the twenty first century but of course Dominic Cooke's production has inspiring resonance.  At first Medea seems much wronged against  and Jason's words to her are deeply wounding when, if he cannot see his sons, he cruelly tells her, "I must look forward to younger children." When Creon comes to tell Medea that she is exiled immediately, she begs for time to make preparations and is refused until he relents and grants her one day.
This is a world where men have all the power.  Women are treated badly.  Jason says to the Chorus Women of Corinth, "What business have you here, you women?"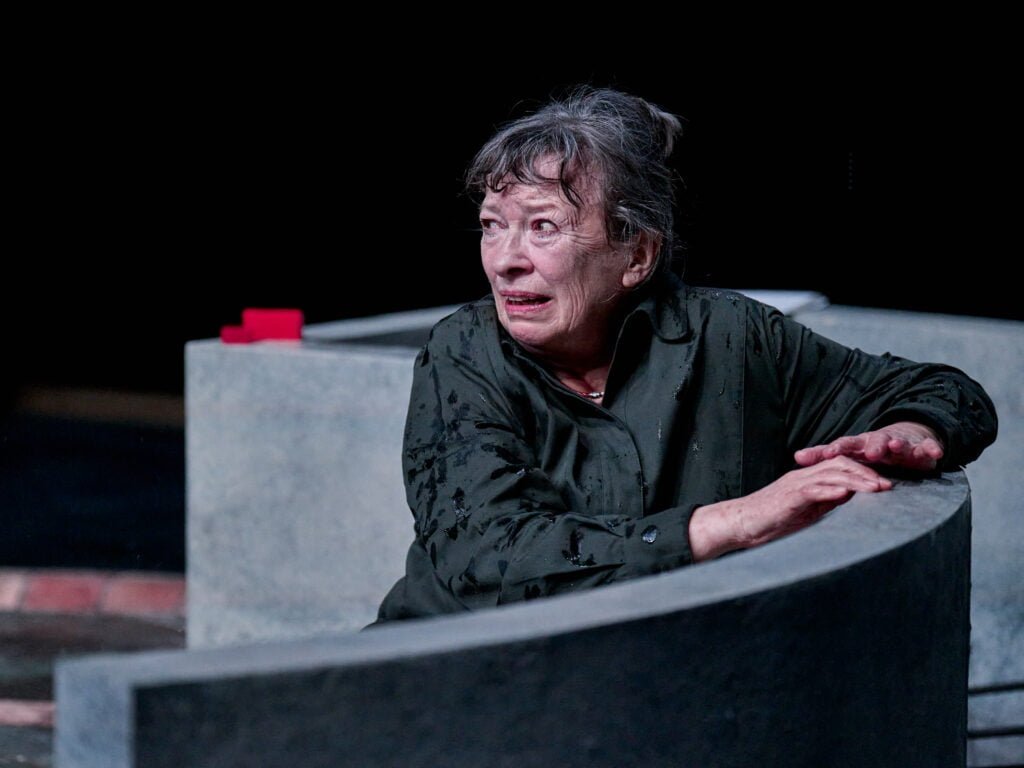 The scene with a gay Atreus is almost light relief as he spills out to Medea his lack of fertility and, if he will offer her shelter in Athens, she agrees to use her sorceress powers to help him have an heir.  We almost feel she has a surrogacy in mind except will she actually go to Athens?   I worry as the children (Oscar Coleman and Eden-River Coleman) are sent to deliver Helios the Sun God's golden gift to Medea, to Jason's bride.  Would they be tempted to try on the coronet?  It is Marion Bailey who brings the harrowing description of the consequences of Medea's revenge frock.  We perhaps have seen the torrential rain finish too often on stage but the acting never fails to climax. 
The performances are nothing short of superb and should make two of the cut off dates for awards this year.  Yes this is a five star production for brilliant direction and performances from Theatrevibe, the site that doesn't do stars.  
Medea
Written by Euripides
Adaptation by Robinson Jeffers
Directed by Dominic Cooke
Cast
Starring:
Sophie Okonedo
Ben Daniels
Marion Bailey
Penny Layden
Amy Trigg
Jo McInnes,
Children:
Ben Connor
Heath Gee-Burrowes
Eiden-River Coleman
Oscar Coleman
Kobe Champion-Norville
Elliott O'Shea
Creatives
Director: Dominic Cooke
Designer: Vicki Mortimer
Lighting Designer: Neil Austin
Sound Designer: Gareth Fry
Information
Running Time: 90 minutes without an interval
Booking to 22nd April 2023
Theatre: 
@sohoplace
4 Soho Place
London W1D 3BG
Tube: Tottenham Court Road
Telephone: 020 384 09611
Access: 0330 3335962
Website: www.sohoplace.org
Reviewed by Lizzie Loveridge
@sohoplace on 17th February 2023