Engaging play about 1940s Tiger Bay
"The first one will put hairs on your chest.  The next one will make the hairs fall out!"
Norman about the strong potcheen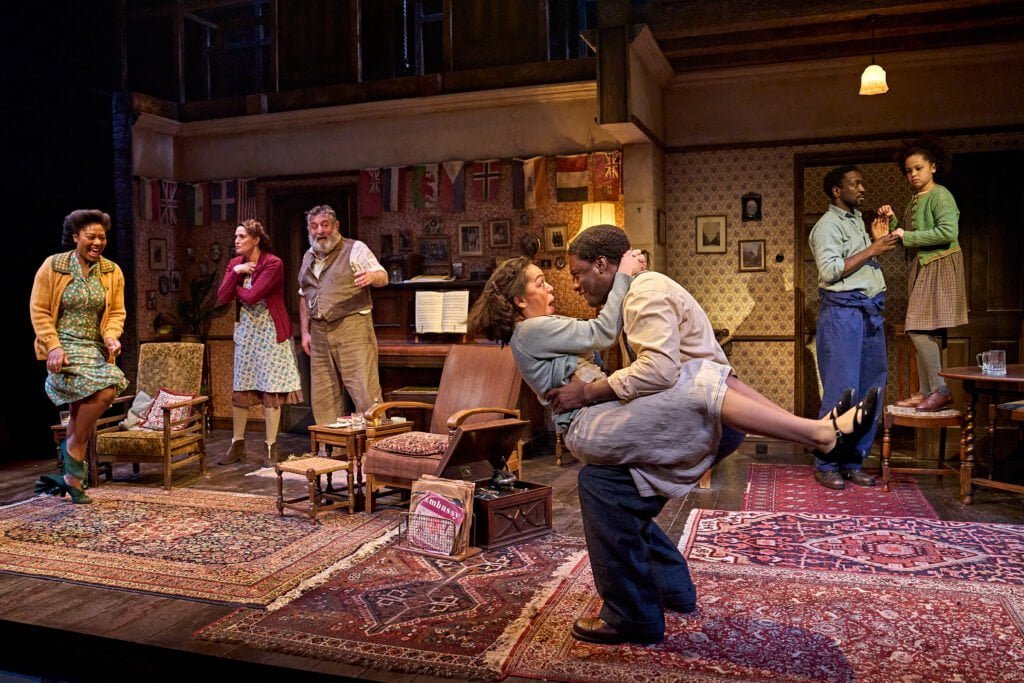 Set in Cardiff at the end of the Second World War Diana Nneka Atuona's second play is not an obvious successor to her multi-award winning play Liberian Girl but it shows how her writing talent can tackle different subjects in different ways.  Still there is her talent for writing great dialogue and in this mixed race family set in multi-ethnic Butetown which with Cardiff Docks, encompassed Tiger Bay, there is plenty of kindness and humour.  
The matriarch is Welsh woman Gwyneth, (Sarah Parish) hard pressed to make ends meet after her Nigerian husband goes missing while serving in the British navy.  She has two daughters, Connie (Rita Bernard-Shaw) in her late teens and Georgina (Rosie Ekenna with a fabulous future in live theatre) a delightful ten year old.  Gwyneth is running her house as a slightly illegal boarding house but I must admit I was unsure in the first few minutes whether Peter McKintosh's detailed set was a hostelry rather than lodgings.  There are flags of many countries on the walls. With so many itinerant sailors staying a few days while their ships are unloaded and cargoes reloaded, there was a need for temporary accommodation. 
Also living there are three merchant seamen, Patsy who is Welsh (Ifan Huw Dafydd), Jamaican Norman (Zephryn Taitte) and Arab, Dullah (Zaqi Ismail). A friend of Connie's, Peggy (Bethan Mary-James) who is black is visiting. Dullah, of whom it is said he is both Islamic and loves alcohol,  is interested in Peggy.  Georgina calls these guests "Uncle". The date is the end of February and the next day will see the opening of the illegal home brew spirit potcheen to celebrate St David's Day.
We know that Tiger Bay has had numerous visiting sailors who have married women there and the resulting society is multicultural.  There would obviously be racism outside and in one speech, Sarah Parish as Gwyneth, gives us a taste of the pain she has gone through with her own mother's rejection of her beautiful mixed race granddaughter.  Gwyneth has not spoken to her mother since Connie was rejected by the grandmother who suggested that she should be placed in an orphanage.  
One journey in the play is for Connie, who wants to leave home and explore the world, but her mother is understandably protective of her.  One evening the youngest daughter Georgina discovers in their garden, Nate (Samuel Adewunmi) an American serviceman on the run from his unit.  He is being pursued by the Welsh police and the American Military police called "Snowdrops" because of their white helmets.  Georgina who is open to adventure befriends him but how will her mother react?  I won't give any more of the plot away except to say that there is a surprising ending which I didn't see coming.
There is a piano and Connie will sing couple of period songs.  The women's clothing and hair is so right for the 1940s and Peter McKintosh's set looks completely authentic. 
Diana Atuona's play has a distinctive warmth of close family and kindness towards others which is refreshing when so much drama is about conflict and division.  This means that you care about the characters and what happens to them. Trouble in Butetown has strong writing, sound performances and great direction from Tinuke Craig who directed Jitney at the Old Vic last year.   The Cardiff docks closed in the 1960s. The two streets that housed the red light district and the brothels have been demolished and are now the site of a Marriott Hotel. 
This play is highly recommended as a portrait of an area which is now changing with gentrification like many dockland towns.
Trouble in Butetown

Written by Diana Nneke Atuona
Directed by Tinuke Craig
Cast
Starring:
Rita Bernard-Shaw
Samuel Adewunmi 
Bethan Mary-James
Ifan Huw Dafydd
Gareth Kennerley
Lisa Zahra
Nathan Nola
Sarah Parish
Zaqi Ismail
Zephryn Taitte
Rosie Ekenna
Kai Antoine
Iman Borono
Elan Davies
Creatives
Director: Tinuke Craig
Designer: Peter McKintosh
Composer: Clement Ishmael
Lighting Designer: Oliver Fenwick
Sound Designer: Emma Laxton
Fight Director: Kev McCurdy
Information
Running Time: Two hours 15 minutes with an interval
Booking to 1st April  2023
Theatre: 
Donmar Warehouse
Earlham Street
Covent Garden
London WC2H 9LX
Tube : Covent Garden
Website: donmarwarehouse.com
Reviewed by Lizzie Loveridge
at the Donmar Warehouse
on 20th February 2023