Gargling with Gravel - Janis Joplin
"Sittin' down by my window,
Honey, lookin' out at the rain.
Lord, Lord, Lord, sittin' down by my window,
Baby, lookin' out at the rain.
Somethin' came along, grabbed a hold of me,
And it felt just like a ball and chain."
Lyric to Ball and Chain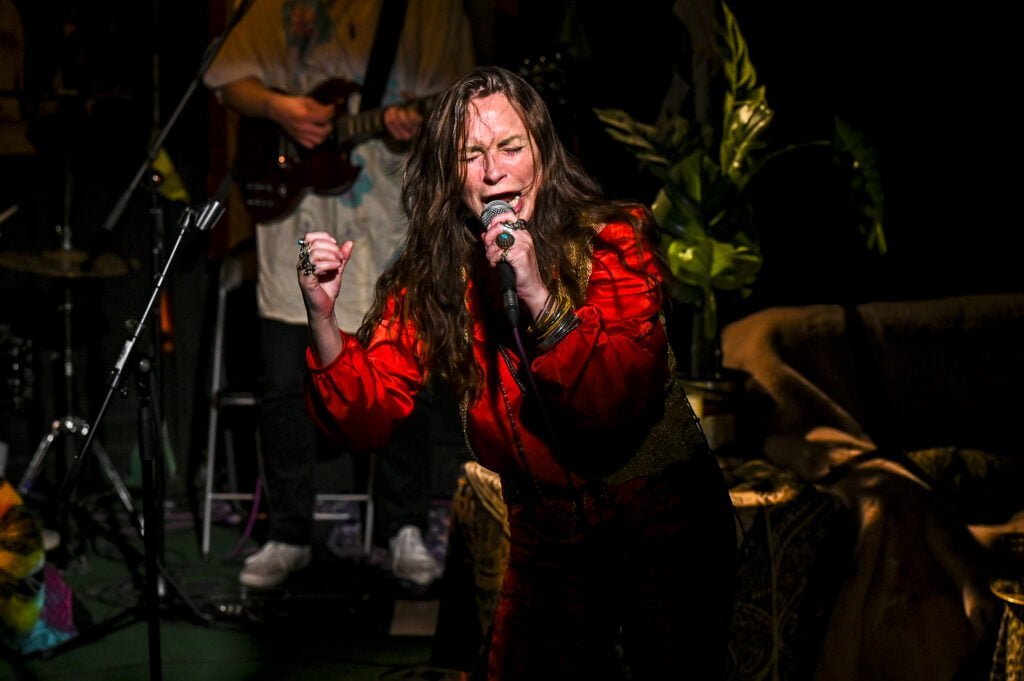 At the Old Red Lion is Tomorrow May Be My Last, Collette Cooper's one woman show about the life and music of Janis Joplin.  She was a part of the 1960s Hippie generation and died in 1970 aged 27 of an accidental heroin overdose.  Her amazing vocals were deep and throaty and Collette Cooper manages her songs very well and excels at Janis' body language and mannerisms, communicating with her audience, drawing them in and hiding behind her wild hair.  
She tells us about her early life.  She was born in Port Arthur Texas, and at high school she was badly bullied.  She wasn't pretty, was overweight as a teenager and had acne.  One of the jocks, Johnny Johnson, who called her "Beat Roots", an allusion to pubic hair, went on to be the coach of the Dallas Cowboys.  One hopes he is ashamed but I suspect not .  In the show she fondles a hessian sack, called a burlap bag and we don't really know why, but its importance lies with the bullying incidents.  She was a little bit weird, liked rock music, the blues associated with African Americans and opposed segregation for which she was called names. We celebrate with her when as an acclaimed rock singer she goes back to perform at the large stadium in Port Arthur and stays at the Chelsea Hotel. 
In 1967 she appeared at the Monterey Pop Festival as the lead singer of Big Brother and the Holding Company an acid psychedelic band from San Francisco.  She is a part of the Haight-Ashbury district of San Francisco's Summer of Love, filmed with rock stars like Jimi Hendrix and Brian Jones.
With backing from a live band TSP of two guitarists and a drummer, Collette Cooper performs some of Janis' hit songs.  The iconic rock number "Take Another Piece of My Heart" stands out and some of the music has been composed by Collette Cooper.  I wanted to hear the "Mercedes Benz" song but maybe there are performing rights issues as this show doesn't have the blessing of the Janis Joplin Estate.  
Collette Cooper brings the full range of emotion to the conflicted rock star which is very moving as we feel her pain.  The tiny theatre has been crammed with all the Hippie ephemera, beads and candles, feathers and floating scarves.  She changes outfits several times in the show recreating her idiosyncratic look.  
I personally wouldn't have missed the standing up and swaying with a neon light stick but many in the audience loved it.  This show is enlightening about Janis Joplin and explains why she was dependent on alcohol and drugs.  I promise you will return home intent on playing her songs with her deep register touching your soul.
Tomorrow May Be My Last 

The Janis Joplin Story
Written by Collette Cooper
Cast
Starring:
Collette Cooper
Band
TSP
Information
Running Time: One hour 30 minutes without an interval
Booking to 5th May 2023
Theatre:  
Old Red Lion Theatre
418 St John St
London EC1V 4NJ
Tube : The Angel
Website: oldredliontheatre.co.uk
Reviewed by Lizzie Loveridge
at the Old Red Lion Theatre
on 2nd March 2023