Sit Com Workshop Finds the Cracks
"You ate something off my shelf in the fridge "
Pam in character
The idiom "Jumping the shark"  explains when a comedy show serves up an out of character stunt to boost audience interest and figures.  It often happens when the comedy is losing popularity and will not succeed. The actual phrase was coined from an episode of Happy Days when the Fonz went waterskiing and jumped over a live shark.  
In an anodyne hotel meeting room in Farnham, Frank (David Schaal) has flown in from Los Angeles to host a weekend seminar on writing situation comedy.  His five students are from different backgrounds: Gavin (Robin Sebastian) is an actor with his emotions written all over his very expressive face; Pam (Sarah Moyle) an unhappy middle aged woman; Dale (Jack Trueman) builder by day and working class lad; the mysterious Morgan (Harry Visinoni) dressed all in black and Amy (Jasmine Armfield) who might have been to a class before.  
The first act is very much setting up the second as they introduce themselves.  One says "I'm a Sagittarius and I like long walks on the beach." As if he's on a dating site.  Frank gives a long monologue with numerous references to famous sit coms.  Pam's story is about how she got locked in the shed.  The course members are sent overnight to prepare a scene for tomorrow which will be after the interval.  Act Two opens with Gavin namedropping famous actors and we cringe.  Pam seems rather cold towards Gavin compared to yesterday.  It is Pam's sit com which gets the best of the laughs and praise from Frank.  Her scenario of flat sharing for the aged is impressive and has great potential.  Pam's Birmingham accent convinces.  Gavin gulps like a frog.  
I'm not surprised to learn that Robin Sebastian has often played Kenneth Williams when I see how he can wrinkle his nose. In one scene I thought he might be in a Roald Dahl film turning into a mouse. He could give classes in facial mime.
A scene from Morgan had science fiction elements which I never warm to but there were inventive props borrowed from the hotel swimming pool. Finally Amy will reveal the real reason she is there which no way did I see coming. I learnt a lot from Frank without feeling lectured to as his tips are woven into the class's input and David Schaal's performance is impressive.
Jumping the Shark is a fun idea and I could see it as a series!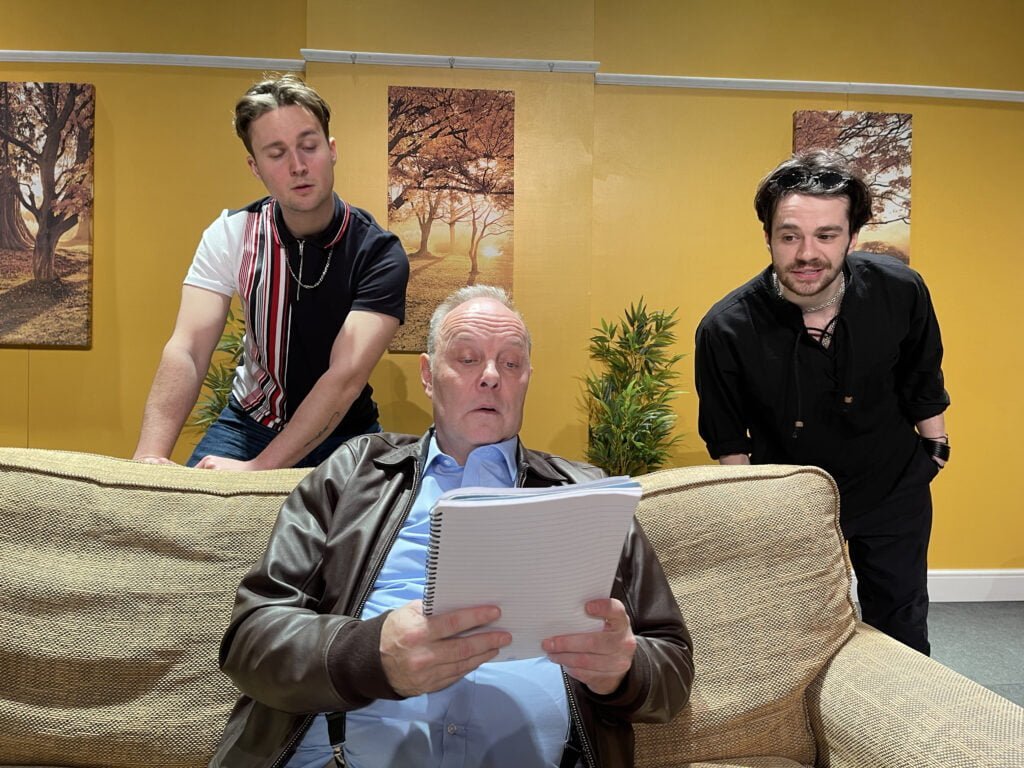 Jumping the Shark

Written by David Cantor and Michael Kingsbury 
Directed by Michael Kingsbury
Cast
Starring:
David Schaal
Harry Visinoni
Sarah Moyle
Jasmine Armfiel
Robin Sebastian
Jack Trueman 
Creatives
Director: Michael Kingsbury
Information
Running Time: Two hours 20 minutes with an interval
Booking to 12th March 2023
Theatre: 
Upstairs at the Gatehouse
Highgate Village
London N6 4BD
Box Office: 020 8340 3488
Website: upstairsatthegatehouse.com
Tube: Highgate
Tue, 14th March 2023 to Sat, 18th March 2023
Mon, 20th March 2023
Tue, 28th March 2023 to
Sat, 1st April 2023
Reviewed by Lizzie Loveridge at the
Upstairs at the Gatehouse on 7th March 2023