Guys and Dolls marches triumphantly to the Bridge
"Of all the high players this country ever sees, there is no doubt but that the guy they call The Sky is the highest. In fact, the reason he is called The Sky is because he goes so high when it comes to betting on any proposition whatever.  He will bet all he has, and nobody can bet any more than this."
The Idyll of Miss Sarah Brown by Damon Runyon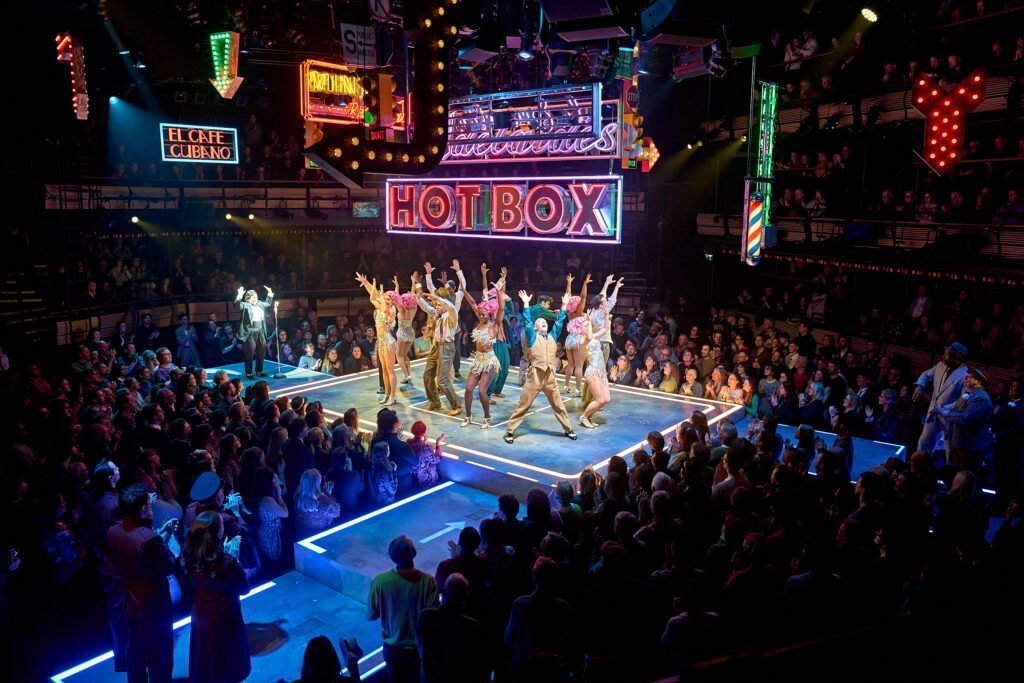 When Damon Runyon wrote that introduction to a short story of just 12 pages, he had no idea that it would be transformed into one of the world's favourite musicals, and still be getting a sparkling new look at one of London's most exciting theatres, 77 years after his death.
Nicholas Hytner has completely redesigned the Bridge Theatre for it. There are two audiences. One audience is seated on four sides of a square looking down on the action, and another audience, experiencing the show in a completely different way, stands in the centre among the actors and is regularly urged out of the way by stage crew dressed as New York police.
I was among those standing, which gave me an insight into the extraordinary technical achievement. We were constantly being moved away from yet another part of the floor, so that it could be raised for the actors to perform on it.
Just raising and lowering different stages inches away from the audience without ever injuring an audience member required military discipline and precision, even without adding the logistical problem of a large cast dancing fast and energetically on small pieces of raised stage. If Britain's rail network could be run by set designer Bunny Christie and choreographers Arlene Phillips and James Cousins, travel might become a pleasure again.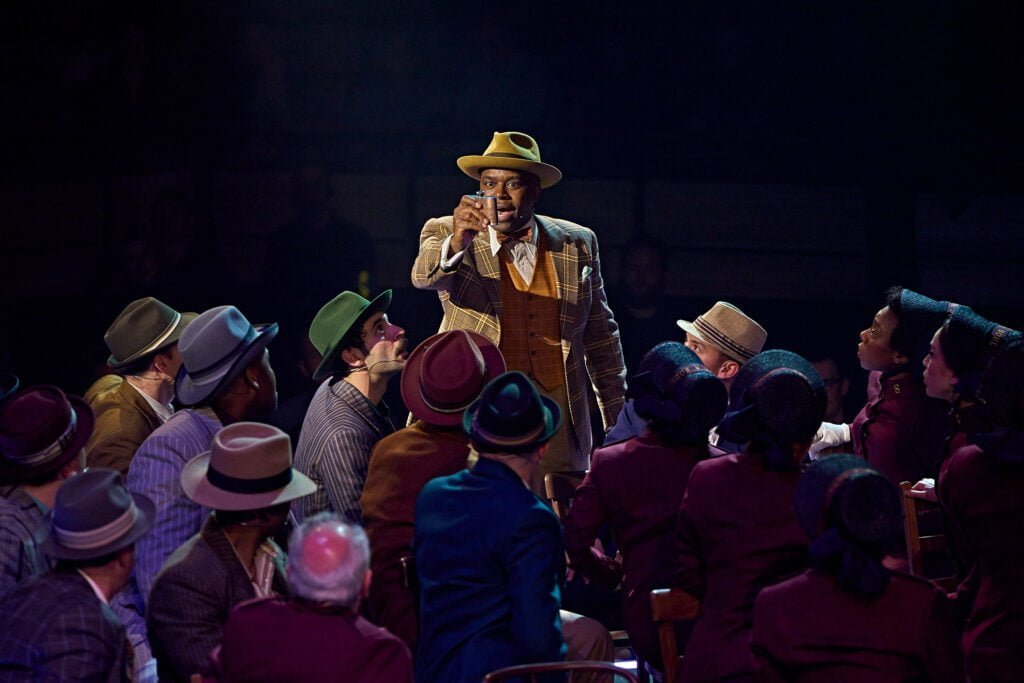 It was brought home to me when I had pushed myself to the front – there's a lot of jostling and manouvering among the groundlings – just in time for a fast dance involving most of the cast. Big Jule, played by Cameron Johnson – a very big man indeed, but light as a cat on his feet – danced past me, his feet a couple of inches from my nose, and it seemed a miracle that he did not come crashing down amongst us.
Wonderful technical achievement it may be, but is it any good? Yes, it's far and away the most enjoyable night I've spent in the theatre for a long time. It's noisy, sexy, raucous and in your face. You don't have to join the party in the centre: you can sit in the galleries and just watch a stunning new production of an old and much loved musical: listen to the songs and enjoy the witty dialogue.

Guys and Dolls has some of the greatest songs every written, and this cast love them and belt them out. "A Bushel and a Peck" is sung in a nightclub by a chorus of young women in skimpy silver outfits, just as it would have been in a sleazy 1950s night club. And the showstopper, "Sit Down, You're Rocking the Boat", is a magnificent medley of noise, led by the tuneful and talented Cedric Neal as Nicely-Nicely Johnson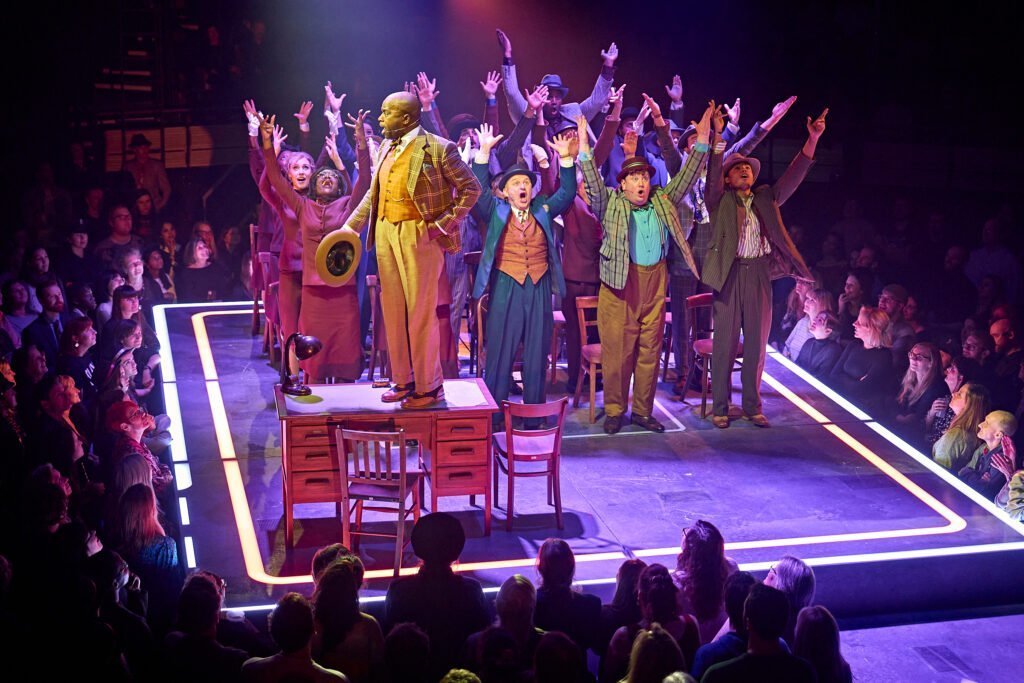 The four principals wisely make no attempt to emulate the performances everyone remembers – Frank Sinatra, Marlon Brando, Jean Simmons, Vivian Blaine. My personal favourite was Celine Schoenmaker's Sarah Brown – the elegant, upright, virginal missionary who has to become drunkenly amorous in about two minutes, courtesy of a couple of Bacardis. It takes an actor of rare skill to make that convincing.
Marisha Wallace's Miss Adelaide was a delight, sadly sniffling while singing about how a person can develop a cold, and drawing new humour from the famous scene in which she tells Nathan Detroit that her mother thinks they have been married for 12 years and have five children.  At one point, from a narrow raised section of the stage, she leaned down to me and sang while inches away from my face, looking into my eyes, and I thought I was in Heaven. 
Andrew Richardson's Sky Masterson, at once wistful good looks and tuneful cynicism, lets the audience into the world of the men who only come alive at night when gambling as he sings "My Time of Day".
If I had to be picky, I wasn't convinced that Daniel Mays's immensely likeable Nathan Detroit could have lived on his wits all those years in the New York underworld, or inspired the sort of passionate love in Miss Adelaide that would induce her to wait 14 years for him. But what the hell? He sings and dances to perfection.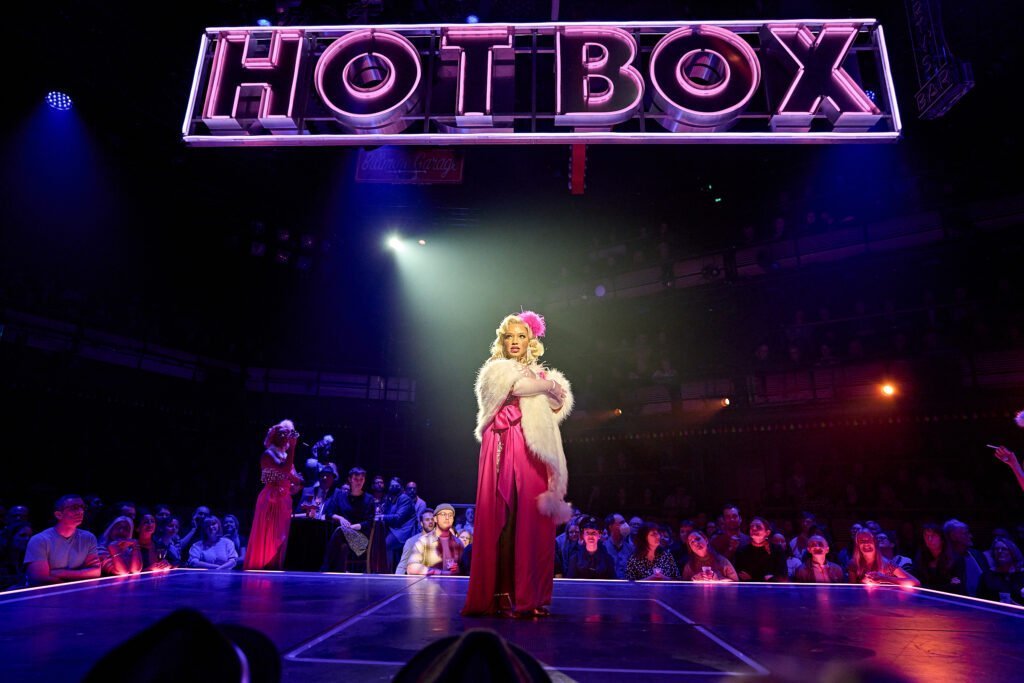 This is much more fun than the revival of Oklahoma now in the West End, which is excellent. In a way, that's an unfair comparison. Oklahoma tried to do something different and significant with the text. Guys and Dolls seeks simply to put a new gloss on an old show.
Except for one scene in Act 2. In the film, when Sky Masterson has persuaded Sarah Brown to let him take her to a bar in Havana, Sky starts dancing flirtatiously with another woman, and Sarah Brown starts a fight with her. Here, it's a gay bar, and Sky is dancing flirtatiously with a man. 
Is this just, as one reviewer suggests, a nod to the gay community? I don't think so. I think there's a good dramatic reason. For me, it emphasized the level of what Sarah would see as sin and depravity to which the mission girl has sunk that night, and attacking the man Sky is dancing with is not just a fit of jealousy, but shock at what is going on. 
If you know the film well, as I do, you'll love this production. And if you have lived in a cave for the last 50 years and you don't know it, you'll love it even more.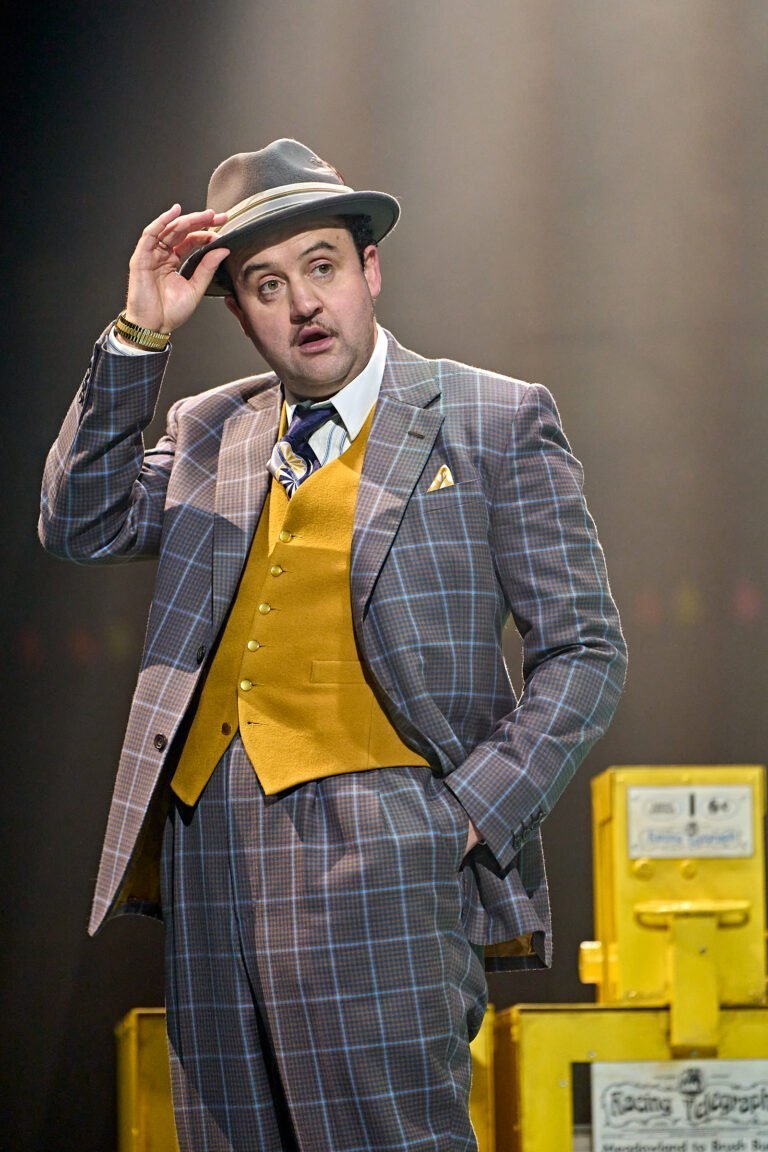 Act One
Opening/Runyonland 
Fugue for Tin Horns 
Follow the Fold
The Oldest Established
I'll Know
A Bushel and a Peck
Adelaide's Lament
Guys and Dolls
Havana
If I Were a Bell
My Time of Day
I've Never Been in Love Before
Act Two
Take Back Your Mink
Adelaide's Second Lament
More I Cannot Wish You
The Crap Game Dance
Luck be a Lady
Sue Me
Sit Down, You're Rockin' The Boat
Follow the Fold (Reprise)
Marry the Man Today
Finale/The Happy Ending
Guys and Dolls (Reprise)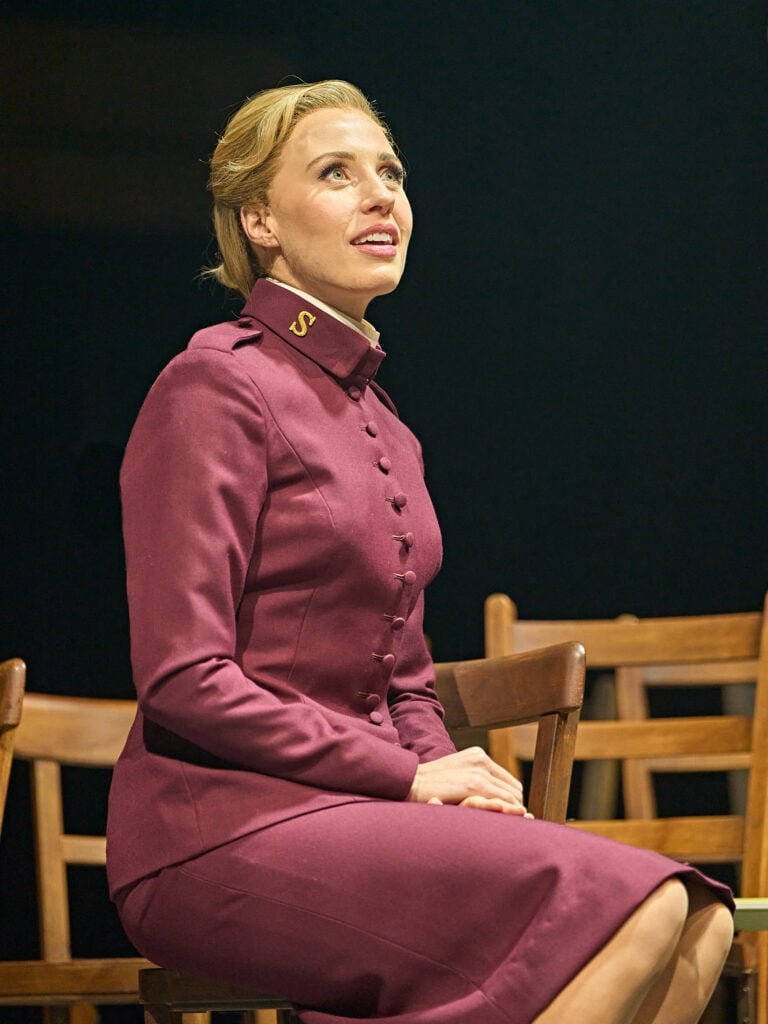 Guys and Dolls
Book by Abe Burrows, Damon Runyon, Jo Swerling
Composer and Lyricist  Frank Loser
Choreographed by Arlene Phillips and James Cousins
Directed by Nicholas Hytner
Cast
Starring:
Daniel Mays
Anthony O'Donnell
Cameron Johnson
Cedric Neal
Celinde Schoenmaker
Katy Secombe
Marisha Wallace
Mark Oxtoby
Andrew Richardson
With:
Simon Anthony
Lydia Bannister
Kathryn Barnes
Callum Bell
Cindy Belliot
Jordan Castle
Cornelius Clarke
Petrelle Dias
Ike Fallon
Leslie Garcia Bowman
George Ioannides
Robbie McMillan
Perry O'Dea
Ryan Pidgen
Charlotte Scott
Tinovimbanashe Sibanda
Isabel Snaas
Sacha Wareham
Dale White
Creatives
Director: Nicholas Hytner

Choreographer: Arlene Phillips and James Cousins
Set Designer: Bunny Christie
Costume Designer: Bunny Christie and Deborah Andrews
Musical Supervisor: Tom Brady
Orchestrator: Charlie Rosen
Lighting Designer:  Paule Constable
Sound Designer: Paul Arditti
Fight Director: Kate Waters
Information
Running Time:
Two hours 40 minutes with an interval
Booking until 24th February 2024

Theatre:
The Bridge Theatre
3 Potters Fields Park
London, SE1 2SG
Phone: 0333 320 0051
Website: The Bridge Theatre
Rail/Tube: London Bridge
Reviewed by Francis Beckett
at the Bridge Theatre
on 15th March 2023