The Remotest Island in the World
"Watch out for the water.  The water is turning. "
Bill
"This is what H'England people do Mill."
Bill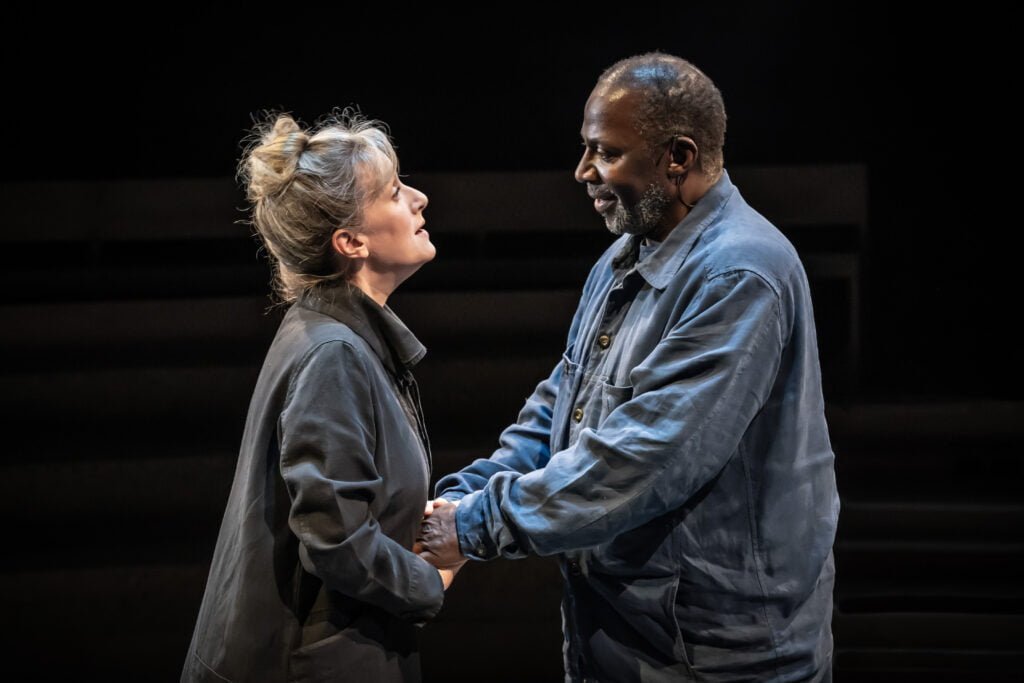 In the middle of the South Atlantic is an island few people had heard off and even fewer had visited until in 1961, the volcano erupted and the residents had to be evacuated to England.  The islands were discovered in 1506 but not occupied permanently until 1816.  Subsistence farming and fishing provide the islanders with food.  It is unique in its wildlife and genetic studies of the residents.  
Zinnie Harris' 1999 play is both fact and fiction, and based on Tristan da Cunha and set in 1961 on the island and in Southampton.  Mill (Jenna Russell) lives with Bill (Cyril Nri).  He works as a farmer and in fishing.  Visiting is Francis Swain (Archie Madekwe) Mill's sisters son who has been working in Cape Town, 1750 miles away and a six day journey by ship.  There is no air strip on the island.  Rebecca (Kirsty Rider) might have been Francis' girlfriend.  
Bringing on the ship with him, Francis has a Cape Town businessman Mr Hansen (Gerald Kyd) who has designs on developing a crawfish factory on the island.  The islanders are quite resistant to this change except for Francis who has been promised a job in management.  
All changes when the volcano starts to show signs of eruption and the islanders fear their homes will be submerged.  Bill has noticed signs in the ocean of a change in the water. The decision is taken to leave and they are shipped to Southampton in England where they are given temporary accommodation and jobs in Mr Hansen's factory which makes glass jars.  
Jennifer Tang directs Further than the Furthest Thing in the round with the Young Vic auditorium reconfigured.  There is unfortunate interference with the sight lines with a speaking actor's back seen whilst he stands in front of the actor he is addressing in the first 45 minutes.  All is solved with the later use of the revolve but I had already missed Mr Hansen's speech reactions and his magic tricks.
Jenna Russell has studied the peculiarities of speech in the islands and she delivers an accent with some Scots intonation.  Curiously the islanders do not drop their 'h's like the Cockneys but add an 'h' before words starting with a vowel, particularly an 'e'.  To celebrate Francis' return Mill has collected some "pingwin h'eggs" a gastronomic treat on Tristan da Cunha. 
There are wonderful swirling ocean projections from Ian William Galloway and a live vocalist (Shapla Salique) with music and lighting adding to the mystical atmosphere of this remote place.  The volcanic eruption is lit red and powerful.
The second act is the relative cold modernity of the glass jar factory in Southampton.  The women wear pale pink aprons and Bill wears a coverall.  Francis is suited as the manager.  The women discuss how much they dislike H'England and the makeshift housing.  They have no immunity to flu and colds and they want to go home.   
The performances are all believable and it is interesting to see Jenna Russell in a straight role and how good she is.  This is the kind of play with a slow burn as you start to imagine life on this special isolated island and how much they miss it.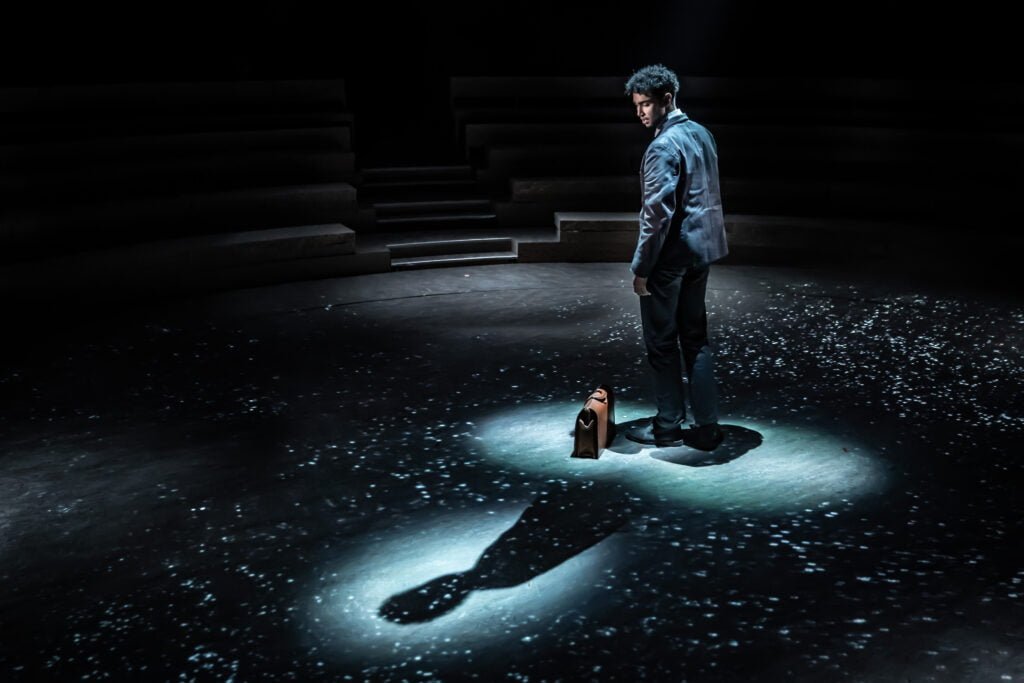 Further than the Furthest Thing

Written by Zinnie Harris
Directed by Jennifer Tang
Cast
Starring:
Jenna Russell
Archie Madekwe
Cyril Nri
Gerald Kyd
Kirsty Rider
Shapla Salique
Creatives
Director: Jennifer Tang
Designer: Soutra Gilmour
Lighting Designer: Prema Mehta
Sound Designer: George Dennis
Video Designer: Ian William Galloway
Composer: Ruth Chan
Illusions Designer: John Bulleid
Musical Director: Michael Henry
Movement Director: Ingrid Mackinnon
Information
Running Time: Two hours 35 minutes with an interval
Booking to 29th April 2023
Theatre: 
Young Vic
66 The Cut
Waterloo
London SE1 8LZ
Tube/Rail : Waterloo/Southwark
Telephone: 020 7922 2922
Website: youngvic.org
Reviewed by Lizzie Loveridge
at the Young Vic
on 17th March 2023