The Bliss Family plays "Get the Guests!"
"One always plays up to Mother in this house; it's a sort of unwritten law. "
Sorel
"People really do behave in the most extraordinary manner these days."
David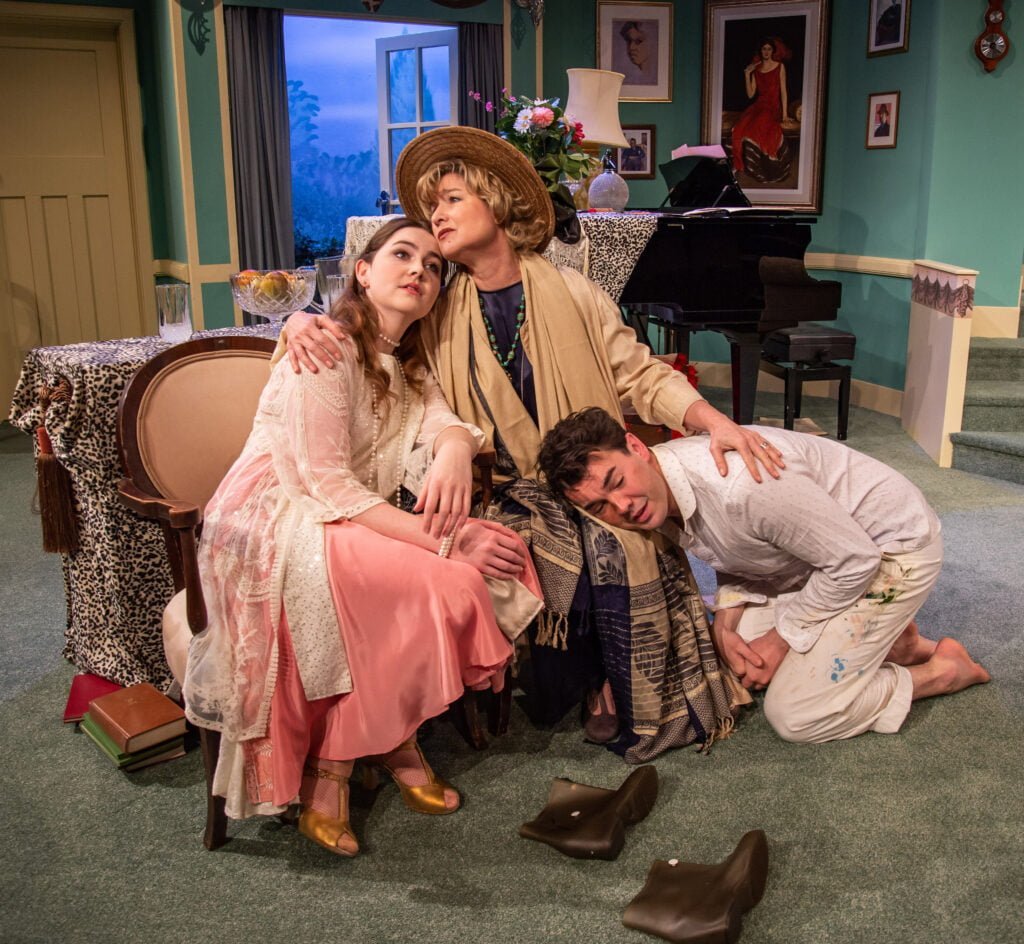 Noël Coward's 1924 comedy Hay Fever was written in three days and is about a country house weekend with the Bohemian Bliss family. When the National Theatre revived Hay Fever in 1964 with theatrical dames Edith Evans and Maggie Smith and theatrical knights Derek Jacobi and Robert Stephens, Coward is reported to have said "I am thrilled and flattered and frankly a little flabbergasted that the National Theatre (at the Old Vic) should have had the curious perceptiveness to choose a very early play of mine and to give it a cast that could play the Albanian telephone directory." 
Michael Holt's beautiful drawing room set has a grand piano and period furniture.  The French windows overlook the river somewhere in Cookham, Berkshire the real life home of unconventional artist Stanley Spencer. This is where retired actress Judith Bliss (Issy van Randwyck) lives with her writer husband, David (Nick Waring) and their two overdramatic children in their twenties, Simon (William Pennington) and Sorel (Emily Panes). Each family member, with the intention of forming a mock dalliance, has asked a guest for the weekend and promised them the Japanese room.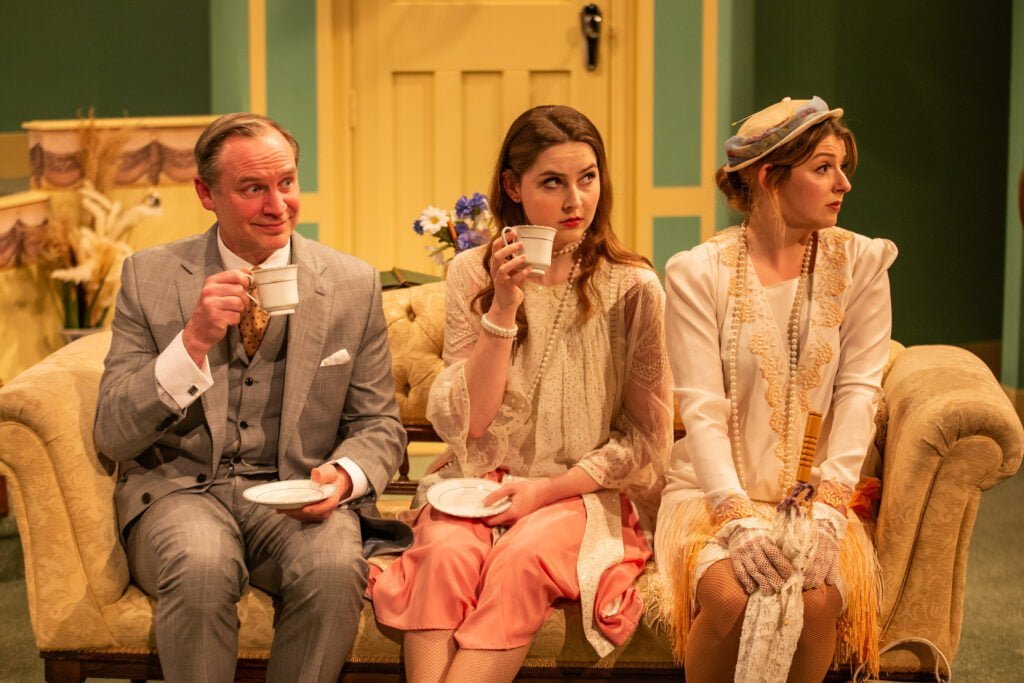 Simon's guest Myra Arundel (Aretha Ayeh) is a flapper and femme fatale, "she uses sex like a sort of shrimping net" presumably to see who she might catch! Sorel's guest is the stuff shirt diplomatist (a word we no longer use)  Richard Greatham (Darrell Brockis). Judith has asked her acolyte, the dashing Sandy Tyrell (Daniel Fraser) and David's guest is a shy secretary Jackie Coryton (Beth Lilly) to help him with his writing.  One of Coward's stock characters, the working class, mildly stroppy maid housekeeper, Clara (Joanna Brookes) completes the cast.
Coward's play is partly farce and part comedy of bad behaviour as the Bliss family pay more attention to each others' needs than their guests, forcing the guests to themselves repay the lack of hospitality.  Issy van Randwyck is in her element as Judith, the glamorous mother with designer hats who should never have left the stage and is still using her dramatic talent to bring some excitement to her life in the country.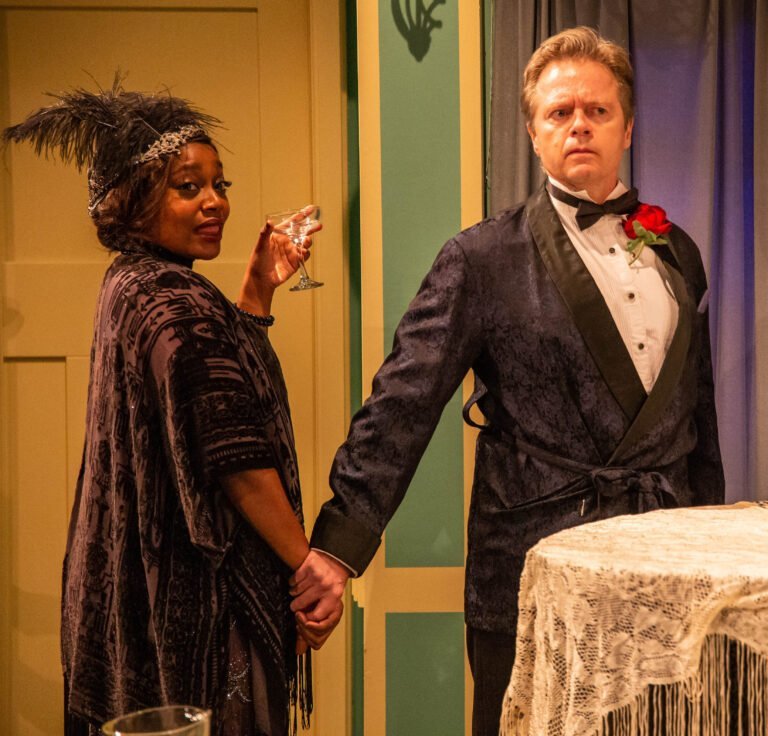 There is all kind of significant guest swapping as dalliances shift. A game of adjectives completely befuddles Jackie who is out of her depth socially and she is almost ignored by David Bliss. We do however get to hear Issy von Randwick's lovely singing voice. She was a member of Fascinating Aida. An argument about whether the Rue St Honoré joins the Place de la Concorde needs a map to settle it. Oh the days before the Internet!
The costumes and hats (by Natalie Titchener) and hairstyles are period bliss to die for and some of the furniture is showing better days as the Bliss affluence is fading.
Hay Fever is not the height of Coward's play writing, written so fast at the age of 24, but a gentle comedy and perfect entertainment for an evening at the delightful dining theatre, the Mill at Sonning with its spectacular, one of a kind, indoor watermill. The next production is the much anticipated musical Gypsy!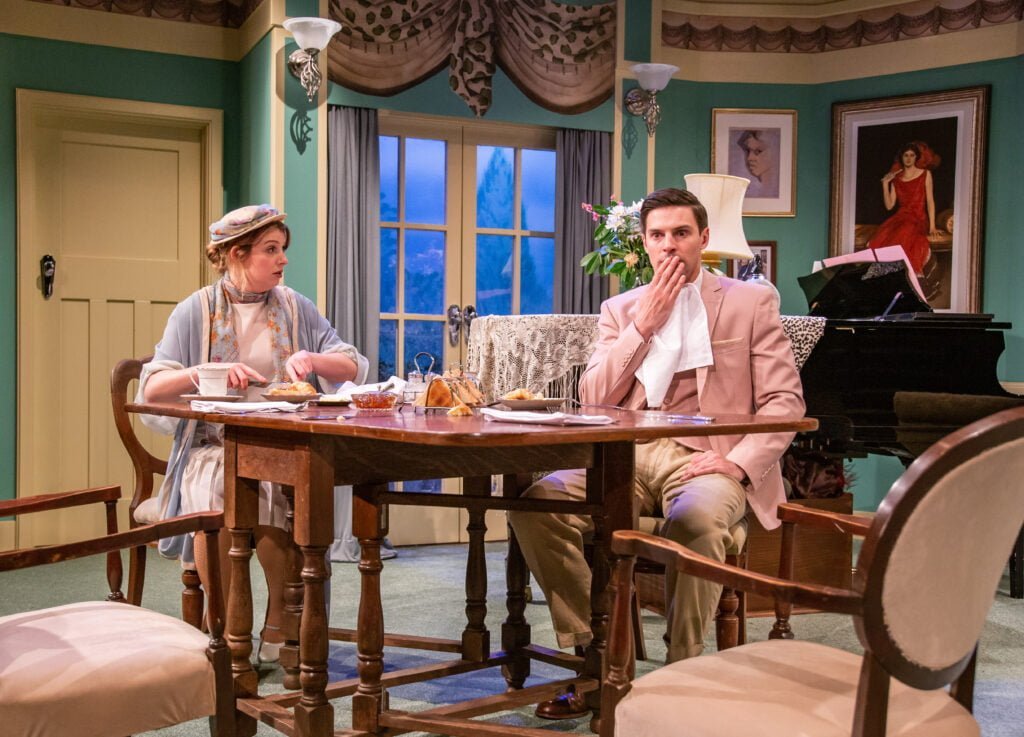 Hay Fever

Written by Noël Coward
Directed by Tam Williams
Cast
Starring:
Aretha Ayeh
Darrell Brocks
Joanna Brookes
Daniel Fraser
Beth Lilly
Emily Panes
William Pennington
Issy van Randwyck
Nick Waring
Creatives
Director: Tam Williams
Set Designer: Michael Holt
Costume Designer: Natalie Titchener
Lighting Designer: Matthew Bliss
Musical Director: Emily Panes
Sound Director: Graham Weymouth
Information
Running Time: Two hours minutes with an interval
Booking to 9th May 2023
Theatre: 
The Mill at Sonning Theatre 
Sonning Eye
Reading
RG4 6TY 
Website: millatsonning.com
Box Office: (0118) 969 8000
Reviewed by Lizzie Loveridge
at the Mill at Sonning
on 24th Marchy 2023