Family Battlefield of Toxic Secrets
"I am not a racist.  I subscribe to the Guardian."
Ted
I consider Worth to be one of the nastiest plays I have seen recently. Based in an Anglo Chinese family after the death of their mother, four siblings assemble for her funeral and to divide her inheritance. They are Jacob (Arthur Lee) recently released from prison, Penny (Jennifer Lim) who is Anthony (Leo Buckley)'s mother, Ted a dentist (Stephen Hoo) and the youngest of the siblings, Dr Rev May Wang (Sara Chia-Jewell). They have not seen each other for eighteen years as May lives in America and Jacob has been detained at Her Majesty's Pleasure. A portrait of the inscrutable mother/grandmother hangs over them on the wall.
The very short first act of a half hour or less has much to laugh at, jokes where the relatives deprecate one another but, after time, the complete lack of empathy felt for any of the characters started to weigh with me. Jacob's riff is to persistently call his nephew Anthony by another male name starting with A, a bit of a comic cliché these days.
I liked the opening scene with its lighting coup and the five characters falling backwards in slow motion as if they were being sucked into a sink hole but at every time lapse, this device becomes a tad tiresome. Anthony is very rude to his mother and she never seems to complain about it. We suspect this is deference to the male sex, even towards her own son. The other relatives though complain about Anthony's behaviour and urge Penny to discipline him.
The tensions of this family gathering take moments to rise to the surface, but at the mention of money everything is heightened. Ted the affluent dentist in his checked suit delivers the bad news that their mother had £44 and some pennies in her bank accounts and that they are due £11 each. The paucity of this revelation causes upset all round with Ted and Penny talking about how much money they had given their mother over the years.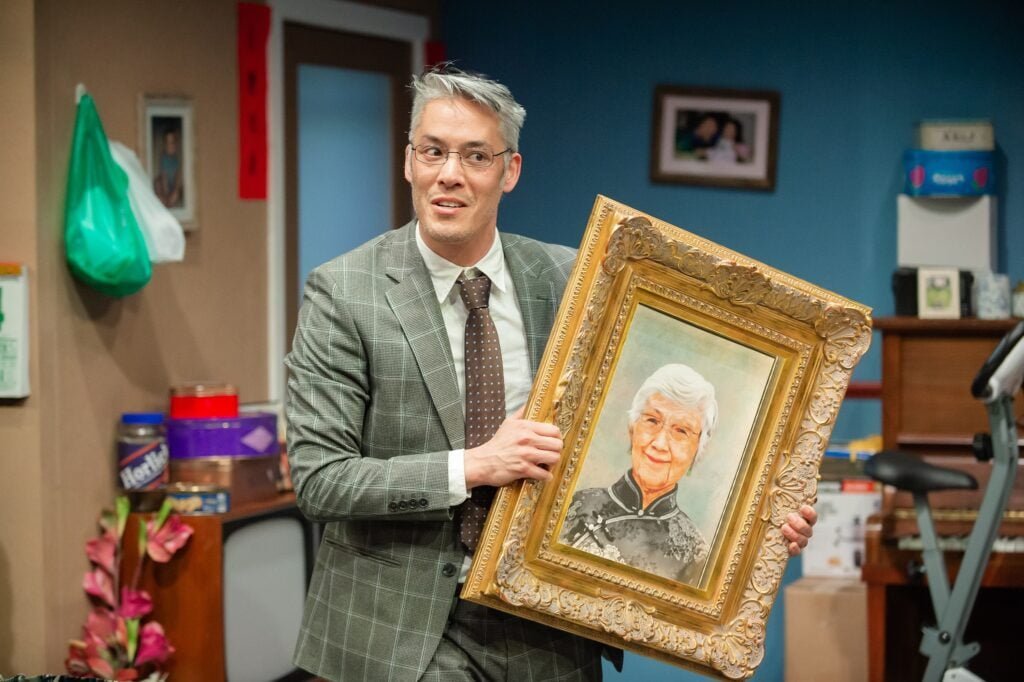 Jacob is undoubtedly the most vitriolic of the siblings with his designer suit and ostentatious gold necklace and he is the greediest.  They come to realise that their mother has hidden away in the house the thousands of pounds she has has amassed over the years.  They start to search the house after the interval under time pressure because the bank has not been paid and her endowment mortgage is meaning repossession is imminent.  Moi Tran's set has cupboards and old biscuit and chocolate tins everywhere.  
There is sibling resentment in excess.  They all resent the baby of the family May, well maybe not Penny who seems a non personality.  Jacob detests the other three because he was sent out to earn to support the education of the others.  Ted feels that he achieved professional success whereas Jacob did not and Jacob torments him with cruel and bullying childhood memories.  Jacob's income was through selling drugs.  "Crack!" says Ted, "No, Meth!" retorts Jacob as if claiming higher social status.  
There is method in the mother's legacy as they surmise she would have hidden money in the house to do with their memories of her.  Jacob makes the first discovery upstairs and tries to pocket it.  The revelation of the mother's notebook written in Cantonese has some truly terrible memories of her life before emigrating to England which Ted finds deeply traumatic.  
The finale is a total disintegration of any family relationships.  Is this meant to be a cruel comedy or something else.  I don't know.  I just know I don't want to see anything like it again!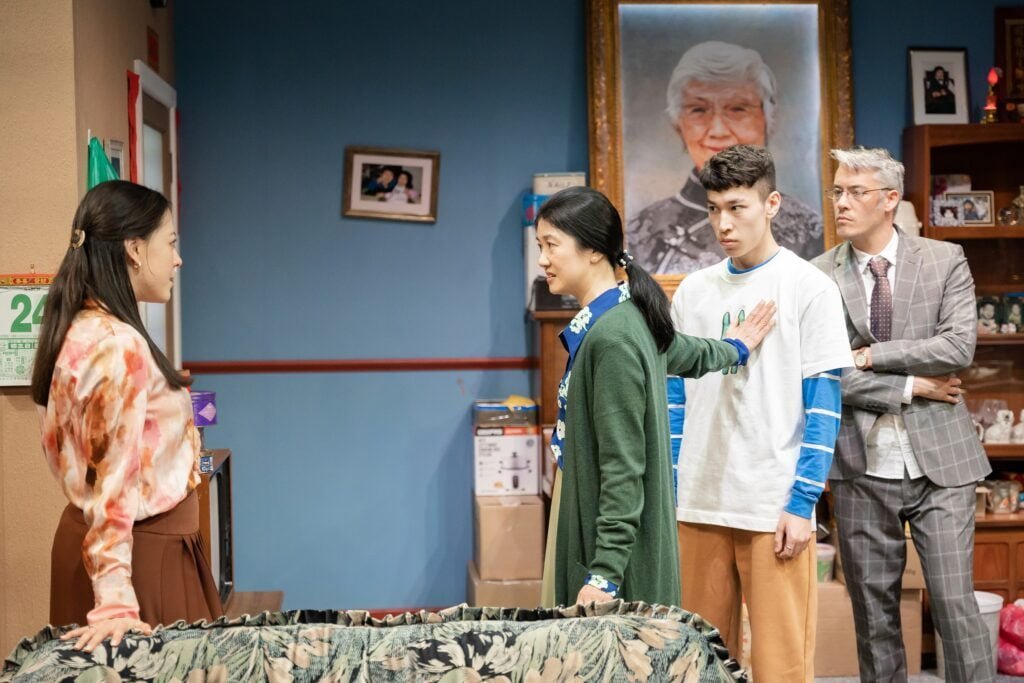 Worth
Written by Joanne Lau
Directed by Mingyu Lin
Cast
Starring:
Arthur Lee
Jennifer Lim
Stephen Hoo
Leo Buckley
Sara Chia-Jewell
Creatives
Director: Mangy Lin
Designer:  Moi Tran
Sound Designer and Composer:  
Nicola T Chang
Movement Design:
Iskander R Sharazuddin
Lighting Designer: Jai Morjaria
Fight Director: Alexandra Kataigida 
Information
Running Time: One hour 50 minutes including the interval
Theatre: 
Arcola Theatre
24 Ashwin Street
London E8 3DL
Box Office: 020 7503 1646
Website: arcolatheatre.com
Reviewed by Lizzie Loveridge
at the Arcola Theatre 
on 12th April 2023