Passion, Conflict and Wit
"It doesn't suit women to be promiscuous."
Elyot

"It doesn't suit men for women to be promiscuous!"
Amanda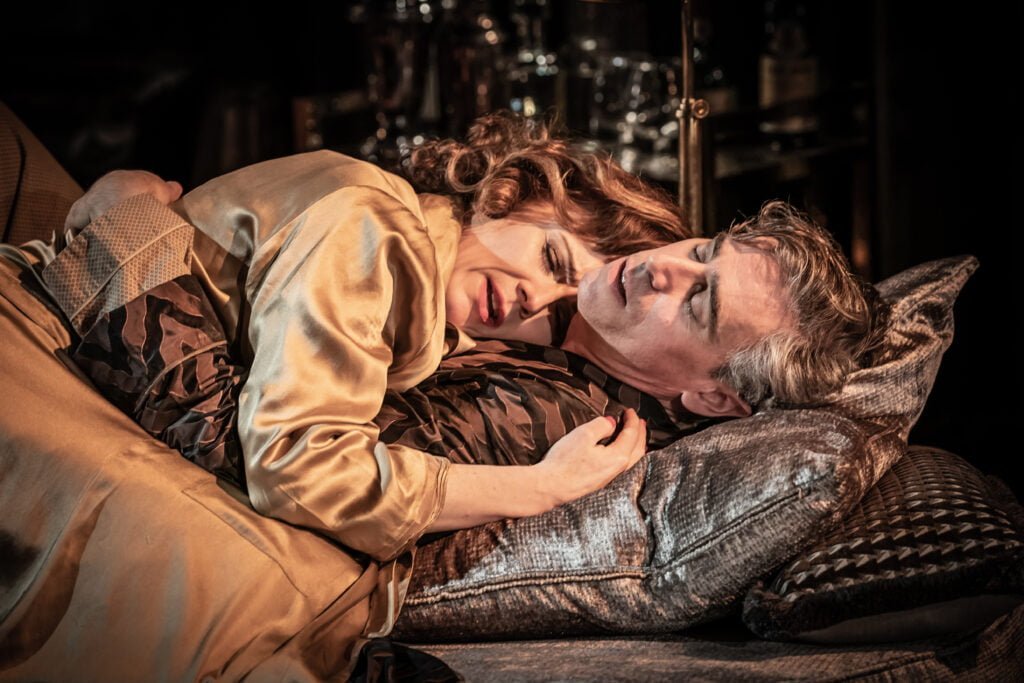 Looking back there was Jasper Britton and Claire Price directed by Lucy Bailey, Matthew MacFadyen and Kim Cattrall but perhaps the most perfect were Alan Rickman and Lindsay Duncan as Elyot and Amanda.  Watching the first half hour of this latest Private Lives, I thought Noel Coward's play might have been adapted because I didn't remember the conversation between Elyot (Stephen Mangan) and his new wife Sybil (Laura Carmichael).  That is until he says, "Don't quibble Sybil!"  
I think it must have been Mangan's delivery that is so different.  He is assertive and upper class, sardonic and seems already bored with Sybil who is harping on about his first wife, Amanda.  Mangan's normally unruly hair is cut shorter than in the photographs, slicked down and tempered with grey and his cream three piece suit is in period.  Sybil is disobeying all the rules for women to hold back in a relationship pushing for Elyot to tell her how much more beautiful, how much more talented she is, than Amanda.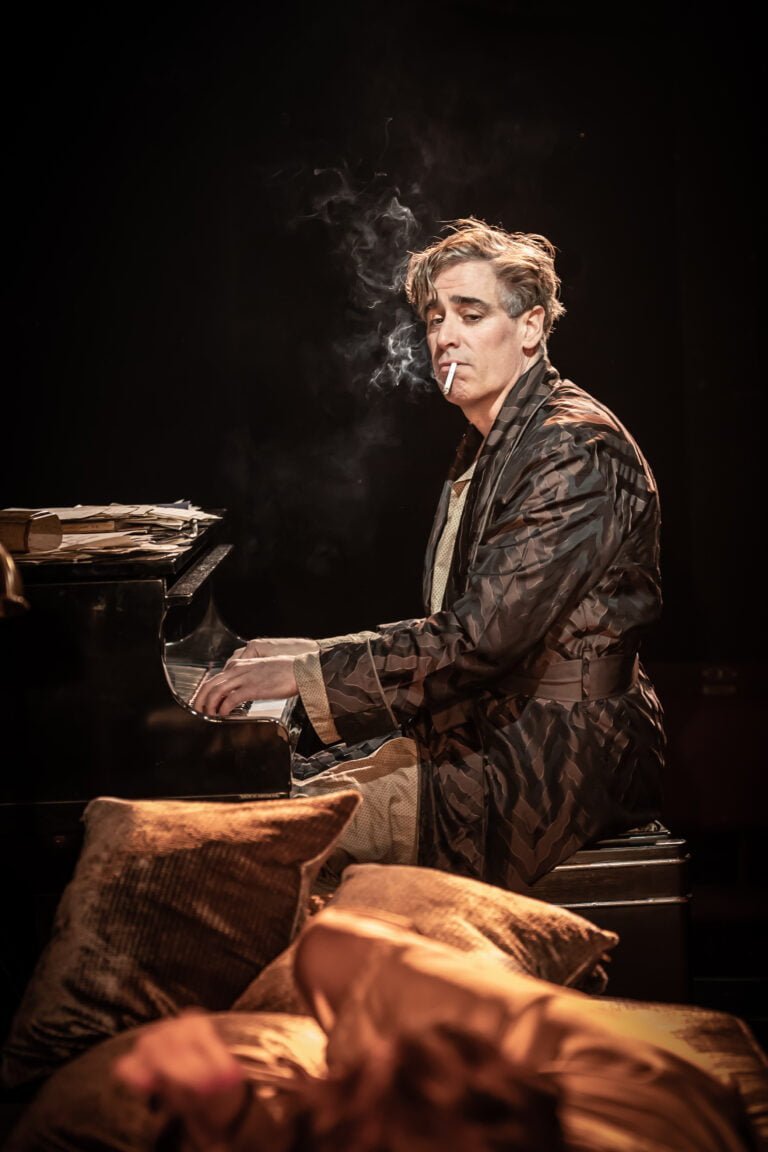 When Amanda (Rachael Stirling) appears on the adjoining balcony of their Deauville hotel with her new husband Victor (Sargon Yelda), the audience is aware where the synchronicity between Amanda and Elyot has led them, each to honeymoon with a new spouse.  Rachel Stirling, looking so like her late mother Diana Rigg, is exquisite as Amanda who is annoyingly called Mandy by her prissy, prig of a new husband Victor.    I am having difficulty in understanding what could have attracted her to Victor in his tobacco brown tweed suit and he is shorter than she is. Amanda is seductively dressed in silk draped lingerie, has flowing auburn hair and is looking gorgeous.  
When Elyot and Amanda realise who is in the room next door, there is strong physical comedy followed by great repartee as Coward's wit zaps between them. Some of the comedy is mannered and stiff upper lip but there is so much to laugh at.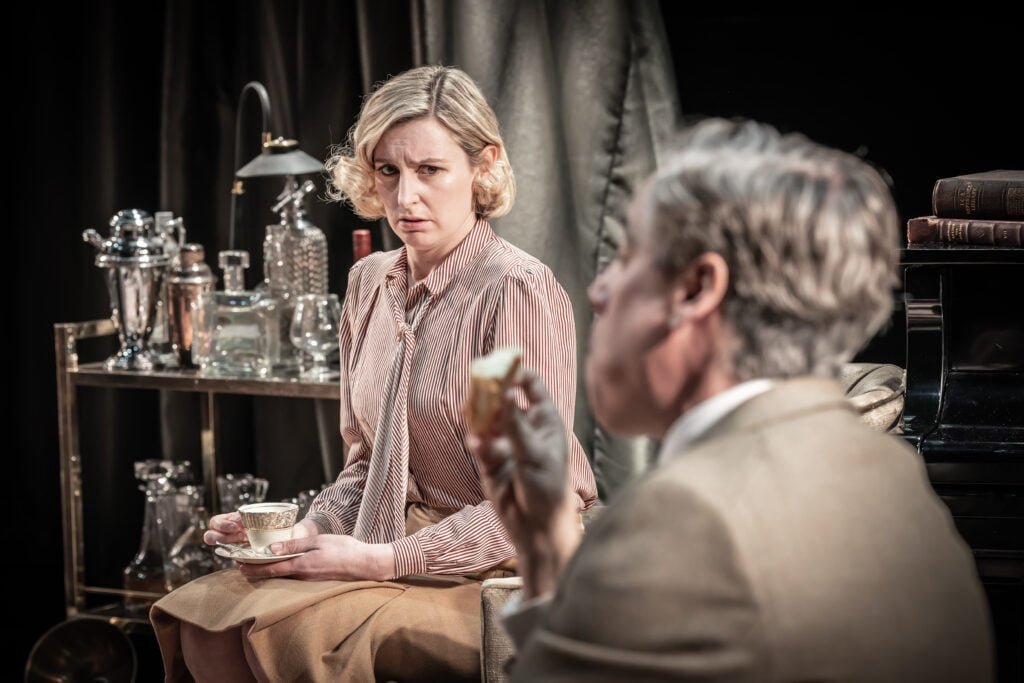 Written as a three act play with the opportunity to change the Deauville set to the Paris apartment between Acts One and Two, it is played here with one interval between Act Two and Act Three.  This means the opening set is less than perfect with green drapes over the Parisian furniture to be revealed in Act Two.  The 1930s  hotel balcony is also more austerity than usual as it sits above the lumpy drapes.  Can this be a cash strapped Donmar from the Arts Funding cuts?  
After the first act I was longing for Elyot and Amanda to find happiness together after they jointly abandon their newest marriages and sneak off to Amanda's apartment in Paris.  I felt no empathy for Victor and Sybil although I can admit what happens to them is pretty dreadful.  At first there is such rapport between Elyot and Amanda as they relax in Paris and share the chaise longue.  "Someday I'll Find You"  is played on the violin and 'cello.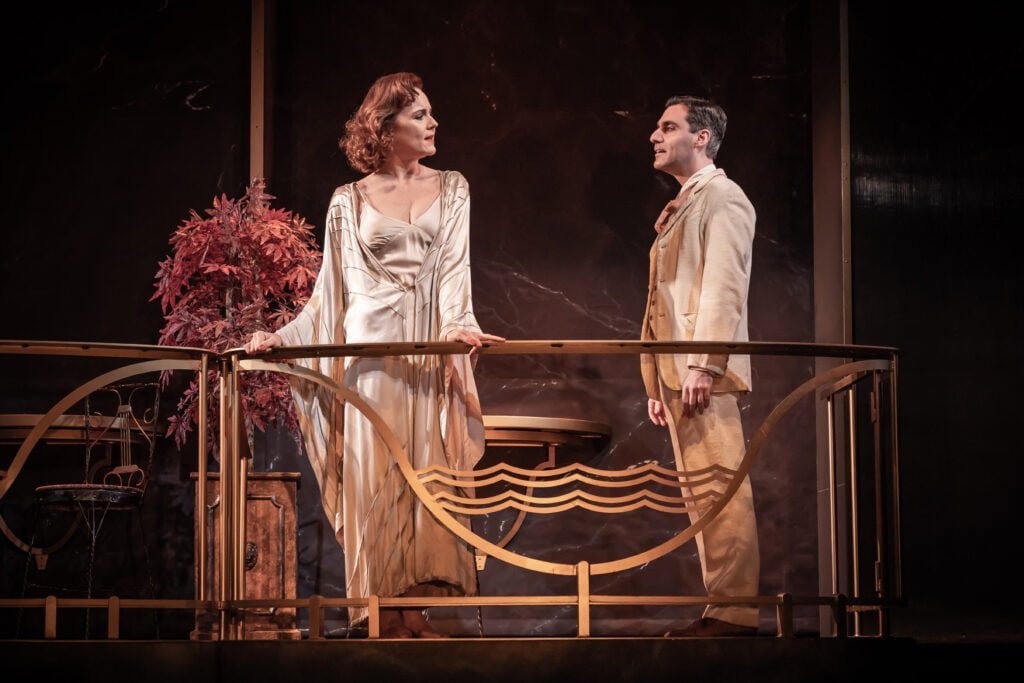 This is where Michael Longhurst puts his directorial mark on the play.  The argument  between them has dialogue which seems incredibly modern but they start flinging crockery at each other and pull down the curtains in a show of extreme violence.  
After the interval, things get awkward as Victor and Sybil have tracked them down.  Elyot quips, "We have no precise etiquette to fall back on."  Mangan's performance is such a revelation with his sophistication, superb delivery and timing.  With Rachael Stirling's sparkling Amanda we have met the couple that cannot live without each other but neither can they live peacefully together.  This is a memorable Private Lives and a welcome addition to London theatre.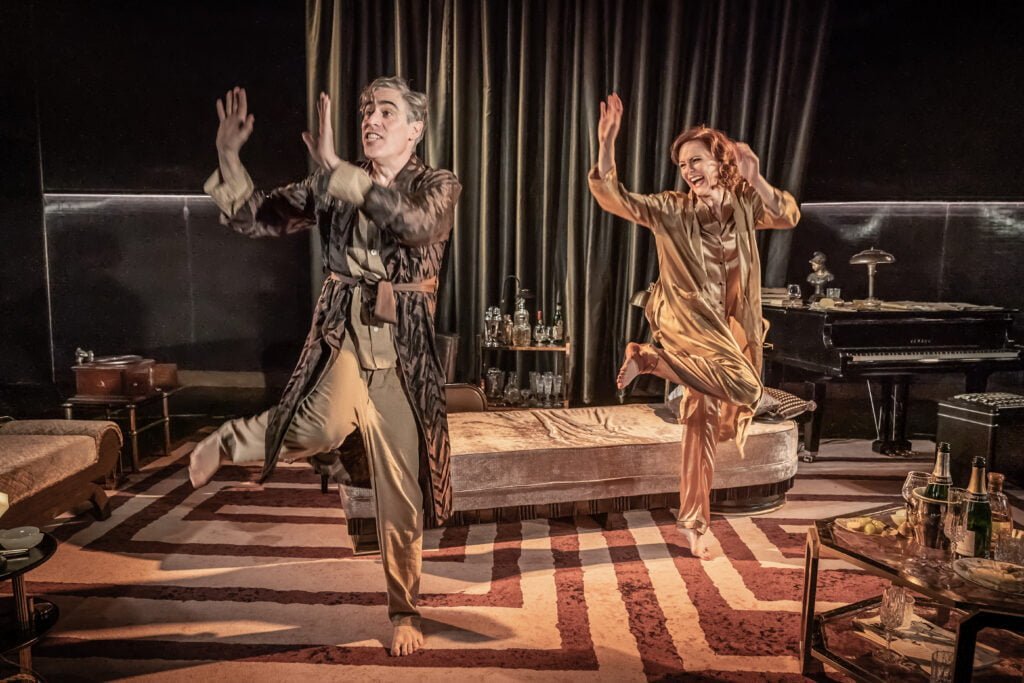 Private Lives

Written  by Noël Coward
Directed by Michael Longhurst
Cast
Starring:
Rachael Stirling
Stephen Mangan
Faoileann Cunningham
Harry Napier
Laura Carmichael
Sargon Yelda
Creatives
Director: Michael Longhurst
Designer: Hildegard Bechtler
Lighting Designer: Jack Knowles
Sound Designer: Giles Thomas
Movement Director: Chi-San Howard
Fight Director: Kate Waters
Information
Running Time: Two hours 05 minutes with an interval
Booking to 18th June 2023
Theatre: 
Donmar Warehouse
Earlham Street
Covent Garden
London WC2H 9LX
Tube : Covent Garden
Website: donmarwarehouse.com
Reviewed by Lizzie Loveridge
at the Donmar Warehouse
on 14th April 2023