Shoehorning Brecht into 2023
"Yes, a time will come when
those who are wise and generous,
who are angry and trustworthy,
who sit and write on the bare floor,
who sit with the oppressed and the warriors,
will be extolled
above all."
Poem by Berthold Brecht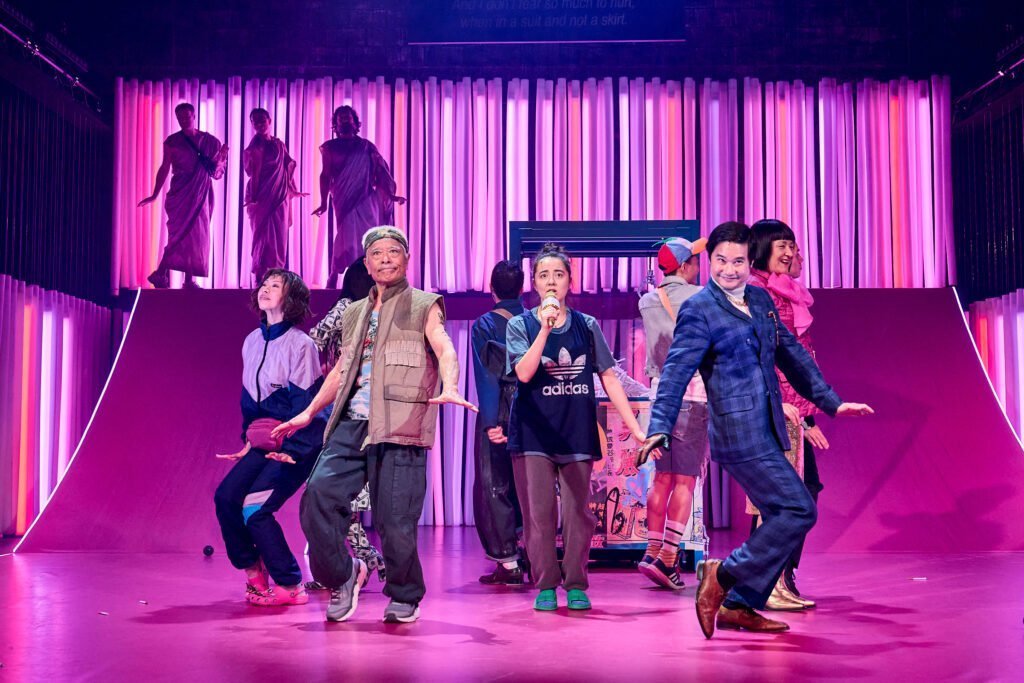 The Good Person of Szechwan is considered one of Berthold Brecht's greatest plays – a fierce, strident attack on the meanness and brutishness of capitalism. This self-consciously modern take on the play, translated and to some extent rewritten by Nina Segal, seems to want to lift it out of the village in which Brecht set it and place it somewhere anonymous, presumably to emphasise the universality of the theme.
So while we wait for the play to begin, we listen to loud, raucous music and wonder why director Anthony Lau and designer Georgia Lowe have given us a plain bright red stage to look at, with, at either side, two bright red slides and two wells containing rubber balls, and in the middle, what looks like a child's paddling pool.  (When we get to the second act, the paddling pool is replaced by a giant replica wedding cake.)
Lau has gathered a lot of talent onto this puzzling stage.  The show is held together by the charm and conviction of Ami Treadrea as Shen Te, a prostitute whose innate decency prevents her from turning away any of the assorted strays and rogues who come to her with a sob story.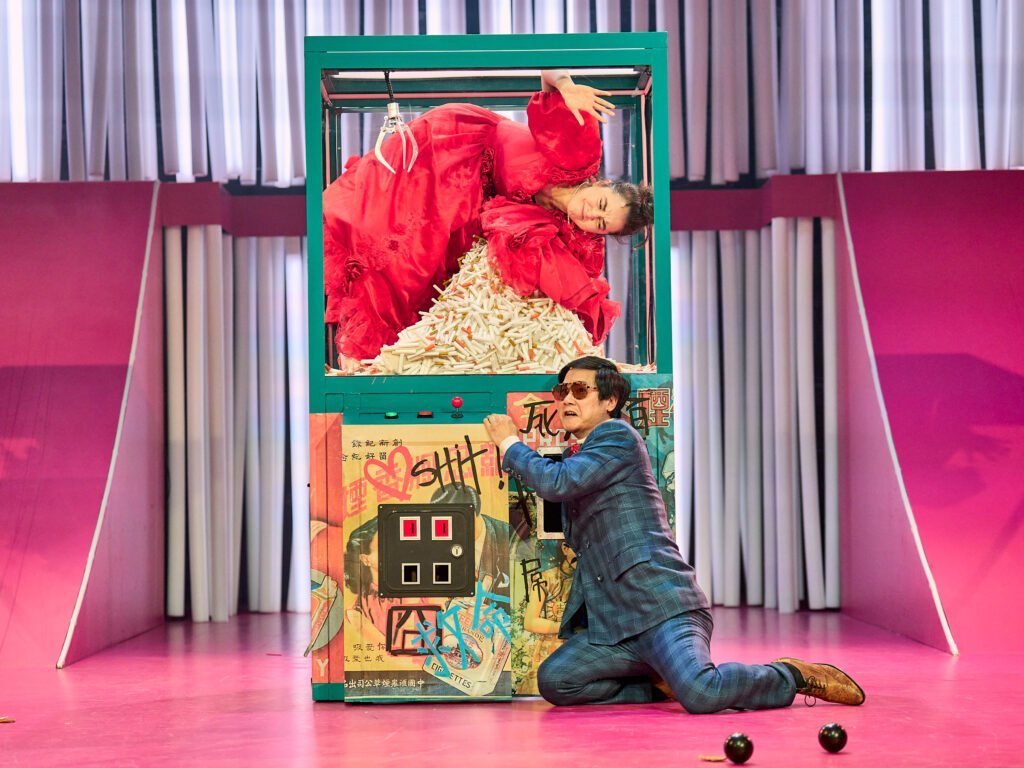 Three entertainingly modern and human gods played by Callum Coates, Tim Samuels, and Nick Blakeley arrive in China looking for a good person to justify them not bringing forth Armageddon on the world. Shen Te turns out to be that good person.  They present her with a life-changing sum of money for kindly giving them hospitality, and she uses it to buy a tobacco shop.  She is loved for her money by Yang Sun (Aidan Cheng) and for herself by Wang (Leo Wan).    
The songs, new to this version, help the show to bounce along enjoyably enough, but the move from reality to theatricality went so far as to blunt Brecht's uncompromising socialist message.  A feminist message seemed uneasily tacked onto the script, and the theatrical jokes become a little laboured. 
When Shen Te pretends to be her male cousin in order to do unkind things that are against her nature, the gag of stuffing rubber balls into the top of her tracksuit bottoms palled the second time we saw it, and I heaved a weary sigh when she placed a giant cigarette strategically around her middle and pointed it upwards.  I was not quite clear why I had to watch a character picking his nose and eating the result. Nor did I entirely understand why a few minor characters appeared in animal costumes.  And having characters slide down onto the stage is funny the first time, but eventually becomes an unnecessary barrier between the audience and the play.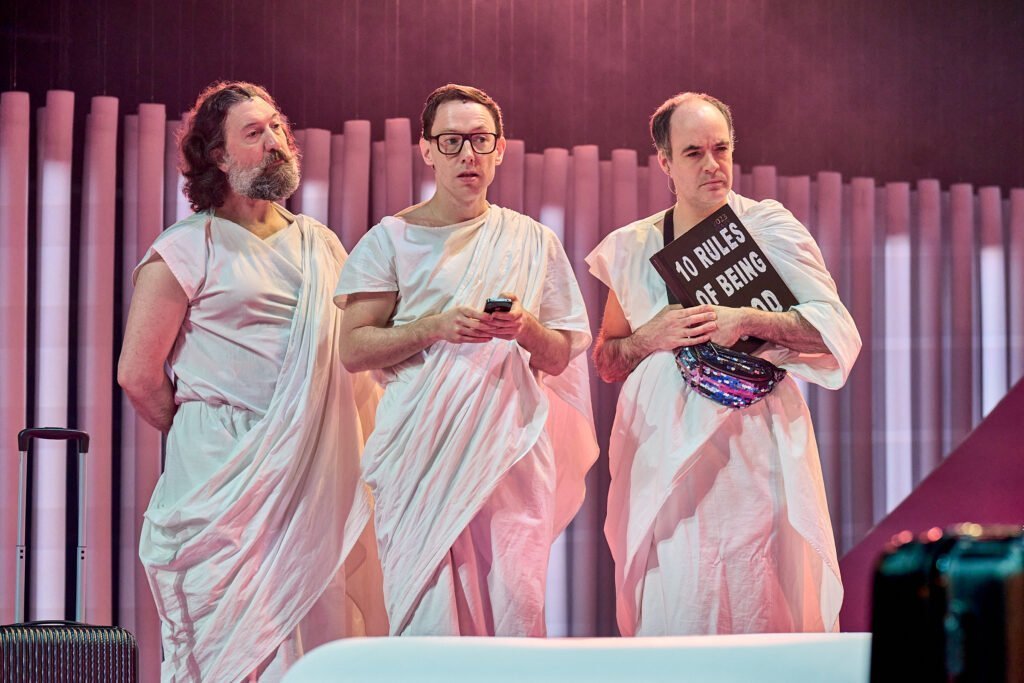 But the same theatricality also allows some of the play's most telling lines to come across with great force. "I know money doesn't make you happy, but the lack of it can ruin your health." "His poverty will always be his priority." "Why does everything have to be transactional – you love me so I have to love you back?"  When Shen Te says "I think I'm pregnant" the answer she gets is "Then you're really fucked."
And when the gods refuse Shen Te more money but say they really appreciate her and ask for a round of applause to prove it, Brecht's 1941 play suddenly assumes a real relevance to 2023.
This is a real attempt to bring Brecht's play to a modern audience and engage it with the issues that concern us now. It's not an easy task, because Brecht's brand of socialism is deeply unfashionable just now, and sometimes it tries just a little too hard.
The Good Woman of Szechwan

Written by Bertold Brecht
Translated by Nina Segal
Directed by Anthony Laura
Cast
Starring:
Amanda Ryan
Jason Merrells
John Hopkins
Kelly Price
Lisa Dwan
Will Barton
Molly Osborne
Timothy Hutton
Pooya Mohseni
Creatives
Director: Anthony Lau
Designer: Georgia Lowe
Lighting Designer: Jessica Hung Han Yun
Sound Designer: Alexandra Faye Braithwaite
Composer: DJ Walde
Musical Director: Lauren Dyer
Movement Director:  Carrie-Anne Ingrouille
Information
Running Time: Two hours 20 minutes with an interval
Booking to 13th May 2023
Theatre: 
Lyric Theatre
King Street
Hammersmith
London W6 0QL
Box Office: 020 8741 6850 
Website: lyric.co.uk
Tube: Hammersmith
Reviewed by Francis Beckett at the Lyric Hammersmith 
on 20th April 2023