Celebrating 400 Years since the First Folio
"We have lived through the age of the poet and landed in the age of the hack." 
Richard Burbage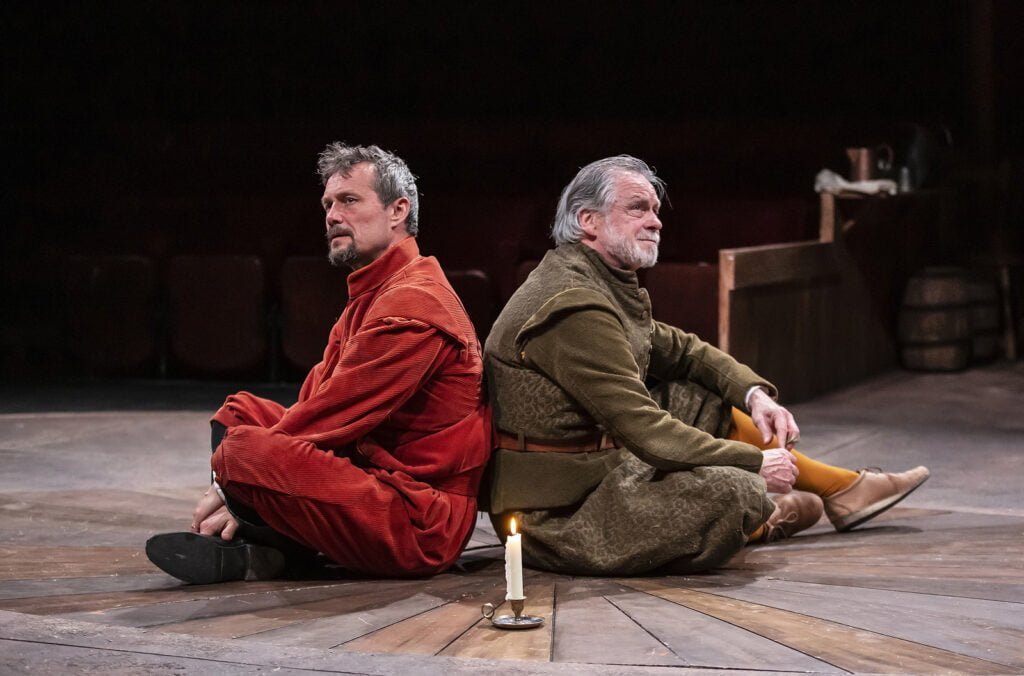 It is exactly 400 years since two actors who had been with the company of The King's Men, which William Shakespeare wrote for, decided to collect together genuine copies of his plays and publish them.  750 were printed as the First Folio replacing many of the bastardised copies of the plays previously published as Quartos which had been copied by young boys sent to record what they could remember before shorthand had been invented.  
The Book of Will starts with a performance of Hamlet from the 1603 Quarto which Arden published in 2006 together with the First Folio edition.  The 1603 has the famous soliloquies as "What a dunghill slave. Am I" and "To be or not to be – Ay there's the point./To die to sleep – Is that all? Ay all." The famous actor Richard Burbage (Zach Lee) visits the two actors Henry Condell (Bill Ward) and John Heminges  (Russell Richardson) at Heminges' tavern next to The Globe to discuss how they can save Shakespeare's canon of work.  Each of these three men were left the money to buy a mourning ring in Shakespeare's will, the famous one with the "second best bed".  Sadly Burbage, who knew all the speeches, died soon after they planned to collect the plays.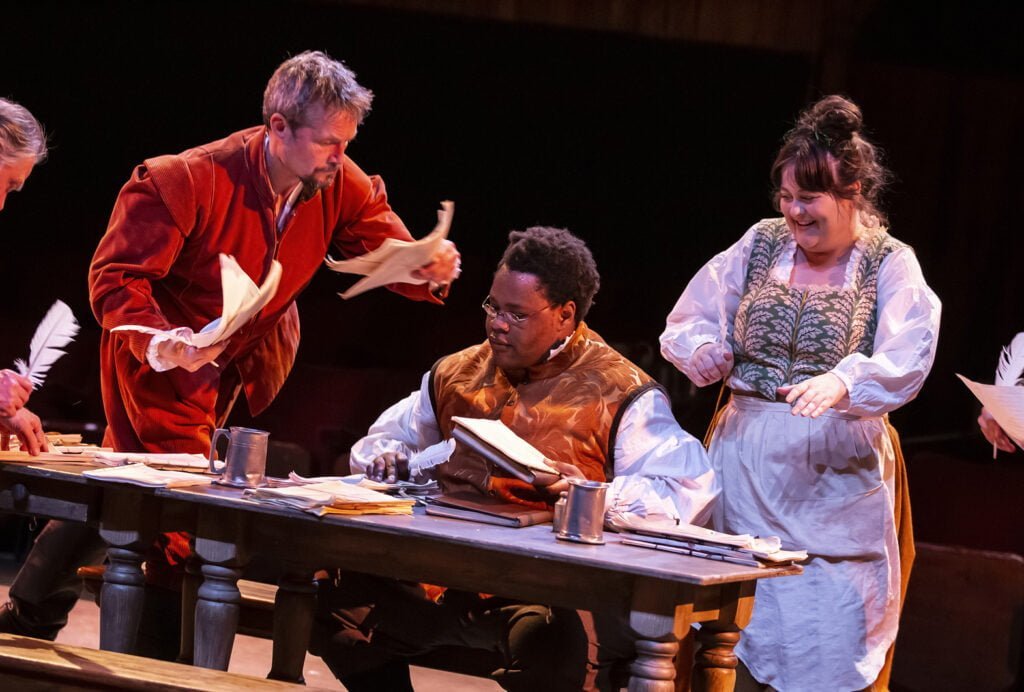 None of the plays were written out as a whole to prevent their being stolen by other acting companies but individual actors had kept copies of their own parts and Condell and Heminges set about collecting them.
Ben Jonson (Andrew Whitehead) visits them, usually in his cups, florid of complexion with an excessively long scroll of one of his own speeches. Ralph Crane (Tomi Ogbaro) copies the speeches they have. Enter William Jaggard (Zach Lee) a now blind, printer and publisher who has published ten plays in book form including one called The Yorkshire Tragedy. Negotiations are difficult. Henry Condell calls Jaggard, "a scheming dog-hearted bastard".
Condell and Heminges come to an agreement with William Jaggard's son Isaac (Callum Sim) and they work together to collect, copy and publish.  
There is comedy over the two Love's Labours plays, Love's Labours Won, "Lost!" Says one. It appears that Love's Labours Won has genuinely been lost leaving only Love's Labours Lost! 
As they work together with quill pens they are choreographed to scribble and soar with the feathered pens like birds taking flight.  They run out of money so Heminges visits Ben Johnson and Condell visits Shakespeare's dark lady Emilia Bassano Lanier (Carrie Quinlan) to ask for finances.  The two actors take a bound copy of the First Folio to Shakespeare's daughter Susannah in Stratford (Jessica Ellis).  
The Queen's Theatre has been cleverly reconfigured to an in the round space.  Carla Goodman's design has an authentic looking Jacobean tavern and the cast are in period costume.  The ceiling decoration is fabulous with its stars, sun and moon detail of the heavens.  This is a super production from director Lotte Wakeham, Artistic Director of the Octagon Theatre in Bolton, one of the producing theatres along with Queen's Hornchurch and Shakespeare North Playhouse in Prescott near Liverpool.  
The playwright Lauren Gunderson is an American playwright who regularly tops the list for plays produced in America but I have only seen I and You, but as she has written the Book for the musical, The Time Traveller's Wife we shall see more by her.  
The finale is one of the best I have seen with a succession of Shakespearean soundbites from the whole cast in quick succession reminding us what was saved by the printing of the First Folio.  750 were printed of which 250 are known to be in ownership.  The Folger Library in Washington DC has 82!  We hope not too many fell into the hands of Betsy Baker the cook of antiquarian John Warburton who used over 50 of his manuscripts to light fires or line her baking tins.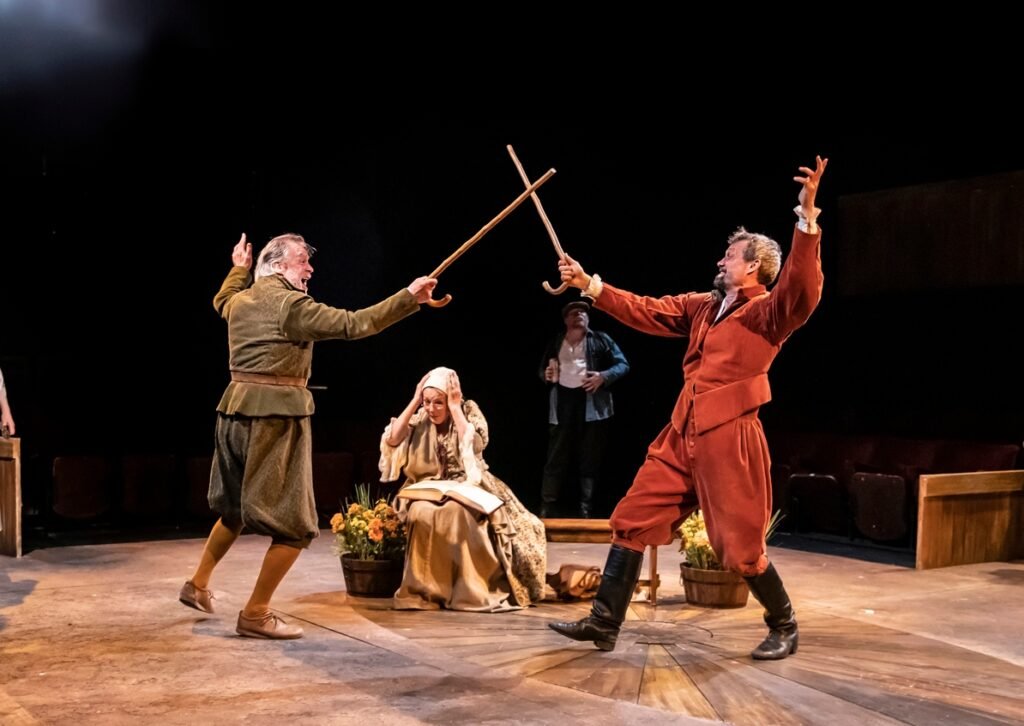 The Book of Will

Written by Lauren Gunderson
Directed by Lotte Wakeham
Cast
Starring:
Russell Richardson
Bill Ward
Jessica Ellis
Zach Lee
Tarek Slater
Tomi Ogbaro
Andrew Whitehead
Carrie Quinlan
Helen Pearson
Callum Sim
Creatives
Director: Lotte Wakeham
Designer: Carla Goodman
Lighting Designer: Simeon Miller
Sound Designer: Andy Graham
Movement Director: Jonnie Riordian
Information
Running Time: Two hours 20 minutes with an interval
Booking at the Queen's to 13th May 2023
Touring
Octagon Bolton   
17th May to 3rd June 2023
Shakespeare North Playhouse  
17th October to 11th November 2023
Theatre: 
Queen's Theatre
Billet Lane
Hornchurch
RM11 1QT.
Box Office enquiries:
boxoffice@queens-theatre.co.uk
Rail : Emerson Park
Telephone: 01708 443333
Reviewed by Lizzie Loveridge at the
Queen's Theatre, Hornchurch on 29th April 2023