"She's a silly worthless woman who has led a silly worthless life "
Clive about Kitty
"If a husband is unfaithful to his wife, she is an object of sympathy but if a woman is unfaithful to her husband, he is an object of ridicule."  
Constance in another play by Somerset Maugham, The Constant Wife. 
I know that a play by Somerset Maugham is usually worth seeing but when it is the opening production of Tom Littler's tenure as Artistic Director at the Orange Tree Theatre, you are right to expect it to be something extra special. And so it is! 
The Circle is a comedy of manners about a Bolter, a woman who has left her husband and child to run away with her lover.  The fact that the lover is her husband's best friend and parliamentary colleague makes it even more complicated.  The son she left thirty years ago when he was five has now been married a few years.  His young wife, Elizabeth (Olivia Vinall) has invited his estranged mother Lady Catherine Champion-Cheney, known as Kitty (Jane Asher), and the man she bolted with, Lord Hugh Porteous (Nicholas Le Prevost) to stay.  
Kitty's husband, Clive (Clive Francis) because they never divorced, lives in a cottage in the grounds of his son's house but was meant to be away during her and Hugh's current stay.  This play is in the days when the Bolter couldn't initiate the divorce unless her husband chose to.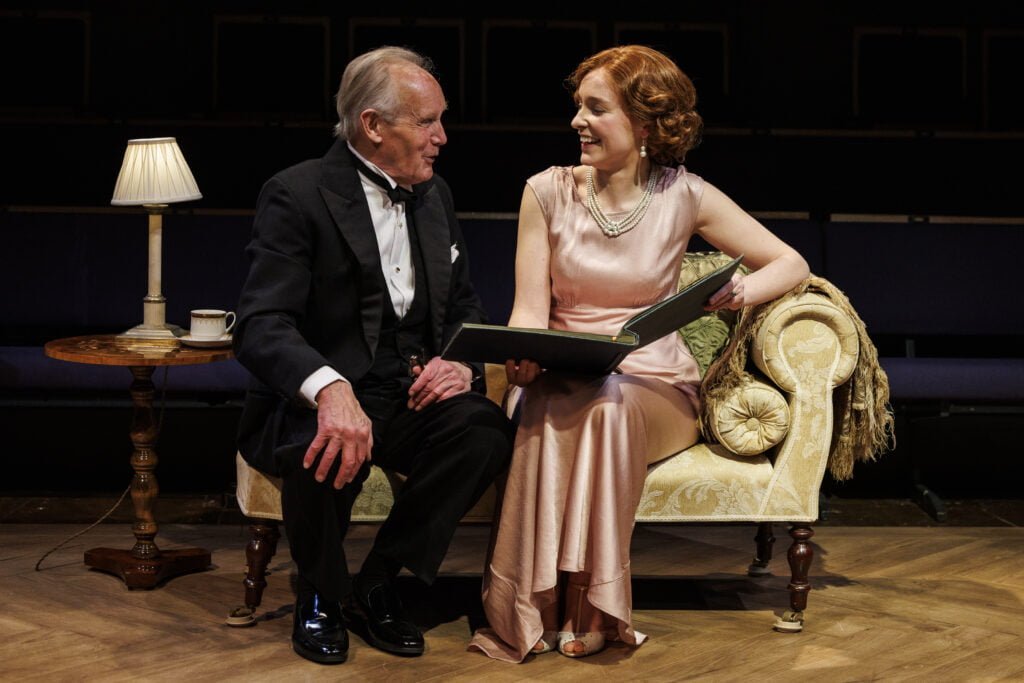 This superbly crafted production shows no sign of the play having been written over a hundred years ago.  The wit and the laughter at the ridiculous are as fresh as if they were written yesterday.  And of course the experienced actors have impeccable timing and delivery.  We may be about to see history repeat itself as Elizabeth who has been married for three years is enamoured with her tennis partner Edward "Teddie" Luton (Chirag Benedict Logo).  Of course a dalliance seems more exciting than being married to MP Arnold Champion-Cheney despite the indications from Kitty and Hugh's perpetual squabbling as to the longer term outcome.  
Kitty's "Ex" has grown in attraction in the years they were apart and we wonder whether it is the freshness of renewing an acquaintance that appeals to Kitty.  Certainly Hugh seems relatively curmudgeonly compared to the charming Clive.  Hugh is caught not following suit at Bridge and then everyone else sees how to play his game of Patience with annoying suggestions. The audience is kept guessing when we hear that Clive prefers younger women and that his mistresses are "retired" at 40 years old with a diamond ring.  
Somerset Maugham doesn't shy away from the painful side of abandonment as Arnold looks back on his motherless childhood and Clive on his career prospects which were curtailed by the scandal.  Hugh and Kitty too have been sentenced to a life abroad in Italyafter being shunned by polite society and Hugh's parliamentary ambitions scuppered.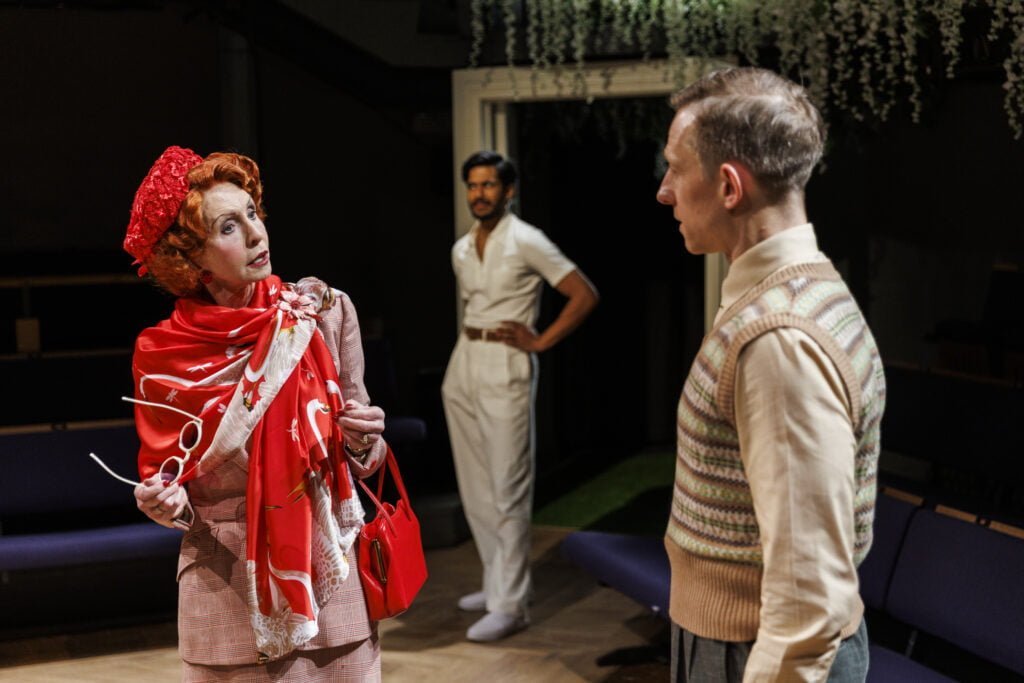 Arnold's collectable chair, called a Sheridan by Kitty rather than a Sheraton, is identified by Hugh as inauthentic and is as shaky as Arnold's marriage. Congratulations to the designer Louie Whitemore for giving Kitty loud clothes and make up that are trying to recapture her youth and a wig that is too red to be anything other than chemically assisted.
Tom Littler's direction sets the gold standard on how to mount period plays of fine writing and this in the round play will never have you looking at anyone's back for any long period of time.
The sense of enjoyment on press night at the Orange Tree was tangible as we knew we were witnessing a brilliant start to Tom Littler's Artistic Directorship. The Circle is awarded five stars from Theatrevibe, the site that doesn't do stars.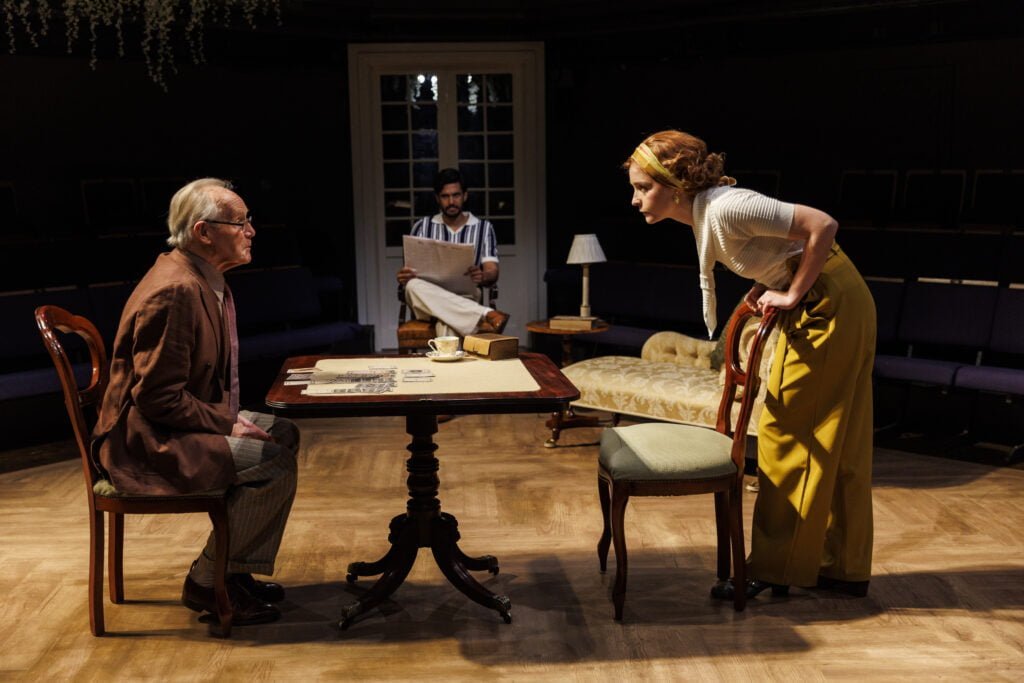 The Circle

Written  by Somerset Maugham
Directed by Tom Littler
Cast
Starring:
Jane Asher
Nicholas Le Prevost
Olivia Vinall
Pete Ashmore
Robert Maskell
Clive Francis
Chirag Benedict Lobo
Creatives
Director: Ton Littler
Designer: Louie Whitemore
Lighting Designer: Chris McDonnell
Sound Designer: Max Pappenheim
Information
Running Time: Two hours 20 minutes with an interval
Booking to 17th June 2023
Theatre: 
Orange Tree Theatre
1 Clarence Street,
Richmond,
Surrey
TW9 2SA
Phone: 020 8940 3633
Website: orangetreetheatre.co.uk
Rail/Tube: Richmond
Reviewed by Lizzie Loveridge
at the Orange Tree
on 5th May 2023