Operation Mincemeat Drowning in Praise!
"With your brains and my literally everything else. . ."
Ewan Montague to Charles Cholmondeley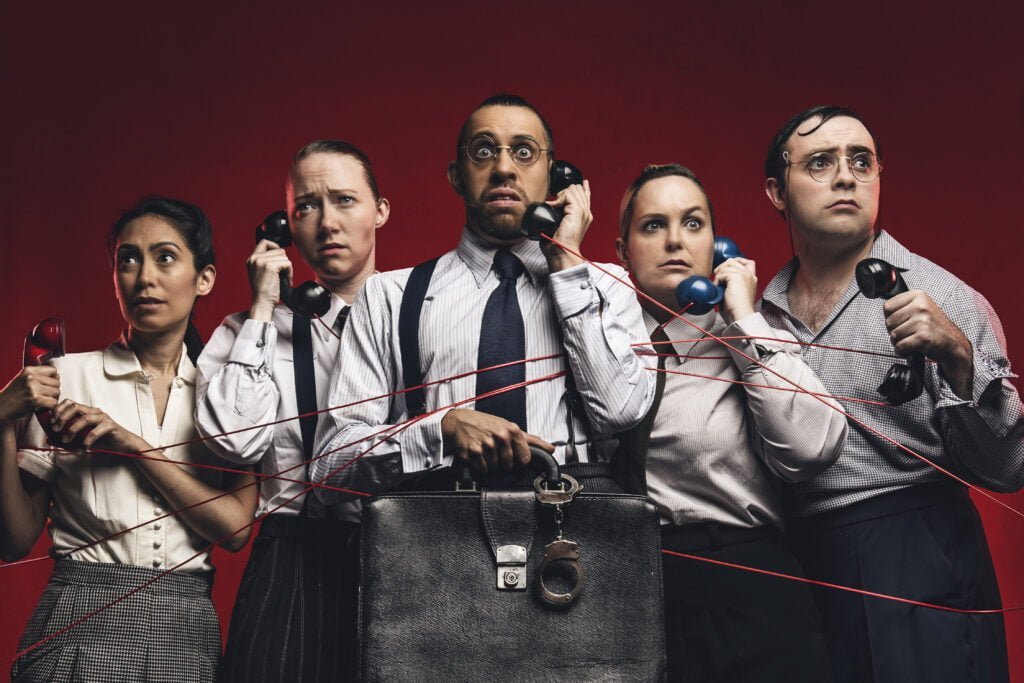 Operation Mincemeat is the show which blew me away 18 months ago when I first saw it at Southwark Playhouse but it keeps getting better.  The cast work on it and the freshness of each new run has new ideas and exciting, innovative visual comedy.  As it has replaced the 34 year running Woman in Black in the intimate Fortune Theatre, Spit Lip can keep their close connection with their audience, many of whom are returning to this joyous show.
I was pleased that zany expressioned David Cumming had recovered from his broken collar bone to play Flight Lieutenant Charles Cholmondeley, the quirky genius behind the plan to plant a body carrying secret documents off the coast of Spain.  The documents are designed to make their way to German High Command to deceive them into thinking the Allied Forces will land in Greece and Sardinia.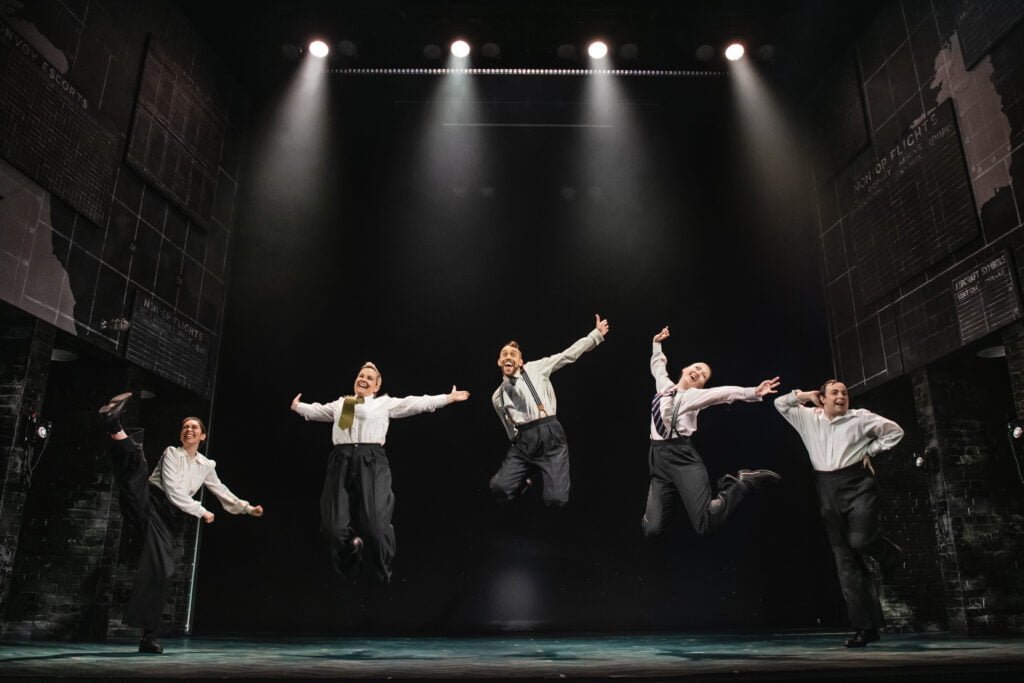 Sparkling gruff voiced Natasha Hodgson plays Ewan Montagu with aplomb, a barrister and naval officer who presents the plan to Johnny Bevan (Zoë Roberts) a high up in the band of spies working for British Intelligence.  Montague is ever optimistic in the face of opposition as the quick thinker and strategist. Ian Fleming (played by Zoë), the author of the Bond films is there too, a real life spy with ideas for his future novels.  
Completing three playing cross gender in the cast is Jak Malone as kiss curled Hester Leggett whose intelligence secretary is cautious and a mentor to Jean Leslie (Claire-Marie Hall) with the outstanding soprano voice.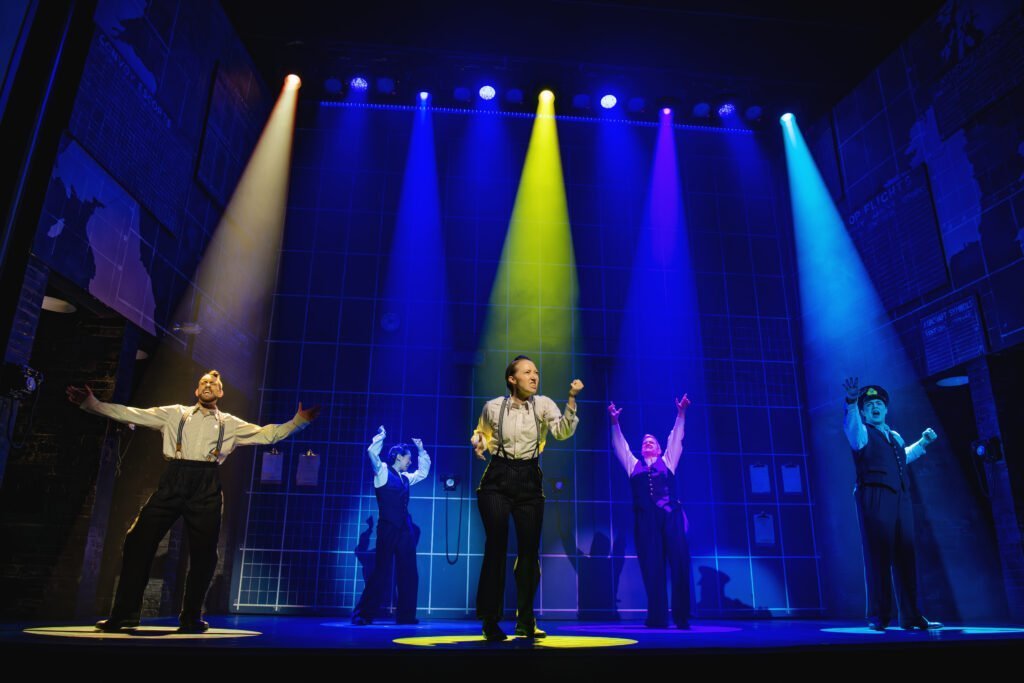 I am never fully comfortable with Operation Mincemeat being described as a musical because it is so much more.  It is also a comedy, satire, thriller.  The music itself draws from many different styles and just as you have learnt to laugh at the lyrics, Jak Malone as Hester, the lonely civil servant will sing "Dear Bill" a letter to a lover, full of painful reality.  This is a part of the back story of the body in the sea which has been prepared with meticulous detail.  
Robert Hastie has joined as director for the West End launch and there is a brand new set from Ben Stones with maps of Europe and a backdrop of graphs as well as the essential telephones.  There are projections too lit up on the back screen. Two desks move around to change the venue and there is new spectacular lighting from Mark Henderson.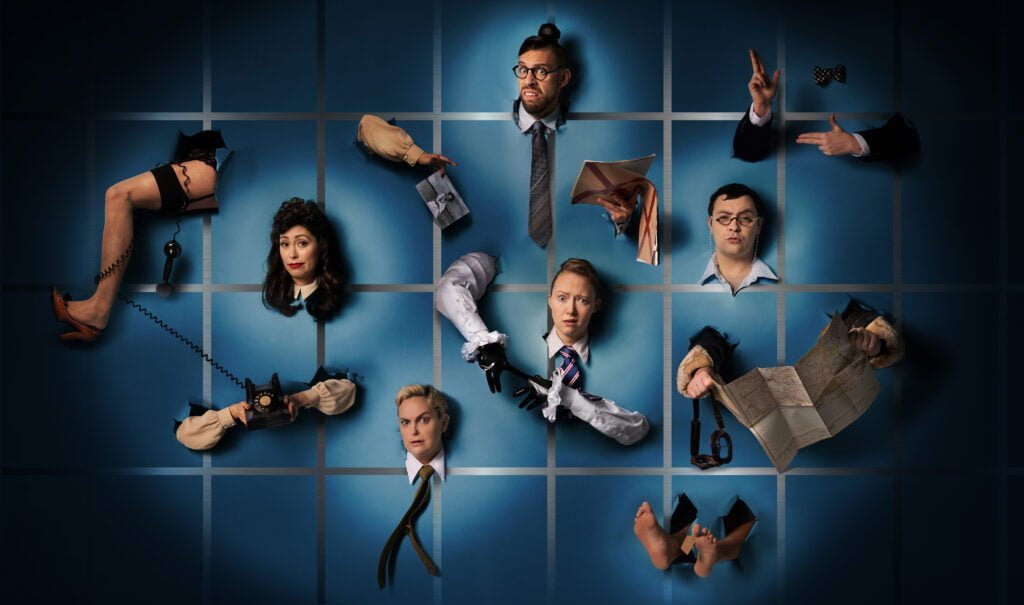 On the first showing I was impressed with the slickness of the fast changes of scene and plot and choreography from Jenny Arnold which is as well drilled as a royal parade.  If possible it is even better.  The Nazi Boy Band are now fully uniformed in black and red and get a huge cheer which receives the quip as to whose side the audience is on? 
There is a poignant credit, at the close of the show, to the body posing as Marine Major William Martin, the real life Glyndwr Michael, a vagrant who died after eating rat poison, commemorating his contribution to the war and the hundreds of lives saved by his part in Operation Mincemeat.
As this review is from Theatrevibe, the site that doesn't do stars, I'd give it six stars if I could! 
Act One
Born To Lead
God That's Brilliant 
Dead In The Water 
All The Ladies 
The Pitch 
Born To Lead (Reprise)
Making A Man 
Love Is A Bird 
Dear Bill 
Sail, On Boys 
Just For Tonight 
Act Two
Das Ubermensch 
Bevan's Update
The Ballad of Willie Watkins 
Spilsbury 
 I Call Abort 
Useful 
Act As If 
We Did It
A Glitzy Finale
Operation Mincemeat
Written by David Cumming, Felix Hagan, Natasha Hodgson, Zoë Roberts
Directed by Robert Hastie
Cast
Starring:
Claire-Marie Hall
David Cumming
Jak Malone
Natasha Hodgson
Zoë Roberts
Creatives
Director: Robert Hastie

Choreographer: Jenny Arnold
Designer: Ben Stones
Musical Supervisor and Arranger: Sarah Travis
Lighting Designer:  Mark Henderson
Sound Designer: Mike Walker
Orchestrator  Steve Sidwell
Musical Director: Joe Bunker
Information
Running Time:
Two hours 20 minutes with an interval
Booking until 24th February 2024 

Theatre:
Fortune Theatre
Russell Street
London
WC2B 5HH
Tube: Covent Garden
Reviewed by Lizzie Loveridge

at the Fortune Theatre
on 9th May 2023