Real Life Murder Mystery!
"The uncertainty is torture "
Mr Whicher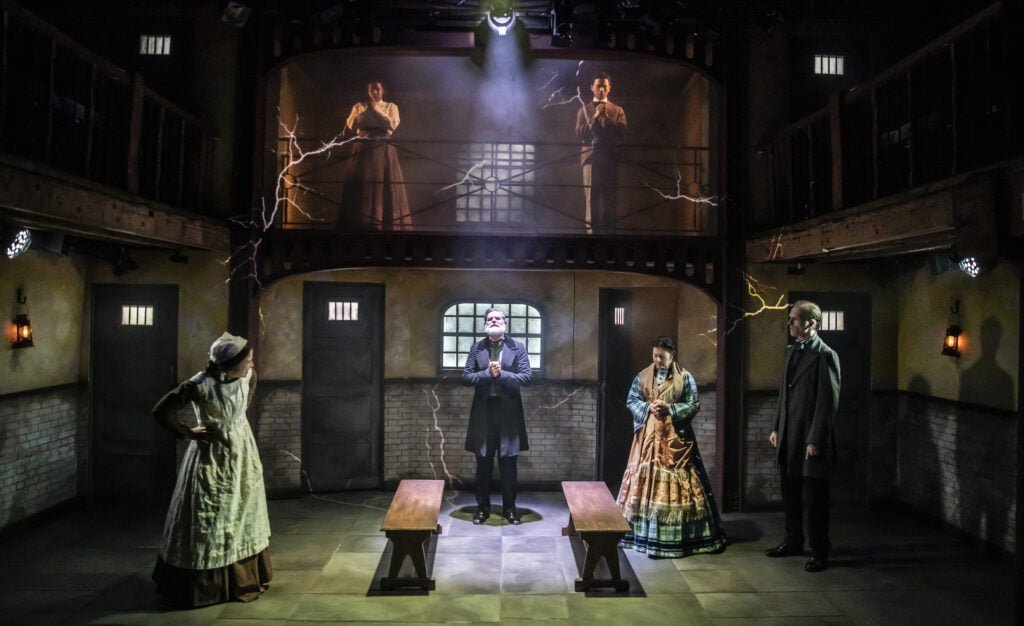 Readers love good crime fiction and theatre goers are no exception but The Suspicions of Mr Whicher is about the true crime of the murder of a three year old boy Francis Saville Kent in 1860.  His body was found in an outside privy.  The murderer had to be one of the adults inside the house, Saville's father, mother, step sister, stepbrother or the nursery maid.   
The opening scene takes place in 1881 where Constance Kent (Eleanor Wyld) has been in prison for 16 years.  She is now in Fulham Prison but has been in prison in Battersea and Milbank as well.  She confessed to the child's murder in 1865 and was initially sentenced to death but she was reprieved and sentenced instead to life imprisonment.  
Alexandra Wood's adaptation of Kate Summerscale's best selling 2008 book, The Suspicions of Mr Whicher or The Undoing of a Great Victorian Detective, I understand adheres to the original.  In 1881 Constance is visited by the detective responsible for her case who is about to retire.  Mr Whicher (Christopher Naylor) is troubled by this case as to why Constance confessed when he has doubts as to her guilt.  
The play jumps in and out of time but I had no trouble following the trail.  Constance and her brother William (Sam Liu) are children from Samuel Saville Kent (Jim Creighton)'s first marriage.  After the death of the first Mrs Kent who had psychiatric issues, Samuel married Mary Pratt (Connie Walker) his children's nanny.  Mr Kent taunts Constance with implications that she has inherited her mother's mental instability but is this gaslighting? I think there are 14 babies fathered by Mr Kent, at least half die in infancy. Saville is the first male child of his second marriage.  
There is one set, a Victorian prison with high up barred windows, brick walls and an upper level with an iron balustrade.  By way of introduction, the branches of a family tree spread across the stage introducing all the members of the Kent family.  This is effective, informative and eerie.  Four of the actors will take on multiple roles but there is no confusion as to whom they are playing.  Suspicion falls initially on Miss Gough (Robyn Sinclair) Saville's nursery maid and although Constance is investigated, there is no proof and she is sent away to France to a school.  She comes back a few years later to live with a High Anglican clergyman in Brighton and from there travels to London to confess to the murder of Saville.
As Whicher questions her, inconsistencies appear in her account of how she murdered the boy compared with the autopsy reports.  The whole family were plagued by press interest and William expresses the thought that he can never have a decent career with the implication that he murdered the child out of jealousy.  
There are well contained performances from Eleanor Wyld and Christopher Naylor as captive and cross examiner.  You will also appreciate Connie Walker as the very sexual Mary Kent and Jim Creighton as Mary's lecherous husband.  
I do think now I shall have to read the book because seeing the play has left me with many loose ends.  Why was the child suffocated and then stabbed?  Why was one sock found in Mrs Kent's bed? Saville was a notorious tattle tale.  Did anyone need to silence him?  Could Saville have been accidentally suffocated and then it made to look like murder?  If Constance did not murder Saville what induced her to confess?  
You can see how involving this production at the Watermill at Newbury can be!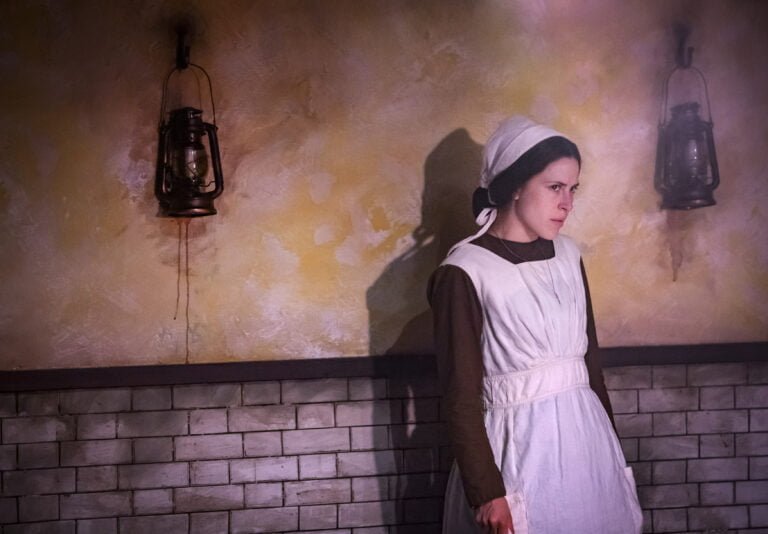 The Suspicions of Mr Whicher

Adapted by Alexandra Wood
from the book  by Kate Summerscale
Directed by Kate Budgen
Cast
Starring:
Eleanor Wyld
Christopher Naylor
Connie Walker
Jim Creighton
Robyn Sinclair
Sam Liu
Creatives
Director: Kate Budgen
Designer: Amy Jane Cook
Choreographer: Angela
Gasparetto
Lighting Designer: Katy Morison
Sound Designer: Beth Duke
Video Designer: Rachel
Sampley
Information
Running Time: One hour 40 minutes with an interval
Booking to 10th June 2023
Theatre: 
Watermill Theatre
Bagnor,
Newbury
RG20 8AE
Box Office: 01635 46044
Website: watermill.org.uk
Reviewed by Lizzie Loveridge
at the Watermill Theatre
on 10th May 2023