"People always need to eat. If you can cook, really cook, if you know flavour and taste and texture, people will pay you to do it. People always need to eat. Always."
Paul's Father
The two hander Biscuits for Breakfast is about life for a young couple in a small Cornish town, near Newlyn, where one hotel is about the only employer. There was also a trawler fishing industry there.
We first meet Paul (Ben Castle-Gibb), as a child, when we hear his father on tape telling him that he will always have a future as a chef, that people will always value his cooking skills and teaching the boy to cook. Along with this paternal message of independence comes the impression that Paul will stand alone and never have to ask anyone else for help as that would be a sign of weakness.
Fast forward and Paul is training as a chef at the Regent Hotel; he's on soups and sauces. His ambition is to write a cookery book collecting together his recipés and open a restaurant. He notices Joanne (Boadicea Ricketts) who is hard to approach and very cautious about social contact. Joanne works in the hotel and Paul eventually persuades her to come round for a meal. His culinary skills work a treat and they both savour his food with choreographed sniffing and waving hands in the air. They have several more meals and start to find out about each other.
The hotel closes, we are not sure whether this is due to the pandemic or just a fall in those wanting to stay in seaside hotels in the UK. Joanna loses her job as a chambermaid and comes to Paul's flat and asks to stay as her job was residential. Unemployment for both brings a cycle of poverty but Joanne gets a job in a factory where she makes garlic bread for supermarkets. Paul is unemployed and not willing to also work in the garlic bread factory.
It is as though his perfectionism through his cookery skills don't allow him to compromise and do what needs to be done. I was wondering whether he also was not claiming any unemployment benefit because Joanne seems to pay their rent out of her wages and there is not enough left to buy food.
The result is that a man obsessed with preparing food in the most skilled way is starving himself. Joanna has been brought up in care so she has no family to fall back on. Paul is estranged from his own mother. He is still grieving for his father and it appears his father was a single parent. There are poignant descriptions of supermarkets, their shelves weighed down with food of all descriptions and excess.
Scene changes are identified with lighting shifts and stylised choreographed falls backwards into another time period. The performances are convincing as they meet and fall in love with food but of course when that food is removed, love starts to disintegrate.
I'm not sure where Gareth Farr's play is taking us except to the despair of no hope in seaside communities and the importance of telling our children to accept help when they need it.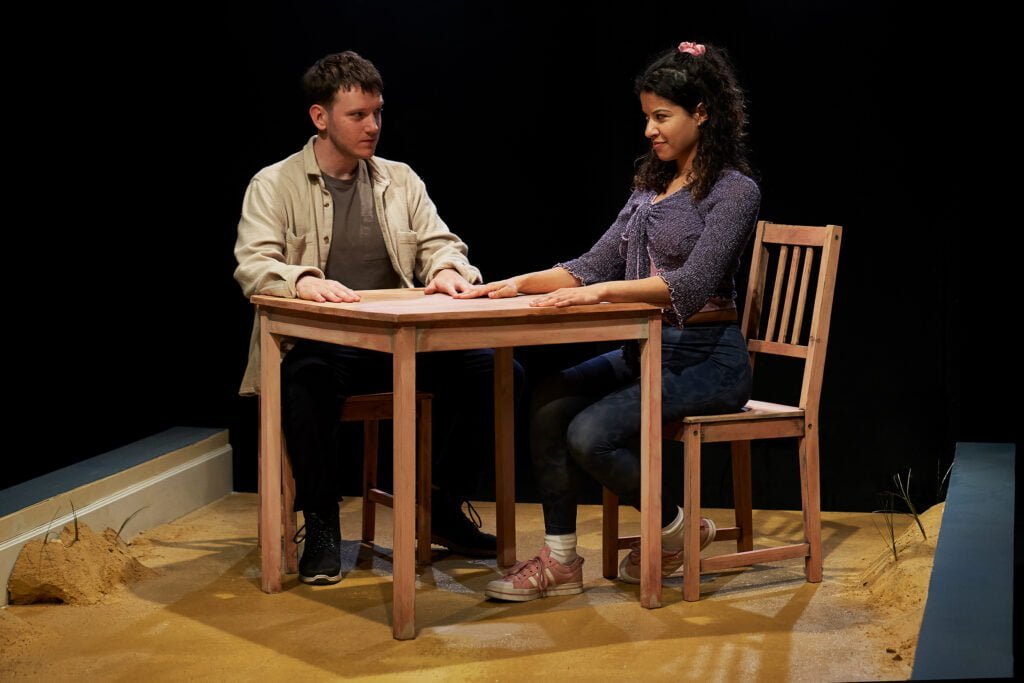 Biscuits for Breakfast

Written by Gareth Farr
Directed by Tessa Walker
Cast
Starring:
Ben Castle-Gibb
Boadicea Ricketts
Voices
Giles King
Rufus Flowers
Creatives
Director: Tessa Walker
Designer: Cecilia Carey
Movement Design: Rebecca Wield
Lighting Designer:Matt Haskins
Sound Designer: Holly Khan
Information
Running Time: One hour 40 minutes without an interval
Booking to 10th June 2023
Theatre:  
Hampstead Theatre 
Eton Avenue
Swiss Cottage
London NW3 3EU
Phone: 020 7722 9301
Tube: Swiss Cottage
Reviewed 
by Lizzie Loveridge at
Hampstead Theatre 
on 11th May 2023