Who Was the Better Hamlet?
"This isn't working."
Richard Burton
"I am a professional."
John Gielgud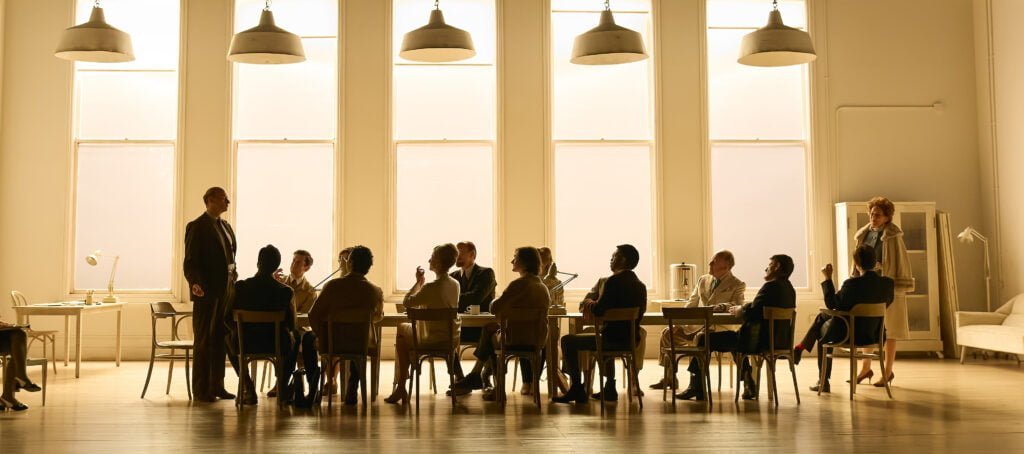 It is said that while they were filming Becket that Peter O'Toole and Richard Burton tossed a coin as to who should play Hamlet in London, and who in New York, and which director each would have, John Gielgud or Laurence Olivier. I saw the 1963 London result three times, the first production of the brand new National Theatre before the South Bank building was built, at the Old Vic, starring Peter O'Toole and directed by Sir Laurence Olivier. I never saw Richard Burton on stage. I have been haunted by the photograph on the Old Vic staircase of Richard Burton as Hamlet. On research, Richard Burton played Hamlet there in 1953 long before I was old enough to sit still during Hamlet.
In New York in 1964, Gielgud (Mark Gatiss) directed Richard Burton (Johnny Flynn) as the Prince of Denmark. Burton had very recently married Elizabeth Taylor (Tuppence Middleton) during the Toronto previews and the American paparazzi were very interested in the couple, not because they knew who Richard Burton was, but because of his famous wife.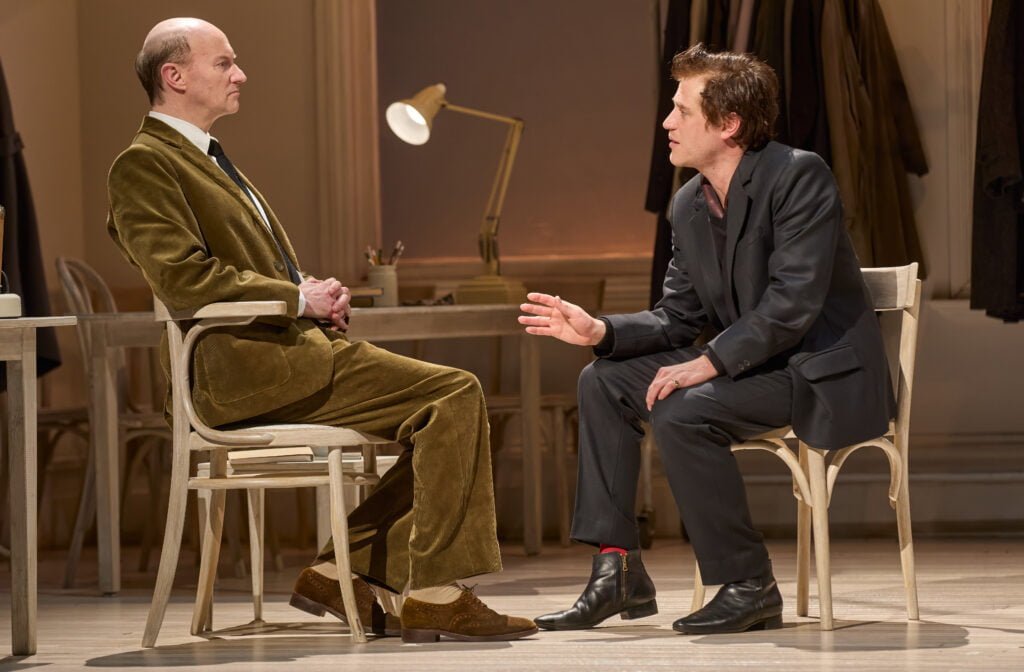 The National Theatre's programme for The Motive and the Cue asserts that Burton and Gielgud got the better bargain.  Now I saw O'Toole and it was really exciting.  I remember the court dressed in brittle, dusty metallic golds, silvers and bronze contrasting with the bold primary colours of the arrival of the players.  In the bedroom scene O'Toole practically ravished his mother Gertrude played by Diana Wynyard, emphasising Olivier's Oedipal interpretation.  
It certainly seemed more thrilling to me than the reports of Gielgud's rehearsal production.  Some of the critics of the day might have disagreed with me but looking at Robert Tanitch's London Stage in the 20th Century, it is blatantly inaccurate to say that O'Toole wore a blonde wig because it is apparent that it was his own hair that was bleached. I have always maintained that one should be able to fall in love with Hamlet and I did in the person of Peter O'Toole.   
With Sam Mendes directing Jack Thorne's new play, Mark Gatiss plays Sir John Gielgud looking not unlike him and sounding perfect.  Johnny Flynn has the more difficult task of recreating Richard Burton and those inimitable Welsh tones largely escape him but he does capture Burton's capriciousness and bad temper.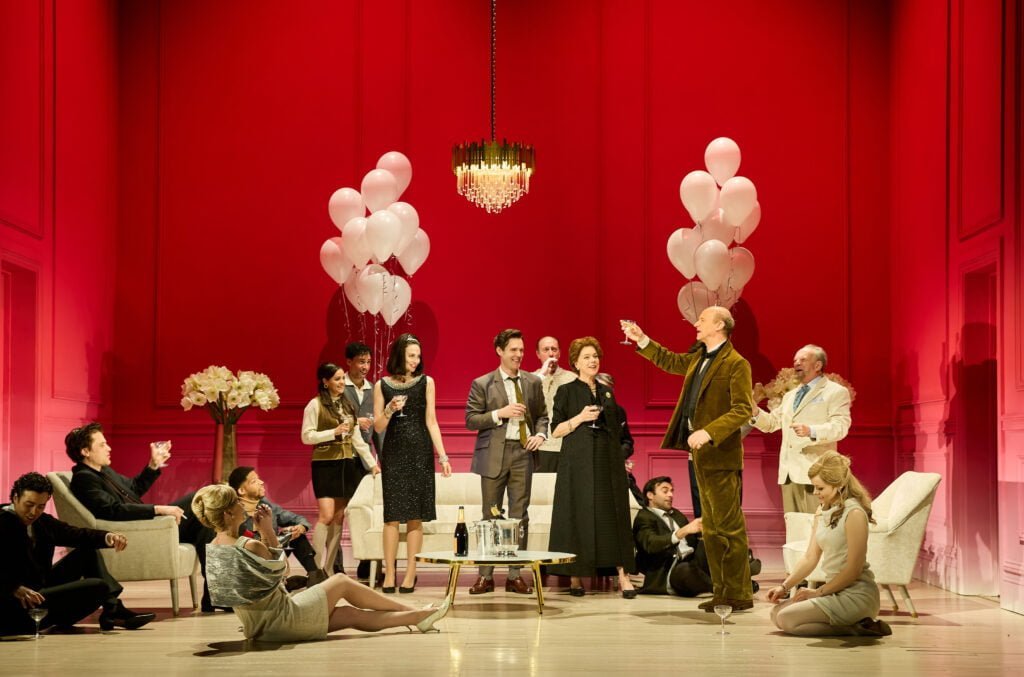 The story of the play is told through the rehearsal room concept devised by John Gielgud.  For the final show, they were dressed not just in modern dress but in the casual clothes they would wear to rehearsal. Was Gielgud's idea for the actors to slowly inhabit the part through hearing and speaking the verse rather than the Method approach where you became the part as in De Niro actually becoming a real taxi driver for the movie?  
Gielgud's method doesn't work for Burton and Burton gets angry and shouts as does his Hamlet.  We later see Gatiss demonstrate Gielgud's admirable speaking of the iambic pentameters in Hamlet.  It was his voice which was his strength. Burton thinks he is being told to imitate Gielgud.  
Gielgud tells Burton, "I gave my Hamlet at 27".  Gielgud had played Hamlet 500 times between 1930 and 1946. Recently Gielgud's career had taken a down turn not helped of course by the cottaging scandal in 1953 when he was caught by police entrapment, the impact of this described in Nicholas de Jongh's play Plague Over England.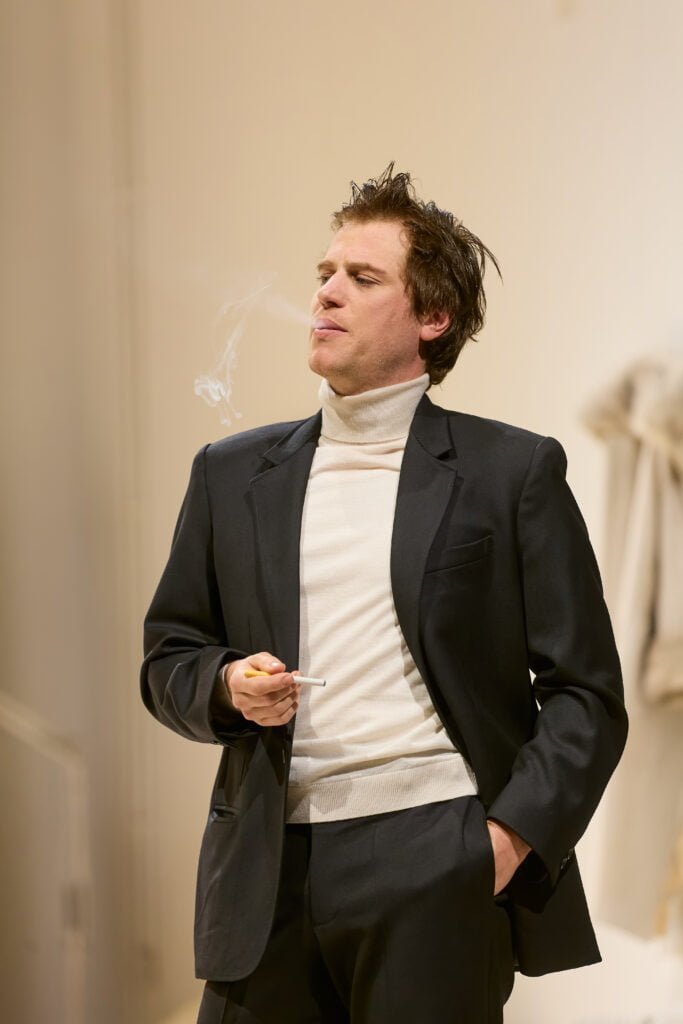 In fact Burton's Hamlet and Gielgud's production was not well received by New York critics but it broke box office records because of the interest in Elizabeth Taylor and the hope of spotting her in the theatre.  
In New York, they were acutely aware of the competition across the Atlantic and gossip travelled back about people missing their trains home after London's four and a quarter hour version ending at twenty past eleven.  
Es Devlin's set has cubes opening and closing like camera shutters.  Besides the rehearsal room set there is the spacious hotel room filled with flowers for the newly married couple.  Elizabeth Taylor talks to Gielgud about his and Burton's difficulty with their father figures, Burton's an alcoholic miner and Gielgud's a stockbroker.  There is also a poignant  scene where Gielgud hires an American rent boy (Laurence Ubong Williams) just for the company and to be held, in his more modest room.  
Thorne's is a complex play drawing on contemporary accounts from the cast, contrasting the styles of two famous actors with Gielgud's dry, reserved wit and Burton's highly sexual approach and fascinating to theatre people.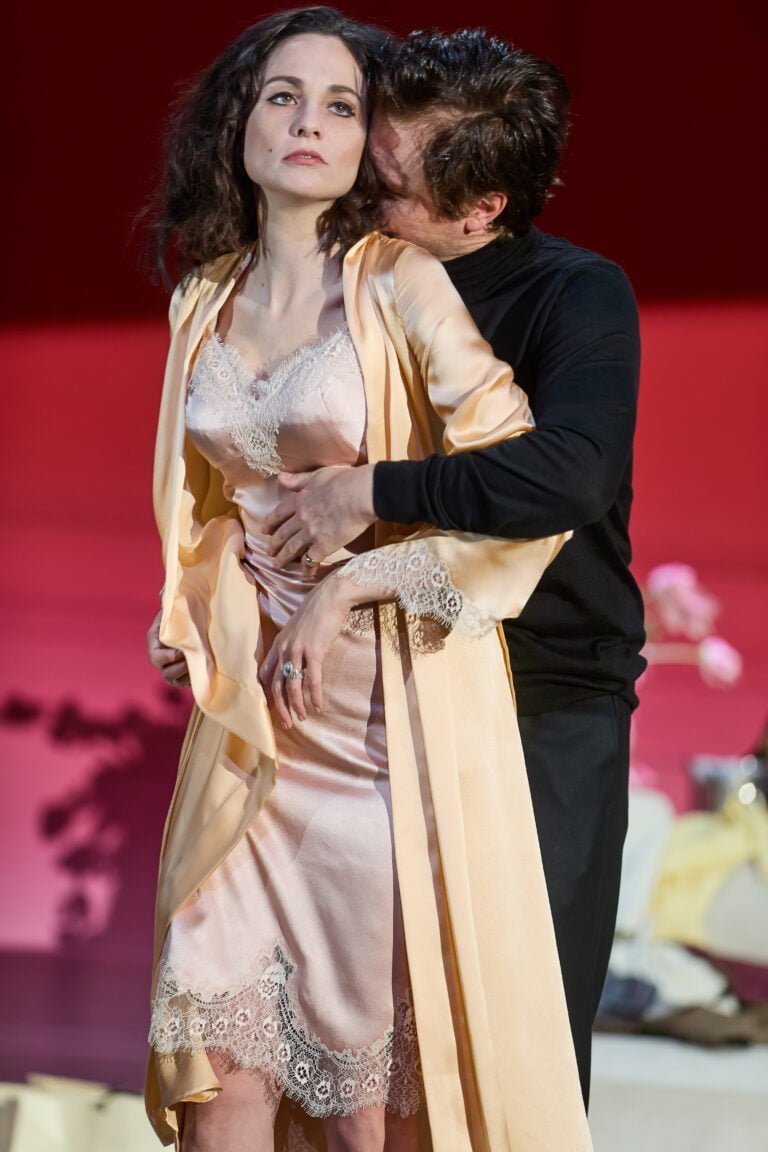 The Motive and the Cue

Written by Jack Thorne
Directed by Sam Mendes
Cast
Starring:
Janie Dee
Mark Gatiss
Aaron Anthony
Allan Corduner
Aysha Kala
David Ricardo-Pearce
David Tarkenter
Huw Parmenter
Johnny Flynn
Kate Tydman
Laurence Ubong Williams
Luke Norris
Mark Extance
Michael Walters
Ryan Ellsworth
Tuppence Middleton
Tom Babbage
Phoebe Horn
Elena Delia
Creatives
Director: Sam Mendes
Set Designer: Es Devlin
Costume Designer: Katrina Lindsay
Lighting Designer: Jon Clark
Sound Designer: Paul Arditti
Information
Running Time: Two hours 40 minutes with an interval
Booking to 15th July 2023
Theatre: 
Lyttelton Theatre
National Theatre
South Bank
London SE1 9PX
Tube/Rail : Waterloo
Website: nationaltheatre.org.uk
Reviewed by Lizzie Loveridge at the
Lyttelton Theatre  at a preview performance on 24th April 2023