There were gay men in Wyoming in 1963
 "I'm not no queer." 
Ennis
 "Me neither. A one shot thing. Nobody's business but ours."
Jack
Brokeback Mountain started as a very short novel – just 58 pages, more a novella or short story – by E. Annie Proulx.  It illuminated the lives of two young men in Wyoming, and it was a small gem, a story you could read quickly but not forget quickly.
"They were raised on small, poor ranches at opposite corners of the state" Proulx writes. "Both high school dropout country boys with no prospects, brought up to hard work and privation, both rough-mannered, rough-spoken, inured to the stoic life."  
While guarding sheep overnight on Brokeback Mountain, they crawl into their tent together, and there they discover the love that dare not speak its name – certainly not in rural Wyoming in 1963, where homosexuality was not made legal until 1976, and where men had been brutally murdered for doing what they did that night.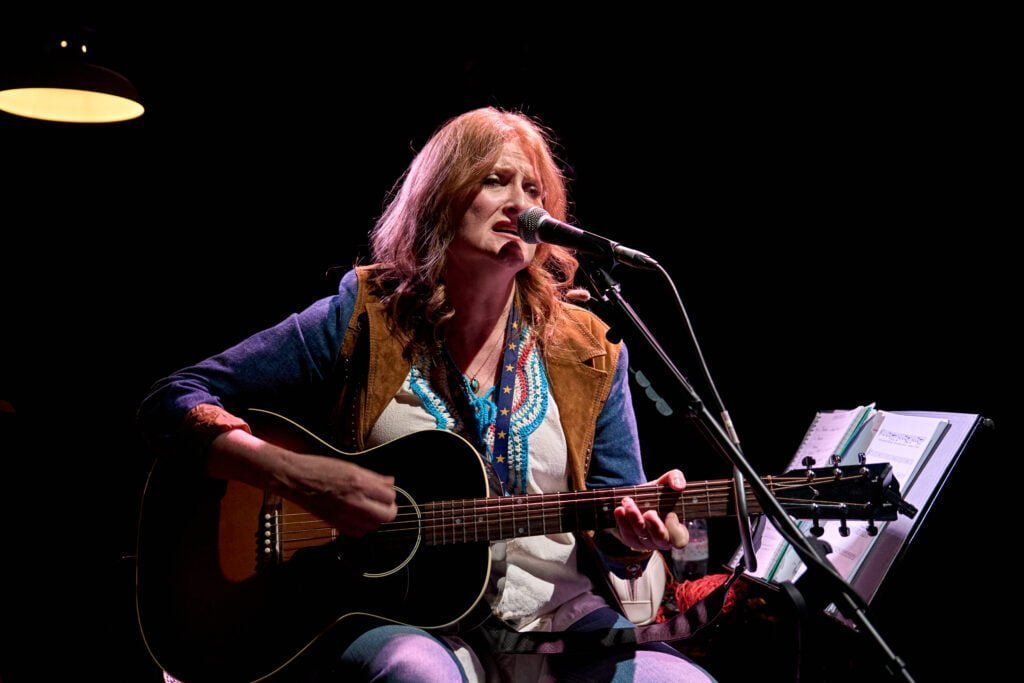 Proulx's story has been lovingly adapted for the stage by Ashley Robinson. He has not succumbed to the adaptor's temptation to make the story his own.  He has altered very little: the dialogue, the story, the settings are all as Proulx wrote them.  
But he has added music, for two reasons.  First, "How do you recreate the feeling of a mountain in a theatre?"  And second, with characters who are not particularly articulate, "How do you convey their inner thoughts and feelings?"
And the moment the music begins, you see that he was right. Thirteen lovely original country songs by Dan Gillespie Sells are performed by the wonderful Eddi Reader, sitting at the side of the stage on a high chair, one of her long legs stretched out in front of her and resting casually on another chair, her strong, thrilling voice the authentic sound of those bleak Wyoming hills. When snow fell, and she sang, I felt cold. At one point she puts her guitar down, does a quick change, and puts in a splendid cameo performance as the mother of one of the young men, talkative dreamer Jack (Mike Faist).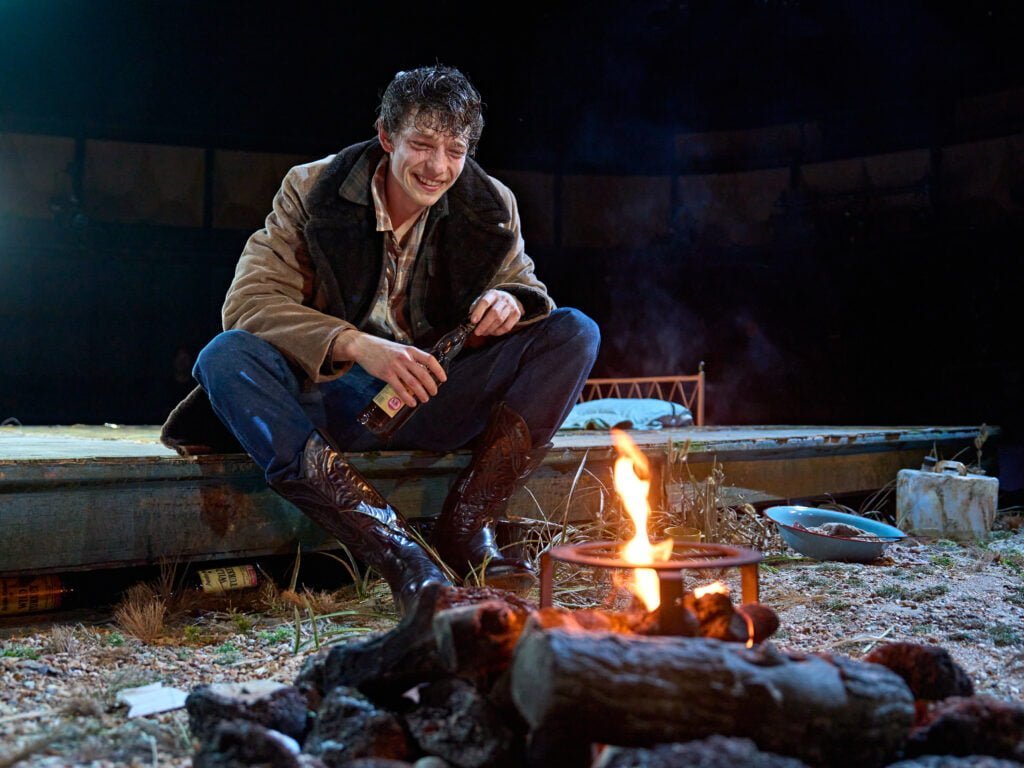 The other young man is silent, inarticulate Ennis (Lucas Hedges) who was brought up by his older brother and sister after his parents died. "How did they die?"  "Car wreck." 
The burden of making the show work falls on Faist and Hedges, and they rise to the challenge.  These are two utterly convincing performances, and we understand all the happiness and misery they do not have the words to tell us about.
The other standout performance is from Emily Fairn as Ennis's long-suffering wife Alma, the mother of his two daughters.  We see her at her wedding, shy and coquettish, happy and optimistic.  We see her trying to persuade her husband to take a steady job when we know that he wants nothing else than the trysts with Jack, and casual ranch work provides the excuse to get away for these trysts.  
We see her disappointment at his limited sexual interest in her. Ennis: "You don't want any more of my kids." Alma: "I'd have 'em if you'd support 'em."  And then, sotto voce as he gives up the pretence that he is interested in sex with her and leaves the room: "What you do don't make so many kids." It's a lovely, touching performance from an actor we should soon be hearing more about. 
Direction by Jonathan Butterell is restrained and assured, making the @sohoplace's theatre in the round serve his purpose so well that I find it hard to imagine this play in a conventional theatre space. My only reservation is the decision – following Proulx's story faithfully – to have the action watched throughout by the older Ennis (Paul Hickey.) I felt it added little, and an additional person on stage was a distraction when Jack and Ennis should be alone.
But that's a minor complaint. This is a wonderful, heartbreaking, yet ultimately uplifting show, which, despite its sadness, had me walking out of the theatre with an extra spring in my step.. The West End's first new theatre in fifty years continues its practice of producing new, interesting, thoughtful and innovative work, which it began only last year with the odd but enjoyable and life-affirming Marvelous.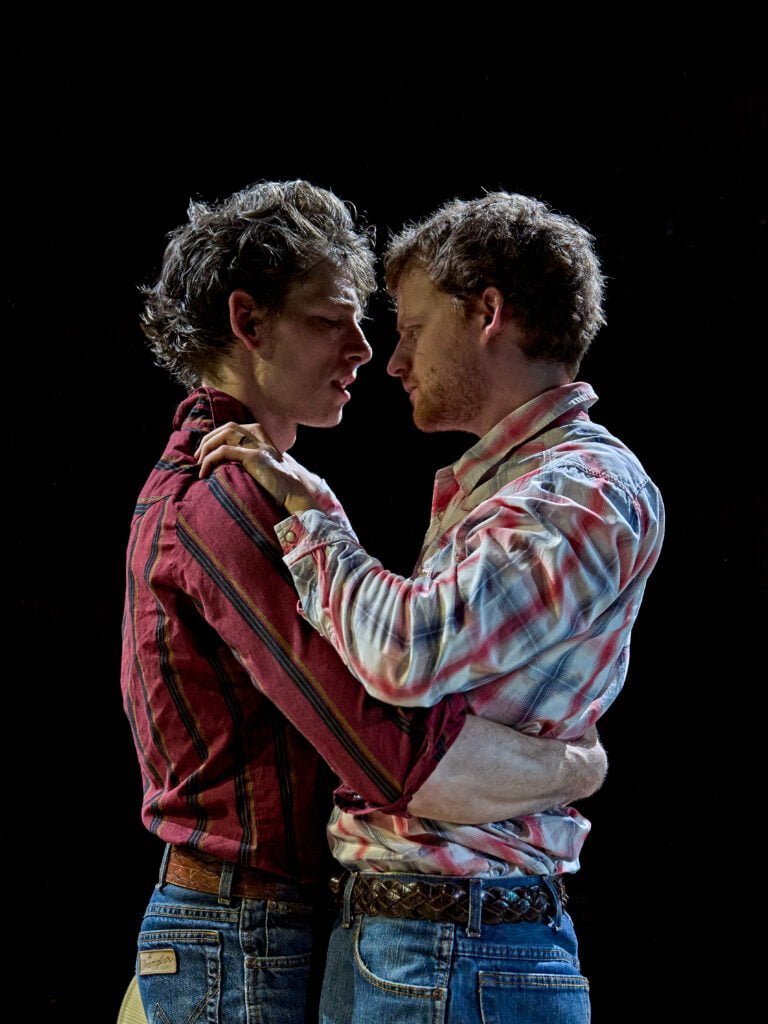 Brokeback Mountain

Adapted by Ashley Robinson
From the novel by Annie Proulx
Directed by Jonathan Butterell
Cast
Starring:
Lucas Hedges
Martin Marquez
Mike Faist
Paul Hickey
Emily Fairn
Eddi Reader
Meelie Traill
Julian Jackson
BJ Cole
Creatives
Director: Jonathan Butterell
Designer: Tom Pye
Composer: Dan Gillespie Sells
Lighting Designer: David Finn
Sound Designer: Christopher Shutt
Fight Director: Kevin McCurdy
Information
Running Time: One hour 30 minutes without an interval
Booking to 12th August 2023
Theatre: 
@sohoplace
4 Soho Place
London W1D 3BG
Tube: Tottenham Court Road
Telephone: 020 384 09611
Access: 0330 3335962
Website: www.sohoplace.org
Reviewed by Francis Beckett
@sohoplace on 18th May 2023