The Little Mermaid Swims to a Caribbean Calypso
"The Gods are dancing for me, Mother." 
Ti Moune
Once on this Island  is a lively musical with a plot similar to Hans Christian Andersen's The Little Mermaid, updated and transported from Denmark to Haiti. 
This Haiti is a land where extremes of wealth and poverty have existed for centuries. The only pleasures of the oppressed Poor are to dance and tell the comforting tale of how orphan girl Ti Moune (Gabrielle Brooks) is rescued from a hurricane. She is reared by an initially reluctant but loving couple who accept their humble lot in life. 
But Ti Moune has a spirit that demands more from life and, nudged by local Deities as happy to meddle in the lives of mortal as their Olympian cousins, she finds her One True Love, Daniel (Stephenson Ardern-Sodje). He is sorely wounded, but she saves his life.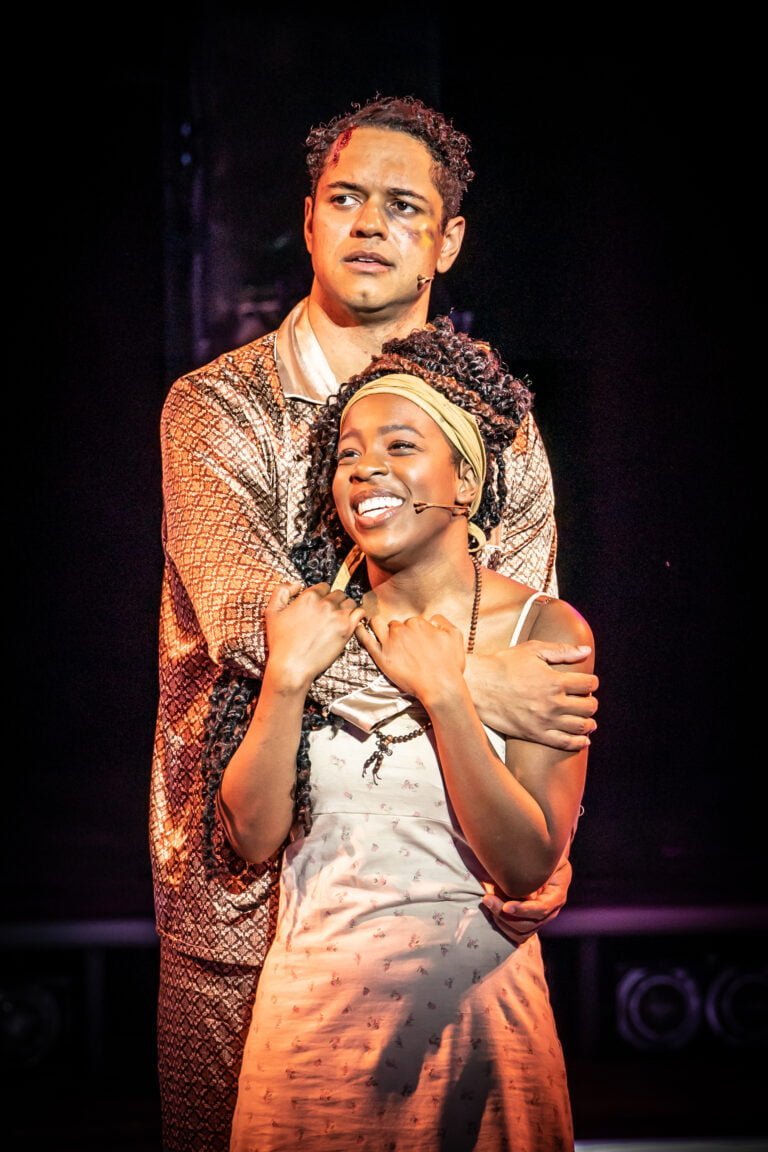 When he is reclaimed by his rich family she is determined to find him again and claim him for her own. Her journey defies parents, convention, fatigue, and basic ignorance of geography, but is accompanied by vigorous dance, singing and music by a cast that never stops.
All journeys must end and Ti Moune's finishes at the gates of a luxury hotel where a wedding is being arranged. Education is for the privileged elite so she has never heard of The Little Mermaid. (Andersen's, not Disney's) But she does have the local Deities on her side…  now we are in the present day and Prince Charming may not share his saviour's dreams.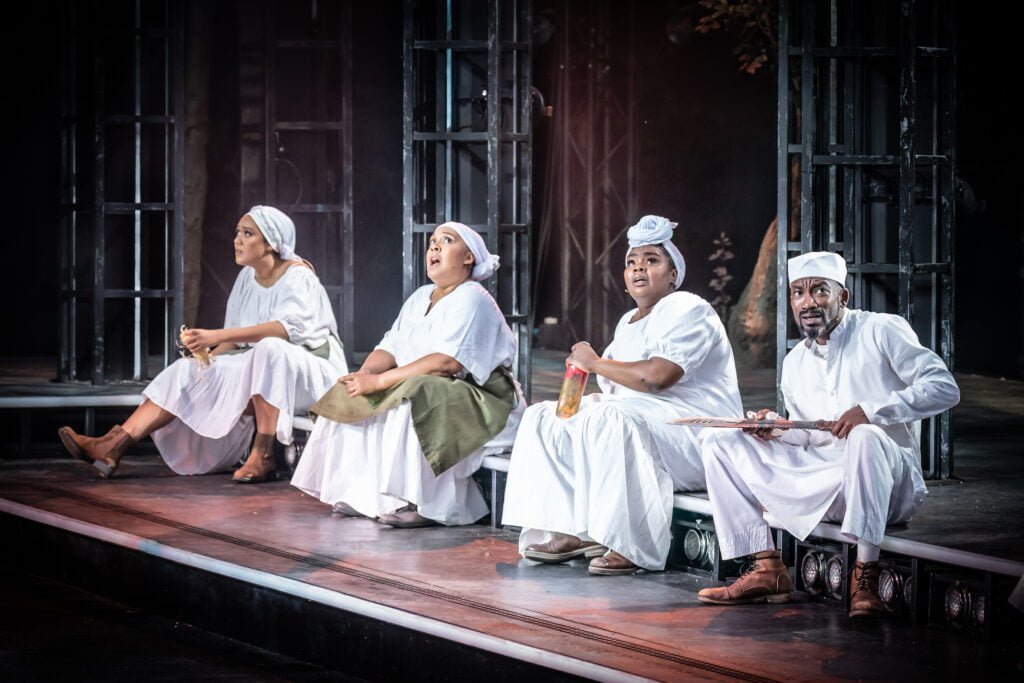 Aspects of the plot make it unsuitable for young children, who might find the Gods scary and ask just what are Ti Moune and Daniel doing under that large white sheet at their first reunion. "Stay the night and show me your powers," says Daniel. Perhaps Ti Moune should think twice about her heart's desire on hearing this cheesy line, but she is determined to a fault and has, after all, pledged her life for his to the God of Death. The dialogue is not exactly the strongest part of the show: "Oh Gods, let me fly! I'm waiting for life to begin." "I have chosen – My dreams are there." "Go and find your love. Go and swim your sea!" 
However this is a night of spectacle rather than words. With such a tight ensemble piece it would be unfair to single out individual performers. The dancing and singing are powerful and continuous. The staging makes the most of the minimal set. The costumes are dazzling as is the speed with which they are changed. The live band holds the piece together with music that is continuous and driving. However some of the songs are not quite the anthems they aspire to be. 
The pace only slackens for the History Lesson on early Haiti which attempts to explain how such a fertile land produced such poisonous social inequalities. But it is not very illuminating and feels like padding. Though at least it has a great puppet who disappears all too soon leaving us wanting more, even though he is a monster. It might be more helpful to understand the Haitian Voodoo deities who play an active part in the plot.
Advisory from the theatre: Please note that this production of Once On This Island contains scenes which some may find upsetting involving racism and racial trauma, colourism, death by suicide and sexual abuse.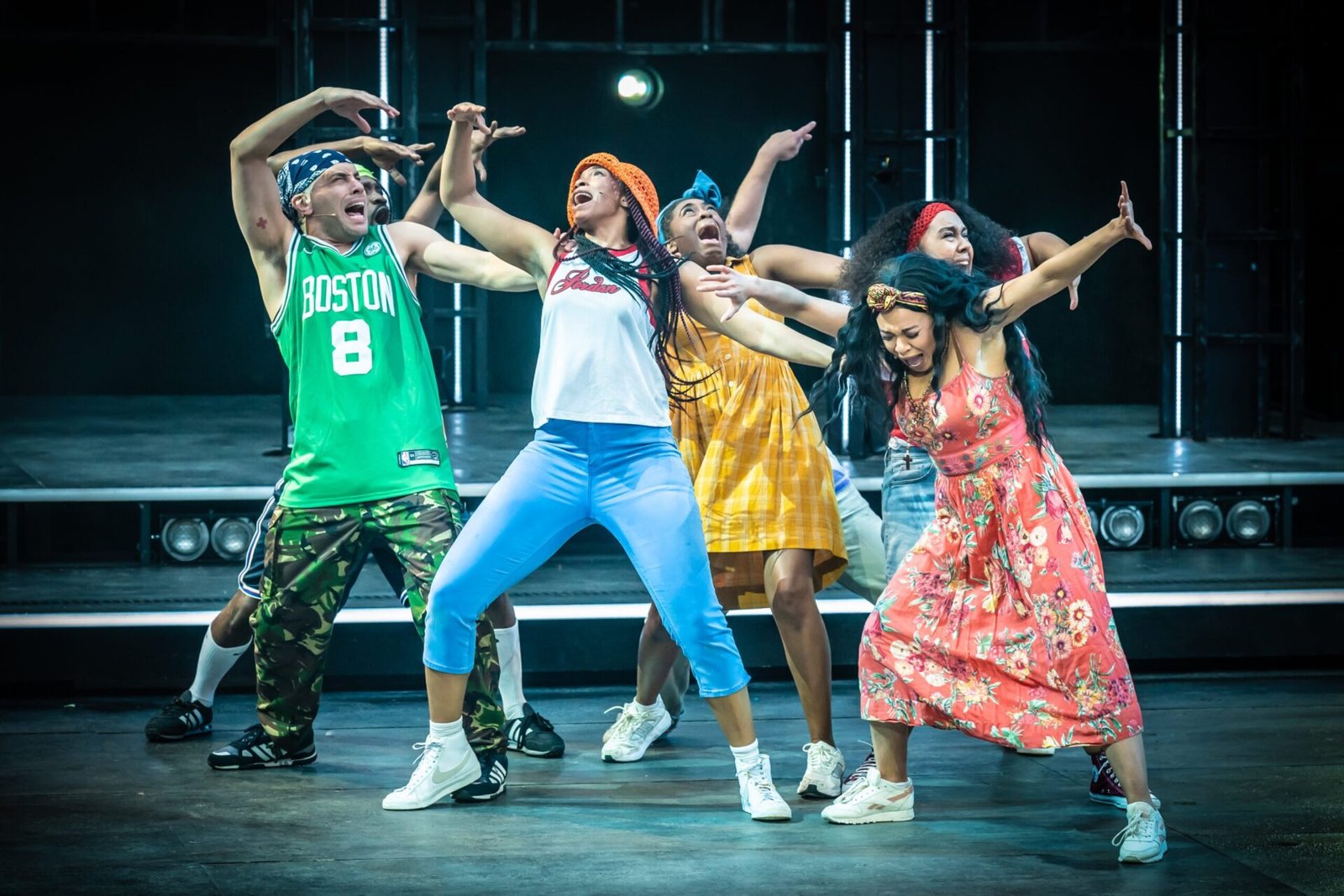 We Dance
One Small Girl
Waiting For Life
And the Gods Heard her Prayer
Rain
Discovering Daniel
Pray
Forever Yours
The Sad Tale of the Beauxhommes
Ti Moune
Mama will Provide
Waiting for Life (Reprise)
Some Say
The Human Heart
Pray (Reprise)
Gossip
Some Girls
The Ball
Ti Moune's Dance
When We Are Wed
Promises
Forever Yours (Reprise)
Wedding Sequence
A Part of Us
Why We Tell the Story
Once on This Island

Music by Stephen Flaherty 
Book and Lyrics by Lyn Ahrens
Author: Rosa Guy
Directed by Ola Ince


Cast
Starring:
Ashley Samuels
Chris Jarman
Courtney-Mae Briggs
Gabrielle Brooks
Natasha Magigi
Anelisa Lamola
Stephenson Ardern-Sodje
Jonathon Grant
Emilie Louise Israel
Lejaun Sheppard
Creatives
Director: Ola Ince
Choreographers:
Kenrick 'H20' Sandy
Niquelle LaTouche
Musical Director: Chris Poon
Musical Supervisor: Philip Bateman
Lighting Designer: Jessica Hung Han Yun
Set Designer: Georgia Lowe
Sound Designer: Nick Lidster for Autograph
Costume Designer:
Melissa Simon-Hartman
Fight Director: Philip d'Orléans
Information
Running Time: One hour 30 minutes without an interval
Booking until 10th June 2023
Address:
Open Air Theatre
Inner Circle
Regents Park
London NW1 4NU
Box Office: 0333 400 3562
Tube: Baker Street
Reviewed by Brian Clover
at the Open Air Theatre, Regents Park on 17th May 2023