Design your own West End hit
"Bah. Humbug" 
Scrooge in A Christmas Carol.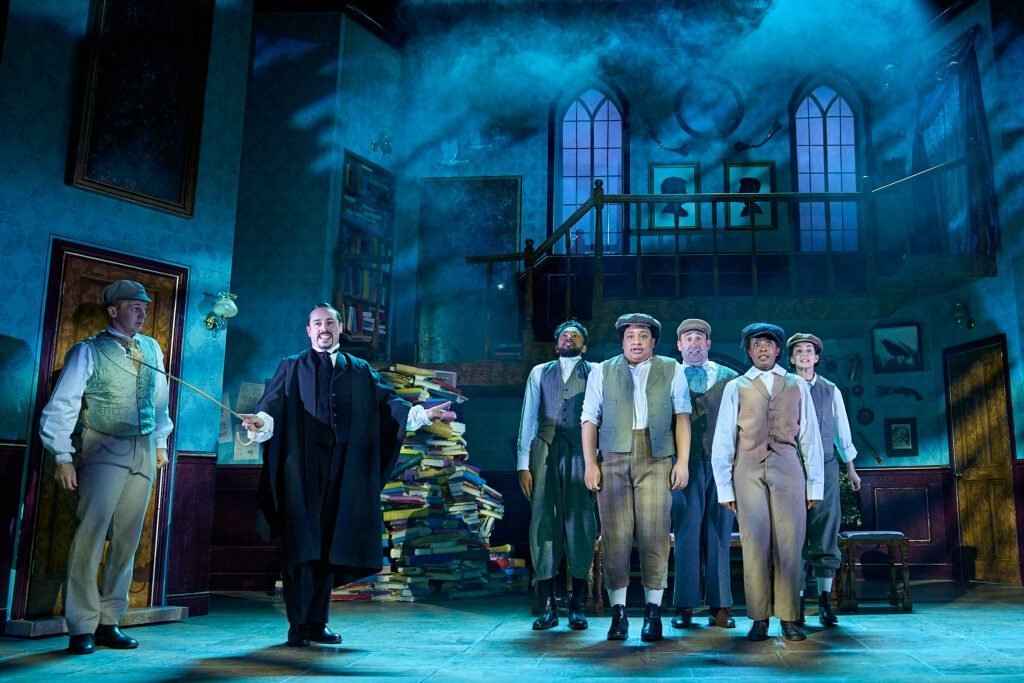 Bleak Expectations at the Criterion Theatre is a good example of an attempt to create a commercial success by numbers.  Take a successful radio show with its own following.  Include the name of a famous writer.  Then line up eighteen famous faces off the telly and get them to come in for a few nights each to read the links.  And watch the money roll in.
I've nothing against a hard-nosed commercial attitude to theatre, so long as we have the other kind too. But the show can't rely entirely on the formula.  There has to be originality and wit too.
I had a sinking feeling about Bleak Expectations when I read the programme note by writer Mark Evans.  "First, thanks for coming. Second, thanks for buying a programme.  And third, if you're reading this, thanks for reading this, in which I'm going to try to explain why I wrote the play you're here to see tonight…."  Or to put it another way: "37 words down, only 263 to go and then I can do something interesting."Mark Evans also wrote the radio show, which extracts a fair amount of humour from mixing modern and Dickensian language.  It has not translated entirely successfully to the stage, though director Caroline Leslie has added a few quite funny visual gags.  A lot of the humour relies on making fun of Victorian prudery, which is also quite fun, the first few times.  
The show is blessed with the sort of actors who will extract a laugh from a line if it's humanly possible.   "Even in love your manly pacing is excellent, dear brother" says Pippa Bin (Serena Manteghi) as her brother Pip Bin (Dom Hodson) paces across the stage, and the two actors make it a funny moment.
John Hopkins makes a splendid villain as Gently Benevolent, with a laugh as evil as anything you'll hear come pantomime season, and his fellow villain, Whackwell Hardthrasher (Marc Pickering), slithers evilly and satisfyingly.  Mark Pickering also plays Hardthrasher's brother and sister.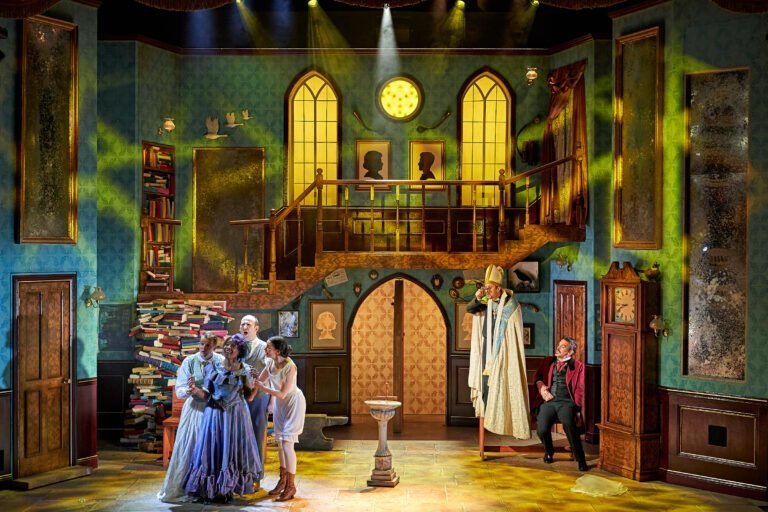 There are a few good jokes.  It's entertaining and witty to call one young woman Flora Dies-Early (Ashh Blackwood.)  But too many of the jokes are so weak that even this talented cast can't rescue them.  "As soon as I arrived at boarding school my optimism evaporated like an English football fan in the closing days of the world cup."  It is nearly six months since England's early departure from the world cup, and most of the humour obtainable from it has already been extracted.
Narration is done by the guest celeb. Later in the run such distinguished folk as Sue Perkins, Julian Clary, Adjoah Andoh, Jo Brand, Jack Dee. Alexander Armstrong, Stephen Fry and Nish Kumar will among the 18 celebs to have a go.  Between 22 and 27 August it will be a "mystery star."  (Be still, my beating heart.)  The night I saw it, it was Sally Phillips, whom I remember fondly for Clare in the Community.  
You can't expect folk as distinguished as these to learn their lines for just five performances, so they read them from a big folder. Sally Phillips did it properly and professionally, and covered extremely well when she found herself on stage with the wrong pages in front of her. She's a trooper, but I can't help feeling it would have been better to get someone less famous to be a part of the cast for the whole run, and learn the lines.  You wouldn't have had the pulling power of the face from the telly, though.
The press night audience came willing to laugh, and had a few chances to do so.  But there is so much clever and original material around, and it's sad when theatres opt for warmed-up stuff like this. 
Bleak Expectations
Written by Mark Evans
Directed by Caroline Leslie
Cast
Starring:
Abigail Matthews
Conor Dumbrell
Dom Hodson
Eric Mallett
JJ Henry
John Hopkins
Marc Pickering
Rachel Summers
Sally Phillips
Serena Manteghi
Shane David-Joseph
Emily Waters
Ashh Blackwood
Creatives
Director: Caroline Leslie
Designer: Katie Lias
Movement Design: Joyce Henderson
Composer: Tom Pigott-Smith
Lighting Designer: Andrew Exeter
Sound Designer: Ella Wahlström
Information
Running Time:Two hours and 35 minutes with an interval
Booking to 13th August 2023
Theatre: 
Criterion Theatre
218-223 Piccadilly
Piccadilly Circus
London W1V 9LB
Box Office:  033 33 202 895
Website: criterion-theatre.co.uk
Tube: Piccadilly Circus
Reviewed by Francis Beckett at the Criterion 
on 19th May 2023