Is This the Future of Art?
"Is that Art or did you just forget to take your medicine?"
Adam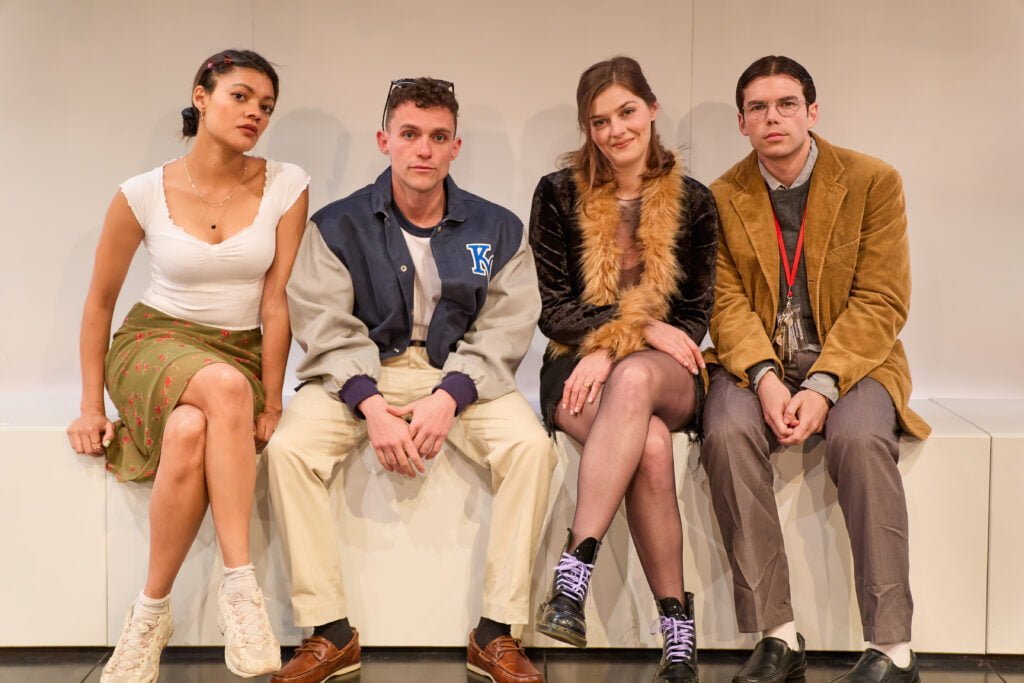 Having seen the inaugural opening of The Shape of Things in 2001 (review here), I knew I wanted to see it again but I also was aware that it would not have the vicious kick in the gut in the last half hour. Spoilers prevent me discussing this climactic event but I am sure everyone who sees the play will be.
The Park Theatre can be very proud of this production with excellent casting about a relationship between a Masters in Fine Art student and an English Literature undergraduate.  Adam (Luke Newton) is very geeky, awkward and clumsy when he is hit upon by the beautiful art student Evelyn (Amber Anderson).
LaBute's play has layers but superficially it is about our appearance and how we are judged on that, America's obsession with the beautiful and the lengths we will go to to be beautiful. The Shape of Things is also about Art and what constitutes art. Written at the Millennium when few art schools were specialising in Fine Art but changing to creating installations, making different kinds of statements and seeking different reactions from their audience. The third issue is about who is making the Art and the perceived morality of the artist in how they behave towards others. Will Kevin Spacey's great acting performances be deemed unshowable because of the allegations of his sexual abuse or Michael Jackson's music?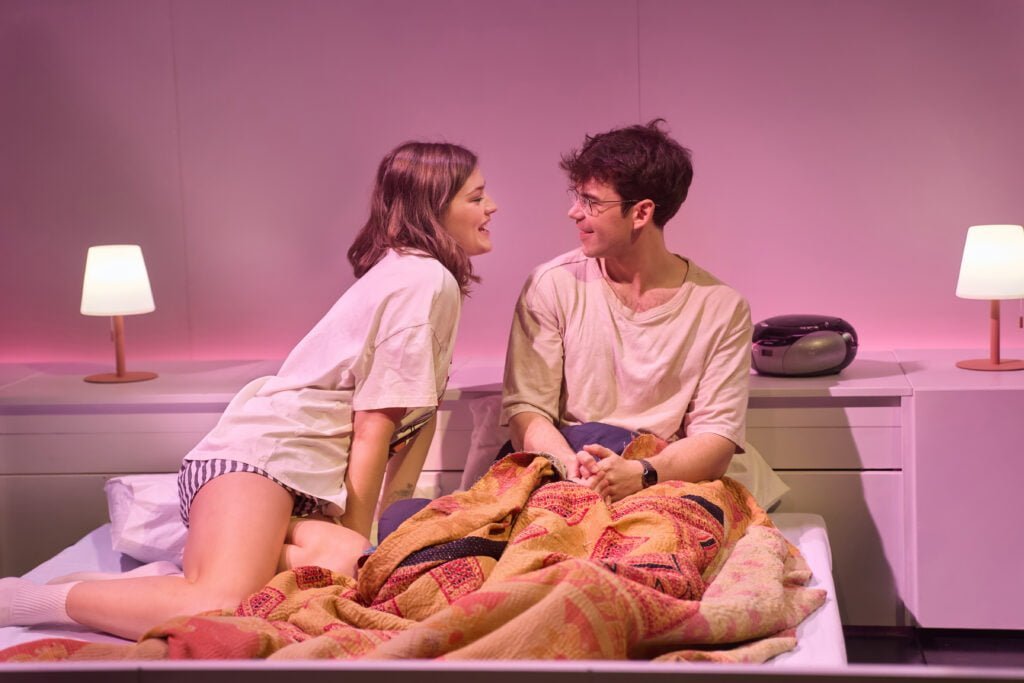 The set is very simple with Anna Reddyhoff's lighting in different colours to show different locations but the locations aren't really important.  The acting performances are tremendous with Amber Anderson's stage debut being memorable.  As Evelyn she changes Adam's appearance also empowering him because he has a gorgeous girlfriend and changing his posture from self effacing fidgeter to someone with more confidence.  Luke Newton tackles this transformation admirably and believably; we have to imagine his large nose.   
Luke's two friends before he meets Evelyn are Jenny (Carla Harrison-Hodge) his long term crush and classmate, and frat boy, the over confident Phillip (Majid Mehdizadeh-Valoujerdy).  They serve to remind Phillip of who he was before falling under Evelyn's influence.  
The night I saw this play in 2001 there was a different kind of audience statement.  In between scenes there was very loud music from The Smashing Pumpkins and two audience members walked out with hands over their ears.  They were Harold Pinter and Lady Antonia, and this was an insensitive action from someone whose own early plays had been reviled, on another playwright's opening night.  
Although this play is 22 years old, it is as relevant and biting today. They have chosen to keep its original setting of 1999.  Neil LaBute has made a few alterations and added some new jokes.  Don't miss it!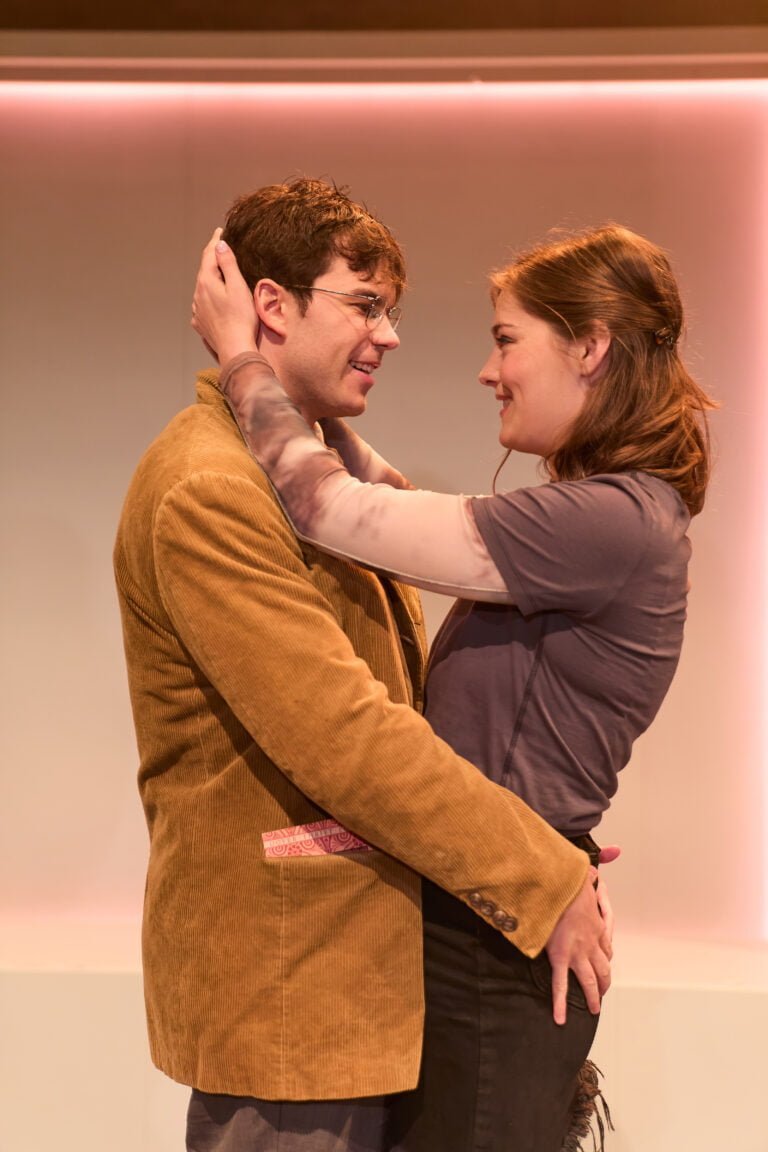 The Shape of Things
Written by Neil LaBute
Directed by Nicky Allpress
Cast
Starring:
Carla Harrison-Hodge
Luke Newton
Amber Anderson
Majid Mehdizadeh-Valoujerdy
Creatives
Director: Nicky Allpress
Designer: Peter Butler
Movement Design: Add Gortler
Lighting Designer: Anna Reddyhoff
Sound Designer: Asaf Zohar
Information
Running Time: Two hours 10 minutes with an interval
Booking to 1st July 2023
Theatre:
The Park Theatre
Park 200
London N4 3JP
Tube: Finsbury Park
Website: parktheatre.co.uk
Reviewed by Lizzie Loveridge
at the Park Theatre
on 31st May 2023