Gypsy: Let Us Entertain You!
"I wonder how old I am?"  
Louise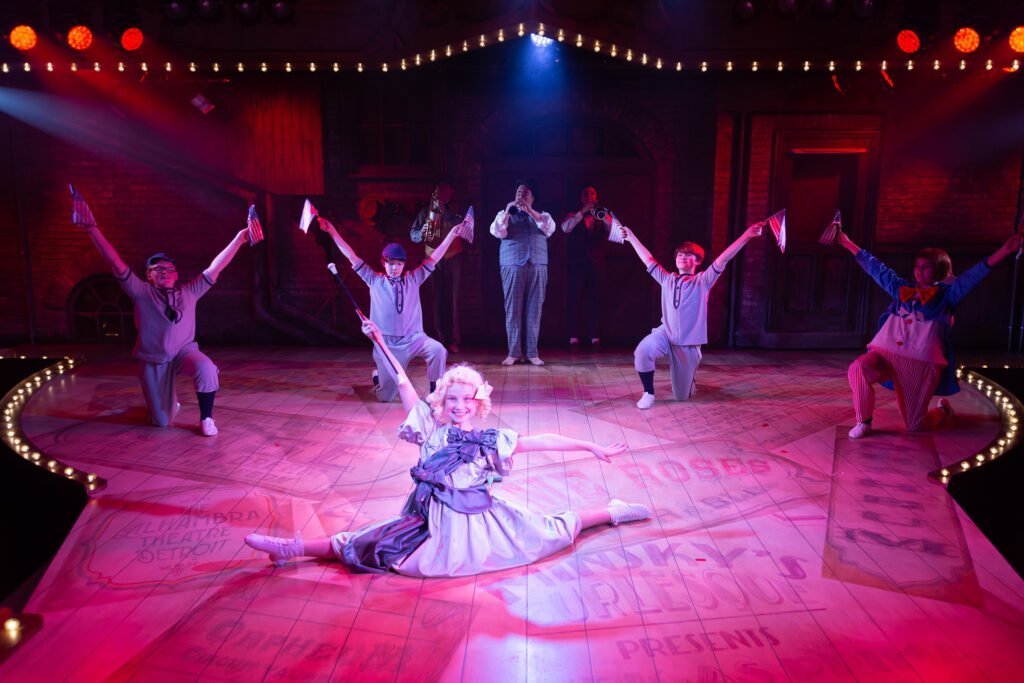 Gypsy the musical has some of the most fabulous tunes of all time.  Momma Rose (Rebecca Thornhill) is not the perfect role model for stage mothers as her unvaulted ambition is passed on to her daughters but she does have some great songs.  
Set in 1923, in the days of Vaudeville, Gypsy follows this travelling troupe based on the memoirs of Gypsy Rose Lee (Evelyn Hoskins).  The mother believes that all her talent lies with her younger daughter Baby June (Mia Burton, Daisy Jeffcoate, Isla  Jones) a rather sickly looking child with far too many blonde ringlets, a frilly sequinned frock and irritating attention seeking mannerisms.  Her other daughter Louise (Aimée Brain, Sophie Bidgood, Sophie Lloyd) is dressed as a boy or the hind end of a cow taking second fiddle to her sister but is sweet natured and obedient.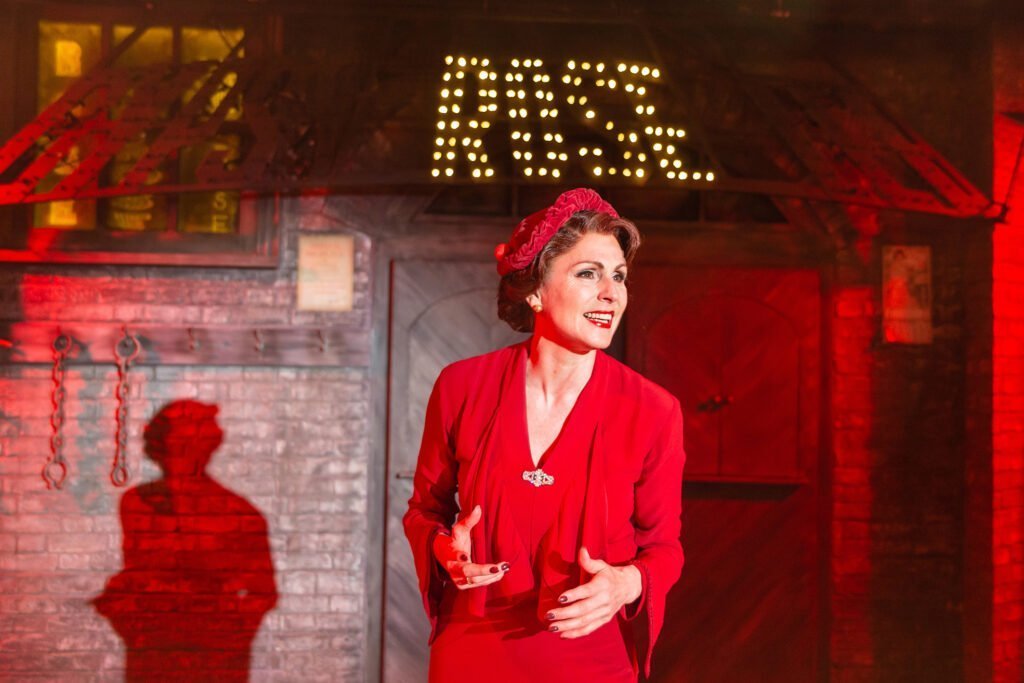 The company has several actor musicians playing their instruments as well as filling the stage making for a fantastic atmosphere.  Baby June sings with her Newsboys, of which one is her sister Louise.  As June and Louise grow up played by Maria Tavolieri and Evelyn Hoskins, the switch to older girls reminds of Matilda.  The director and choreographer here, Joseph Pitcher was the Resident Director on Matilda.  Evelyn Hoskins was also memorable as Carrie in the musical version of the terrifying film.  
Sadly for Rose, June falls for the wonderful tap dancer Tulsa (Charlie Waddell) and they run off to make a career away from her mother. The vaudeville act without June is not getting booked and the family are increasingly desperate.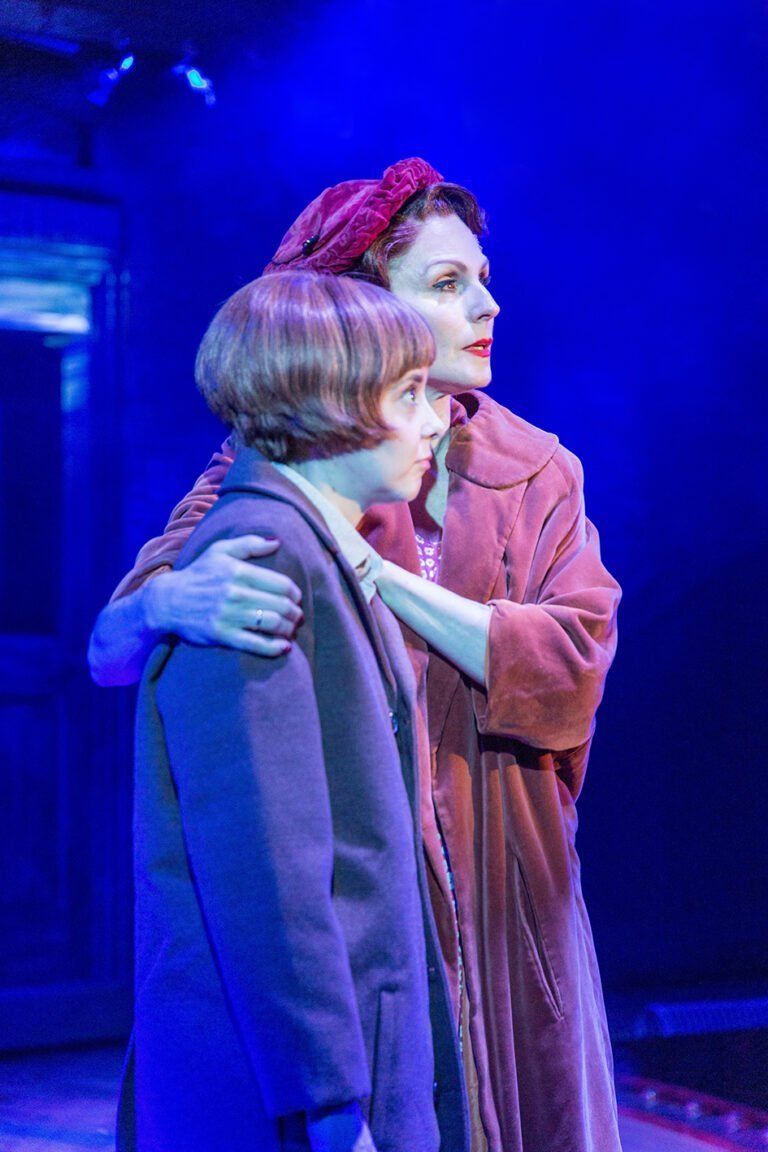 Starting in a burlesque house in Wichita, Louise decides, against her mother's wishes, to perform a routine full of sexual innuendo and stripping.  Her style is very different from the pelvic thrusting, bump and grind competition of other strippers. She puts the tease in striptease, grows in confidence, tours several cities and on each outing she is more celebrated and her stage name becomes Gypsy Rose Lee. Eventually she becomes the star at Minsky's Burlesque in New York.  
The first time I saw Gypsy I had doubts about the morality of a mother setting up her daughter as a stripper but in this production, I saw her chosen profession as not only a choice but a route to success, fame and riches.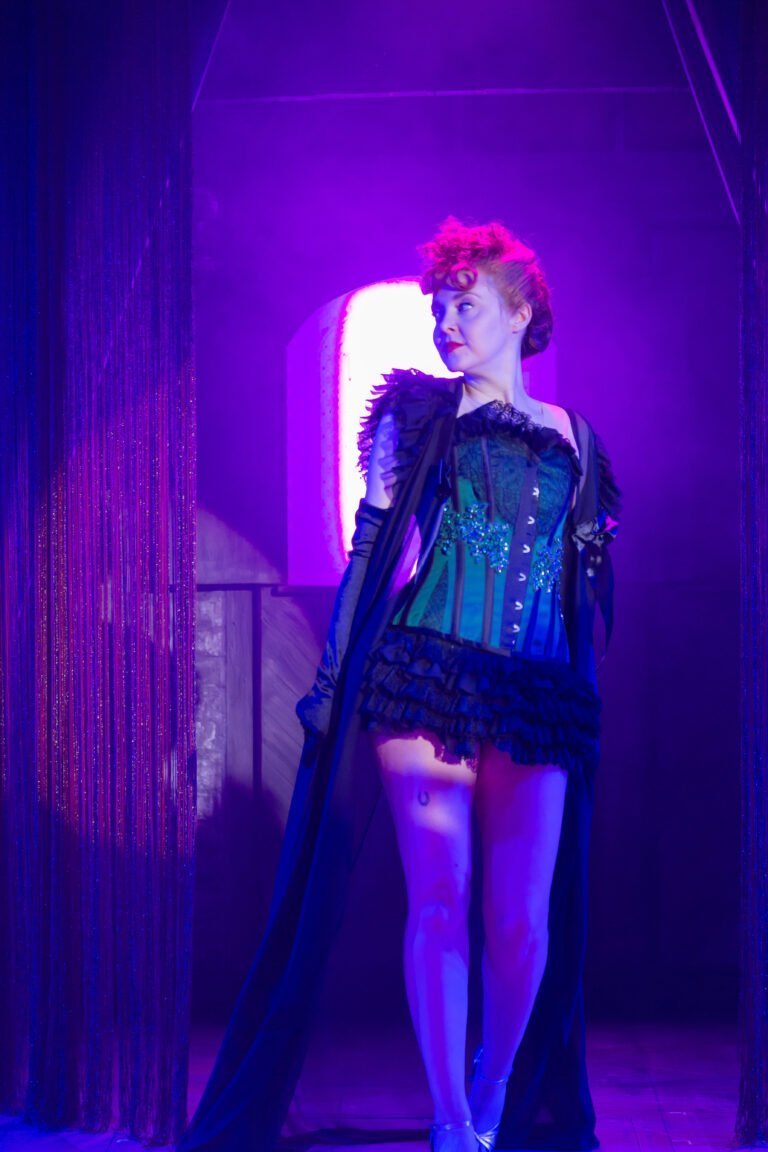 There are wonderful performances here.  Rebecca Thornhill as Mamma Rose is showstopping in "Everything's Coming up Roses" and "Together, Wherever We Go".   It is apparent that who should have been on the stage instead of June, was her mother who is full of singing talent.  
Her daughters first perform "Let Me Entertain You" as children all cutesy but the grown up version from Gypsy Rose Lee is altogether more sexy.  
Evelyn Hoskins gives an outstanding performance and wins hearts on her career path.  She recreates the wit in stripping that people so admired from Gypsy Rose Lee.  A strap gave way during a routine causing the dress to fall and the audience reaction was so powerful, this became a part of the real burlesque artist's act.  
Gypsy Rose Lee's real life mother forged many birth certificates for her daughters to comply with state labour laws and later for them to be under ten when requested by producers.  
Gypsy is a scintillating show from the Mill at Sonning and what better for a summer evening?  
QUIZ: What is the connection between Gypsy Rose Lee and Elizabeth Taylor?
Act One
Overture 
Let Me Entertain You 
Some People
Small World 
Baby June and Her Newsboys
Recitation and Military Routine
Mr. Goldstone 
Little Lamb
You'll Never Get Away From Me
Farm Sequence
If Momma Was Married 
All I Need Is the Girl
Everything's Coming Up Roses 
Act Two
Entr'acte 
Toreadorables
Together Wherever We Go
You Gotta Get a Gimmick 
Gypsy Strip Routine:  Let Me Entertain You
Rose's Turn
Gypsy, A Musical Fable
Book by Arthur Laurents
Music by Jule Styne
Suggested by the memoir of Gypsy Rose Lee
Choreographed and directed by  Joseph Pitcher
Cast
Starring:
Daniel Crowder
Evelyn Hoskins
Samuel How 
Tim Maxwell-Clarke 
Joseph Vella
Charlie Waddell
Natalie Winsor 
Brendan Cull
Buna McCreery-Njie 
Seren Sandham-Davies
Marina Tavolieri
Rebecca Thornhill
Laura Tyrer
Susannah Van Den Berg
Children:
Daisy Jeffcoate
Mia Burton
Isla Jones
Sophie Bidgood
Aimee Brain
Sophie Lloyd

Avi Krulft
Sacha Yarwood
Samuel Logan
George Clarke
Joshua Howe
Harley Coles
Dog
Chowsie
Creatives
Director and 

Choreographer: Joseph Pitcher
Set Designer: Jason Denvir
Costume Designer: Natalie Titchener
Lighting Designer:  Nick Farman
Sound Designer: Chris Whybrow
Musical Director and Arranger: Francis Giidhand
Information
Running Time:
Two hours 45 minutes with an interval
Booking until 15th July 2023 

Theatre:
The Mill at Sonning Theatre 
Sonning Eye
Reading
RG4 6TY 
Website: millatsonning.com
Box Office: (0118) 969 8000
Reviewed by Lizzie Loveridge
at the Mill at Sonning
on 1st June  2023