Long Live Irreverence and Spitting Image!
"I never really mattered to Mummy." 
King Charles in a new version of Bohemian Rhapsody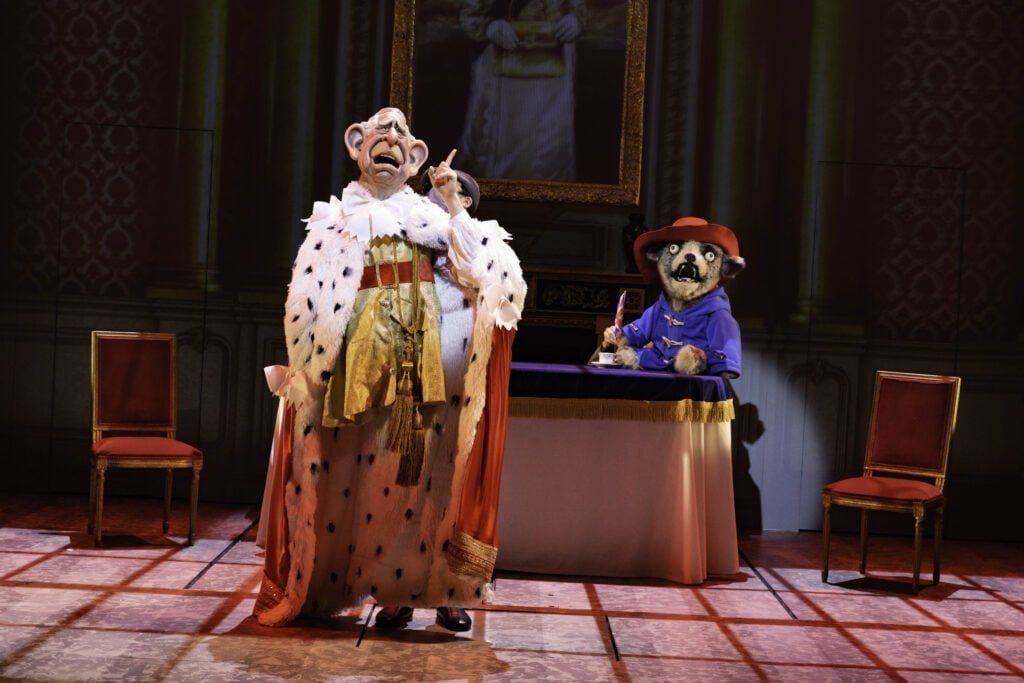 Welcome back Spitting Image, the iconic puppets with puppeteer human legs and voice over artists, but live on stage and making no apologies for any offence!  It could be said that the real life events among the Royals and prime ministers are satirical in themselves leaving no room for Spitting Image's cruelly comical excess but in my opinion there is always room for laughter and fun.  What you don't get onstage, which for me was a down side of the television programmes, is over repetition of the same joke, for instance the spit spraying Roy Hattersley.  It feels very fresh.
Instead you have a tiny puppet Tom Cruise, knee high to every other character.  And you have the most superb puppeteers and movement.  We see the late Queen in all her finery playing her Red Special acoustic guitar and finding her inner Brian May.  She is admired and celebrated, not ridiculed, and the music is orgasmic.   
The vague plot is King Charles' mission to save the fabric of Britain by enlisting Mission Impossible's Tom Cruise.  Ian McKellen, knighted thespian will introduce the proceedings and Paddington Bear, having mixed cocaine with his marmalade, is on hand for royal advice.  The threat to the monarchy with tunes from The Lion King is Boris Johnson who we know has long wanted to be World King.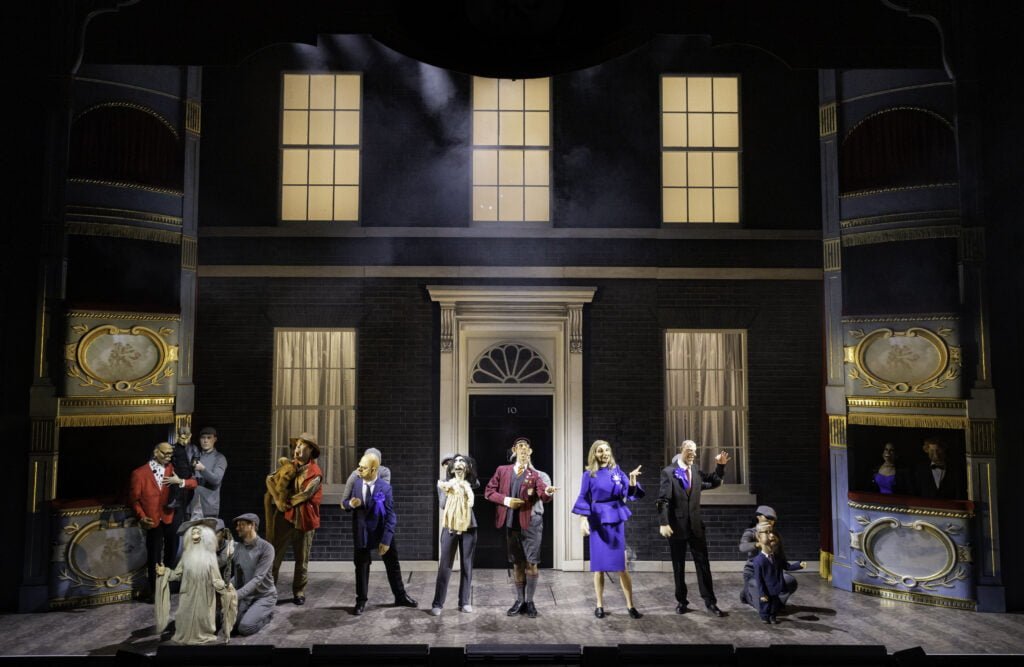 There are plenty of new characters, Greta (Tintin Eleonora Ernman – yes these really are her middle names!) Thunberg and Donald Trump whose voice is state of the art, and the Tory government, Rishi Sunak in his school blazer and Suella Braverman in a superb graveyard scene from Michael Jackson's Thriller.   Braverman's scenes recall The Exorcist movie.  Liz Truss' appearance is as brief as a lettuce.  
For the Opposition, we have Keir Starmer tediously quoting corporate meeting protocols and Angela Rayner with her long red hair down to her knees and the impossibly short Nicola Sturgeon whose up to date arrest is included.  Roger Law, without Peter Fluck, is the Caricaturist Supremo and his puppets take no prisoners, apart from the police chasing Nicola Sturgeon.  Carrie Johnson rounds off the first act with the girls riding huge penises and balls in some kind of chariot display and regularly flashes her boobs.  Think carefully about taking the children with these overtly rising genitalia!  
The voice overs are wonderful and the characterisations really work.  I liked Rishi Sunak's schoolboy persona although that is not a Wykehamist blazer as Winchester doesn't have school uniform!  Boris' hair is brilliantly comic reality to go with his unvaulted ambition.  The writers, Sean Foley, Al Murray and Matt Forde are going to have to work throughout the run to keep up with the news.  
Ru Paul, Tyson Fury and Stormzy make an appearance – I think there are about 106 characters in all.  Set and video design is strong. I loved the "Bohemian Rhapsody"  sequence with King Charles regretting not being his mother's favourite son.   "We Will Rule You"  from the Royals is much more fun than the one at the Coliseum.  The music is good quality and Lizzie Gee's choreography gives great physical jokes with the hard working human legs on the puppet top halves. 
This isn't the show for the prudish but I loved it and would go again like a shot!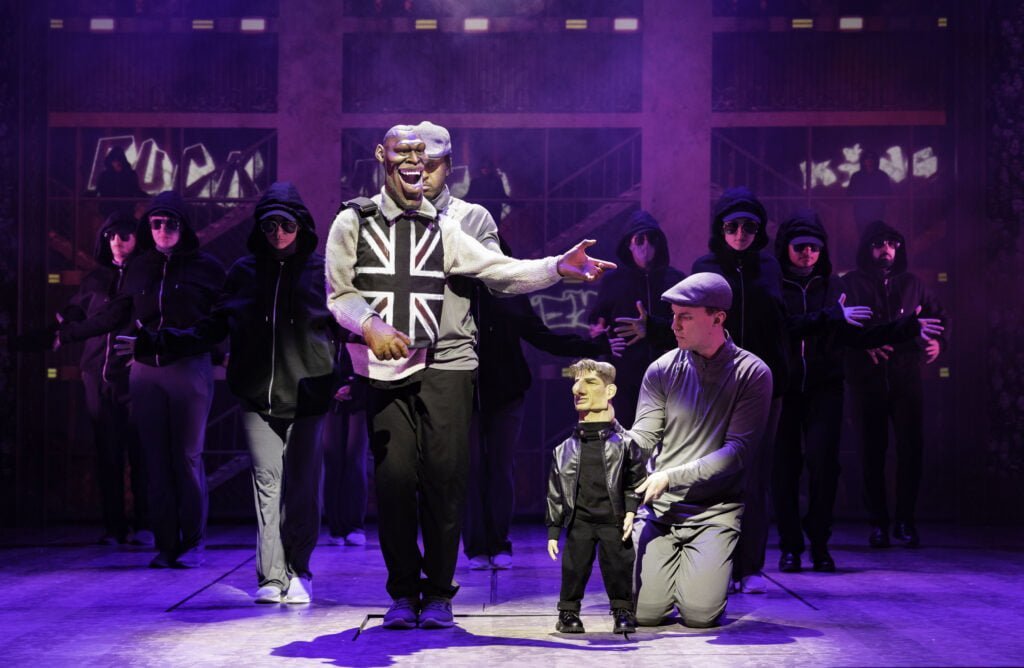 Idiots Assemble Spitting Image the Musical
Written by Sean Foley, Al Murray and Matt Forde
Directed by Sean Foley
Cast
Puppeteers:
Rianna Ash
Katie Bradley
Kaidan Dawkins
Bertie Harris
Pena Iiyambo
Jackie Lam
Bright Ong
Will Palmer
Rayo Patel
 Tom Quinn
Faye Weerasinghe
Voice Over Artists
Oliver Chris
Kathryn Drysdale
Jason Forbes
Matt Forde
Luke Kempner
Lorna Laidlaw
Jackie Lam
Al Murray
Shri Patel
Jess Robinson
Debra Stephenson
Ronan Summers
Swings
Anthony Antunes
Emily Essery
Richard Vorster
Creatives
Director: 

Sean Foley
Caricaturist Supremo: Roger Law
Composer: Alexander S Bermange
Lighting Designer: Tim Mitchell
Production Designer: Alice Power
Video Designer: Nina Dunn
Sound Designer: Richard Brooker
Choreographer: Lizzie Gee
Costume Designer: Lotte Collett
Musical Director: Alexander S Bermange
Musical Supervisor: Jerome van den Berghe
Puppet Master: Scott Brooker
Information
Running Time: Two hour 15 minutes including an interval
Booking to 26th August 2022 
Theatre:
Phoenix Theatre
Charing Cross Road
London WC2H 0JP
Box Office: 0333 009 6690
Website: spittingimagethemusical.com
Tube: Tottenham Court Road
Reviewed by Lizzie Loveridge
at the Phoenix Theatre on 16th  June 2023