Dance to the Lullaby of Broadway!
"Think of musical comedy, the most glorious words in the English language!"
Julian Marsh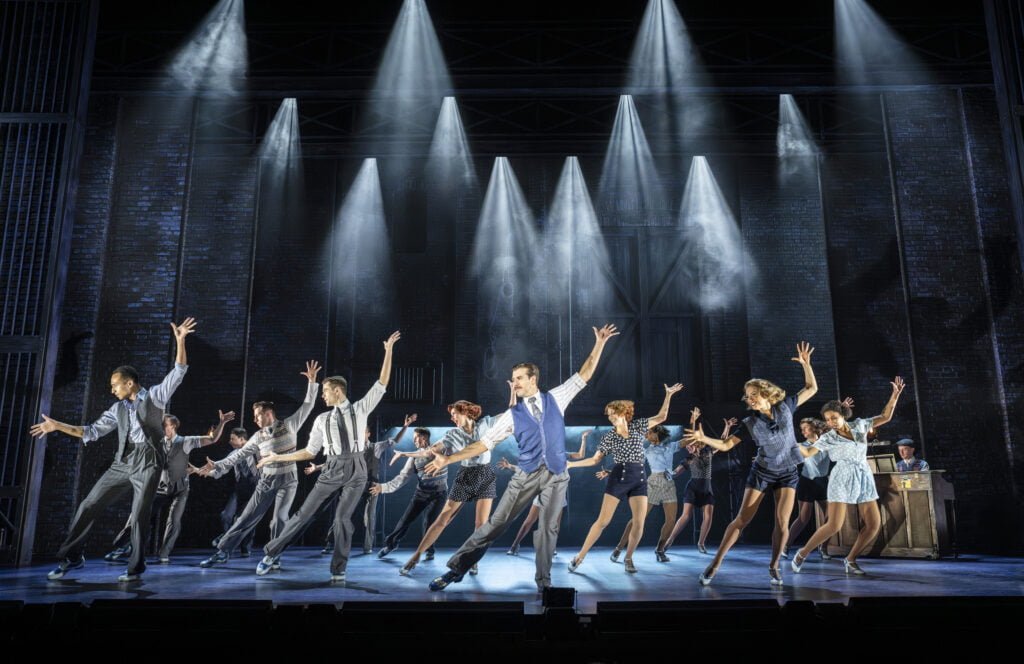 Unlike many of the musicals from the 30s and 40s 42nd Street started as a movie in 1933 and was only made into a stage show in 1980.  It could be described as an early jukebox musical.  Many of the songs will be familiar to you from the Depression Era 1930s.  Jonathan Church's production follows his very successful Singing in the Rain and 42nd Street has even more scintillating dance numbers.     
42nd Street's storyline is not what will draw you in, although it is a pleasant enough romance and launch to fame but what you will come for, is Bill Deamer's fabulous dancing routines, many of them using tap.  Ruthie Henshall plays the star Dorothy Brock, who has been at the top of her game for a while and is now fading.  She can sing but her dance skills are limited.  
The show they are auditioning for is Pretty Lady.  Dorothy is cast because her aged admirer and car salesman, Abner Dillon (Anthony Ofoegbu) has persuaded Julian Marsh (Adam Garcia) to choose her.  Marsh has done so in order to get financial backing from Dillon, who has money in the show and insists on Dorothy being the star. 
Meanwhile, arriving in New York from Allentown, Pennsylvania is talented, young hopeful, wide-eyed Peggy Sawyer (Nicole-Lily Baisden).  Young lead Billy Lawlor (Sam Lips) meets her and although she has missed the audition, persuades her to come to the theatre.  Three of the other female dancers ask her to lunch, get her to dance, which is witnessed by Julian Marsh who decides that there is room for another dancer in the chorus line.  
There is comedy from the two Broadway producers, Josefina Gabrielle as Maggie Jones and Les Dennis as Bert Barry.  Dorothy has a long standing beau Pat Denning (Michael Praed) whom she has to keep secret from Abner Dillon.  When Dorothy breaks her ankle, a new star has to be found and you might be able to guess who it is who agrees to learn the part in a few days.  
The design for 42nd Street is state of the art with beautiful 1930s black and white stylised fonts and Art Deco sets.  Dorothy sings in a spectacular triangular cone of red light for "I Only Have Eyes For You" . The number, "Keep Young and Beautiful"  has showgirls in sumptuous costumes and head dresses in a long chorus line.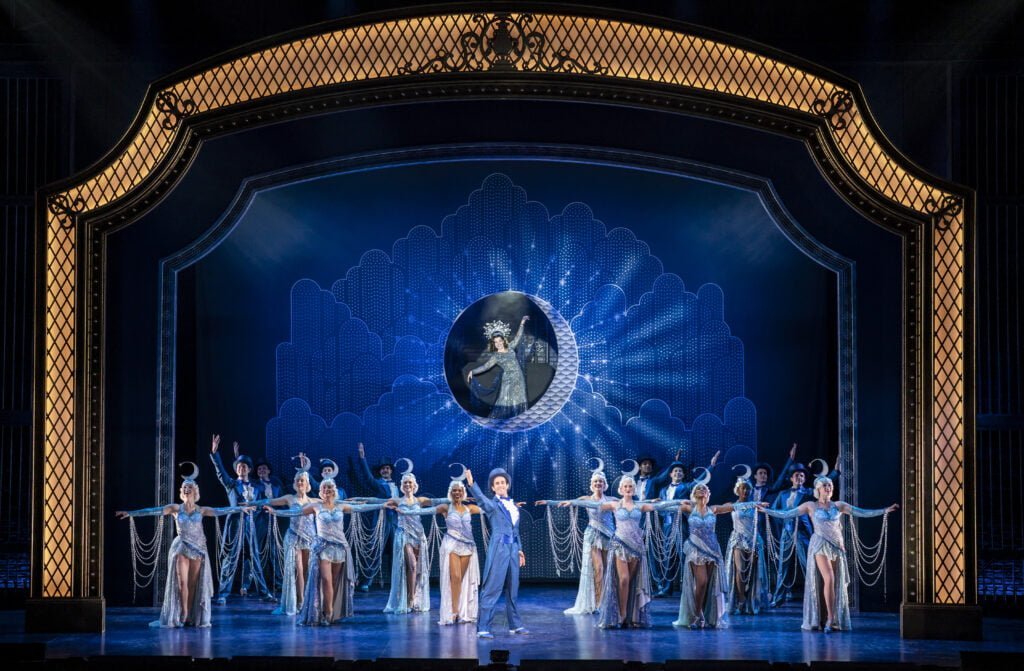 This touring production of 42nd Street has such strong production values, you will be impressed.  Show stopping songs like "I Only Have Eyes for You" are belted out by Henshall and Adam Garcia makes the most of the iconic "Lullaby of Broadway" and the celebratory "We're in the Money" from the chorus girls and Peggy.  The band is strong under Jennifer Whyte with plenty of brass.  Nicole-Lily Baisden was impressive in Anything Goes and here she is charming and up to star rating as Peggy, deserving her success.  
The show is only at Sadler's Wells until 2nd July so book it now!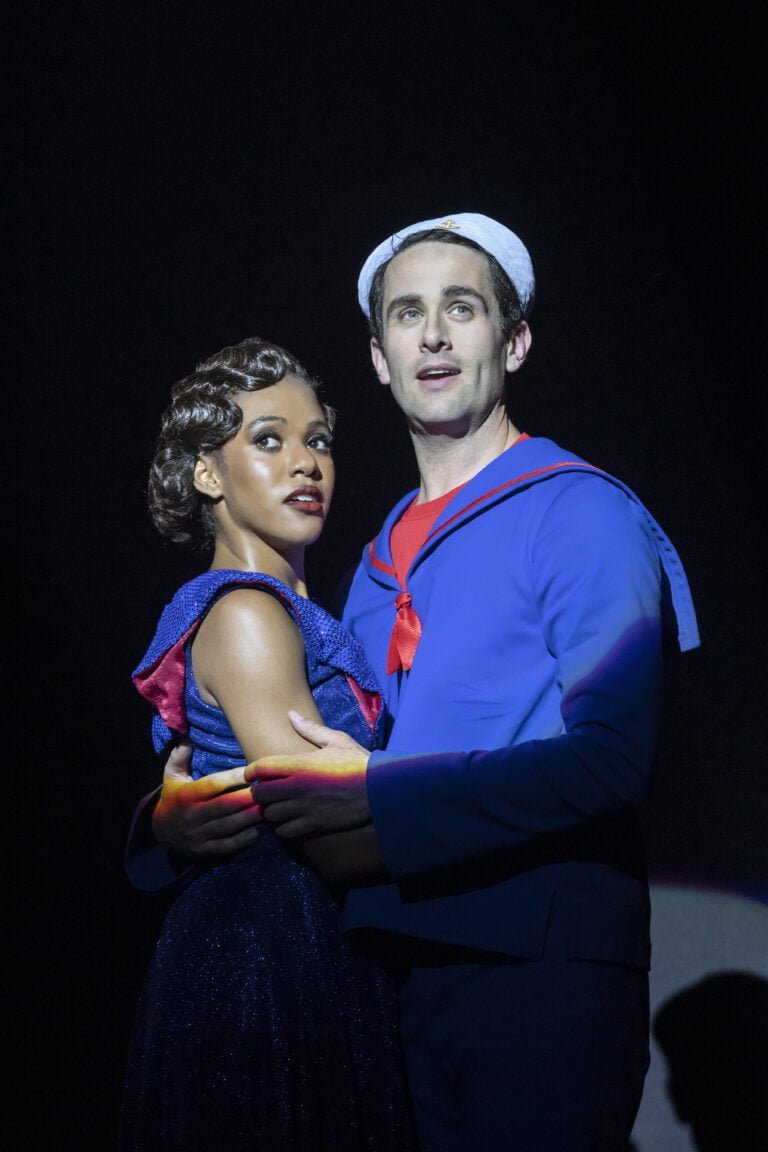 Act One
Overture
Audition
Young and Healthy
Shadow Waltz
Go Into Your Dance
You're Getting to Be
a Habit With Me
Getting Out Of Town
Dames
Keeping Young and Beautiful
Dames (continued)
I Only Have Eyes For You
I Only Have Eyes For You
(Reprise)
We're In the Money
Finale
Act Two
Overture 
Sunny Side of Every Situation
Lullaby of Broadway
Getting Out Of Town(Reprise)
Montage
About a Quarter to Nine
Overture to Pretty Lady Opening
With Plenty of Money and You
Shuffle Off to Buffalo
42nd Street 
42nd Street
Finale 
42nd Street
Book by Mark Bramble, Michael Stewart
Music composed by Harry Warren and Donald Johnston
Lyricists Johnny Mercer, Al Dubin, Mort Dixon
Choreographed by Bill Deamer
Directed by Jonathan Church
Cast
Starring:
Ruthie Henshall
Josefina Gabrielle
Nicole-Lily Baisden 
Michael Praed
Adam Garcia
Aimee Hodnett
Alyn Hawke
Anthony Ofoegbu
Benjamin Mundy
Connor Hughes
Jessica Wright
Kevin Brewis
Les Dennis
Olly Christopher
Rhianna Dorris
Sam Lips
Sarah-Marie Maxwell
Erica-Jayne Alden
Jordan Crouch
Deja Linton
Greta McKinnon
Ben Middleton
Creatives
Director: Jonathan Church
Choreographer: Bill Deamer
Designer: Robert Jones
Musical Supervisor : Jennifer Whyte
Lighting Designer:  Ben Cracknell
Sound Designer: Ian Dickinson, Gareth Tucker
Video and Projection: Douglas O'Connell
Orchestrator: Larry Blank, Philip J Lang
Information
Running Time:
Two hours 30 minutes with an interval
Booking until 2nd July 2023 
and then touring
Theatre:
Sadler's Wells Theatre
Rosebery Avenue
London EC1R 4TN
Box Office: 020 7863 8000
Tube: The Angel
Reviewed by Lizzie Loveridge
at Sadler's Wells on 13th June 2023