How to fall in love with Romeo and Juliet
"Is now the two hours' traffic of our stage; "
Prologue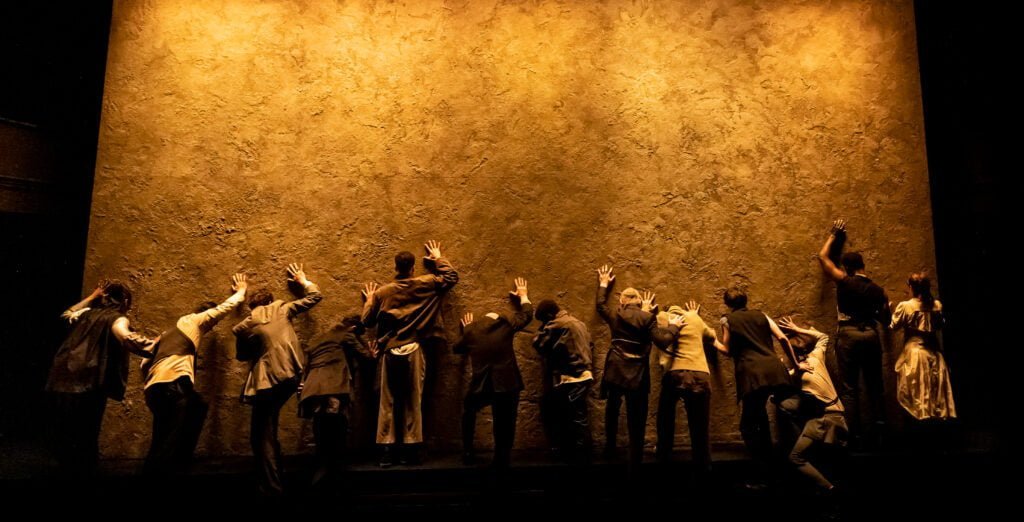 I loved the opening of Rebecca Frecknall's Romeo and Juliet: while the cast raise their hands to the wall, the words are projected above.  "Two households, both alike in dignity/
(In fair Verona, where we lay our scene)/ From ancient grudge break to new mutiny/ Where civil blood makes civil hands unclean." Somehow giving Shakespeare's words the silence of writing is full of impact and momentum.  It feels different from those many times we have heard those words spoken and more significant.  
But then the wall falls flat and we hear the Strings and horns of the Dance of the Knights from Prokofiev's Romeo and Juliet Ballet as a balletic and modern dance fight breaks out between the Verona factions, the followers of the Montagues and the Capulets.  The introduction of Prokofiev's ballet has been described as early heavy metal due to its compulsive, head banging rhythm and here it carries all the excitement and danger of a gang fight with knives. 
Somehow the words seem less memorable, less familiar.  Is this the result of an adaptation or is it the effect of a fresh eye on this most familiar of plays that has to end badly?  Apologies for the spoiler here.  I don't remember Capulet (Jamie Ballard)'s words to Paris (James Cooney) his chosen husband for 14 year old Juliet (Isis Hainsworth) so early on in the play but they serve to show how little say Juliet has in her future.    
Romeo (Toheeb Jimoh) is on the hunt for his Rosaline, Juliet's Capulet cousin at the ball but his devotion to Rosaline will be momentary.  The masks for the ball of all male dancers are flimsy eye covering ties of gauze and the only girl, for she is still a girl, is Juliet, a child like figure, without a mask, surrounded by grown men.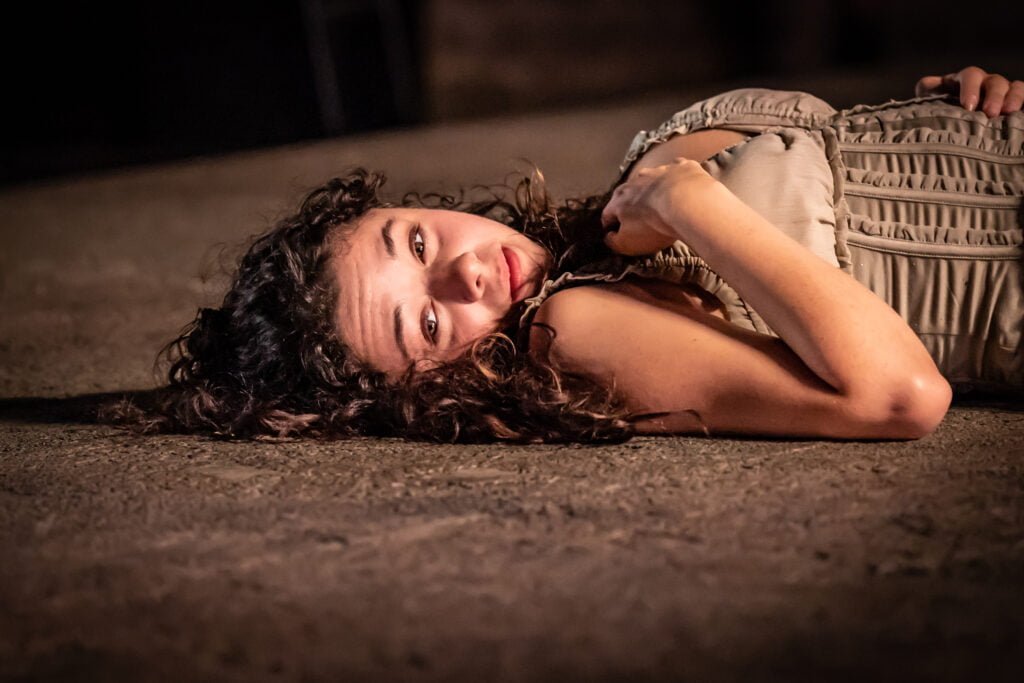 Despite the whole play coming in at two hours without an interval, Mercutio (Jack Riddiford) is allowed all of his beautiful Queen Mab speech but not much more. Tybalt (Jyuddah Jaymes) the king of cats is angry as a firework but this gentle Romeo taking out a pistol and shooting him seems out of character unless you make allowances for the impulsiveness of youth.
In a rather self conscious directorial desire to be different, the balcony scene takes place with Romeo atop a ladder and Juliet at ground floor level. Why? Beats me! The Friar (Paul Higgins) and the Nurse (Jo McInnes) serve as surrogate parents to the lovers but the speed of events overtakes their efforts. I suppose no-one can attempt a modern day Romeo and Juliet unless the text message didn't get through to Juliet because her father had confiscated her mobile phone!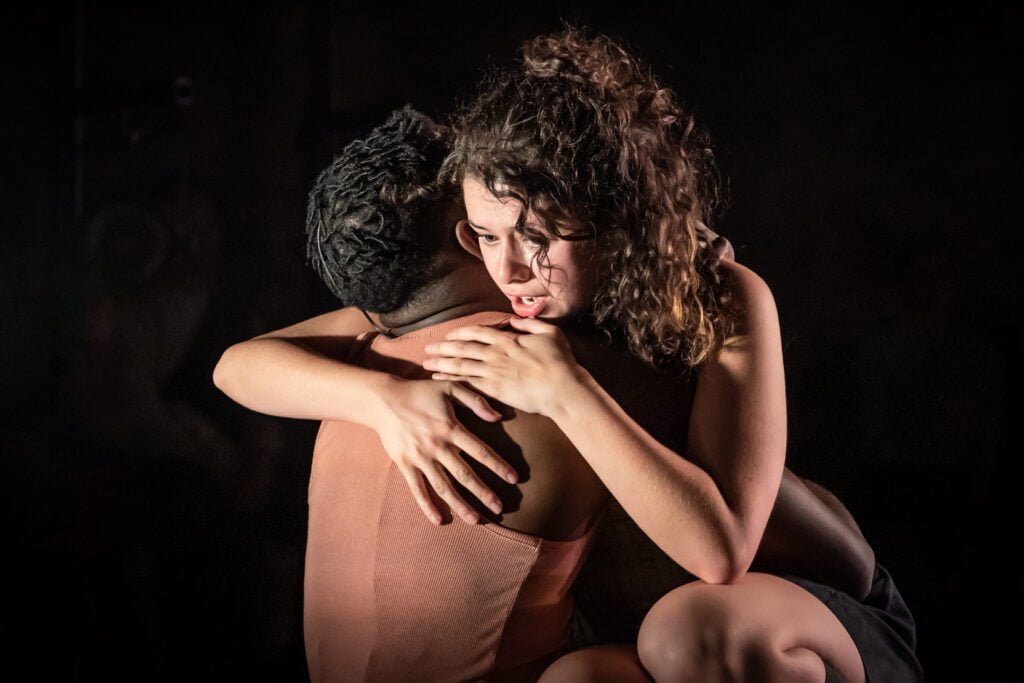 Isis Hainsworth and Toheeb Jimoh give beautiful performances and are believable young lovers.  He is a sensitive Romeo and she is innocent  and vulnerable. The final scene in the graveyard is beautifully lit with a carpet of candles and walls of starry fairy lights.  Juliet's suicide with the knife is drawn out and very painful to watch.  
The costumes by Debbie Duru have that curious combination adopted by the early cash strapped Globe of a top period costume and modern bottoms so Juliet's brocade jacket is paired with knee socks and wide shorts.  
This is a very accessible and beautifully lit production that a first time Shakespeare audience can relate to with the repeating Prokofiev music and thrilling dance but this seasoned old critic might feel less enthusiastic.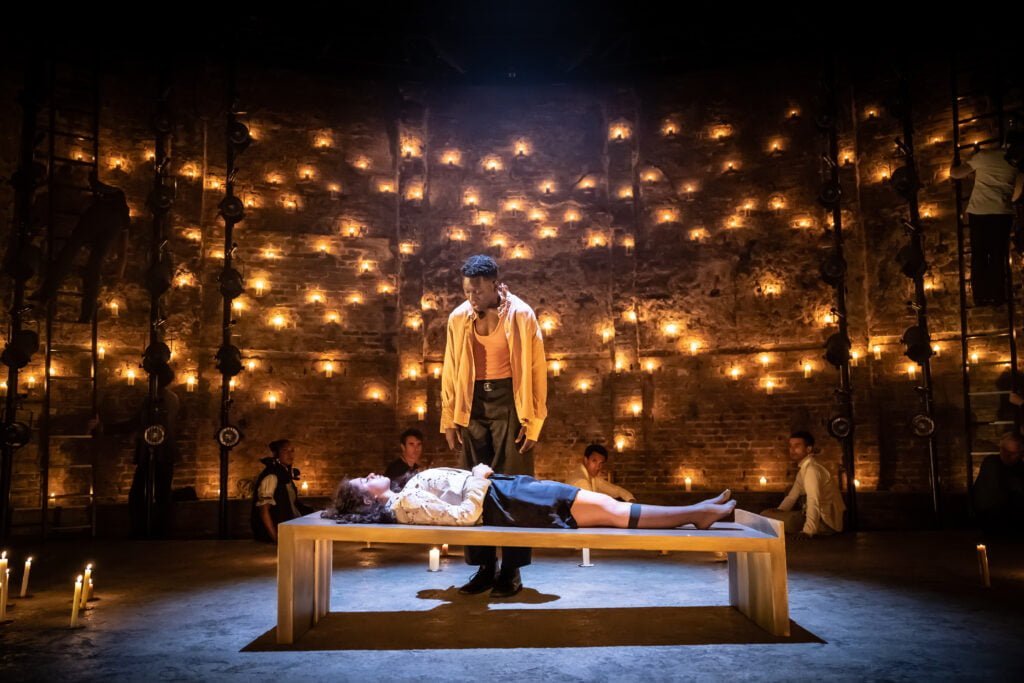 Romeo and Juliet
Written by William Shakespeare
Directed by Rebecca Frecknall
Cast
Starring:
Isis Hainsworth
Toheeb Jimoh
Jack Riddiford
James Cooney
Jamie Ballard
Paul Higgins
Jyuddah Jaymes
Kieron Jecchinis
Miles Barrow,
Daniel Phung
Amanda Bright
Raphael Akuwudike
Jo McInnes
Luke Cinque-White
Gideon Turner
Creatives
Director : Rebecca Frecknall
Set Designer: Chloe Lamford
Costume Designer: Debbie Duru
Lighting Designer:  Lee Curran
Sound Designer: Gareth Fry
Fight Director: Jonathan Holby
Information
Running Time:
Two hours  without an interval
Booking until 29th July 2023 
Theatre:
Almeida Theatre 
Almeida Street
London N1 1TA
Tube: The Angel
Reviewed by Lizzie Loveridge 
at the Almeida
at the evening performance 
on 15th June 2023