More Style than Substance in the Sewers
"Where's Harry?"
Holly Martins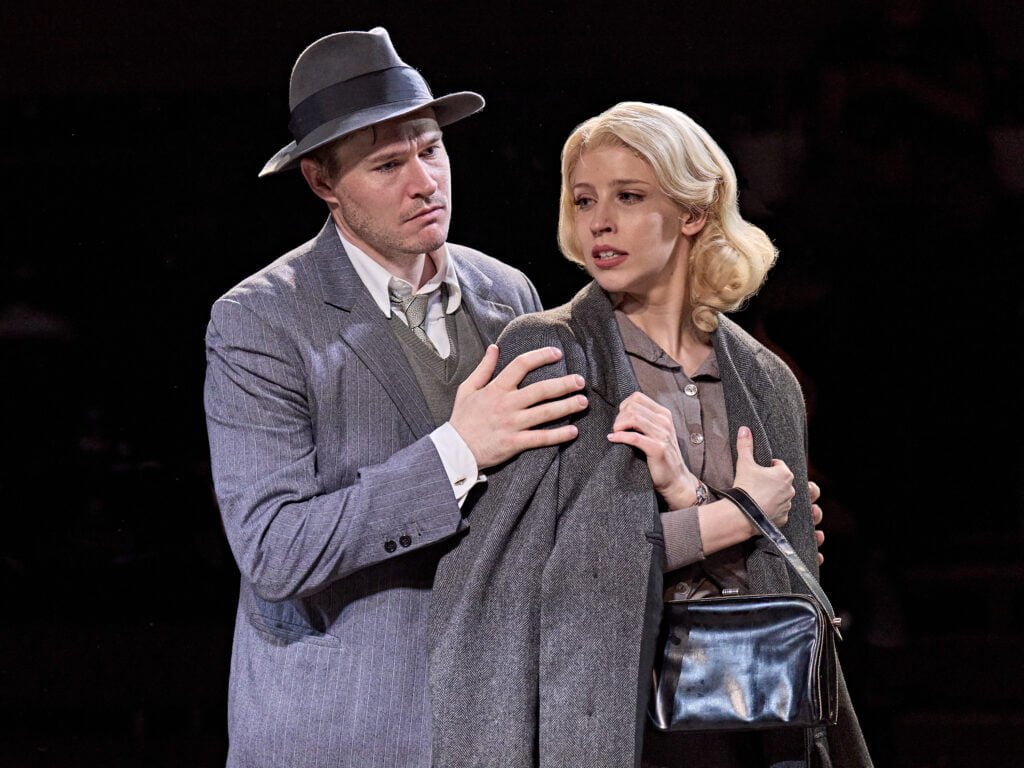 At first sight this production has a lot going for it: it is based on a short novella written by Graham Green after his visit to the war ravaged, divided city of Vienna in 1948. It was made into a black & white film in 1949. The screenplay was written by Graham Green, the director Carol Reed and Orson Wells, who played the titular Third Man. The Third Man became and is one of the classic films of the era winning a number of international awards including Oscars.
Vienna, as Austria had fought with Germany in the Second World War, was divided between the victors, Russia, France, America and Great Britain. None of these countries particularly cared about the city and its inhabitants so the black market flourished – a good strong story line with great potential.
I thought it somewhat incongruous to make a musical of a story of poverty, depression and corruption and this is the start of the production's imperfection. The songs themselves were often short, unmemorable, well sung but did not advance the narrative. What was a major failing – and there may be a good reason for this, was the omission of the haunting music of the zither that plays throughout the film. Those are the tunes that stick in your head and without these the music is just incidental.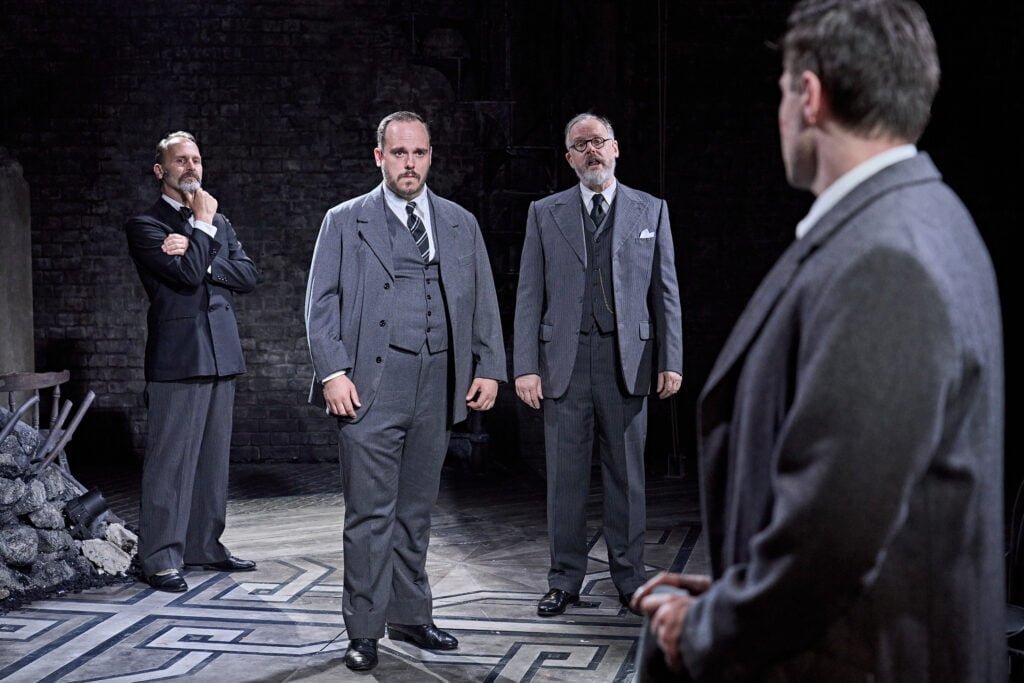 Seating is in the half round so the audience have good views and Paul Farnsworth's stage extends in and around the seats, which is used to effect, although it did creak next to me. Trevor Nunn directs. The design is the bombed-out city and everything is grey, except a short dancing scene in the nightclub where the dancers are in red shiny costumes, later they are dressed in black with sequins. 
The story starts with a penniless Holly Martins (Sam Underwood) an American,  coming to Vienna looking for his old friend Harry Lime whom he has not seen since 1939.  As he walks around he is confronted with people, the starving, and the desperate, offering anything they have, including their kidneys just for something to eat. He asks them all "Where is Harry Lime?" No one knows nor cares but eventually he is directed to a building where Harry used to live. 
Talking in English to the porter (Derek Griffiths) who only speaks German who manages to explain that Harry is dead and to be buried that day.  At the graveside he meets a number of strange people, an aristocrat Baron Kurtz (Gary Milner), Anna Schmidt (Natalie Dunne) a nightclub singer who obviously was in love with Harry.  Most sinister of all, are Major Calloway (Edward Baker-Duly) and Sargent Paine (Jonathan Andrew Hulme). These two solders forcefully express their views that they are glad he is dead, with no explanation.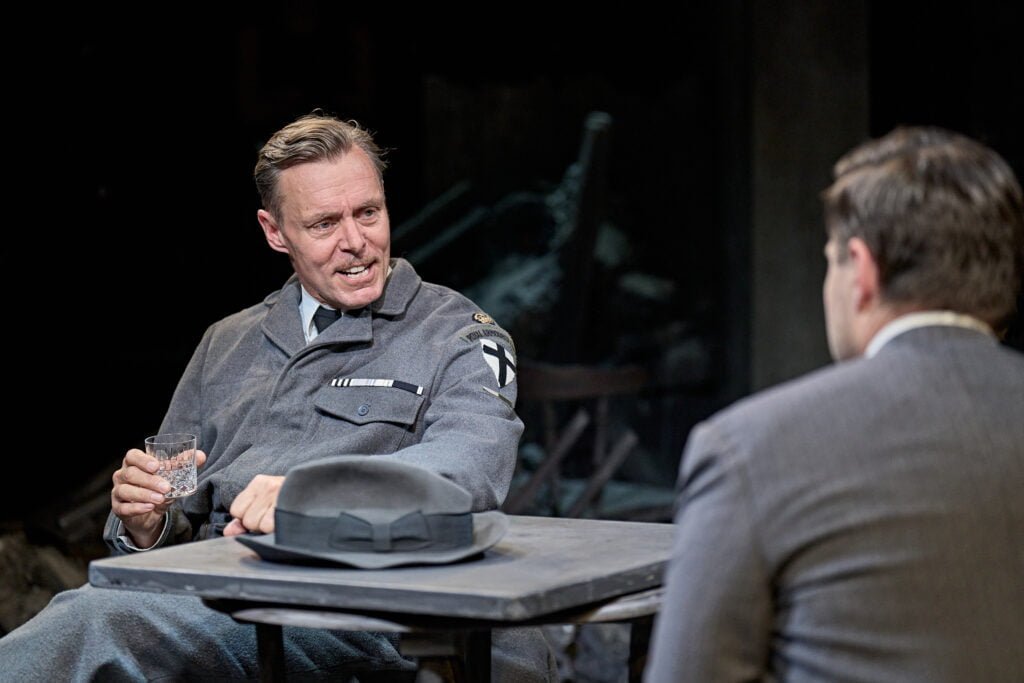 Everyone Holly Martins meets, advises him to leave immediately as it is not healthy for him to be there, this of course has the opposite effect. Martins starts to question everybody as to what happened when Harry stepped off the kerb and was killed instantly.  Could this be true when Harry allegedly gave dying instructions to his closest friends who just happened to be there at the time of the accident? There is a third man at the scene of death but nobody knows anything about him.
I could expound further on the plot but it would spoil the story; I can say that someone utters the famous line,  "In 500 years of democracy all the Swiss invented was the cuckoo clock." There are chases through sewers and after Major Calloway explains the truth about Harry Lime,  Holly Martins has a lot of thinking to do.
This is a play, with considerable potential but tries to do too much and the mistakes that are made, such as being a musical, relegate it to being a disappointment: maybe revisit the film instead?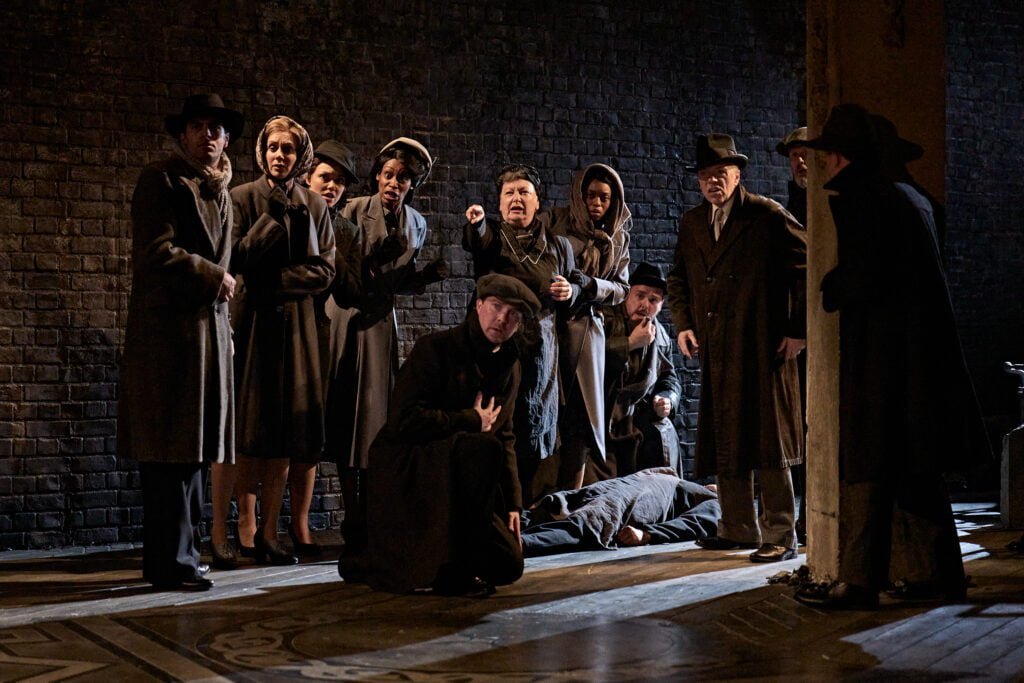 TheThird Man

Book and Lyrics Don Black and Christopher Hampton
Music by George Fenton
Directed by Trevor Nunn
Cast
Starring:
Simon Bailey
Alan Vicary
Cassiopeia Berkeley-Agyepong
Chanice Alexander-Burnett
Derek Griffiths
Edward Baker-Duly
Gary Milner
Harry Morrison
Jonathan Andrew Hume
Natalie Dunne
Rachel Izen
Sam Underwood
Tim Walton
Tom Sterling
Leah Harris
Craig Bartley
Aly Merali
Samantha Thomas
Creatives
Director: Trevor Nunn
Co-director:  Michael Oakley
Designer: Paul Farnsworth
Lighting Designer: Emma Chapman
Sound Designer: Gregory Clarke
Choreographer and Movrmrnt Director: Rebecca Howell
Musical Supervisor and Director: Tamara Saringer 
Orchestrator: Jason Carr
Information
Running Time: Two hours 30 minutes with an interval
Booking to 9th September 2023
Theatre: 
Reviewed by Malcolm Beckett at the
Chocolate Factory on 20th Juner 2023