Does Mrs Doubtfire the Musical Set Us Alight?
"She talks like this, dear.
She's older, wiser.
A bit more substantial.

Why didn't you say so?
Eleanor Roosevelt
A dash of Julia Child
Margaret Thatcher
Janet Reno and a Little bit of Oscar Wilde "
Lyric from Make Me a Woman

Mrs Doubtfire, the New Comedy Musical is a faithful recreation of the film onstage somewhat marred by thinking about the late Robin Williams. Just as the movie relied on one man's talent so does the musical, by finding the very accomplished Gabriel Vick to take on the role of the father dispossessed of his children. I don't know how the grown ups that were children in 1993 will react to this musical. My children, that year, were too engrossed in Jurassic Park to notice Mrs Doubtfire.
The plot is a familiar one: a marriage falls apart and the mother Miranda Hillard (Laura Tebutt) is awarded custody or the arrangements for the children as it is called nowadays. The father Daniel Hillard (Gabriel Vick) gets very limited access to his three children, much to their distress as well as his. The mother has a successful career in fashion and advertises the post of nanny to her children. Daniel changes the phone number to reply and using his multitude of voices puts in several spurious calls to his ex-wife pretending to be very unsuitable candidates, all of whom are rejected.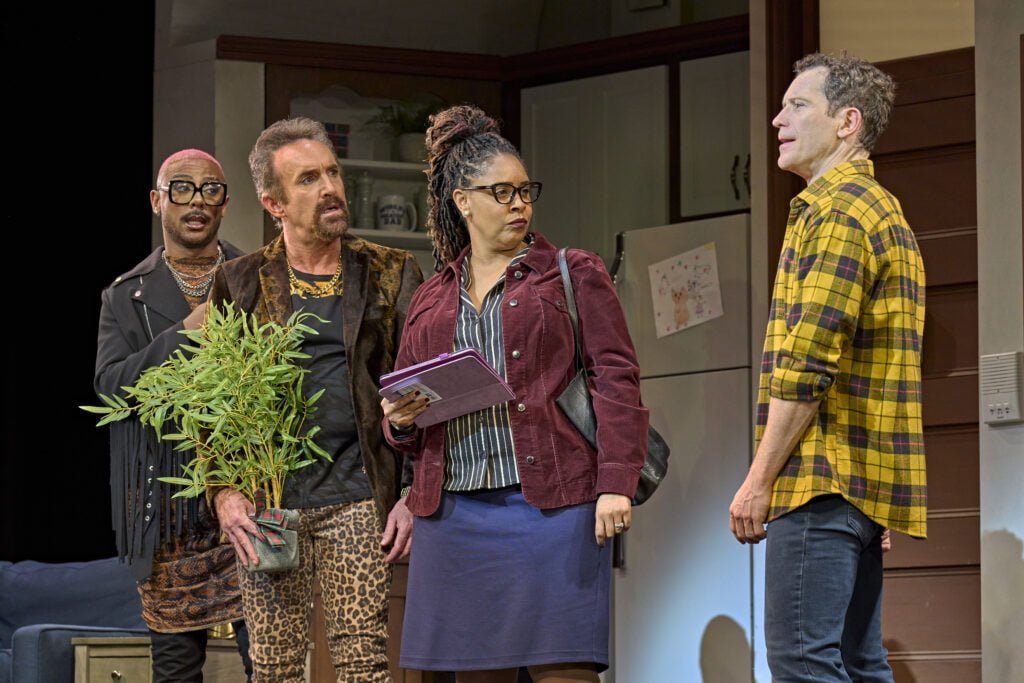 Daniel then decides to apply for the job himself, but as a woman.  He goes to his brother Frank (Cameron Blakley) and his partner André (Marcus Collins) who are film make up artists and says "Make Me A Woman".  Their creation is a perfect simile of Robin William's Mrs Doubtfire using a body suit, a silicon prosthetic mask, wig and female clothing and jewellery.  
The music for the songs has too little impact and is not memorable.  It may also be that the songs, given their emotional content, sit oddly with the comedy of the show.  Daniel's brother Frank has a problem getting acting parts because when he is called upon to lie, he shouts at full volume.  Sure it is funny once but too oft repeated.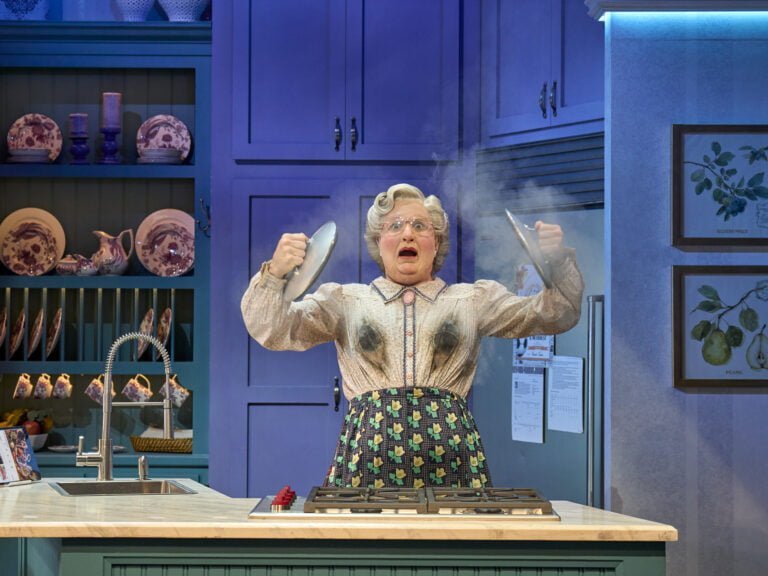 As Daniel has gone back to the court to ask to see his children more often, a social worker Wanda Seliner (Kelly Agbowu) is assigned to his case.  Daniel will need to change quickly from Mrs Doubtfire back to his male persona when Wanda visits.  Unfortunately she meets Mrs Doubtfire who Daniel introduces as his sister to add to the complications.  
Miranda's new boyfriend Stuart Dunmire (Samuel Edwards) also meets the nanny whom Miranda thinks is the bees' knees.  Meanwhile Daniel has a job at the television studio as a janitor but his entertainment talent will be recognised and there's an opportunity for some choreography.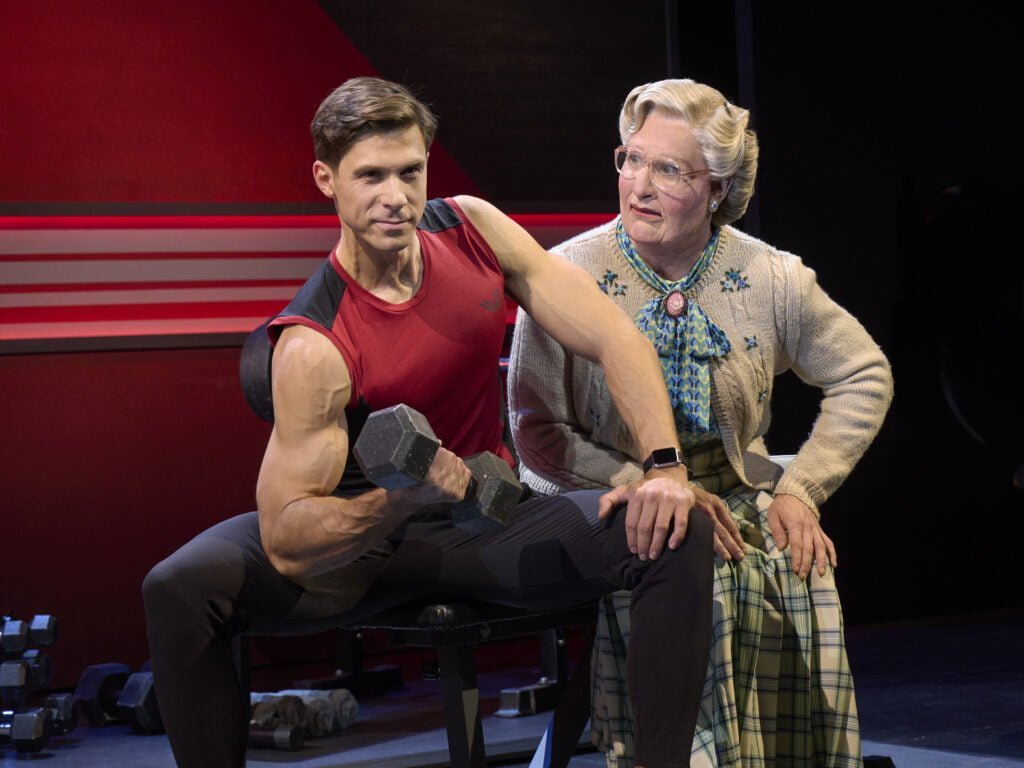 Some of Mrs Doubtfire's comedy derives from cross-dressing and I'm not sure how much this is supposed to laughed at in these days of trans awareness.  What I will always remember is Gabriel Vick's magnificent and energetic performance, mastering voices, song, dance and comedy.  Mrs Doubtfire is HIS show! 
Act One
Overture
That's Daniel
I Want to Be There
I Want to Be There (Reprise)
Try a Little Harder
Make Me a Woman 
What the Hell 
Mr. Jolly Theme Song
So Long From Mr Jolly
Easy Peasy
I Want to Be There (Reprise)
Mr. Jolly Theme Song (Reprise)
It's About Time
I'm Rocking Now
Act Two
The Shape of Things to Come
Big Fat No
Let Go
Clean It Up /What The Hell (Reprise)
Playing with Fire 
Welcome To La Rosa
He Lied to Me 
Just Pretend 
As Long as There Is Love 
Mrs Doubtfire
Book by Kasey Kirkpatrick and John O'Farrell
Music and Lyrics by Wayne Kirkpatrick and Kasey Kirkpatrick
Based on the 1993 20th Century Studios Motion Picture
Directed by Jerry Zaks
Creatives
Director: Jerry Zaks

Choreographer: Lorin Latarro
Set Designer: David Korins
Costume Designer: Catherine Zuber
Musical Supervisor and Orchestrator: Ethan Popp
Lighting Designer: Philip S Rosenberg
Sound Designer:  Brian Ronan
Musical Director: Elliott Ware
Information
Running Time:
Two hours 30 minutes with an interval
Booking until 13th January 2024 

Theatre:
The Shaftesbury Theatre
210 Shaftesbury Avenue
London WC2H 8DP
Phone: 020 7379 5399
Tube: Tottenham Court Road
Reviewed by Lizzie Loveridge at the Shaftesbury
on 22nd June 2023