Robin Hood destroyed by Melly Smith and Carl Rose
"Anything is better than a king with a mind of his own"
Baldwyn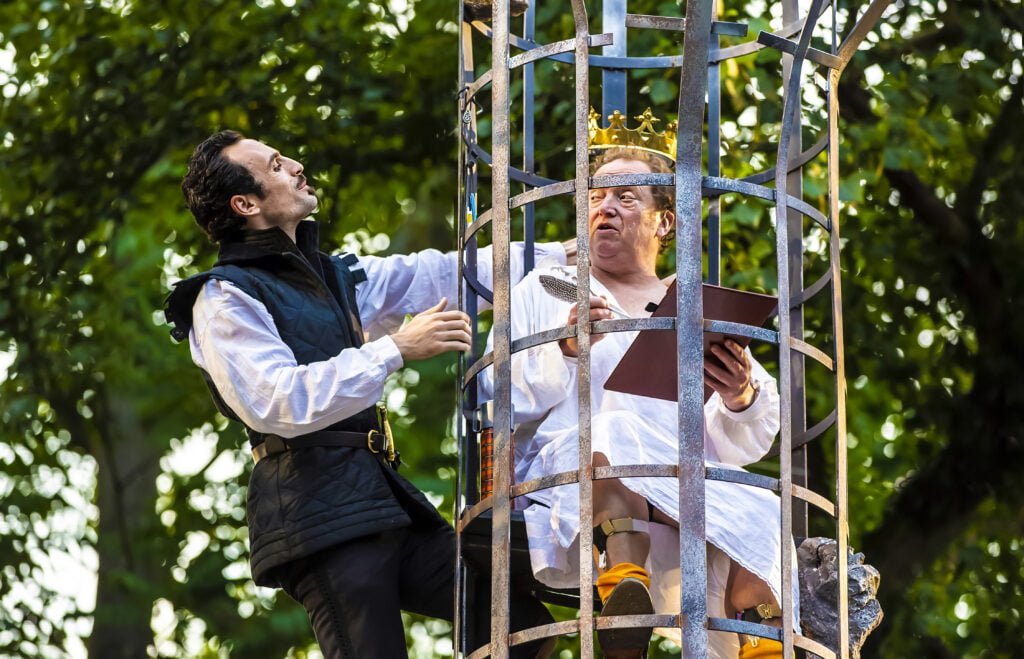 Is the woodland setting of Regent's Park Open Air Theatre, the place to put on experimental and iconoclastic theatre?  Maybe but not on the back of England's most cherished legend of Robin Hood.  Ignoring 1938 Errol Flynn and 1955 Richard Greene, there was much loved Michael Praed as Robin of Loxley in Robin of Sherwood (1984-5) and Kevin Costner in the wildly romantic Robin Hood, Prince of Thieves  (1991).  That last movie had Bryan Adam's "Everything I Do, I Do It for You" and the late Alan Rickman's Sheriff's threats with a spoon.  1989 to 1994 saw the wonderful Kate Lonergan as Maid Marian, leader of the Merry Men while Robin wasn't up to the fight.  
I should have smelled a rat when I discovered Carl Grose the writer was deputy artistic director of Kneehigh, a company which for me has missed the target more often than hitting it.  His past productions have included Dead Dog in a Suitcase and 49 Donkeys Hanged, their titles sounding not like plays I want to expose my grandchildren to.  
The King here is not Richard the Lionheart fighting the Crusades with Blondel the musician, nor Bad King John but Paul Hunter in nightshirt stuck in a cage high up in the metal trees of Sherwood Forest.  He is the captive of Baldwyn (Alex Mugnaioni) the supposed sheriff whose wife Marian (Ellen Robertson) is the ace archer.  Some of the roles are cross gender, for instance Little Joan and Mary Tuck.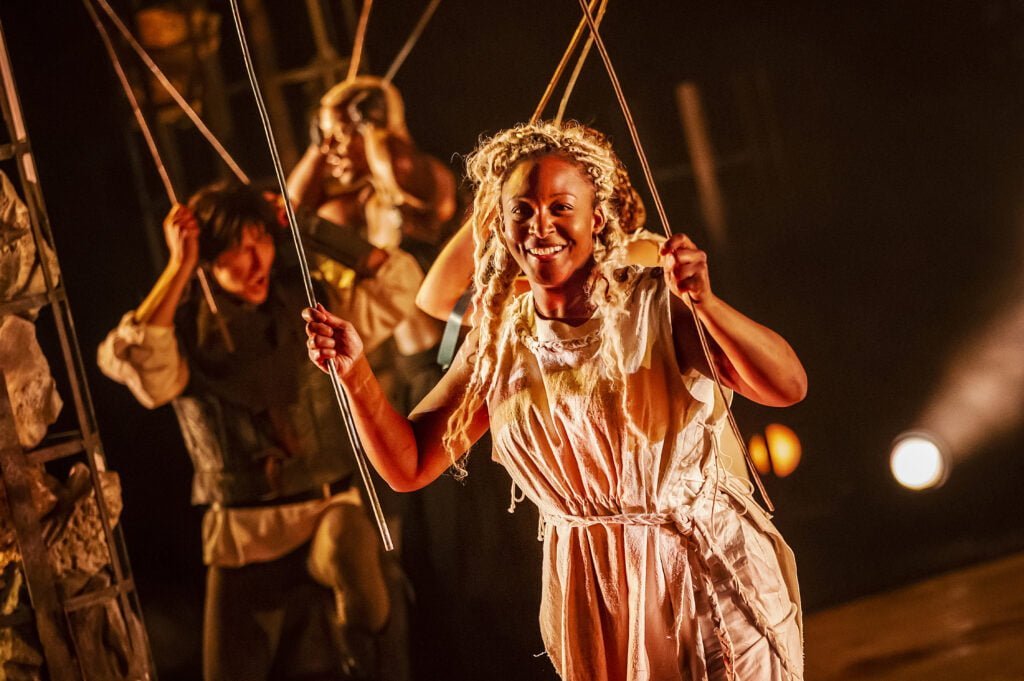 Is this story bonkers or incomprehensible? It is both but not in a good way. Baldwin collects the fingers of suspected archers and keeps them in a box. The head is cut off Gisburne and rolls along the stage. I found Ira Mandela Siobhan's looks as Gisburne arresting but he is a very nasty character. Nandi Bhebhe is the Balladeer. I did admire the trick of making arrows land without endangering the crowd.
We know that real life in medieval times was hard for the poor and that Robin Hood was myth rather than reality but I do question the resources spent on such a lack lustre production which will neither thrill children nor adults. The finale is well lit using the revolve with real fire.
Be grateful Theatrevibe doesn't award stars!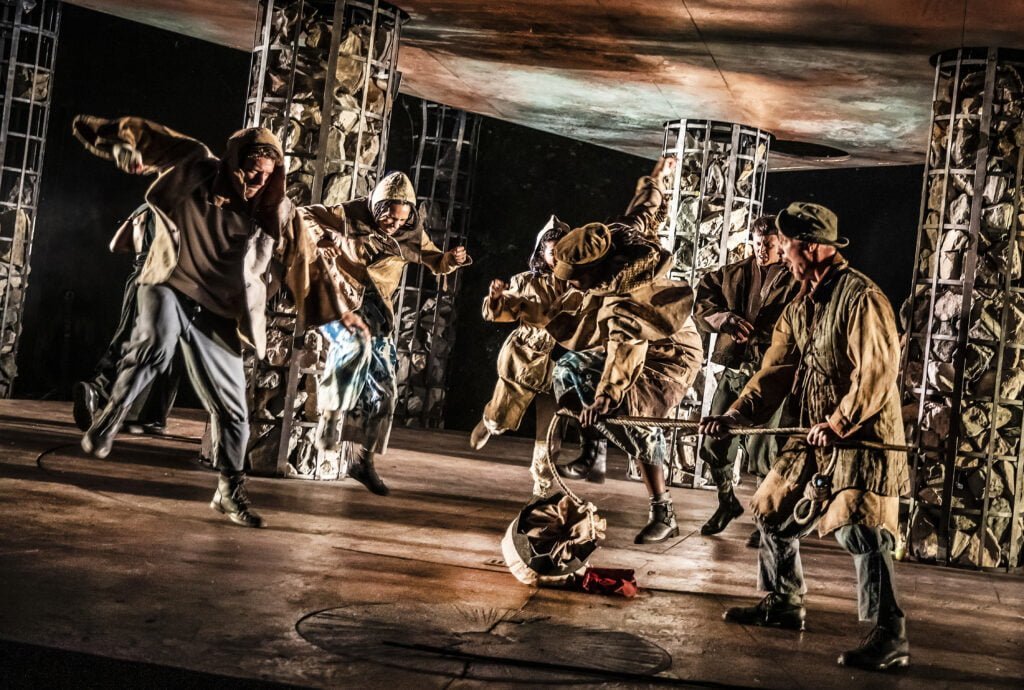 Robin Hood. The Legend. Re=written.

Written by Carl Grose
Composer and Lyricist: Jenny Moore
Directed by Melly Still
Cast
Starring:
Alex Mugnaioni
Charlotte Beaumont
Dave Fishley
Elexi Walker
Ellen Robertson
Ira Mandela Siobhan
Katherine Manners
Nandi Bhebhe
Simon Oskarsson
TJ Holmes
Paul Hunter
Taya Ming
Amena Alicia El-Kindy
Stephanie Marion Fayerman
Samuel Gosrani
Shaun Yusuf McKee
Marta Miranda
Dumile Lindiwe Sibanda
Creatives
Director: Melly Still
Set Designer:  Chiara Stephenson
Costume Designer: Samuel Wyer
Composer:  Jenny Moore
Movement Design: Mike Ashcroft
Lighting Designer: Zoe Spurr
Sound Designer: Emma Laxton
Musical Director: Joely Cragg
Information
Running Time: Two hours 20 minutes with an interval
Booking to 22nd July 2024
Theatre:  
Open Air Theatre
Regent's Park
Inner Circle
London NW1 4NU
Tube: Baker Street
Reviewed by Lizzie Loveridge
at the Open Air
on 23rd June 2023