The Ultimate Professional Dance Musical ...
"I feel something stage door in the basement "
Polly Baker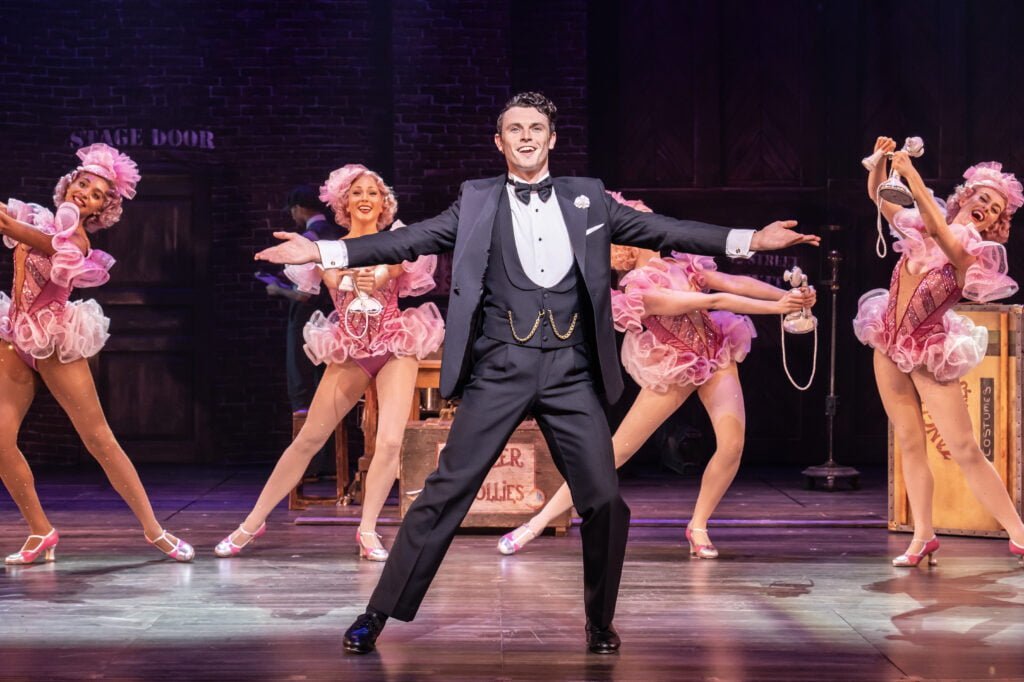 Written in 1992 partly from the 1930 Gershwin musical Girl Crazy and adding many more Gershwin songs from many other Gershwin musicals like Shall We Dance, Primrose, A Damsel in Distress, Treasure Girl and Stairway to Paradise, Crazy For You is directed and choreographed here by Susan Stroman.  She said on the London press night that during the theatrical desert that was Covid, Daniel Evans had phoned her from Chichester Festival Theatre to propose that she could work on Crazy For You.
This fabulous show which premiered at Chichester in 2022 is the result.  With Charlie Stemp, singer, dancer and great comedian in the lead as Bobby Child, the rich banker who just wants to be a dancer. The tap sequences are state of the art and on every surface from corrugated iron to tin trays!  The first scene earns a round of applause for the divinely dressed showgirls with costumes of ostrich feathers, gauze, silks and satins.  The sumptuous costumes are by William Ivey Long and every tall girl's dream.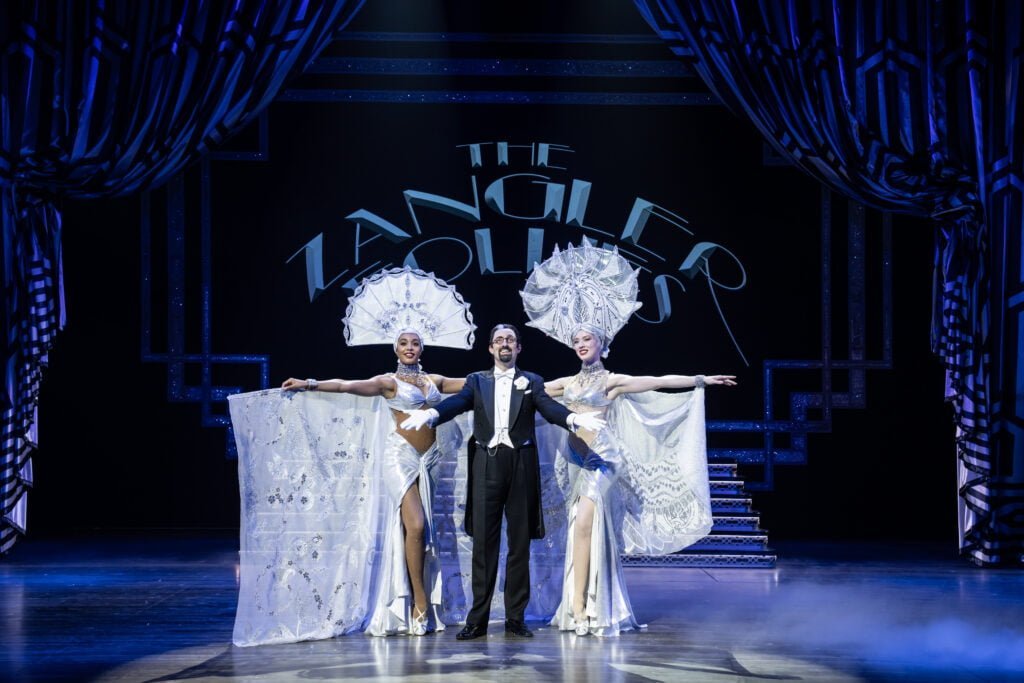 Bobby is trying to impress Bela Zangler with his dance moves so that he may be included in his show.  There is tap and twirls from Bobby and fabulous high kicks as he dances with the Zangler show girls.  
Given the opportunity to settle down in New York married to Irene, whose surname ironically is Roth, (Natalie Kassanga), she is a bit angry, and threatened with his mother cutting off his allowance, Bobby chooses to run away to Deadrock, Nevada. 
There as a banker, he is meant to foreclose on a derelict theatre owned by Polly Baker (Carly Anderson), just about the only woman in a community of cowboys and hicks.   But as luck would have it Bobby falls immediately in love with Polly and sets about courting her.  He has plans for a great show and pretends to be Bela Zangler with a suit and white flash hairstyle as well as the Hungarian accent.  
The showgirls on holiday join him in Deadrock with their designer holiday costumes and hats.  We see the hotel owned by Lank Hawkins. (Matthew Craig) who has set his eyes on Polly, and Polly's old theatre in Beowulf Boritt's marvellous sets where the tumbleweed rolls around.  Bobby drills the local bar men Moose (Mark Akinfolarin), Mingo (Philip Bertoli) and Junior (Jason Battersby) in a dance routine.  Polly sings "Someone to Watch Over Me"  and the local men play the bass with showgirls and strings forming the instruments. 
There is comedy from the British tour guide writers Eugene Fodor (Sam Harrison) and Patricia Fodor, whose maiden name was Michelin (Rina Fatania) as Lank tries to impress them. Polly gives a really polished rendition of "I Got Rhythm" with real verve to close off Act One.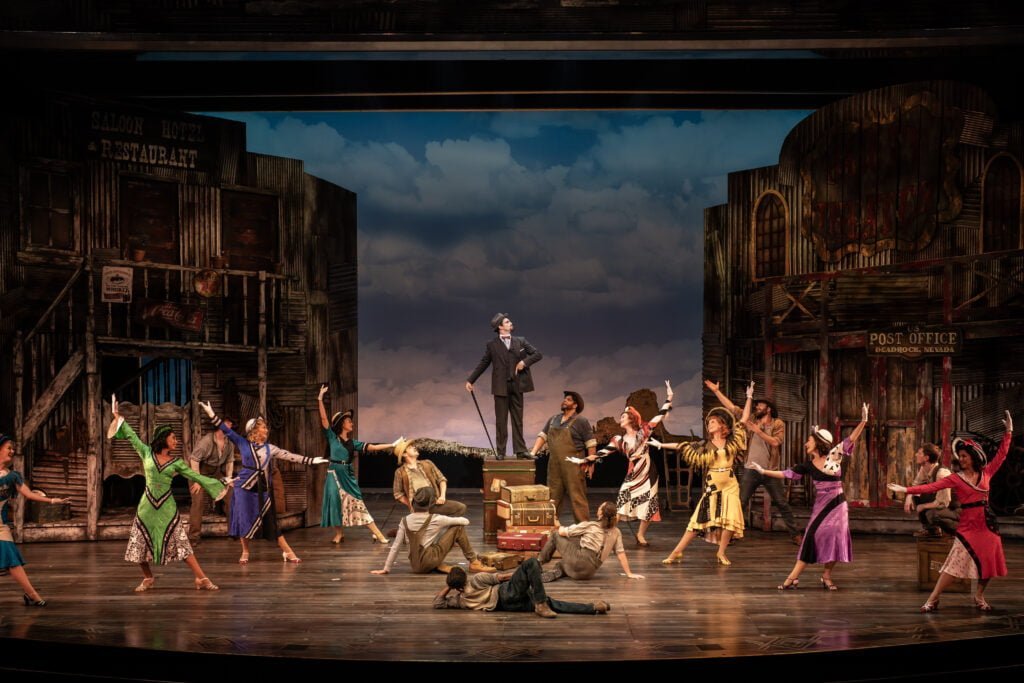 I loved the sequence where the real Bela and Bobby's Bela mirror each other as if one of them is looking in the mirror.  The hotel keeper has a Basil Fawlty moment as he loses his rag and enters full tantrum.  Billy will enact a soft shoe shuffle and there is exuberant modern dance in the show routine which has at last found an audience in Nevada.  
The only downside of this wonderfully polished show is the weak story line but the sheer professionalism of everything else makes this a five star show from Theatrevibe, the site that doesn't do stars.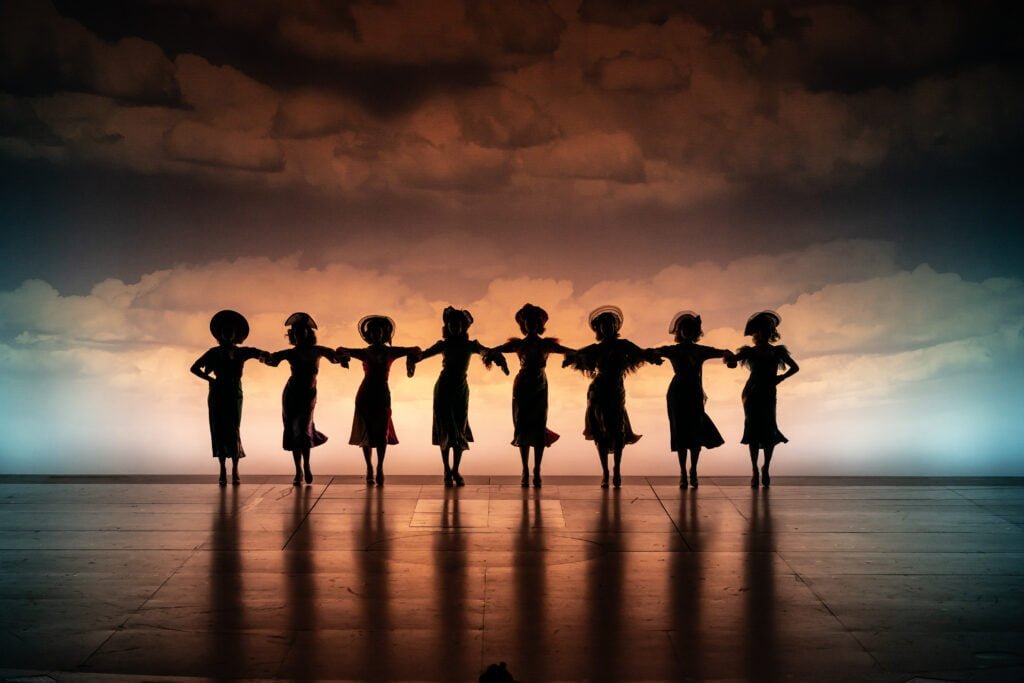 Act One
"Overture"
"K-ra-zy for You" 
"I Can't Be Bothered Now" 
"Bidin' My Time" 
"Things Are Looking Up" 
"Could You Use Me" 
"Shall We Dance?" 
"Entrance to Nevada" 
"Someone to Watch Over Me" 
"Slap That Bass" 
"Embraceable You" 
"Tonight's the Night"
"I Got Rhythm" 
Act Two
"Entr'acte" 
"The Real American Folk Song
is a Rag" 
"What Causes That?" 
"Naughty Baby"
"Stiff Upper Lip" 
"They Can't Take That Away
from Me" 
"But Not for Me" 
"Nice Work If You Can Get It" 
"Bidin' My Time" (French Reprise) 
"Things Are Looking Up" (Reprise)
"Finale "
Crazy For You
Book by Ken Ludwig
Music and Lyrics by George and Ira Gershwin
Directed and Choreographed by Susan Stroman
Cast
Starring:
Carly Anderson
Charlie Stemp
Duncan Smith
Kate Parr
Marc Akinfolarin
Marilyn Cutts
Nathan Elwick
Nicholas Duncan
Philip Bertioli
Rina Fatania
Sam Harrison
Simon Anthony
Tom Edden
Joshua Nkemdilim
Natalie Kassanga
Kayleigh Thadani
Liam Wrate
Ryan Jupp
Lila Anderson
Jason Battersby
Imogen Bowtell
Mathew Craig
Bethan Downing
Laura Hills
Nell Martin
Bradley Trevethan
Ella Valentine
Tara Yasmin
Harriet Samuel-Gray
Lucas Koch
Ashley-Jordan Packe
Jinny Gould
Creatives
Director and Choreographer: Susan Stroman
Scenic Designer: Beowulf Boritt
Costume Design: William Ivey Long
Musical Supervisor and Director: Alan Williams
Lighting Designer:  Ken Billington
Sound Designer: Kai Harada
New Orchestrations: Doug Besterman, Mark Cumberland
and David Kane
Fight and Intimacy Director: Ruth Cooper-Brown
A Chichester Festival Theatre Production
Information
Running Time:
Two hours 45 minutes with an interval
Booking until 20th January 2024 

Theatre:
Tube: Holborn or Covent Garden
Reviewed by Lizzie Loveridge
at the Gillian Lynne Theatre on 3rd July  2023