Coming of Age in Edinburgh
"I'm a mass of repressions"
Charles Tritton
This play ran for a thousand performances from 1933 at three different theatres in the West End starring Celia Johnson and Robert Harris. It would be eleven years before Celia Johnson filmed Brief Encounter. The Wind and the Rain was written by Merton Hodge, a New Zealander who studied post graduate medicine in Edinburgh and who went on to work as an anaesthetist at St George's Hospital, when it was at Hyde Park Corner, as well as writing plays.
The Wind and the Rain is a period piece ideal for those who fondly remember the television series Dr Finlay's Casebook and All Creatures Great and Small. It is set in the early 1930s in an Edinburgh lodging house run by the often dour Scots landlady Mrs McFie (Jenny Lee). Charles Tritton (Joe Pitts) arrives from London, in his first year towards qualifying as a doctor in five years.
In residence is Gilbert Raymond (Mark Lawrence) repeating yet another year because of his playboy and womanising pastimes competing with time he should devote to study. Gilbert has brought the bottles of beer with him and although she offers tea, Mrs McFie is persuaded to drink one beer. Pewter mugs for beer are arranged on the Welsh dresser along with Spode Blue Italian plates and blue and white cups and saucers. Gilbert has seen all the latest shows and has bought the 78rpm records to play on the antique gramophone.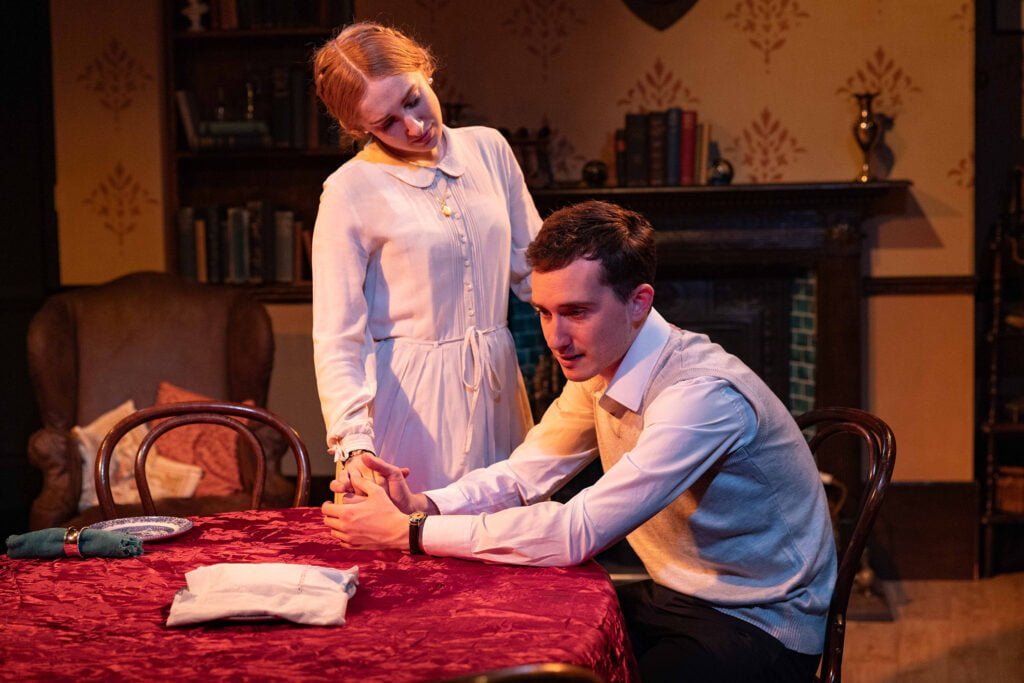 Charles has been brought up with Jill Mannering (Helen Reuben). He has a photo of her in a silver frame and it has been assumed that he would marry her. That is until Paul introduces him to a girl from New Zealand, a scientist, called Anne Hargreaves (Naomi Preston-Low). Anne is pretty and her hair is attractively coiled into intricate earphone braids and she and Mrs McFie have seams in their stockings in an accurate period touch.
Plays of that era were mostly in three acts with two intervals. In the second act, two and a half years later, the arrival from London of party girl Jill Mannering with a beau in tow, Roger Cole (Lynton Appleton) to attend the annual ball throws Charles into confusion.
The Finborough gives these plays of 90 years ago perfect productions and allows us to reflect on what differences there are with the twenty first century. The acting is believable, the design beautiful, and the direction classy and, there is of course, the first thing to strike people about Scotland's east coast, the sound of the incessant rain and the wind.
Merton Hodge's play immerses us in the early 1930s in Edinburgh. It is no more challenging than a pleasant walk on a summer's day but sees a young man grow into his profession.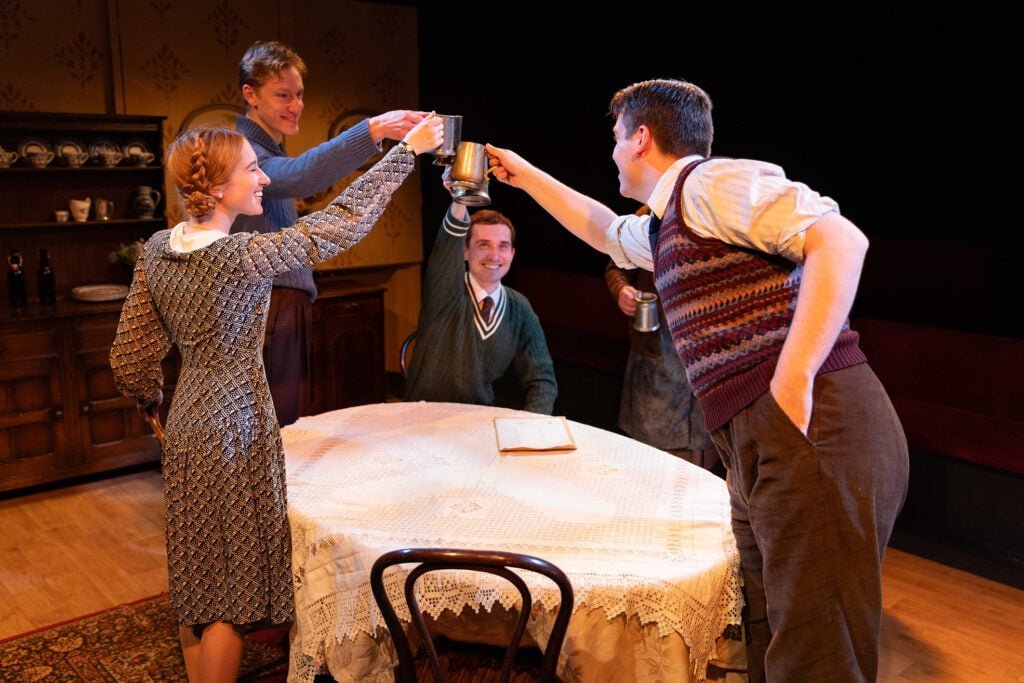 The Wind and the Rain

Written by Merton Hodge
Directed by Geoffrey Beevers
Cast
Starring:
David Furlong
Helen Reuben
Jenny Lee
Mark Lawrence
Naomi Preston-Low
Lynton Appleton
Harvey Cole
Joe Pitts
Creatives
Director: Geoffrey Beevers
Designer: Carla Evans
Lighting Designer: Richard Williamson
Sound Designer: Edward Lewis
Information
Running Time: Two hours 15 minutes with an interval
Booking to 5th August 2023
Theatre:
Finborough Theatre
118 Finborough Road
Earls Court
London
SW10 9ED
Box Office: www.finboroughtheatre.co.uk
Reviewed by Lizzie Loveridge
at the Finborough
on 14th July 2023