Spellbinding Production from Jamie Lloyd
with stellar all black acting talent
"I'm Toby, I'm a psychiatrist, I'm afraid. My father was a heart surgeon and when I told him I wanted to specialize in psychiatry he said, "Oh really? The Cinderella of medicine."
Dr Toby Sealey
It is eleven years since Lucy Prebble's play about volunteers for medical research was seen in London.  Since then she has been credited with writing on the hit series Succession.  Jamie Lloyd has assembled the most talented black cast for his energising new production in the National Theatre's reconfigured Lyttelton.  You won't recognise the traditional proscenium arch theatre in this traverse stage with an audience raked up on either side.  
At either end the doctors are mostly seated, on my left, the remarkable Michele Austin as Dr Lorna James the psychiatrist in charge of the day to day administration of the trial.  At the other end is the compelling Kobna Holdbrook-Smith as the psychiatric consultant Dr Toby Sealey in over all charge and Lorna James' superior.  Dr Sealey will be well paid by the drug company trialling the drug.
In the centre of the black traverse but illuminated by a rectangle of white light by Jon Clark, both dressed in grey tracksuits are the medical guinea pigs, Paapa Essiedu as Tristan and Taylor Russell as Connie.  It is the simplicity of the bare monochrome set and the stark lighting which makes us concentrate hard on what is being said and who says it.  
Dr Lorna goes through the form details with each volunteer and we start to learn about Tristan and Connie in their own words. Tristan is a young man from London, quite full of himself but also charming and attractive. His body language is swaggering and he barely stands still. He is flirty with both Lorna and Connie. I have never seen Paapa Essiedu play anything resembling a wide boy before and I was entranced.
Connie is altogether more self contained and restrained. She is Canadian from Ontario and has a fiancé. Tristan and Connie have been given minimal information about the drugs that they are trialling. Some of the subjects will be on placebo drugs but they will have no way of knowing who that is. As Tristan and Connie start to connect romantically despite the rules about no sexual contact they start to question the reality. Is it love or is it the drugs producing dopamine? The doctors too have that question.
Movement directors Sarah Golding and Yukiko Masul of SAY deliver a freshness of ilicit coupling with entwined figures in the quiet of the night. The next day, they are caught and separated by the doctors. Tristan takes this very badly and starts to shake and gets agitated as he misses Connie. Connie becomes more steely and tells Lorna, "You can't give us a drug which makes us take risks and make bad decisions, then blame us for taking risks and making bad decisions."
Doctors and subjects explore their own history of depression. Tristan said at the initial interview he could feel sad but not depressed. It emerges that Lorna's medical history has had periods of self doubt as she discusses this with her boss.
They say that the real test of a great play is that if offered tickets for the next night, would you go again? I think there is so much to observe and take in from this marvellously written, acted and directed piece, I'd go like a shot and have no hesitation in awarding it five stars from Theatrevibe the site that doesn't do stars!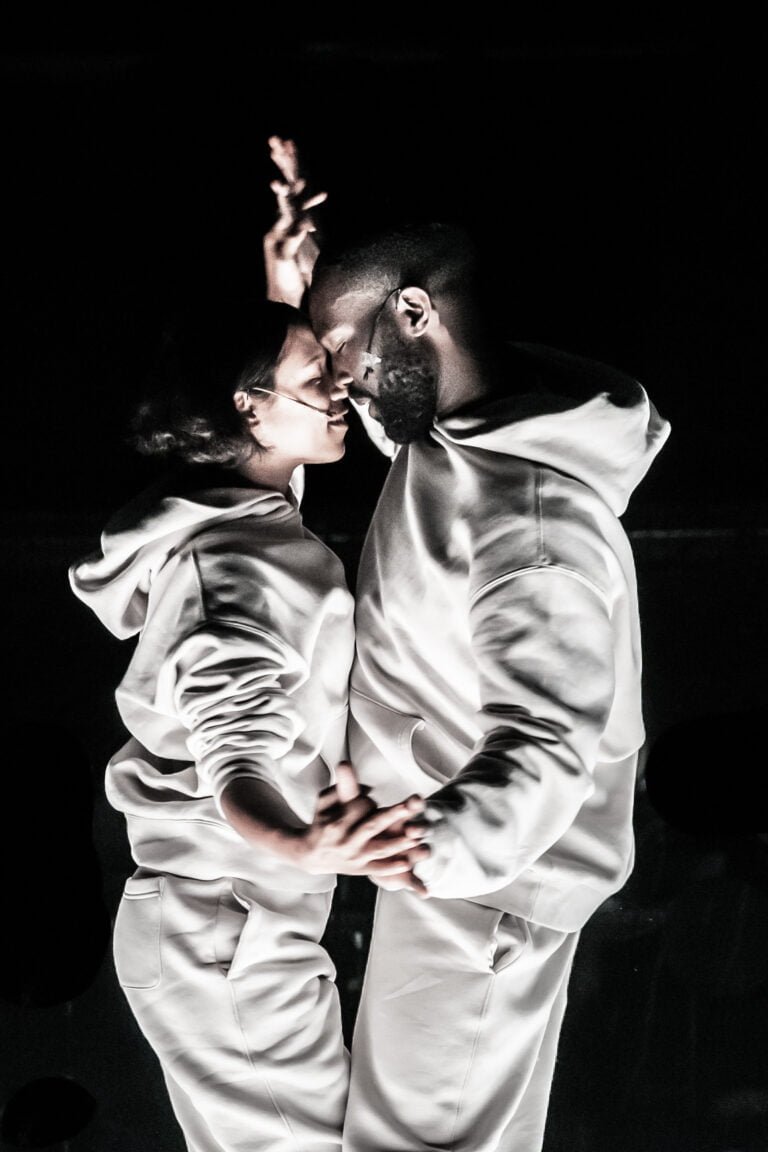 The Effect

Written by Lucy Prebble
Directed by Jamie Lloyd
Cast
Starring:
Paapa Essiedu
Kobna Holdbrook-Smith
Michele Austin
Taylor Russell
Creatives
Director: Jamie Lloyd
Designer: Soutra Gilmour
Movement Directors: Sarah Golding and Yukiko Masul of SAY 
Lighting Designer: Jon Clark
Sound Designer: George Dennis
Fight Director: Kate Waters
Information
Running Time: One hour 40 minutes without an interval
Booking to 7th October 2023
Theatre: 
Lyttelton Theatre
National Theatre
South Bank
London SE1 9PX
Tube/Rail : Waterloo
Website: nationaltheatre.org.uk
Reviewed by Lizzie Loveridge at the
Lyttelton Theatre at a matinée performance on 12th August 2023