La Cage at the Open Air - as life affirming as ever!
"Marry her? You're a boy. She's a girl. What will you talk about?" 
Albin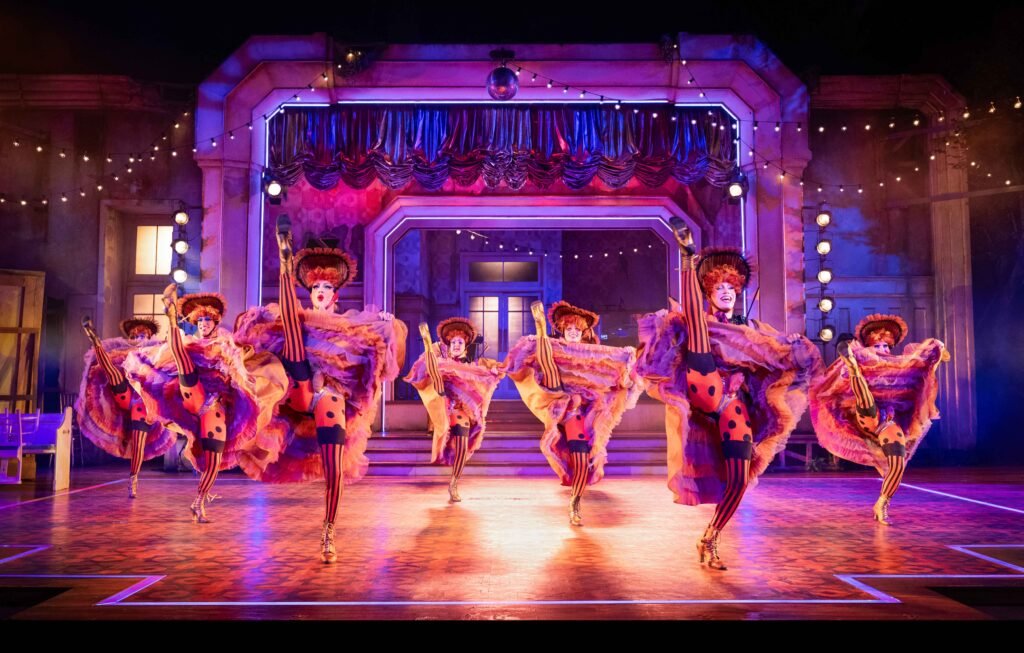 If you're only counting seats Regents Park Open Air Theatre may not be the largest venue in London. But it certainly has the highest ceiling. As the evening turns the sky paints a deep emerald green band above the purple stage set. As if it were planned, it's a perfect backdrop for the bitter-sweet nostalgia of Georges's "Song on the Sand". (Disclaimer: The occurrence and duration of such meteorological effects cannot be guaranteed for every evening performance.)
Fierstein and Herman's musical La Cage aux Folles, (based on Jean Poiret's play) gets a triumphant revival in the magical atmosphere of the Park in August. Cage was a pioneering show and though now a little dated in some ways, it still has something important to say about tolerance, difference, identity and independence. Perhaps more now than ever. After all, there many places in the world where you would not be allowed to see this show at all.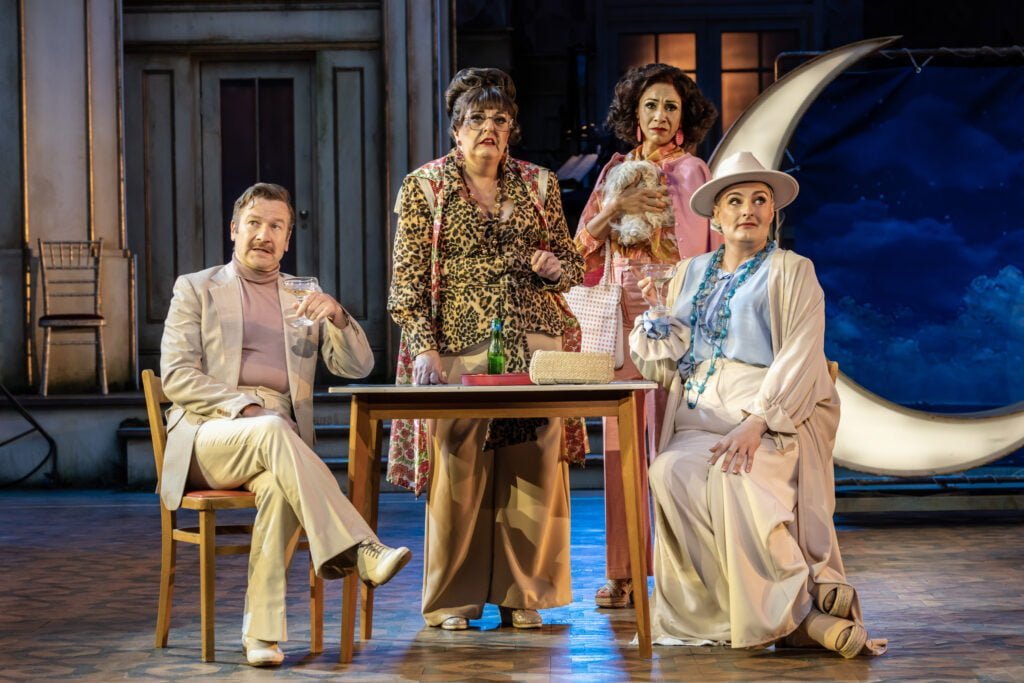 One hopes those folk have other suitable forms of entertainment. But they would be hard put to equal Cage's opening explosion onto the stage of Ten Drag Queens, followed by the terrific solo numbers of Chantal (Jordan Lee Davies), Hanna (Jack Allan-Anderson), and Phaedra (Gorge Lynham). 
While we're recovering from that, Stage Manager Francis (Hemi Yeroham) – maestro of the marathon mic lead – takes us backstage where Georges (Billy Carter)'s partner, and star of the show, Albin (Carl Mullaney) is having a meltdown. Age is stalking him and the only defence is increasing doses of cosmetics. Georges reassures him, but he is hiding a deadly secret of his own. 
Like many other long-standing couples, Georges and Albin have bickered, bantered, and bargained their way through the years. "I de-boned a chicken for your dinner," says Albin. "Where were you?" But they are also deeply in love and their relationship has survived the ups and downs of show business life. Until now… What will happen when Georges reveals his secret? And denies his partner, for what he believes is a good cause?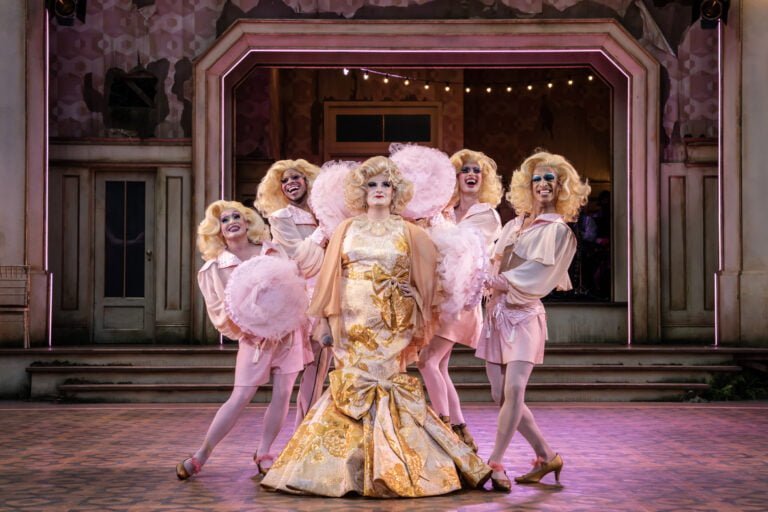 Albin's response is to sing "I Am What I Am." A ballad that goes from heart-wrenching despair to triumphant affirmation and brings the audience to its feet for the end of Act One.
Is this a peak too soon? Because Act Two has its weaknesses. The dance energy is undiminished, but to coach a reluctant Albin to act like a man slows the pace and would sit better in a "Carry On Up the Cage" parody. Some songs carry a whiff of cheese. But whether cheddar or camembert is hard to say since even the characters seem uncertain which country they live in. 
A drag club in St Tropez, re-located to a seaside town in the north east, is being persecuted by a populist politician. But a politician (John Owen Jones) with a strongly Geordie accent whose wife (Julie Jupp) appears to be Margaret Thatcher's resurrected double, rather than the original French ultra conservative politicians.  
Hmm… Is this someone's nightmare? And are all Tynesiders such notorious bigots?
The Chorus sings of the naughtiness of the Cage and hints at wicked goings on that we can't see. But apart from the odd gesture, and a liaison between the very tall Hanna and the very not-tall Francis, perhaps the only hint of real decadence is the severed head of John the Baptist Albin keeps handy in a box to reprise Salome's "Dance of the Seven Veils" should the occasion present itself.
But, quibbles apart, this is a sensational show. Direction, costume, sets, lighting, and music from a live band, combine seamlessly to make a very special evening. 
La Cage aux Folles is a work which is as committed to a cause as it is to its audience.
This Production honours both with wit, style, and dignity.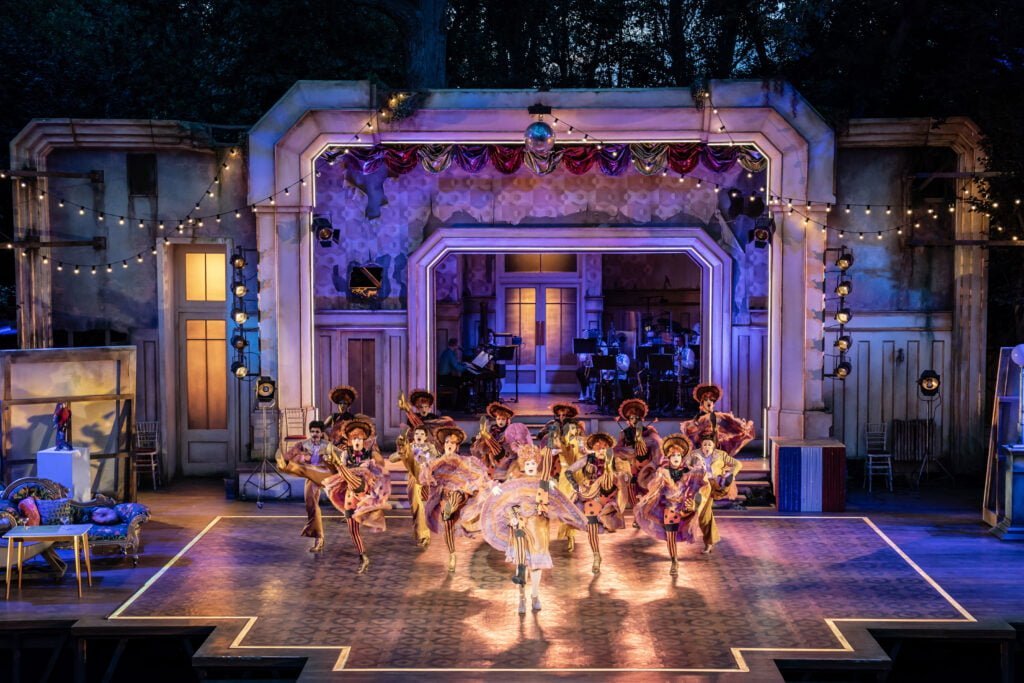 Act One
Prelude
We Are What We Are
(A Little More) Mascara
With Anne on My Arm
With You on My Arm
Song on the Sand
La Cage aux Folles
I Am What I Am
Act Two
Entr'acte
Song on the Sand (Reprise) 
Masculinity
Look Over There
Cocktail Counterpoint
The Best of Times
Look Over There" (Reprise)
La Cage aux Folles" (Reprise)
Finale
La Cage Aux Folles
Music and Lyrics by Jerry Herman
Book by Harvey Fierstein
Based on the play by Jean Poiret
Directed by Tim Sheader
Cast
Starring:
Debbie Kurup
Alexandra Waite-Roberts
Billy Carter
Carl Mullaney
Craig Armstrong
Daniele Coombe
Emma Johnson
Hemi Yeroham
John Owen-Jones
Jordan Lee Davies
Julie Jupp
Nicole Deo
Tom Bales
Taylor Bradshaw
Rishard-Kyro Nelson
Jak Allen-Anderson
Ben Culleton
Lewis Easter
Harvey Ebbage
Shakeel Kimotho
George Lynham
JP McCue
Sophie Pourret
Creatives
Director: Tim Sheader

Choreographer: Stephen Mear and Ebony Molina
Set Designer: Colin Richmond
Costume Designer: Ryan Dawson Laight
Musical Supervisor and Arranger: Sarah Travis
Lighting Designer:  Howard Hudson
Sound Designer: Nick Lister for Autograph
Wigs, hair and make-up Designer: Guy Common
Musical Director:Ben van Tienen
Orchestrator Jason Carr
Musical supervisor: Jennifer Whyte
Information
Running Time:
Two hours 30 minutes with an interval
Extended and Booking until 23rd August 2023 

Theatre:
Open Air Theatre
Regent's Park
Inner Circle
London NW1 4NU
Tube: Baker Street
Reviewed by Brian Clover
at the Open Air
on 16th August 2023