The story of Ireland in one woman
"What are the Irish?  Unruly, pungent and pagan."
Martin McNamara
Martin McNamara is the most Irish of London-based playwrights. His moving play about the Guildford Four, Your Ever Loving, examined the place of the Irish in England, and his new play, Rita McGrinder Is Still Here, stares bleakly at the blood-soaked recent history of the land of McNamara's fathers. The Irish, says the play, have always been oppressed.  First they were oppressed by the English.  Then they were oppressed by the priests.
The small, intimate Omnibus Theatre near Clapham Common tube station could have been built for this hour long (there is no interval) one woman play set in a bar in 2010.  It has a bar, and you sit at pub-style tables with, if you like, a glass of beer in front of you, while 50-year-old Rita (Mary O'Sullivan) muses on her life as she prepares to greet her customers. Hers is a life which sums up the recent history of her country, and the men who preyed on its people.
Many of these men were priests.  Rita remembers that when she was a teenage girl, the local priest put his hand up her skirt.  Her father came into the room, saw what was happening, saw the frightened, confused face of his daughter, and said only: "Rita, go and help your mother in the kitchen."  In that moment she knew her father was as frightened of the priest as she was herself.
She remembers Rory, the IRA man who came to her bed after a murder, and could not perform, and broke down and wept like a child in her arms.  She remembers the man who made her pregnant (though she cannot remember his name), and how she had to go to England for an abortion. And the priest who sneered at her, and how this priest had a stroke while he was drinking; and she knew that you mustn't give liquid to a stroke victim, and she gently helped him drink a large measure of whisky, and he died.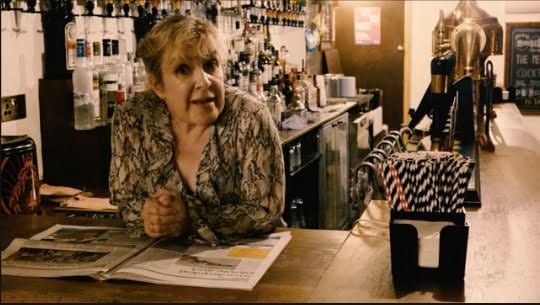 She remembers the confessional. Did you have bad thoughts?  Yes, father.  Did you disrespect your parents?  Yes, father.   Yet she still goes to church – not every Sunday any more, but from time to time.
Would she have been happier somewhere else, away from the shadow of her ancestors?  She thinks so.  She should have gone to America, as so many of the others did, but someone had to stay behind and look after her mother.
Martin McNamara is a fine dramatic writer, and in Rita he has created both a character we can care about, and a symbol of the tragedy of his nation. Mary O'Sullivan resists the temptation to ramp up the melodrama, delivering the lines in a mostly matter-of-fact way which heightens their dramatic effect.  Likewise, director Su Gilroy wisely avoids filling the stage with business.  The words speak for themselves.  I laughed a bit, but I came away weeping for Ireland.
Rita McGrinder is Still Here
Written by Martin McNamara
Directed by Sue Gilroy
Cast
Starring:
Mary O'Sullivan
Creatives
Director: Sue Gilroy
Information
Running Time: 60 minutes without an interval
Booking to 16th September 2023
Address:

Omnibus Theatre
1 Clapham Common Northside
London SW4 0QW
Tube : Clapham Common
Reviewed by Francis Beckett  at the
Omnibus Theatre on 1st September 2023