Making the best of what life throws at you
"What a story of transformation, inner power and inspiration"
Jonny Wilkinson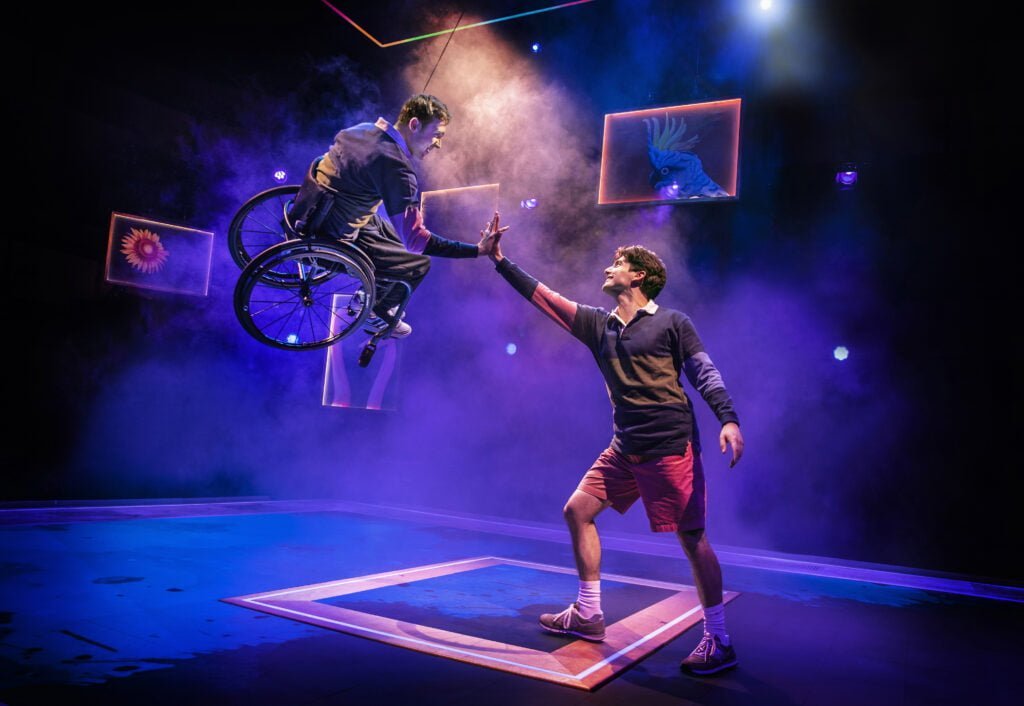 You'd be hard pressed to find a more cynical bunch of people than a group of theatre critics.  So how do they approach a feel good musical about life changing disability happening to a 17 year old destined to play rugby for England?  In all honesty, Musicals really aren't my thing and the ones I prefer have a darker side, Parade is one of my favourites with its ending, a lynching, of a probably innocent man.  However, Little Big Things largely won me over.
This musical takes a teenage boy who, on holiday with two of his rugby playing brothers in Portugal, dives into the sea and hits the sea bed fracturing his fourth vertebra. At 17 he is paralysed from the shoulders down.  He faces months, really years in hospital eventually making the best of a disability when he is totally dependent on others. Until his physiotherapist discovers he can move his shoulders and so can control a specially developed wheelchair, he can't steer the chair. 
Joe White's book for the musical is based on Henry Fraser's autobiography and unusually casts two as Henry, Ed Larkin who is a disabled actor is Henry after the accident and Jonny Amies plays 17 year old Henry before he was paralysed.  The interaction between the two is an interesting focus but I don't think I really get it when the earlier Henry says he can't wait to become his future self.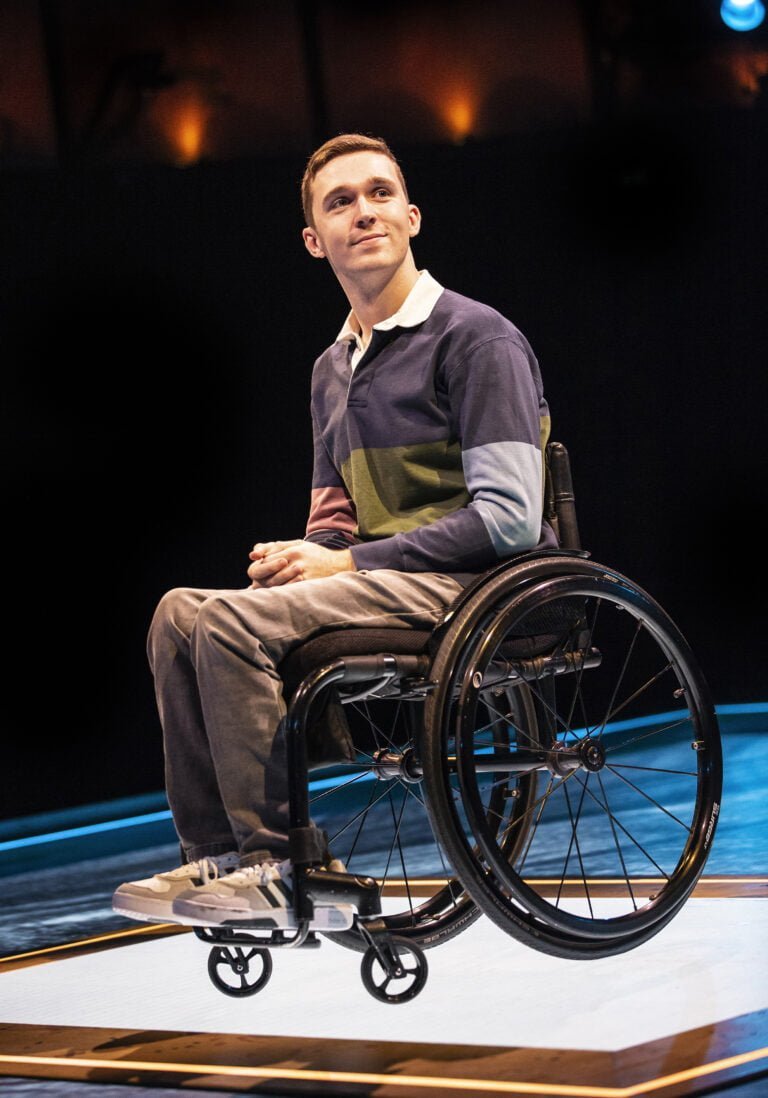 The musical feels like a celebration of disability and its pop/rock score with animated choreography adds to the joy.  What is remarkable about Henry is his lack of anger while his family all blame themselves in different ways.  Henry almost didn't go because his passport had run out and a new one was quickly obtained by his father Andrew (Alasdair Harvey), his mother Fran (Linzi Hateley) wished she'd stopped him going and his brothers are blamed by her for not taking enough care of him.  It is the new role the family takes on in caring and visiting Henry that almost breaks them up.
There are several cameos which add humour.  There is Dr Graham (Melinda Parris) the overworked NHS doctor who says, "My blood type is caffeine and my guilty pleasure is sleep."  Dr Graham's analogy of disability is that its like planning to go on holiday to Italy and instead being rerouted to Belgium.  But the most influential professional is Henry's quirky physiotherapist Agnes (Amy Trigg) whose personal experience is losing movement in her legs in a car accident as a young woman.  Agnes acknowledges that she too talks to the herself before the life changing disability which put her in a wheelchair.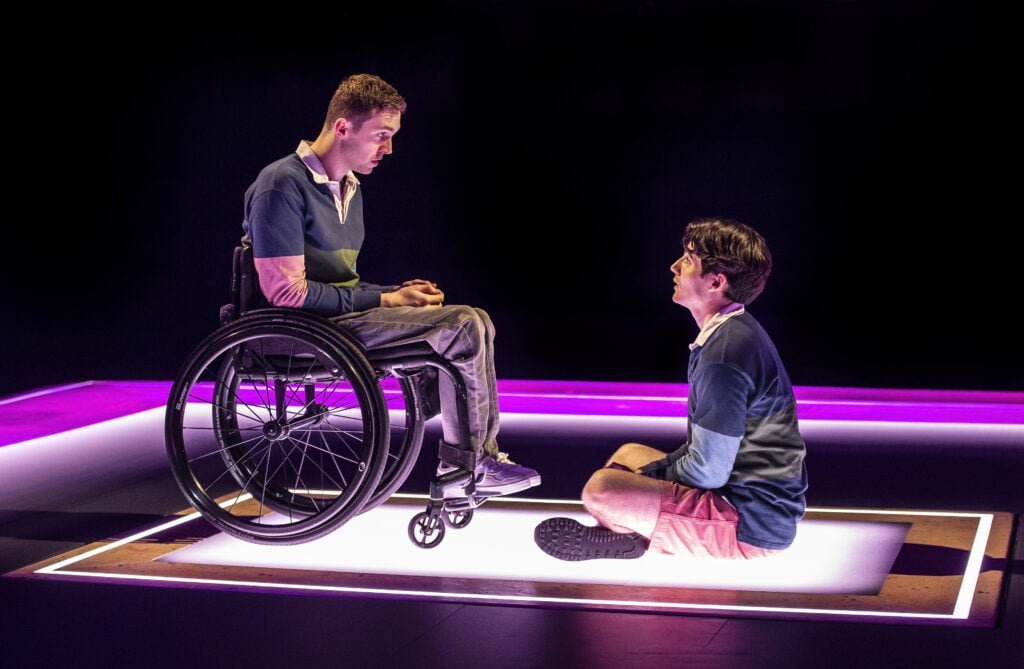 Agnes and Henry join in the choreography whirling their chairs and using their arms to the music.  Linzi Hateley as Henry's mother supports Henry and her husband gives up boating as they fear the sea will upset Henry in reminding him of his accident.  Henry has been given the positive genes and in congratulating himself on getting out of hospital after 17 months, counts his blessings: that he can breathe without a ventilator, drink without a drip and eat a biscuit.  The song "The World is Waiting for You" closes Act One. 
Act Two concentrates on what Henry does next.  Eventually he stops resisting his father's gift of an ipad on which he can paint using a brush fixed to his old gumshield and started painting. Many of his pictures which include close ups of the heads of animals and birds, are impressive and earn a gallery showing attended by rugby hero Jonny Wilkinson.  Henry goes on to write a best selling book and becomes a motivational speaker.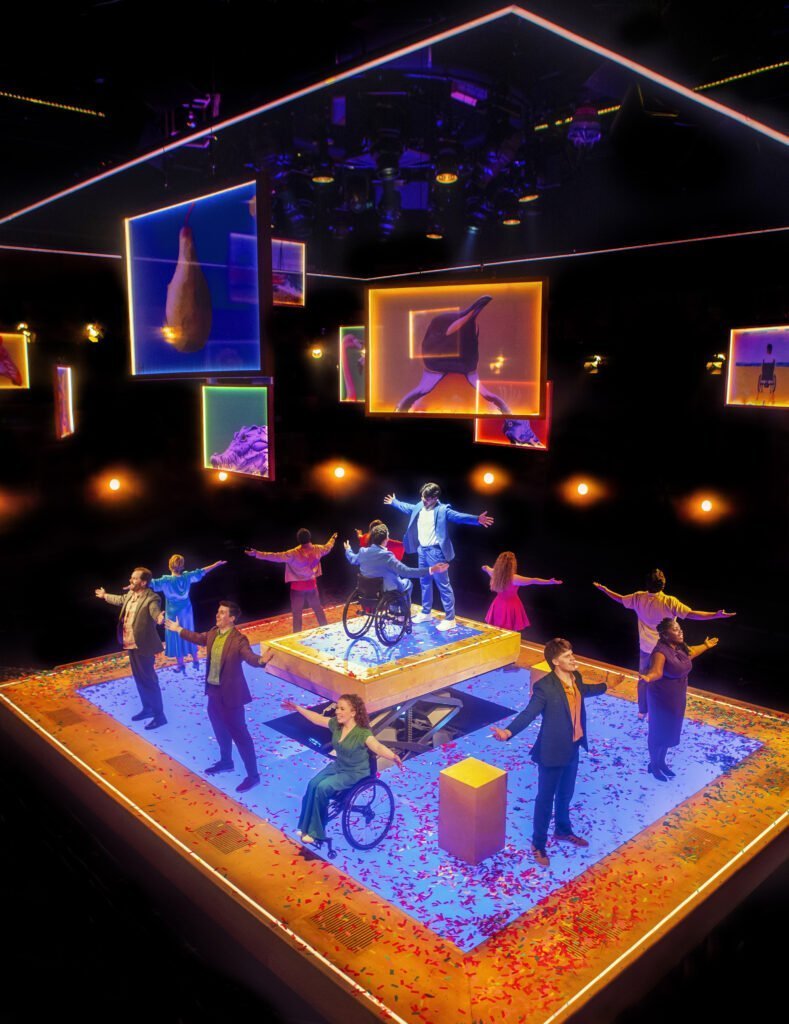 The performances in Little Big Things are inspirational with Amy Trigg sure to be nominated as Best Female Actor and Ed Larkin as Best Newcomer.  As Henry is encouraged by Agnes to go clubbing there is a marvellously designed scene of a Monopoly costumes themed party and a romantic storyline for Henry with his school friend Katie (Grace McGonigal). 
You might find Henry Fraser's musical story sentimental but no one can question how he has made the success of a life struck by adversity.  There were plenty sniffing and patting their faces with handkerchiefs at the show's finale.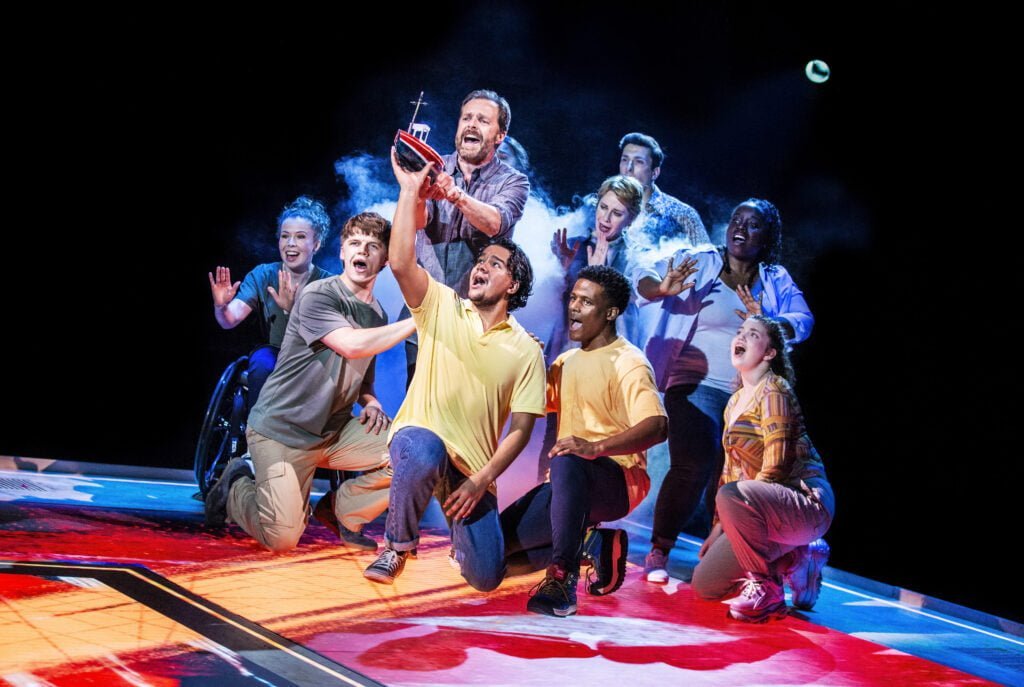 Act One
 Prologue
Never Coming Home
Feel Like This
One to Seventeen
Work of Heart
'Part of the PLan
Uma Vida
Why
Don't Wanna Have To
The World is Waiting
Act Two
Entr'acte
What I Need
Silence of the Sea
Things We Shouldn't Do
Sympathy
Miles and Miles
Guide You
One to Seventeen (Reprise)
The Little Big Things
Little Big Things
Book by Joe White
Music by Nick Butcher
Lyrics by Nick Butcher and Tom Ling 
Directed by Luke Shepherd
Cast
Starring:
Alasdair Harvey
Amy Trigg
Cleve September
Linzi Hateley
Malinda Parris
Tom Oliver
Ed Larkin
Gracie McGonigal
Jordan Benjamin
Jonny Amies 
Rebecca Bowden
Jamie Chatterton
With:
George Salmon
Elena Pitsiaeli
Amy West
Stephen John Davis
Joseph Wolff
Creatives
Director: Luke Sheppard

Choreographer: Mark Smith
Set Designer: Colin Richmond
Costume Design: Fay Fullerton
Musical Supervisor and Arranger: Matthew Brind
Lighting Designer: Howard Hudson
Sound Designer: Paul Gatehouse
Video: Luke Halls
Musical Director: Laura Bangay
Information
Running Time:
Two hours 20 minutes with an interval
Booking until 25th November 2023 

Theatre:
@sohoplace
4 Soho Place
London W1D 3BG
Tube: Tottenham Court Road
Telephone: 020 384 09611
Access: 0330 3335962
Website: www.sohoplace.org
Reviewed by Lizzie Loveridge
@sohoplace on 16th September 2023