Twiggy Who Proved She Was More Than a Model
''Men don't want twigs, men want meat on the bone, boobs and bum,"
Claire Rayner, Agony Aunt in Close Up
"Men want a girl who looks like a boy"
Patrick Marber in Closer 1999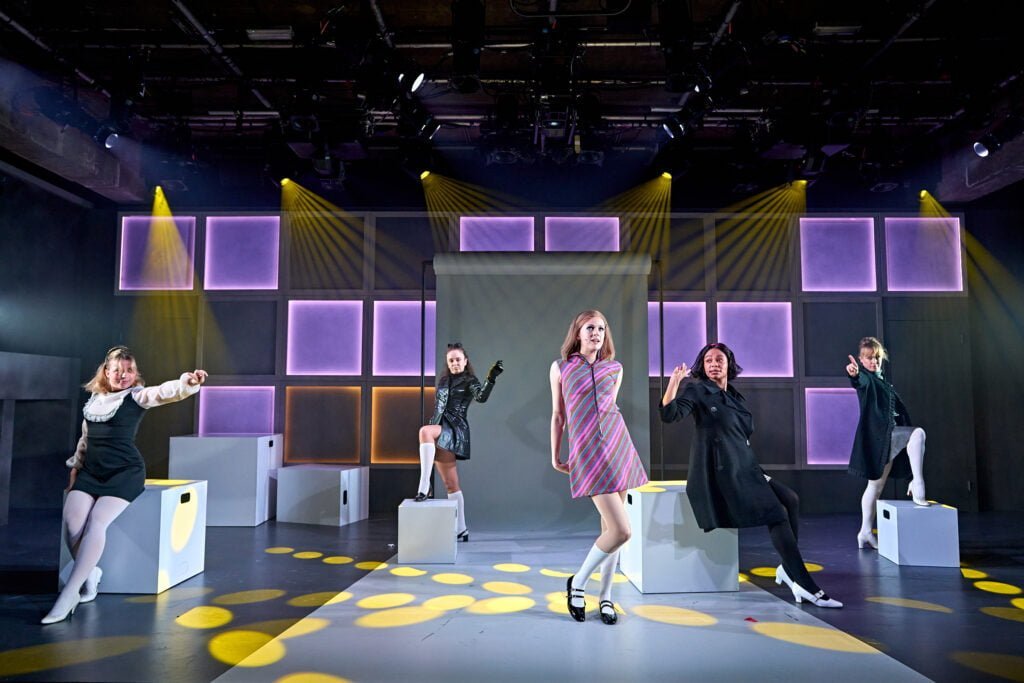 I am probably of exactly the right age to fully appreciate the Menier's latest offering of Ben Elton's Close Up – The Twiggy Musical. The opening number in monochrome introduces Twiggy's remarkable career from fashion model at 16 to starring in Ken Russell's film The Boyfriend at 21, in fashion design and with acting/singing on Broadway, to being made a Dame in 2019. The whole cast are there in monochrome wearing those realistic black and white photographic face masks of Twiggy herself. This opening scene is a recreation of her being mobbed in New York.
We see Twiggy's roots in Neasden as Lesley Hornby the third and youngest daughter of Nell and Norman Hornby (Hannah-Jane Fox and Steven Serlin). Her parents had a baby every seven years so she had elder sisters of 7 and 14. She was born in 1949; the NHS has started in 1948, but Lesley's mother had what was probably severe post natal depression and was treated with Electro-Convulsive Therapy. The musical has a sinister ballet of the doctors administering ECT.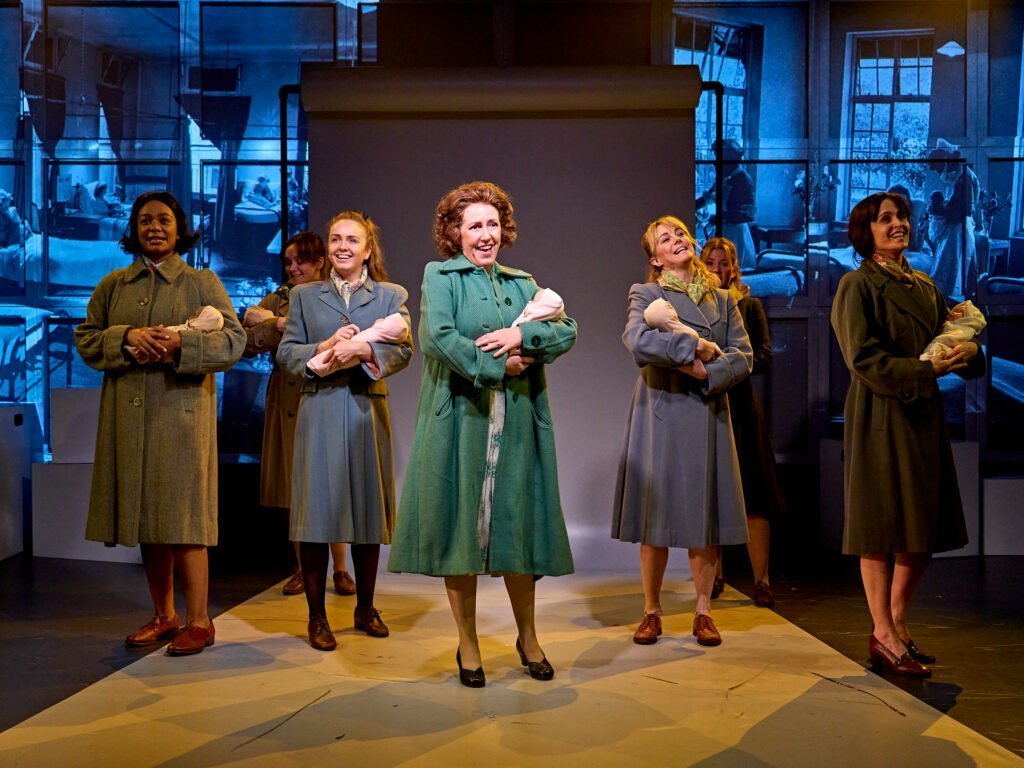 The music is contemporary, mostly 1960s but the 1990s "Right Said Fred" accompanies the elder sister helping their father with the new baby. Fast forward to school where she is teased for being skinny. With her own inimitable humour Twiggy (Elena Skye) describes herself, "I was called androgynous. That's posh for no tits!"
We meet the 25 year old man, the self styled Justin de Villeneuve, born Nigel Davies (Matt Corner) who "discovered" Twiggy when she was 15. He manages her career in a controlling way. She goes to a showbiz party in a modified gymslip. She goes shopping at Biba's in Kensington Church Street to Petula Clark singing 1964's "Downtown". Her celebrity is illustrated with "The 'In' Crowd" song. Some of the lyrics have been changed by Ben Elton, writer and director to suit Twiggy's story but some like these two songs fit perfectly. 
Two of Twiggy's schoolmates who stay friends, Kay (Lauren Azania AJ King-Yombo) and Cindy (Aoife Dunne) are quick to inject a witty realism into any situation. Leonard Lewis as Leonard the Mayfair hairdresser creates her iconic pixie cut.
In Act Two the 1970s sees the bombings in London by the IRA and Twiggy's mother sings as Vera Lynn, the wartime song, "There'll be Bluebirds over the White Cliffs of Dover" recalling wartime bombing when the Hornbys were close to a German bomb landing in 1940.
Twiggy is chosen by Ken Russell to take the main part in his film of The Boyfriend, launching her acting and singing career. Justin de Villeneuve makes his exit breaking the Fourth wall. In America Twiggy meets her future husband, Hollywood actor Michael Witney (Darren Day) but sadly he has a serious problem with alcohol. Twiggy sings "Stuck in the Middle with You" in a sensational delivery from Elena Skye at a party in Los Angeles.  Her husband Michael dies of a heart attack after six years together. 
Twiggy records "I Can't Live if Living is Without You" and "Here I Go Again" on Top of the Pops. Elena Skye looks like Twiggy and can belt out these songs. Hannah-Jane Fox is a super singer too and I lost count of the many male parts Steven Serlin took, I was really impressed as he became David Frost, Woody Allen, Leonard, Phil Spector and many others.
Ben Elton's musical isn't highly polished but I enjoyed the music. The production feels home grown and friendly.  Elton can't resist inserting the odd anachronistic joke from 2023 like women now paying to exaggerate and lift the shape of their bottoms.  I always think any writer should have a separate director and vice versa for creative input. The sets are fun with great lighting and there is attention paid to fashion choices. There is no original choreography except in the very first scene but rather routine clubbing dance. I liked the period tunes in the show. Close Up doesn't give us Twiggy's happy ending in her marriage to actor Leigh Lawson but her career is impressive and interesting for the girl from Neasden. 
Close Up The Twiggy Musical

Written and directed by Ben Elton
Cast
Starring:
Darren Day
Elena Skye
Hannah-Jane Fox
Steven Serlin
Beth Devine
Lauren Azania AJ King-Yombo
Matt Corner
Aoife Dunne
With:
Harriet Bunton
Leanne Garretty
Luke Johnson
Emma-Katie Adcock
Danny Nattrass
Liam Buckland
David McIntosh
Karen Walker
Sydney Spencer
Creatives
Director: Ben Elton 

Choreographer and Movement: Jacob Fearey
Set Designer: Timothy Bird
Costume Designer:   Jonathan Lipman
Musical Supervisor, Director and Orchestrator : Stuart Morley
Lighting Designer:  Philip Gladwell 
Sound Designer: Gregory Clarke
Video Designer: Tim Blazdell
Information
Running Time:
Two hours 30 minutes including an interval
Booking until 18th November 2023

Theatre:
Reviewed by
Lizzie Loveridge
at the preview performance
at the Chocolate Factory
on  Monday 25th September 2023