How to introduce Gilbert and Sullivan
to a new generation
"When Wellington thrashed Bonaparte,
As every child can tell,
The House of Peers, throughout the war,
Did nothing in particular,
And did it very well."
Lord Mountararat in Iolanthe
As soon as I saw the set, I felt pretty sure Cal McCrystal's new production of Iolanthe was something very special, and after ten minutes I knew it.
Its triumph is that it reaches well beyond grizzled G&S fans like me. You could turn up knowing nothing of their work, and be bowled over by the charm and wit of the writing, the colour and vitality of designer Paul Brown's sets, and the singing and acting of the huge and hugely talented cast (I counted forty people on the stage and I think I missed a few.)
McCrystal has not done this by forcing the script into a contemporary straitjacket. Iolanthe is one of the funniest, and certainly the most political, of all G&S's operas, and though he has put in some contemporary references, as well as some slapstick and a few jokes, everything he does is designed to draw attention to the original words and music. 
Before the show starts, Captain Eyre Massey Shaw (Clive Mantle) comes on in front of the curtain. Captain Shaw (1830-1908) was one of the two founders of the London Fire Brigade and a well known figure in London society, and was referred to in the script, but having him appear on stage is new. He glances round the audience approvingly: "What a social mix – we have the middle classes and we have the upper middle classes."
A few jokes later, the curtains part to reveal a wonderful bacchanalian painting, which itself rises to reveal the most stunning forest, all huge leaves and vibrant colours. Twenty or so women, the fairies, appear in it, alongside wooden sheep, a pantomime cow, and a unicorn. The point of the unicorn becomes clear when the fairy queen puts a pint glass under the creature's horn, and pulls it down like an old-fashioned handpump in a pub, and her glass is filled. The unicorn then disappears, its work done.
Most of the jokes are Gilbert's, though a few new ones are thrown in. "She taught me to collect acorns and now I have piles" is neither the best nor the most original joke you'll ever hear, but in the moment, it works.
We have hardly had enough time to admire the forest when a vast steam engine trundles through it and disgorges the gentlemen of the House of Lords, who are, as they should be, pompous products of public schools. The chorus of these braying and complacent men singing "Bow, bow, ye lower middle classes" is one of the many delights of the evening.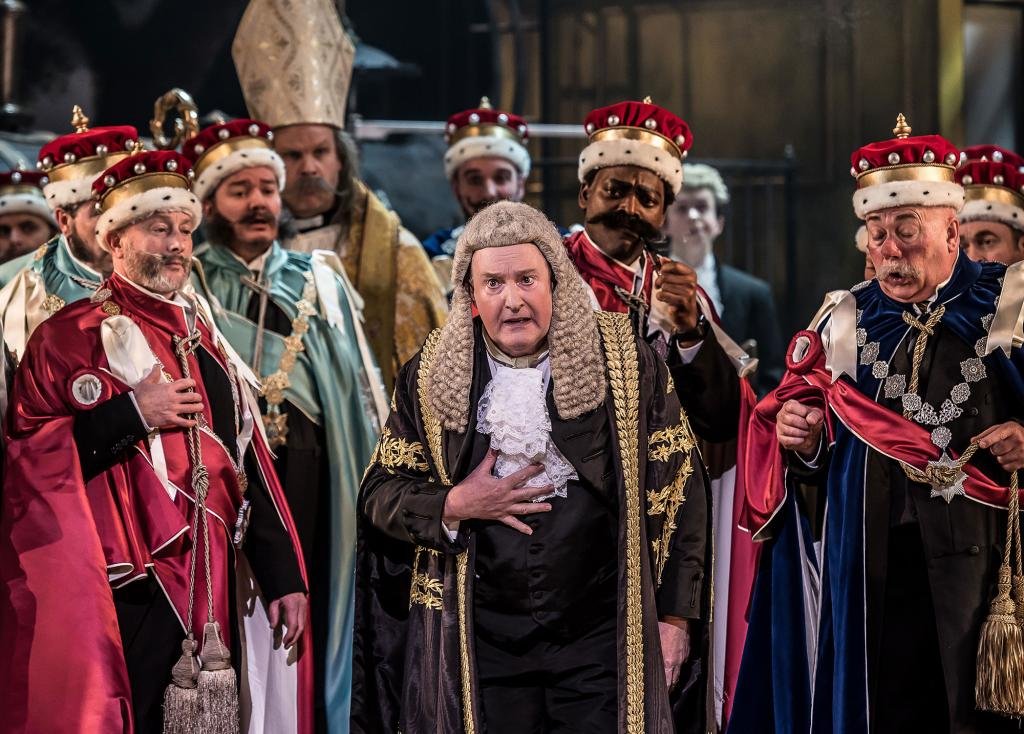 One of the lords, unmistakably, is Boris Johnson, and his best moment is when he walks across the stage with a middle-aged lady who suddenly breaks away and starts beating desperately on the door of the House of Lords. That's when the audience realises she is supposed to be Nadine Dorries.
A magnificent cast is led by the wonderful John Savournin, Britain's premier G&S performer, playing the Lord Chancellor, who explains his problem in a great exposition song. He has attractive young ladies as wards, and he keeps sending them out to marry others, but there is never one for him, which is distressing for "a very susceptible chancellor."
He gets the audience to join in the chorus of the song about his legal career, which is one of a few occasions when the production borrows from pantomime. At other times, it uses slapstick to get a laugh, but never, never, at the expense of Gilbert's witty words or Sullivan's memorable music.
Savournin does the great patter song. There's one in every G&S opera, and in this one it's "When you're lying awake with a dismal headache and repose is taboo'd by anxiety/ I conceive you may use any language you choose to indulge in without impropriety." 
The young lovers Iolanthe (Samantha Price) and Strephon (Marcus Farnsworth) are charming and funny, the queen of the fairies (Catherine Wyn-Rogers) is down-to-earth and funny, and Private Willis (Keel Watson) is stolid and funny. There are two delightful cameo performances from Ruairi Bowen and Ben McAteer as the two earls who are in love with Iolanthe, but decide quite quickly, as decent public school chaps, that their male friendship matters more than their rivalry about a woman, and they must both give her up.
The vast Colisseum was nothing like full for the splendid show. This is a shame, because it deserves full houses, but it does mean you can probably still get a seat, and may well get one at a reduced price. If you are already a G&S fan you won't want to miss it – it's a new stage in G&S productions, the first since Jonathan Miller's Mikado in 1987. And if you don't know G&S, this is the best chance you'll ever have to discover what a delight it is to watch.
Iolanthe

Music Composed by Arthur Sullivan
Libretto by WS Gilbert
Directed by Cal McCrystal
Cast
Starring:
Clive Mantle
John Savournin
Adam Brown
Ben McAteer
Bethan Langford
Catherine Wyn-Rogers
Ellie Laugharne
Keel Watson
Marcus Farnsworth
Petra Massey
Samantha Price
Ruairi Bowen
Llio Evans
Creatives
Director: Cal McCrystal
Designer: Paul Brown
Movement Design: Lizzie Gee
Lighting Designer:Ian Jackson-French, Tim Mitchell
Sound Designer: Dominic Bilkey
Conductor: Chris Hopkins
Information
Running Time: Two hours 45 minutes with an interval
Booking to 25th October 2023
Website: londoncoliseum.org
Theatre:
London Coliseum
St Martin's Lane
London WC2N 4ES
Rail/Tube : Charing Cross
Reviewed by Francis Beckett at the
London Coliseum on 13th October 2023