Brilliant Transfer for England's Football Stars
"The message we get is that failing or losing equals not being good enough as a human being. We think that if we fail we are worth less"
Pippa Grange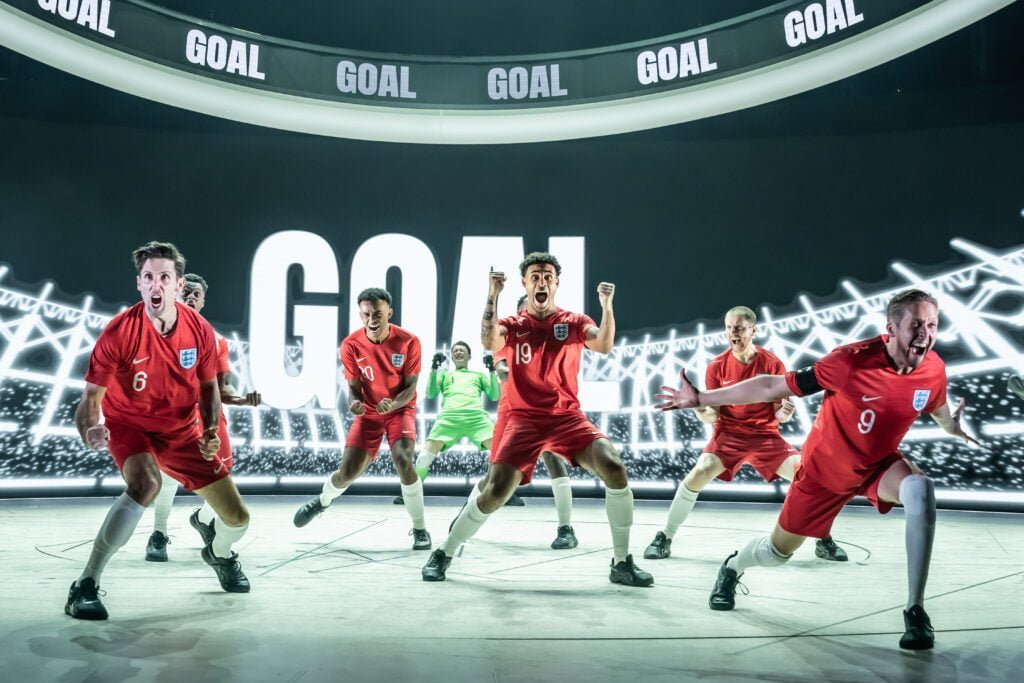 This magnificent production has made an early transfer for extra time at the Prince Edward. As soon as I saw it in the Olivier in June I was hoping a West End theatre could be found to take the huge revolve of Es Devlin's cubicle set.  My choice would have been the Gillian Lynn but other factors must have played a part and it is now staged at the Prince Edward to 13th January 2024.  The Prince Edward has a decent revolve but it is not as spacious at the Olivier. 
The other main difference is in the replacement of Gina McKee by Dervla Kirwan as Dr Pippa Grange.  Kirwan lacks the shy emotion and warmth of McKee and her range of accents wanders from Irish to Tyneside to Australia.  These small niggles aside, Dear England is still a wonderful experience in the theatre.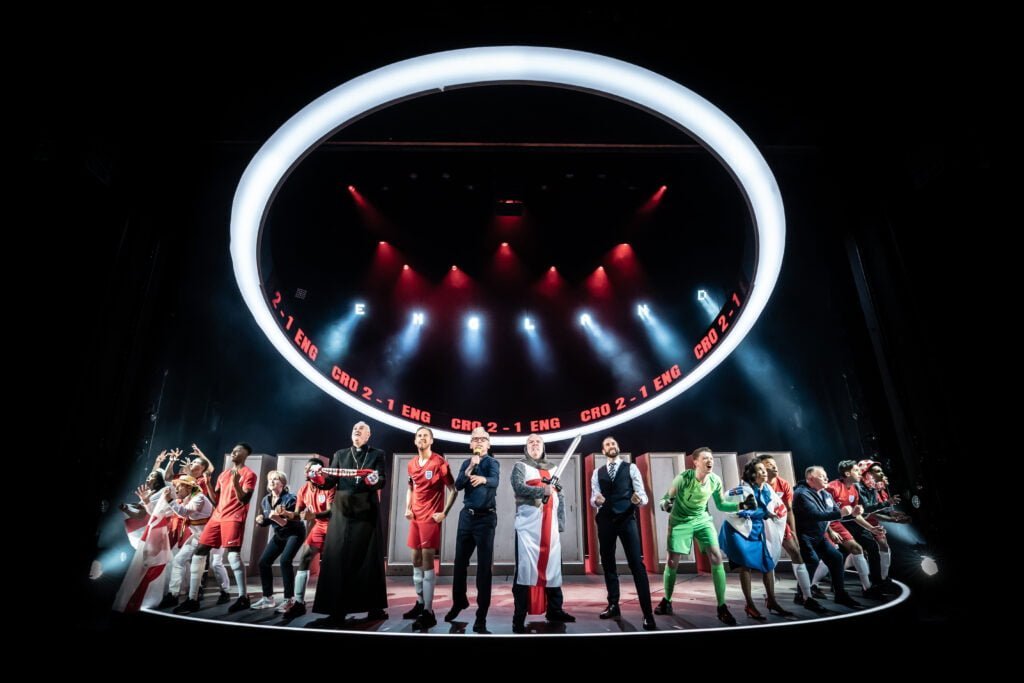 There are a few other cast changes, Sean Gilder's witty cameo of Sam Allardyce is now played by Lloyd Hutchinson and the role of Harry Maguire goes to Griffin Stevens.  The most important part, Joseph Fiennes as Gareth Southgate has, if anything, grown even more confident in Southgate's diffidence of speech and self effacing body language.  Fiennes has to be nominated for Best Actor awards this year.
I was reflecting too on whether theatre could find a new audience from young football supporters as surely there will be some experiencing theatre for the first time by seeing Dear England.  On the whole I think more theatregoers will be drawn to following Southgate's football team than football fans drawn to Ibsen. Whatever your background, try to fit in Dear England for a life changing experience.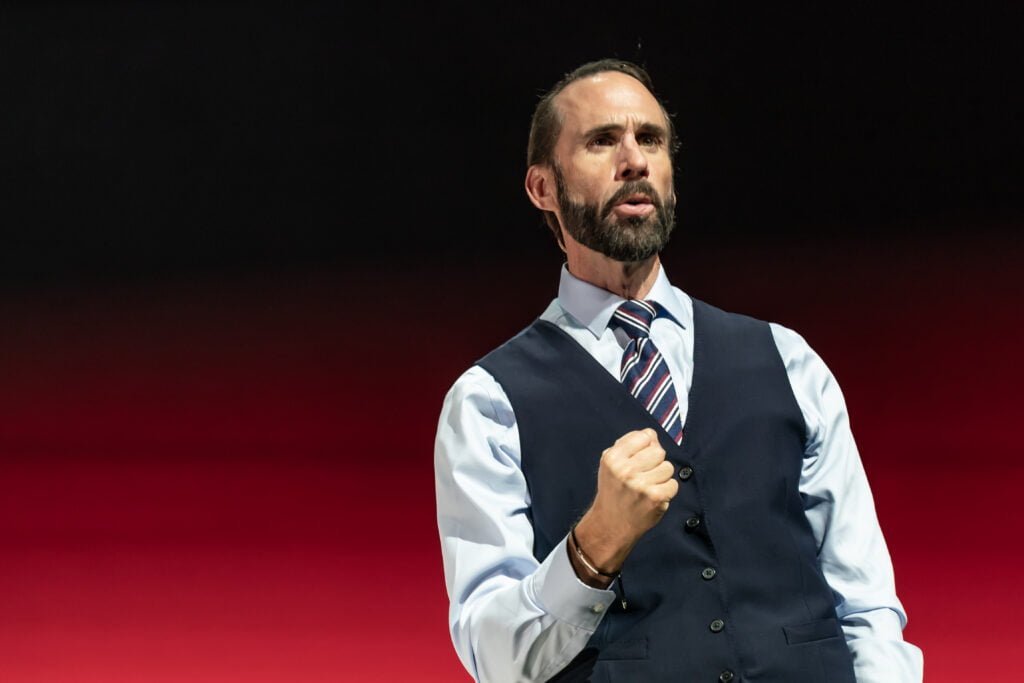 Dear England
Written by James Graham
Directed by Rupert Goold
Cast
Starring:
Denzel Baidoo
Nick Barclay
Josh Barrow
Tashinga Bepete
Gunnar Cauthery
Will Close
Crystal Condie
Joseph Fiennes
Will Fletcher
Kate Kelly Flood
Darragh Hand
Will Harrison-Wallace
Miranda Heath
John Hodgkinson
Lloyd Hutchinson
Dervla Kirwan
Albert Magashi
Tom Mahy
Kel Matsenai
Lewis Shepherd
Griffin Stevens
Paul Thornley
Tony Turner
Tristan Waterson
Ryan Whittle
Creatives
Director: Rupert Goold
Set Designer: Es Devlin
Costume Designer: Evie Gurney
Co-Movement Designers: Ellen Kane and Hannes Langoff
Lighting Designer:  Jon Clark
Co-Sound Designer: Dan Balfour and Tom Gibbons
Video Design: Ash J Woodward
Musical Director: Dan Glover
Information
Running Time: Two hours 50 minutes with an interval
Booking to 13th January 2024
Website: nationaltheatre.org.uk
Theatre:  
Prince Edward  Theatre
Old Compton Street
London W1D 4HS
Box Office 0344 482 5151
Tube: Leicester Square
Reviewed by Lizzie Loveridge
at the Prince Edward Theatre 
on 19th October 2023

Dream Team... Graham, Goold and Gareth Southgate!
"Against Columbia, you did something for this country, no others have ever done! "
Dr Pippa Grange

"You made us respond with moments of laughter and tears."
Marcus Rashford
It is called the beautiful game but its beauty may have eluded me until this week. Dear England is James Graham and Rupert Goold's take on the England management career of Gareth Southgate (Joseph Fiennes). It starts with that heart wrenching moment in 1996 at the Euro semifinal against Germany when the young Southgate (Will Close) volunteered to take the sixth penalty, which was saved, and as Germany then scored, the game was over.
What James Graham has done is to show us the humanity and likeability of this manager as he employs a psychologist Dr Pippa Grange (Gina McKee) to help his team connect as a team and to diminish the terrible pressure of taking a penalty kick and carrying the hopes of a nation.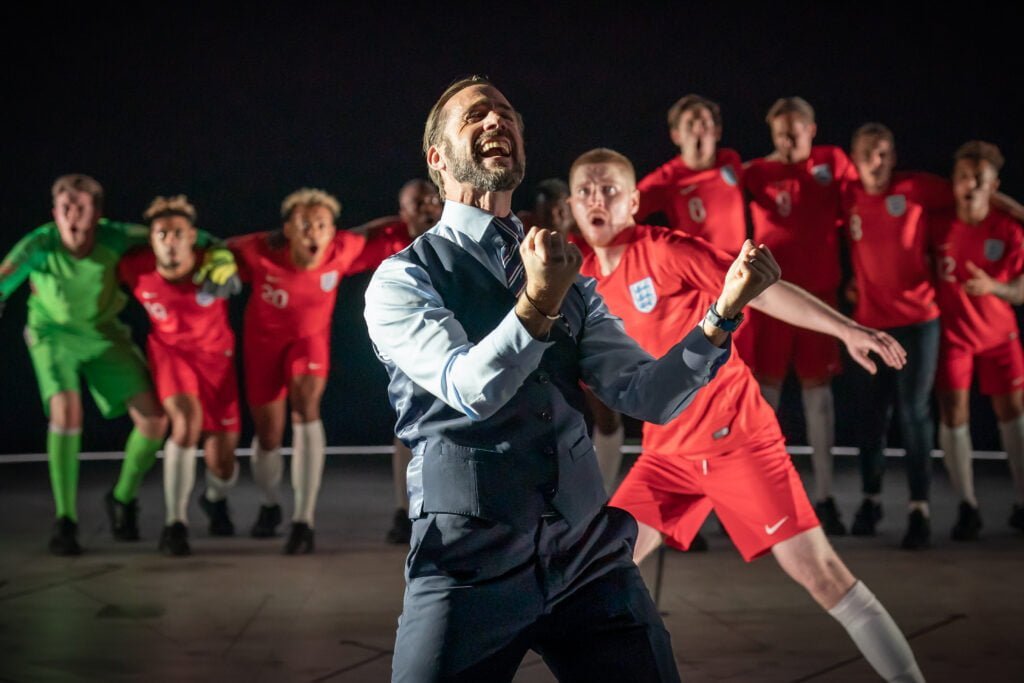 We briefly meet Sam Allardyce (Sean Gilder) who, by contrast, is all bluster, explaining that he was taken on after England's ignominious defeat by Iceland with a population of just a third of a million. Allardyce won a single match before a scandal led to his resignation and Southgate (Joseph Fiennes), manager of the England Under 21s, being appointed as caretaker manager.
Joseph Fiennes gives a memorable performance having studied Gareth Southgate's individual diction, modest manner and empathetic leadership. He also looks like him! The team on this play has Rupert Goold as director, on tip top form as ever, bringing excitement and physical drama to this band of brothers. Es Devlin's design uses the revolve with a dozen or so wooden locker or sentry boxes turning, each showing the club strip of a Premier League club facing towards the audience. There is inspirational classical music, punctuation to a change of scene.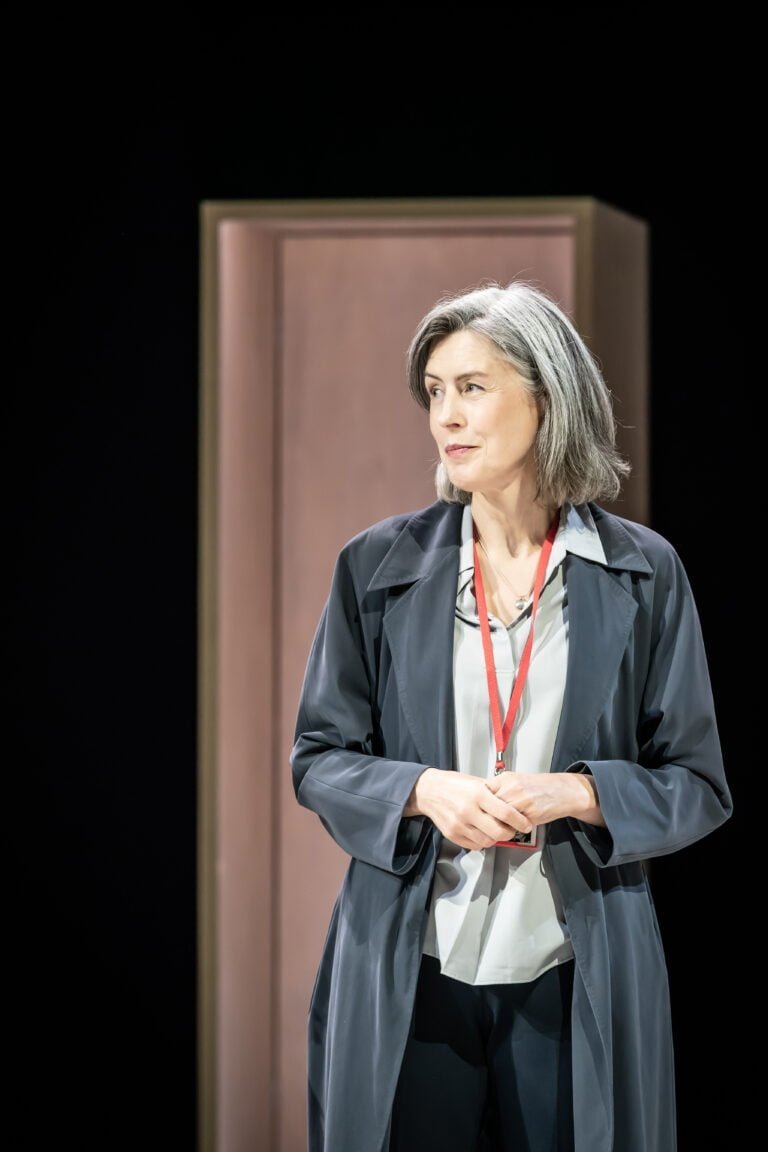 With Pippa's help, Gareth Southgate helps the team to forget individual club rivalries and to release some of the negative thinking but to congratulate themselves on being fourth in the world. This also means being more supportive of each other in moments of disappointment. Southgate tells them that they will write a story; they look blankly when he mentions Shakespeare but then relate to the Star Wars story.
Southgate does a lot of work on penalties, explaining how England can rush it taking just 2.8 seconds before they shoot, whereas Germans average 8.4 seconds. Southgate shares the trauma of his 1996 penalty but we see England win for the first time on penalties, in the last 16 of a major tournament, against Columbia in the 2018 World Cup.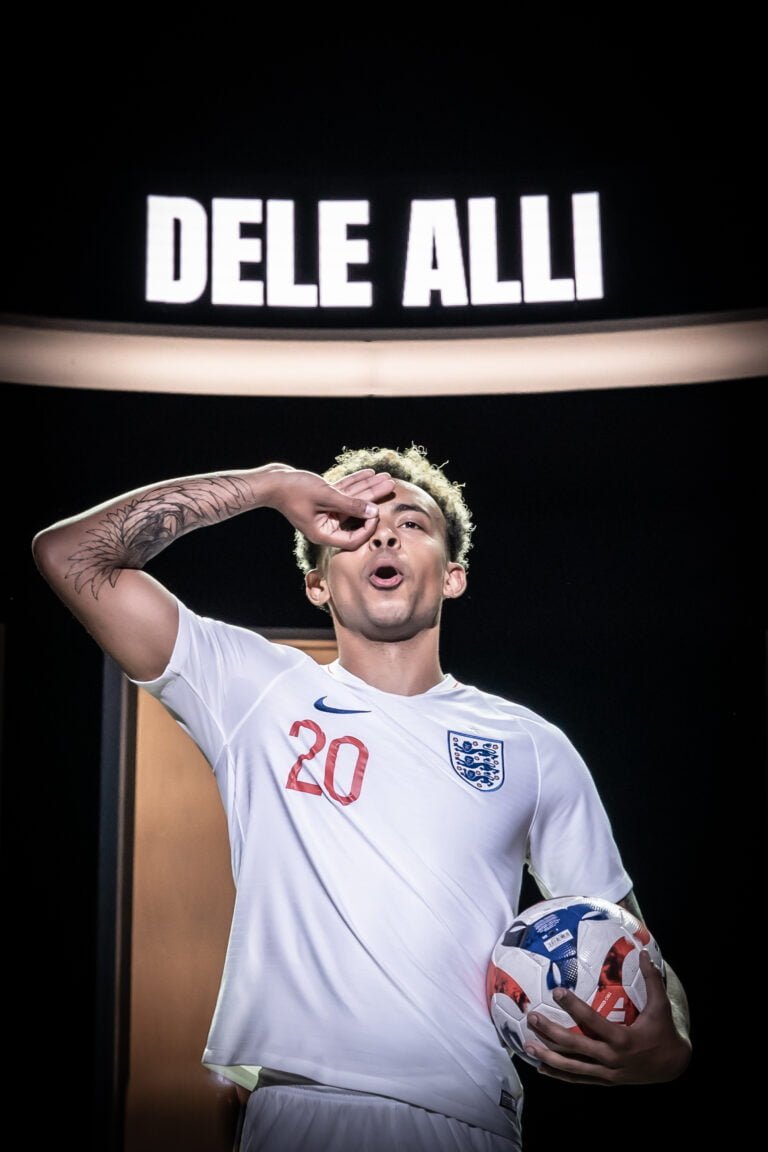 All the team are there played by credible look alikes, Daragh Hand as Marcus Rashford, Lewis Shepherd as Dele Alli who has family trauma, Will Close as Harry Kane whose gift is in his feet rather than when called upon to speak, but whose diffidence will make us smile. Jordan Pickford (Josh Barrow) is the goalie and Harry Maguire (Adam Hugill) and Jordan Henderson (Will Fletcher) all shine. Movement is down to two, choreographer Ellen Kane and Hannes Langoff who besides theatre dance, teaches yoga. Their emphasis is recreating the excitement of football moves throughout the play and for individual actor/players to showcase their footballing talent.
Southgate will also explore with his team what England means to each of them drawing attention to their diverse experiences and up bringing. It is an inclusive approach which unites the audience as well. He will also raise how the St George's flag can have negative connotations.
There is an amazing amount of football history and character studies in Dear England, all of it easy to follow and there is also room for great comedy.
 I have not felt as enthusiastic about a play about sport since Mike Bartlett's Chariots of Fire and I am longing to see Dear England again. I have no hesitation in awarding it five joyous stars from Theatrevibe, the site that doesn't do stars.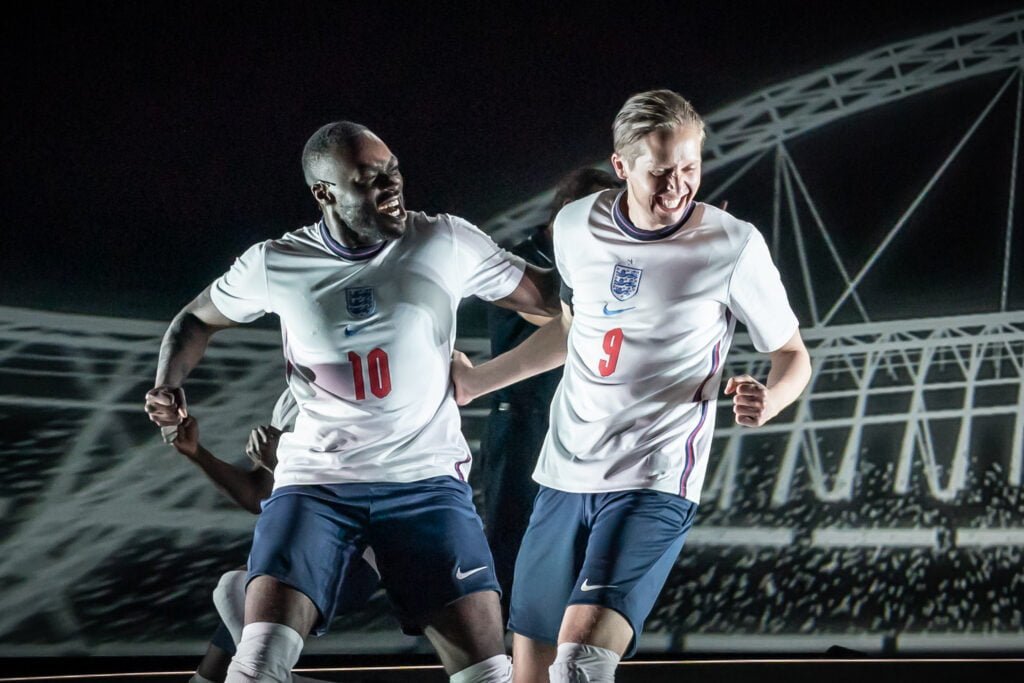 Dear England
Written by James Graham
Directed by Rupert Goold
Cast
Starring:
Gina McKee
John Hodgkinson
Adam Hugill
Bill Caple
Crystal Condie
Ebenezer Gyau
Gunnar Cauthery
Joseph Fiennes
Josh Barrow
Miranda Heath
Nick Barclay
Paul Thornley
Sean Gilder
Tony Turner
Will Close
Will Fletcher
Will Harrison-Wallace
Ryan Whittle
Darragh Hand
Tashinga Bepete
Kel Matsena
Lewis Shepherd
Albert Magashi
Creatives
Director: Rupert Goold
Set Designer: Es Devlin
Costume Designer: Evie Gurney
Co-Movement Designers: Ellen Kane and Hannes Langoff
Lighting Designer:  Jon Clark
Co-Sound Designer: Dan Balfour and Tom Gibbons
Video Design: Ash J Woodward
Musical Director: Dan Glover
Information
Running Time:
Two hours 50 minutes with an interval
Booking until 11th  August  2023

Transferring to the Prince Edward Theatre 
from 9th October 2023 
Theatre:
Olivier Theatre
Reviewed by Lizzie Loveridge
at the Olivier Theatre on 20th June  2023