King Lear: Making the complicated, confounding
"'Tis the times plague, when madmen lead the blind!"
 Gloucester Act 4, Scene 1
Does London need another King Lear? It's barely a year since The Globe put on its gender-blind production featuring Kathryn Hunter. Well, if you ask Kenneth Branagh the answer is a resounding 'yes'. So much so that he's gone and done it himself.
Whilst this is billed as William Shakespeare's King Lear it is definitely Branagh's King Lear. He has taken on the directing helm and also plays the eponymous monarch. Unlike the frail end-of-life Lear from the Globe's recent production, Branagh gives us a vital, impishly playful, at times coquettish, Lear.
Actually, you may be surprised at amount of humour to be had in Shakespeare's most tragic of tragedies. Whilst there's expectation for the Fool (Jessica Revell) to provide some lighter moments, bringing humour into Edmund (Corey Mylchreest) is quite something else.
This is Lear with a difference. Branagh has not just bought us another Lear, he's bought a Lear for the 21st century. The show has been truncated to a mere two hours, performed without interval. Whilst this causes much fidgeting and numbness of the buttocks, it does give the whole experience a significantly cinematic feel.
This is further enhanced by Jon Bausor's mesmerising set design that is at once futuristic and historical. A doughnut shaped screen dominates the stage that rises and falls creating space and confinement as required. With projections, its surface shifts to represent planets, landscapes, and the sky. Along the walls of the stages are Stonehenge-style monoliths that provide a more tribal feeling but, equally importantly, space and shadows for characters to hide in. And, to further reinforce the cinematic overtones, they're used to receive close up projects of certain character's faces at key moments. It's a triumphant piece of set design.
The reduced runtime, however, is not completely successful. The shorter narratives make for a zippier production focusing more on the action of the play but, in doing so, the emotional heft is lost. The multitude of sub-plots, not given the time to develop in themselves, gives off an air of a Mexican telenovela – more soap opera than family drama.
Lear's descent into madness is impressively performed but feels rushed. His relationship with his daughters never feels fully formed and whilst the lack of emotional cohesion can be attributed to his increasing madness, it just doesn't ring fully true.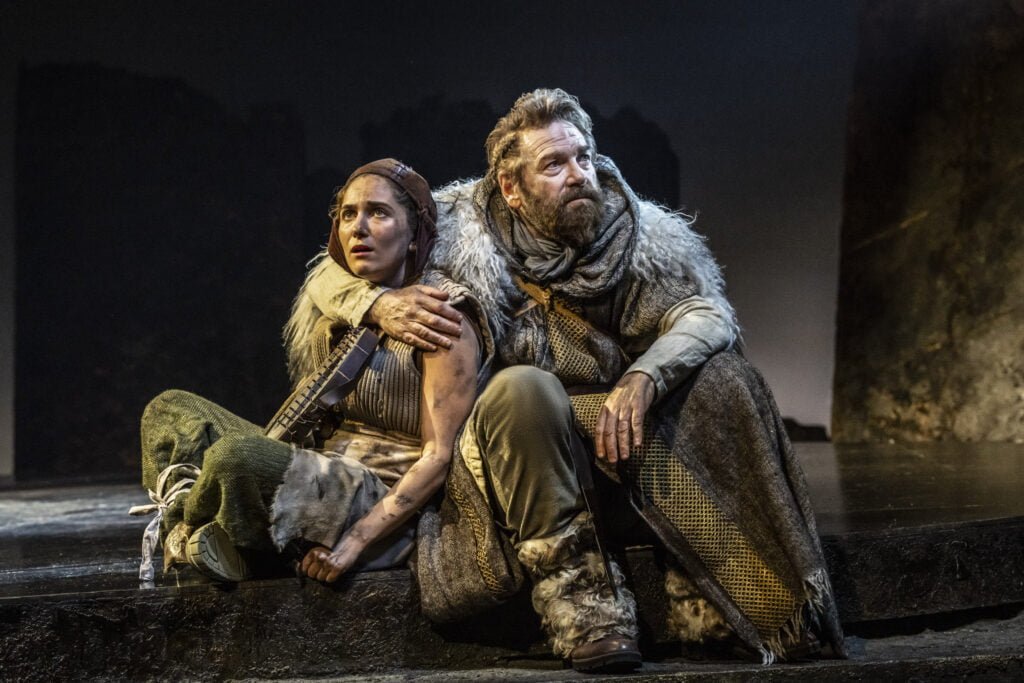 The performances too are a slightly mixed bag, though not detrimentally so. Branagh, as one might expect, shines as Lear. He is a natural speaker of Shakespearean English, making it feel like he was born speaking this way. The younger cast deliver strong performances though some do labour over the language in parts, but uniformly deliver a clear and understandable delivery of the text. Revell excels as both The Fool and Cordelia.  Deborah Alli and Melanie-Joyce Bermudez are a little one-noted as Goneril and Regan, respectively. Mylchreest presents an effectively scheming hot-headed Edmund though his hatred for his loving family is never effectively understood. The other primary characters are played effectively well, though alongside Branagh, most come across as slightly on the back foot.
All said and done, this is an exciting if flawed production. It's a Lear for action movie fans – there's the cinematic set design, the truncated text, action a plenty and even gore (Gloucester's blinding causing a number of gasps in the auditorium). But, in doing all this it loses its essence. Things happen, but the what's and wherefores are missing, leaving you with questions,  an unexpected emotional void. This Lear is exhilarating and slightly disappointing, but well worth seeing.
King Lear
Directed by Kenneth Branagh
Cast
Starring:
Kenneth Branagh
Eleanor de Rohan
Jessica Revell
Joseph Kloska
Mara Allen
Raymond Anum
Doug Colling
Deborah Alli
Melanie‑Joyce Bermudez
Dylan Corbett‑Bader
Chloe Fenwick‑Brown
Corey Mylchreest
Hughie O'Donnell
Caleb Obediah
Creatives
Director: Kenneth Branagh
Designer: Jon Bausor
Choreographer: Aletta Collins
Lighting Designer: Paul Keoghan
Sound Designer: Ben Ringham, Max Ringham
Video /Projection Designer:  Nina Dunn
Fight Director: Bret Yount
Information
Running Time: Two hours without an interval
Booking to 9th December 2023
Theatre: 
Wyndhams Theatre
Charing Cross Road
London WC2H 0DA
Telehone: 0844 482 5151
Tube: Leicester Square
Telephone: 0344 871 7628
Website: https://www.delfontmackintosh.co.uk
Reviewed by Sonny Waheed
on 1st November 2023