Fill the Theatre with Laughter!
"It's just, you know, you can't wipe his bum by Skype "
Pamela
"I'm sure they are working on it."
Rob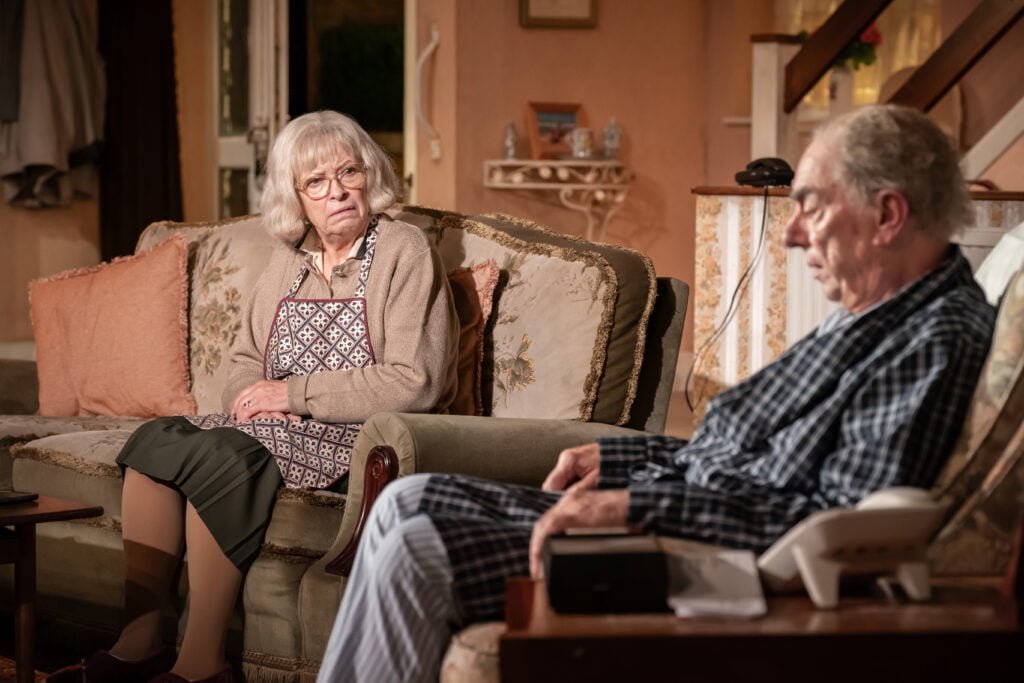 I love Richard Bean's comedies for their sense of place, humanity and the opportunity to laugh out loud many times.  Rarely these days can I see a play about the perils of old age without being depressed by the future but this is the exception.  Richard Bean writes about what he knows at first hand. 
The main character of To Have and To Hold is Jack (Alun Armstrong) a retired Yorkshire policeman who is living with his wife of many years, Florence played by Marion Bailey.  They live in the wonderfully named village of Wetwang in the Yorkshire Wolds, in the centre of a triangle formed by York, Scunthorpe and Hull.
With the inimitable Richard Wilson at the director's helm and Terry Johnson coming in to help after Richard Wilson's mobility issues brought Jack Kirk's predicaments home to everybody in the production.  Talk about Life imitating Art!  Increasingly, Jack and Florence are losing their independence with Jack no longer able to drive his car, climb stairs or walk to the front gate.  Jack makes an impassioned speech listing off what he can no longer do.
This has made the couple dependent on an acerbic niece Pam (Rachel Dale) who drops by and a likeable mate called Rhubarb Eddie (Adrian Hood) who drives Flo, shops at Lidl for them and goes to the bank.  Jack and Florence just about manage the essentials of day to day living with infrequent visits from their son Robert (Christopher Fulford) and daughter Tina (Hermione Gulliford), neither of whom live locally.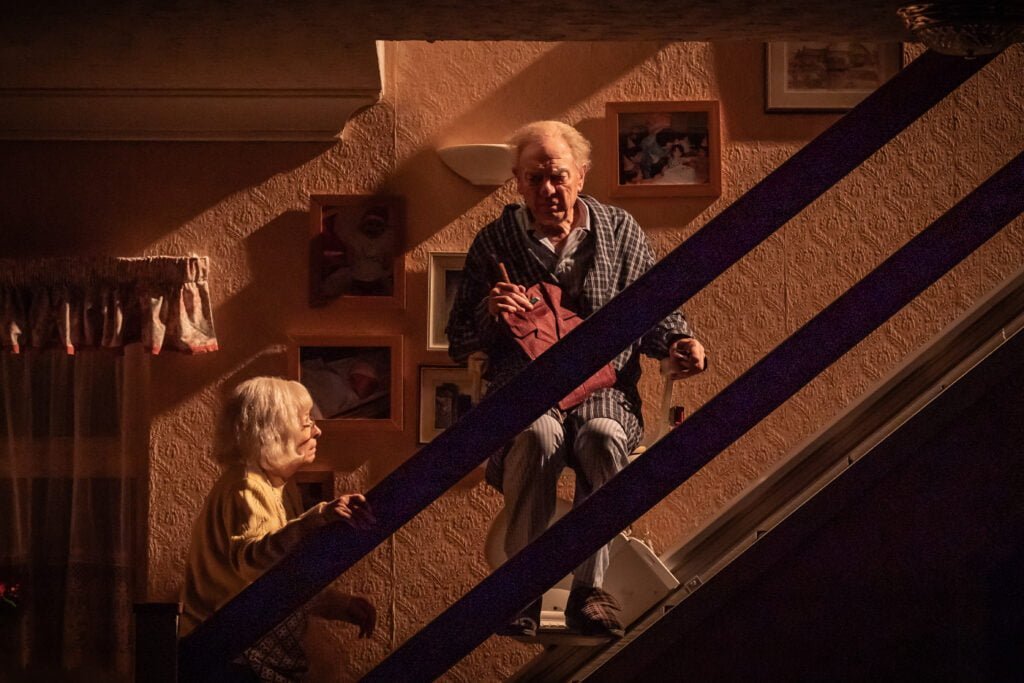 Because of Bean's delectable wit, every situation has been mined for the snappy one liners; even the opening scene has the visual joke of Florence riding up and down on the stair lift with conflicting calls from someone at the front door bell and Jack upstairs, who needs a bucket.  Don't ask why! After changing directions several times Florence brings down the stairlift and the house as she surprisingly nimbly answers the door. 
There is great characterisation; Jack and Flo are the stars as their conversation is non stop bickering and argument, with lashings of comedy and rejected offers to make tea.  Jack also has three monologues, anecdotes recalling his days in the police force and has taped these.  His son Rob is a novelist and screenwriter, living part of the time in America.  These tapes are important family history. 
The arrival of Robert and Tina, is criticised by Pam who can be unpleasant, but will bring about change with Tina organising medical appointments for Jack, and Robert and Tina looking into their parents' banking.  The arrangements are being made for them but not what they want. 
Tina is a business manager for a firm of franchised doctors, the elevated version of the people who safeguard doctors by telling you that you can't see them this week.  She is efficient and well organised and her entrance is followed by a large electric lead and plug thrown in through the window from outside.  Tina wants her parents to move closer to her in Somerset.  She has plans to sell their house and Jack's car after he drove it into a hedge.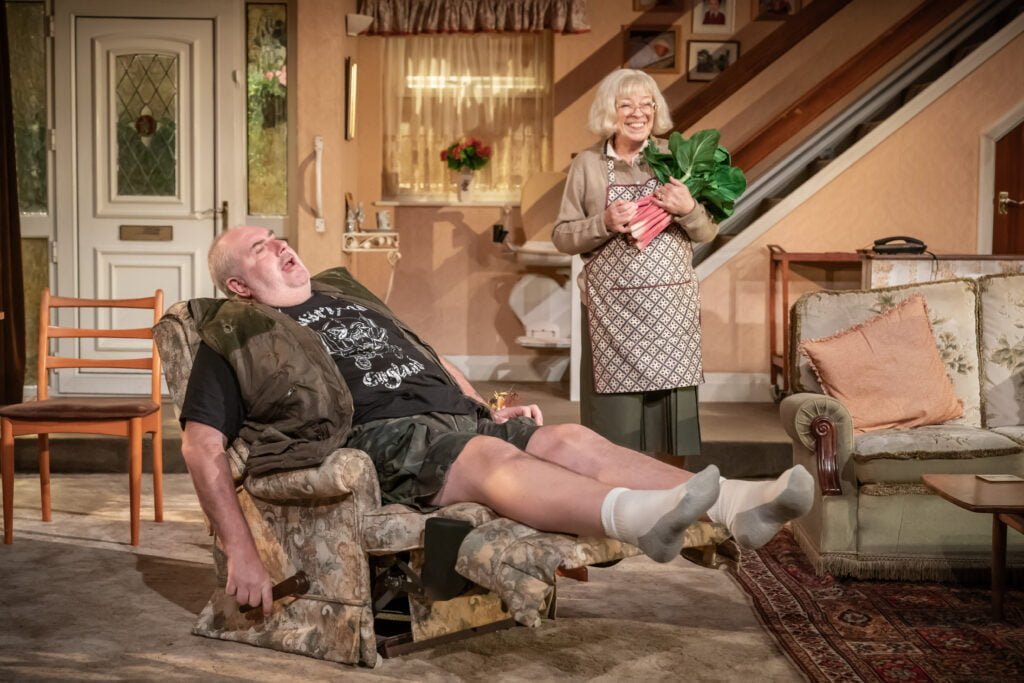 There is some fine observation: when forgetting a name, there are clues from remembered connections and guesses from the listener.  One such riff ended on the blonde actress whose skirt was blown up in the street. This way of coping with forgetfulness is a familiar routine. 
James Cotterill's set is functional with the staircase and the kitchen behind serving doors. 
Just under the surface of the comedy is the analysis of what it means to be getting older, the loss of all Jack's siblings and friends, dependence instead of independence, and health issues impinging on what you can do.  The actions of Jack and Flo's children will impact on the support for the pensioners as the larger than life character of Rhubarb Eddie is alienated.  This is a shame as Flo delights in his company and she has no grandchildren.
To Have and To Hold is a wonderful comedy which resonates with me about reality.  It is beautifully directed and the acting of Alun Armstrong and Marion Bailey is brilliant.  Highly recommended if you love to laugh.  Well done all at Hampstead!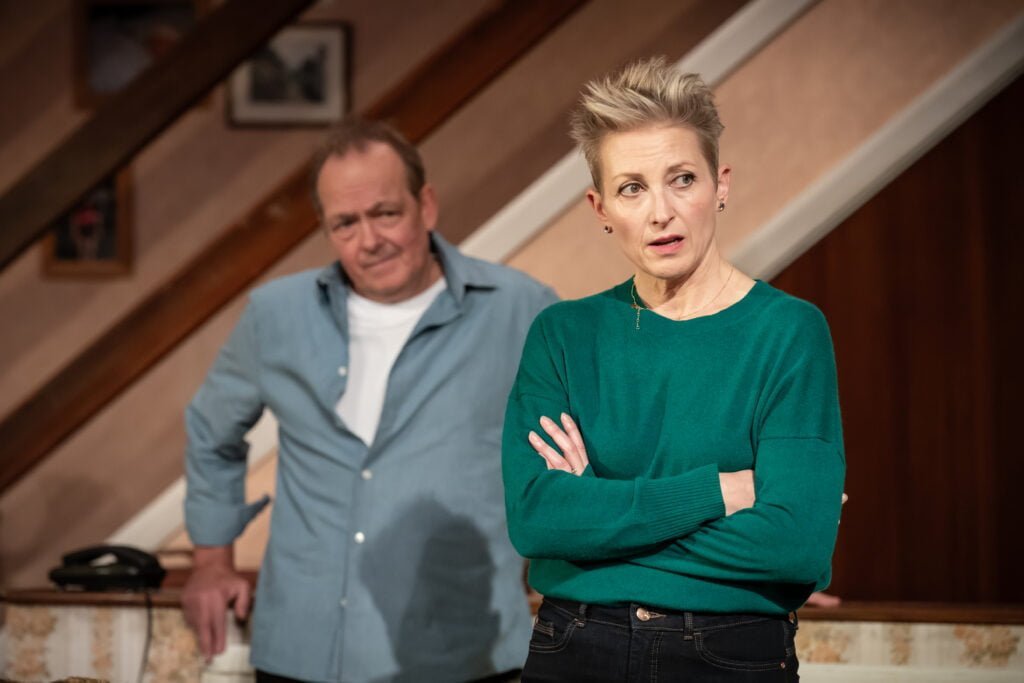 To Have and To Hold
Written by Richard Bean
Directed by Richard Wilson and Terry Johnson
Cast
Starring:
Adrian Hood
Alun Armstrong
Christopher Fulford
Hermione Gulliford
Marion Bailey
Rachel Dale
Creatives
Directors: Richard Wilson and 
Terry Johnson
Designer: James Cotterill
Lighting Designer: Bethany Gupwell
Sound Designer: John Leonard
Information
Running Time: Two hours 20
minutes with an interval
Booking to 25th November 2023
Theatre: 
Hampstead Theatre 
Eton Avenue
Swiss Cottage
London NW3 3EU
Phone: 020 7722 9301
Tube: Swiss Cottage
Reviewed 
by Lizzie Loveridge at
Hampstead Theatre 
on 6th November 2023