The Backstairs at Clarence House
"She is the national symbol of resilience and serenity."
Billy Tallon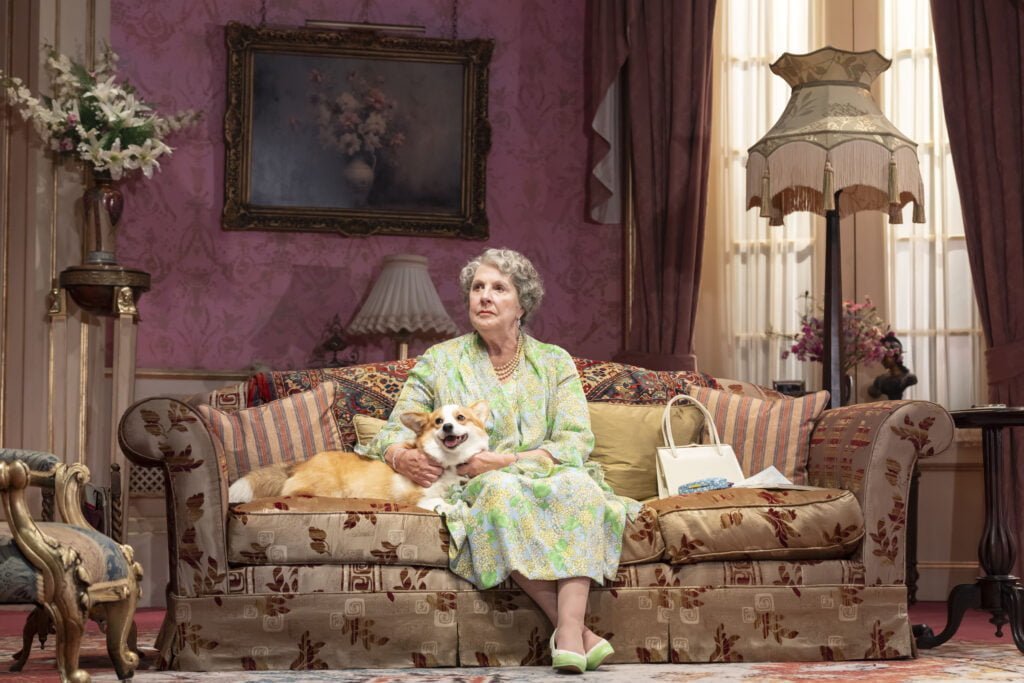 The first impression is of opulence.  Christopher Oram has gone to town on his set which is Queen Elizabeth the Queen Mother (Penelope Wilton)'s Garden Room in Clarence House. There is swagged damask and silk, and floor to ceiling paintings of floral still lifes.  Her Steward and Page of the Backstairs, Billy Tallon (Luke Evans), a tall handsome man who is immaculately dressed in white tie and tails is directing where the six lavish displays of real flowers in vases should go.
The Queen Mother is delightfully played by Penelope Wilton and a couple of times two corgis will dash across the stage much to my delight.  Apparently in many "service" jobs, open homosexuals were tolerated and valued as house servants.  I am not sure where this play written by Marcelo dos Santos is going other than to acknowledge this situation.  His play is based on various accounts written about William Tallon.  Tallon's position meant that he was on duty from when the Queen woke until she went to bed and could enter the room she was in without being announced.  He also bought the Christmas presents she chose to give others.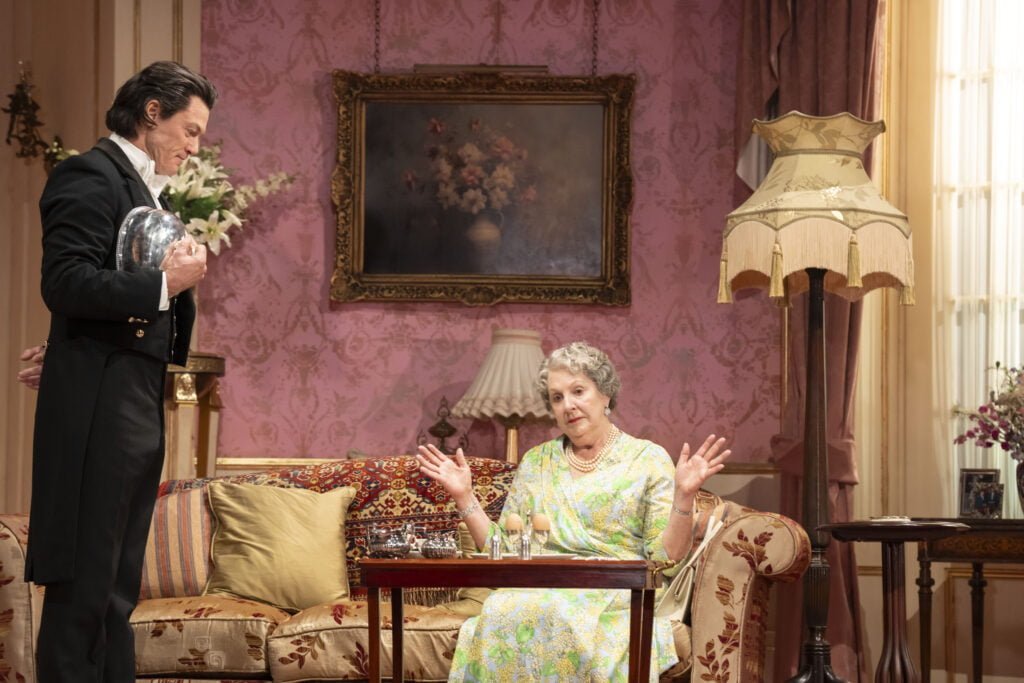 A new young footman Gwydion (Iwan Davies) has joined the household and Billy Tallon is showing him the ropes.  We also flashback to 15 year old Billy Tallon, long a fan of the royals, applying for a job from his home in Coventry.  He joins the Queen Mother, as her husband died in February 1952 at the age of 56, and her life becoming very different on her own.
We see Tallon doling out the gin martinis to the Queen Mother and giving a stuffy pair of tee-total tea party guests from Hertfordshire so much cordial (with lashings of vodka) that they embarrass themselves. 
A later scene has him entertaining Ian, a black prostitute (Eloka Ivo).  This scene of slightly crude humour based on gay sex was not to my taste.  Ian later gate crashes one of the Queen's small receptions and makes speeches about the riots in Southall having left his artwork of a giant black dildo lying around. 
Tallon's nemesis is the Queen's private secretary Mr Kerr (Ian Drysdale) who is looking for ways to catch him out.  There is a humiliation for Tallon at the hands of the Queen and I was surprised he didn't whip out a freshly laundered gentleman's handkerchief to deal with it.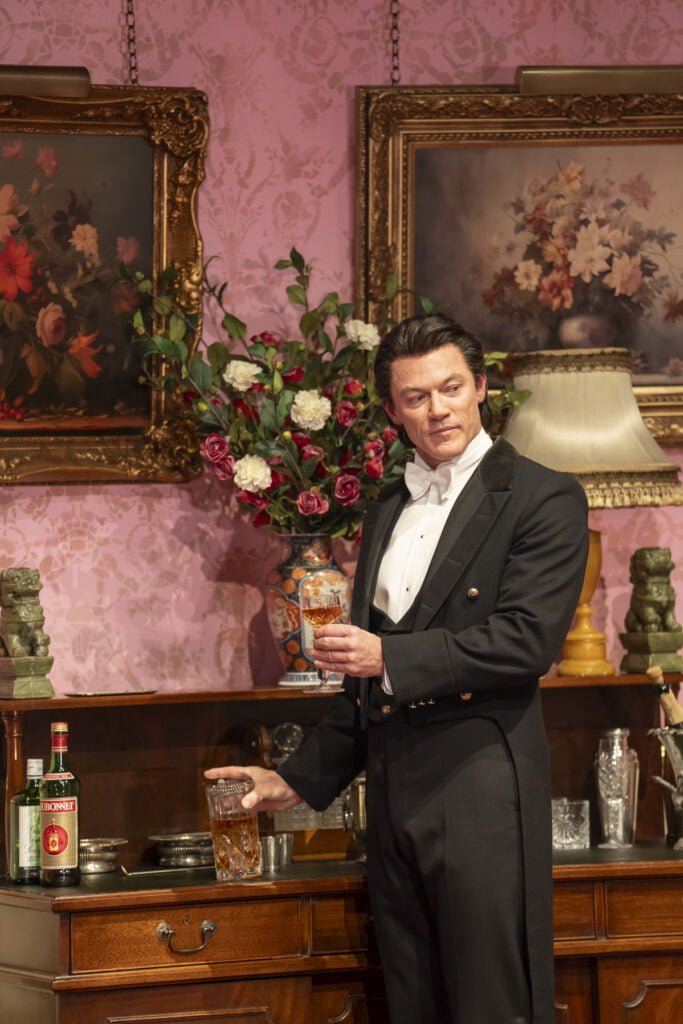 I felt for the Queen Mother when she is expecting Princess Margaret to pop in for breakfast and her daughter lets her down. I was as disappointed as she was not to see her colourful daughter. Tallon, or should that be Luke Evans, does a superb imitation of Prince Charles who the Queen hopes is finding a young girl to marry.  Charles calls her Gan-Gan.
Much of the play is set in 1979 at the start of the rule of "that Thatcher woman" and the language and attitudes to homosexuality reflect that era. This is not my favourite play from Michael Grandage but I was pleased to see fine performances from Penelope Wilton and Luke Evans, great direction and cuddly Corgis. 
Backstairs Billy

Written by Marcelo Dos Santos
Directed by Michael Grandage
Cast
Starring:
Penelope Wilton
Emily Barber
Ian Drysdale
Ilan Galkoff
Luke Evans
Michael Simkins
Nicola Sloane
Iwan Davies
Eloka Ivo
Creatives
Director: Michael Grandage
Set Designer: Christopher Oram
Costume Designer: Christopher Oram and Tom Rand
Lighting Designer: Ryan Day
Sound Designer:Adam Cork
Information
Running Time: Two hours 20 minutes with an interval
Booking to 27th January 2024
Theatre: 
Duke of York's Theatre
104 St Martin's Lane
London  WC2N 4BG
Phone: 03330 096 690
Website:
www.michaelgrandagecompany.com
Tube: Charing Cross
Reviewed by Lizzie Loveridge at the
Duke of York's 
on 8th December 2023