Comedy on the Surface, Insecurity Underneath
" I'm a comedian, although I prefer the title "sad for pay" or "professional neurotic". . . "

 The Comedian
The nature of being a comedian, someone who can make others laugh and give them enjoyment often disguises a self riddled with doubt.  Just look at the tragic ends of some of our funniest comedians.  Marcel Dos Santos' play is about a stand up comedian played by the very talented Samuel Barnett.  As he rehearses his routine, he tells us he is 36 and that he has never been in a proper relationship. 
The play is delivered as stand up as Barnett uses the microphone, swirling the lead and varying his physicality in a way that keeps us engrossed. He is a superlative actor, witness his Olivier and two Tony nominations on Broadway and a film due out in December called Lee with Kate Winslet.  I have followed him since he played Posner in The History Boys in 2004.
The narrative arc is his meeting a gorgeous American with "excellent teeth", "magic hair" and "a devastating smile".  They have met on one of the dating sites but the perfection of his date makes the comedian's insecurities whelm up to the surface. But this is a romantic play despite all the self sabotage the comedian will enact. 
He takes a call from his mother on the bus while involving himself in exchanging ass pictures with other men on "The App".  There is quite explicit and intimate homo-eroticism in Feeling as if Something Terrible is Going to Happen as we are entering into the Comedian's innermost, pornographic and usually private thoughts.   
As the Comedian learns about his new boyfriend he discovers a condition that might snatch him away which of course dominates his thinking and because we know that he has a tendency to overthink situations, it makes him feel extremely vulnerable.   
This is a masterclass in acting from Samuel Barnett in how to hold the audience and, in timing, in allowing the laughter and to ensure that he is heard by all.  Credit must also go to Matthew Xia as the director for the credible and enthralling movement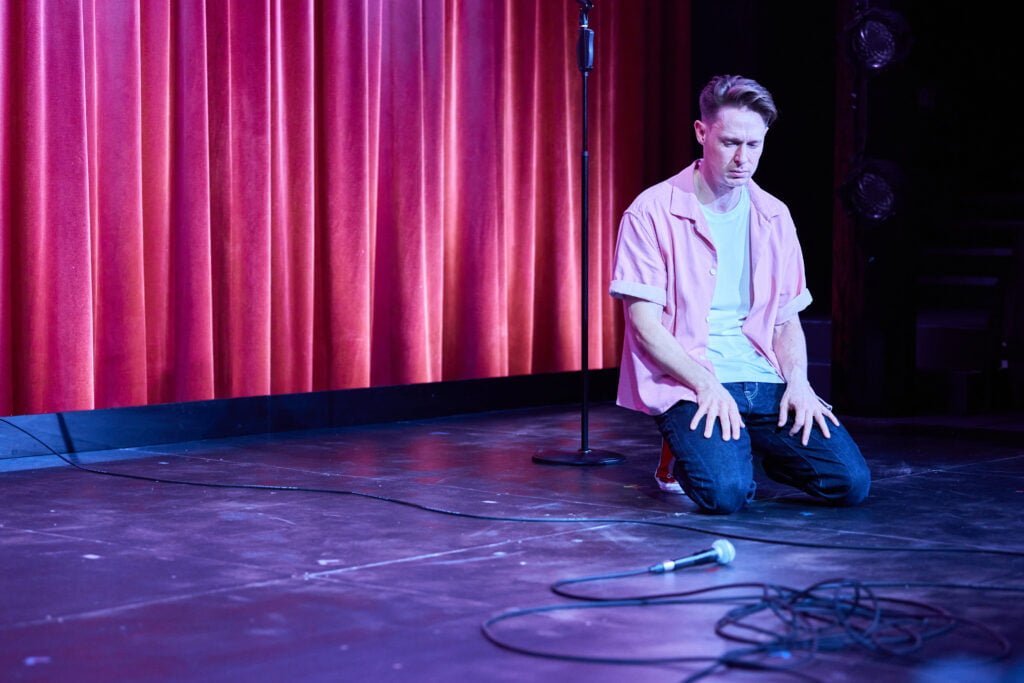 Feeling Afraid as if Something Terrible is Going to Happen
Written by Marcelo Dos Santos
Directed by Matthew Via
Cast
Starring:
Samuel Barnett
Creatives
Director: Matthew Xia
Designer: Kat Heath
Lighting Designer: Elliot Griggs
Sound Designer: Max Pappenheim
Information
Running Time: 65 minutes without an interval
Booking to 23rd December 2023
Address: 
The Bush Theatre
7 Uxbridge Rd
Website: 
bushtheatre.co.uk
Tube Shepherd's Bush Market
Reviewed by Lizzie Loveridge 
at the Bush Theatre
on 15th November  2023