The 1988 movie is recreated as a musical three decades after the film
"What did you want to play with when you were 13?"
Susan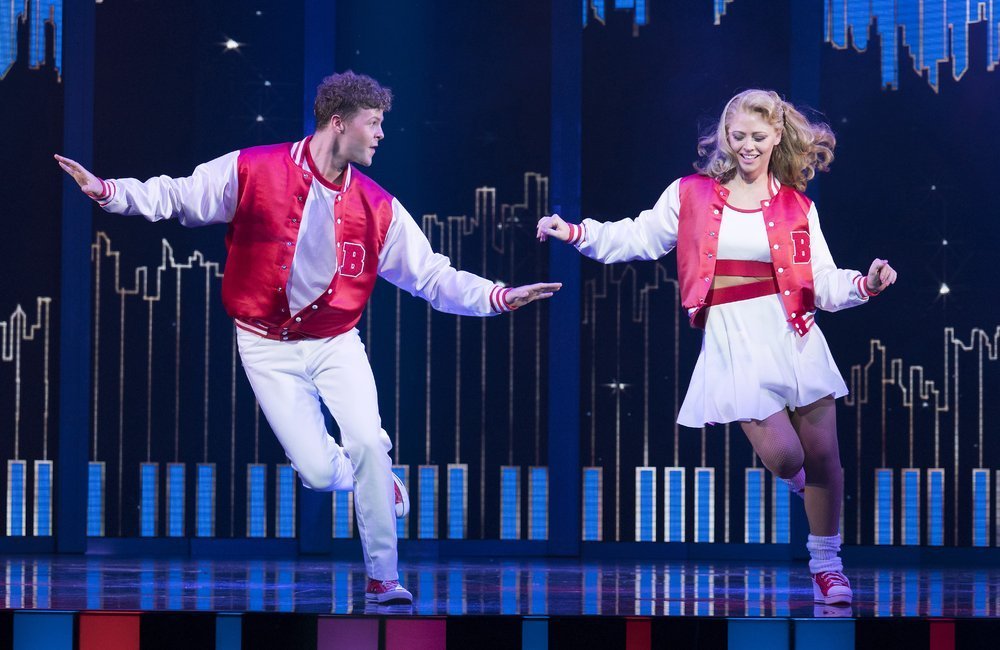 Big was a high grossing film in 1988. There were several about that time where young and old did body swaps with consequential confusion. In 1996, the Broadway musical ran for just under 200 performances. In 2016, Strictly Come Dancing winner Jay McGuinesss starred in the British version for a week in Plymouth and a month in Ireland with talk of a West End transfer which materialised this year; "much anticipated" as the marketing department puts it!
It is difficult as a theatre reviewer brought into the industry by a love of plays to fully embrace musical theatre in the way that many in the audience do. I admire those of my critical colleagues who love musicals as much as plays. There is no question that musicals are what audiences want to see and each year in the West End, and further afield, the percentage of musicals overtakes the number of plays.
I went to Big with an open mind. I hadn't seen the movie in the 1980s but I watched snatches on YouTube and found Tom Hanks charming. Neither did I have any history with the Strictly Come Dancing winner, a show with its following in the millions or his band The Wanted. Kimberley Walsh impressed me with her performance in Elf at the Dominion in 2016.
The orchestra is impressive with its big band sound, the overture has big movie music, and small Josh (Jamie O'Connor) has a big voice. But in terms of storyline I find the sexual fantasies of 12 year old boys difficult to listen to and sub teen, pre-pubescent dating uncomfortable. More on this later.
The next big snag for me was Wendi Peters as Josh's Mom. No, not Wendy Peters, she has shuffled off this mortal coil. I found Wendi's singing voice raucous and she looked old enough to be the doubling Mr Baskin (Stuart Hickey in black wig)'s mother. But things can only get better and Josh's school friend and next door neighbour Billy (Jobe Hart) is a breath of fresh air.
As you'll know from the film, Josh asks a carnival showman to make him big and overnight is changed into the very tall Jay McGuiness. No Harry Potter magic here but waking up in pyjamas ten sizes too small. As Josh sets off to find the funfair and get back to normal, a night in the bus station precedes his meeting with the toy manufacturer boss, Mr MacMillan (Matthew Kelly). They relate to a love of toys in "Fun" the giant piano dance which is a highlight of this act. Matthew Kelly is charming as ever.
The toyshop brings in Kimberley Walsh as Head of Marketing and her magnificent voice raises the musical roof. Jay McGuinesss is much more successful and confident dancing than singing. When Susan suggests they spend the night, Josh thinking like a 13 year old presumes she's suggesting a sleepover. Again I was unsure about the implications of a 30 year old woman in a sexual dalliance with someone who is mentally 12 or 13. This scene ends on a star machine filling the auditorium with the song "Stars".
The second act improved things for me. The kids choreography in "It's Time" is cute, clever and full of energy. "Coffee Black" is the big dance number of the Toy Company executives as Josh is promoted.
The scene changes are through Ian William Galloway's video scapes and the costumes culminate in the finale with everyone in American red baseball jackets and white trousers/skirts.
The scene I liked best was the satirical evening when Susan introduces Josh to her adult and sophisticated friends. As they anticipate meeting him, Abigail (Vicki Davids), Nick (Ross McLaren), Tom (Colin Burnicle) and Diane (Tash Holway) sing mock opera in "The Real Thing" as they cattily recall Susan's heretofore disastrous love life. This scene sadly ends with Josh being given the keys to move his host's BMW.
Big ends on an extended finale number and crowd pleaser which made me feel sad I couldn't like it more.
Act One
Overture/Prologue
Can't Wait
Talk To Her
Carnival
Say Good Morning To Mom
This Isn't Me
Time Of Your Life
Fun
Welcome to MacMillan Toys
My Secretary's in Love
Office Politics
Let's Not Move Too Fast
Do You Want To Play Games
Stars
Cross The Line
Act Two
Entr'acte
It's Time
Stop Time
The Nightmare
Dancing All The Time
I Want To Know
Coffee Black
The Real Thing
The Real Thing (Reprise)
When You're Big
We're Gonna Be Fine
Finale
Big: The Musical
Based on the original screenplay, 'Big'
Book by John Weidman
Music by David Shire
Lyrics by Richard Maltby
Directed and Choreographed by Morgan Young
Cast
Starring:
Jay McGuiness
Wendi Peters
Kimberley Walsh
Matthew Kelly
Jamie O'Connor
Jobe Hart
With:
Lori Haley Fox
Edward Handoll
Harrison Dadswell
Jake Simon
Austen Phelan
Theo Wilkinson
Charlie Bull
Colin Burnicle
Christie-Lee Crosson
Vicki Davids
Alex Fobbester
Leanne Garretty
Stuart Hickey
Matt Holland
Tash Holway
Ross McLaren
Richard Murphy
Eddie Myles
Katharine Pearson
Anton Fosh
Gemma Fuller
Gary Murphy
Katy Osborne
Olufemi Alaka
Coco Cousin-Brown
Asher Ezeguiel
Ellis Griffiths
Imogen Law Hing Choy
Noah Leggott
Amaya Lucas
Cassia McCarthy
Ophelia Parsons
Bailey Razdan
Lucinda Wicks
Chanel Zinyemba
Creatives
Director and Choreographer: Morgan Young
Musical Supervisor: Stuart Morley
Production Designer: Simon Higlett
Lighting Designer: Tim Lutkin
Video Designer: Ian William Galloway
Sound Designer: Avgoustas Psillas, Terry Jardine (for Autograph)
Musical Director: Jeremy Wooton
Fight Director: Paul Benzing
Illusions: Chris Fisher
Information
Running Time: Two hours and 30 minutes with an interval
Closed on 2nd November 2019
Address:
Dominion Theatre
268-269 Tottenham Court Road
London W1T 7AQ
Tube: Tottenham Court Road
Reviewed by Lizzie Loveridge at the Dominion Theatre on 18th September 2019