The film of Hamilton the musical is a masterpiece
"Immigrants – We get the job done!"
Lyric from Yorktown (The World Turned Upside Down)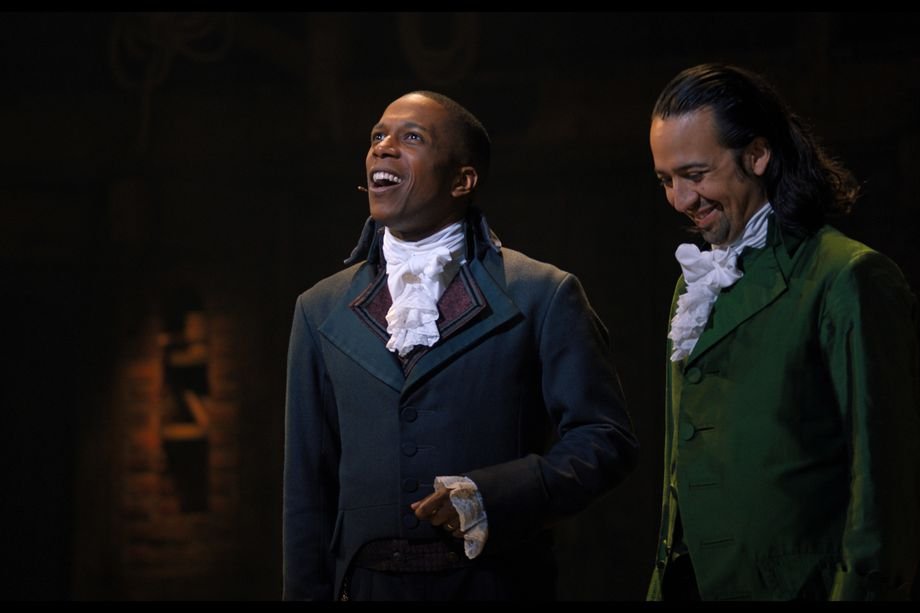 TheatreVibe will not be reviewing streamed theatre as a substitute for live theatre.  We prefer to be in "the room where it happens".  Many of the shows filmed had a few cameras recording a performance played to an audience and lost most of the atmosphere carefully set up by a lighting director and the other creatives.  Some shows had a recording made for archive purposes which wasn't ever intended to be shared with a wider audience and the viewing of which was a terrible disappointment compared to being in the theatre.  When Zoe Wanamaker was being filmed for NT Live she said she didn't know who to play to, the camera or the audience.   The exception to these apologies for the live show is the excellent NT Live film of the Old Vic's Present Laughter.
So why should Theatrevibe make an exception for the filmed version of Hamilton?  Because it is brilliant and deserves to be seen by all the people who might not think of subscribing to the Disney Channel as well as all those who do.   Hamilton is now available for a tiny amount of money on Disney +,  a weekly subscription of £5.99 a month with a trial option.
The footage by Radical Media was originally filmed in June 2016 to be spliced into the documentary Hamilton's America.  To learn how Hamilton was filmed see this excerpt from the LA Times.
"Nine cameras were placed throughout the Richard Rodgers Theatre (including overhead and from the rear of the stage) to ensure coverage of the show's 10 principal actors and 11 ensemble members, who freely roam (in deliberately choreographed fashion) the two-story set.  Two full performances were recorded with ticket-holders in tow; 13 audience-less numbers were captured via Steadicam, crane and dolly between ticketed dates. Each recording includes individual audio tracks from the microphones of each actor and orchestra instrumentalist. (The drum kit alone had seven separate mics.)
Thomas Kail who directed Hamilton the musical was also in charge of this filmed production.  He says, "filming is easy, editing is harder."   The resulting film is an outstanding work in its own right.  We have camera close ups which we cannot have in the theatre and the show is as exciting as the original, the choreography by Andy Blankenbuehler has the dancers sometimes showing a singer's inner feelings or interpreting a hurricane or a battle on the revolve and always giving you something to look at.
I loved the opening number "Alexander Hamilton" as much on film as on the two occasions when I saw it at the Victoria Palace in London.  Review The rhythm is infectious and the clarity of the words makes them memorable,
"How does a bastard, orphan, son of a whore
And a Scotsman, dropped in the middle of a forgotten spot
In the Caribbean by providence impoverished
In squalor, grow up to be a hero and a scholar?"
The first victory for Hamilton is to convert everyone to hip hop, even the Disney trademark signature introduction has its fireworks conforming to the prevalent beat of the show.   Apart from his tuneful music, hip hop, rap, soul and pop, Lin Manuel Miranda's genius is in his intelligent words progressing the narrative of this man from humble beginnings working his way to the top by reading books and hard work. Leslie Odom Jr as Aaron Burr leads this opening number but the other principals join in each explaining their interaction with Hamilton.  "We fought with him, I died for him, I trusted him." Aaron Burr is Alexander Hamilton's nemesis and by the close of this song we know how Hamilton will die and at whose hand.
Lin Manuel Miranda gives Hamilton's name and instantly we warm to his personality as he shows a vulnerable, soulful, unassuming side to his character which we get in closeup.  As Burr and Hamilton meet and Hamilton pours out his hopes, Burr advises "Talk Less, Smile More."
The definitive song "My Shot" encompasses Hamilton's ambition as he maintains "I'm not throwing away my shot" as Hamilton with the Marquis of Lafayette (Daveed Diggs), Hercules Mulligan (Okieriete Onaodowan) and John Laurens (Anthony Ramos) commit to the American Revolutionary cause in 1776 in "The Story of Tonight".   Aaron Burr distances himself.
Jasmine Cephas Jones as Peggy and Renée Elise Goldsberry as Angelica   (Photo: Disney + Media Relations)
The three Schuyler sisters Angelica (Renée Elise Goldsberry) Eliza (Philippa Soo) and Peggy (Jasmine Cephas Jones)  represent New York moneyed society.  They are the daughters of a wealthy man and slave owner of Dutch extraction from Albany New York.  A statue of him in front of Albany City Hall is to be removed following the Black Lives Matter movement.
Angelica is the most complex of the Schuyler sisters which we start to see in the song "Satisfied".  The lyrics of this song talk about the things Angelica and Hamilton have in common and how they both have a revolutionary spirit.  
As enjoyable as ever both sides of the Atlantic is Jonathan Groff's King George III.  Groff has studied the rather rarefied accents of the British Royals and the result is the commanding,  "You'll be beck!"   His walk is splendid as he carefully puts one red satin breeched, white stockinged leg just in front of the other and stares at us in an uncanny way reminding us of his madness and letting his lyrics disintegrate into,
"Da da da dat da, dat da da da da ya da."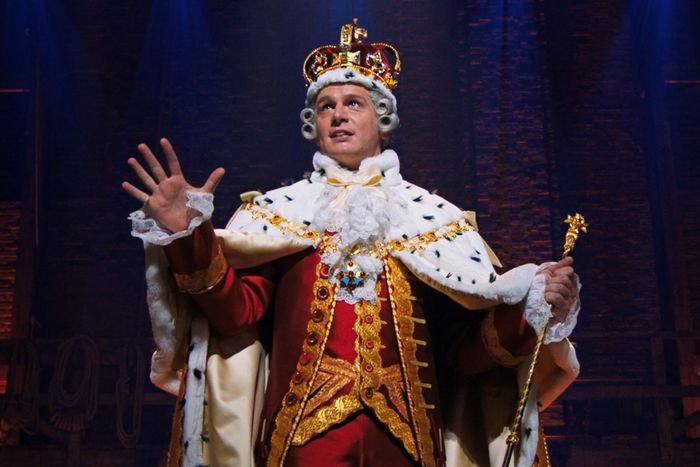 There is analysis of the years after the American Revolution, which we in Britain used to call the American War of Independence, as political fortunes rise and fall.  Leslie Odom Jr seems an isolated figure as Aaron Burr and this is underlined in the jaunty "Room Where It Happens" when Burr isn't invited in and the choreography sees him left out.  Burr has the making of Iago to Hamilton's Othello and we understand why George Washington (Christopher Jackson) favours Hamilton for his writing skills and not as Hamilton would have preferred, for his military potential.
There are reminders of other musicals, of Les Misérables in "Raise a glass to Freedom" in "The Story of Tonight"  and even Gilbert and Sullivan in "Right Hand Man" about Washington's choice with echoes of the "Modern, Major General."
Although not historically perfect, this is a musical and should be a starting point for anyone wanting to know more about the revolutionary period and the first few presidents.  Ron Chernow's biography of Alexander Hamilton was Lin Manuel Miranda's starting point. It is Lin Manuel Miranda's passion which imbues this wonderful piece.
I doubt on seeing the Hamilton the film you'll want to stop there. I think it will increase the enjoyment on seeing the stage show again.  There is so much in this musical you will notice, different things at each viewing like a finely honed play.  Coming out as it did during lockdown at the beginning of July, the film of Hamilton reminded us of the joy and importance of theatre
Act One
Alexander Hamilton
Aaron Burr, Sir
My Shot
The Story of Tonight
The Schuyler Sisters
Farmer Refuted
You'll Be Back
Right Hand Man
Helpless
Satisfied
The Story of Tonight (reprise)
Wait For It
Stay Alive
Ten Duel Commandments
Meet Me Inside
That Would Be Enough
Guns and Ships
History Has Its Eyes On You
Yorktown (The World Turned Upside Down)
What Comes Next
Dear Theodosia
Tomorrow There'll Be More of Us
Non-Stop
Act Two
What'd I Miss
Cabinet Battle 1
Take a Break
Say No to This
The Room Where It Happens
Schuyler Defeated
Cabinet Battle 2
Washington on Your Side
One Last Time
I Know Him
The Adams Administration
We Know
Hurricane
The Reynolds Pamphlet
Burn
Blow Us All Away
It's Quiet Uptown
The Election of 1800
Your Obedient Servant
Best of Wives and Best of
Women
The World Was Wide Enough
Who Lives, Who Dies, Who
Tells Your Story
Hamilton the Movie

Music and Lyrics by Lin Manuel Miranda
Directed by Thomas Kail
Cinematography: Declan Quinn
Cast
Starring:
Daveed Diggs
Renée Elise Goldsberry
Jonathan Groff
Christopher Jackson
Jasmine Cephas Jones
Lin Manuel Miranda
Lesley Odom Jr
Okieriete Onaodowan
Anthony Ramos
Philippa Soo
With:
Carleigh Bettiol
Sydney James Harcourt
Thayne Jasperson
Jon Rua
Ephraim Sykes
Joel Harper-Jackson
Ariana DeBose
Hope Easterbrook
Sasha Hutchings
Elizabeth Judd
Austin Smith
Seth Stuart
Creatives
Director: Thomas Kail
Written by Lin Manuel Miranda
Based on the book Alexander Hamilton by Ron Chernow
Edited by Jonah Moran
Choreographer:  Andy Blankenbuehler
Production Company Walt Disney Pictures
Release Date 3rd July 2020
Information
Running Time Two hours 20 minutes with a one minute interval
Filmed in June 2016 at the Richard Rodgers Theatre in
Midtown Manhattan
Reviewed by Lizzie Loveridge October 2020