Twenty something singles in New York choose between reality and escapism
"I know what you wanna hear
I know what you want me too say
There's conversations like ours,
in all New York bars, everyday
And everyone's got the same attitude
Sharing empty cliché or an overused platitude
But you caught me in the right mood
So at the risk of sounding rude
There aren't of plenty fish in the sea
You can take it from me they are endangered species
And I don't see a great fisherman here "
Lisa in the song  You Can't Be Everything You Want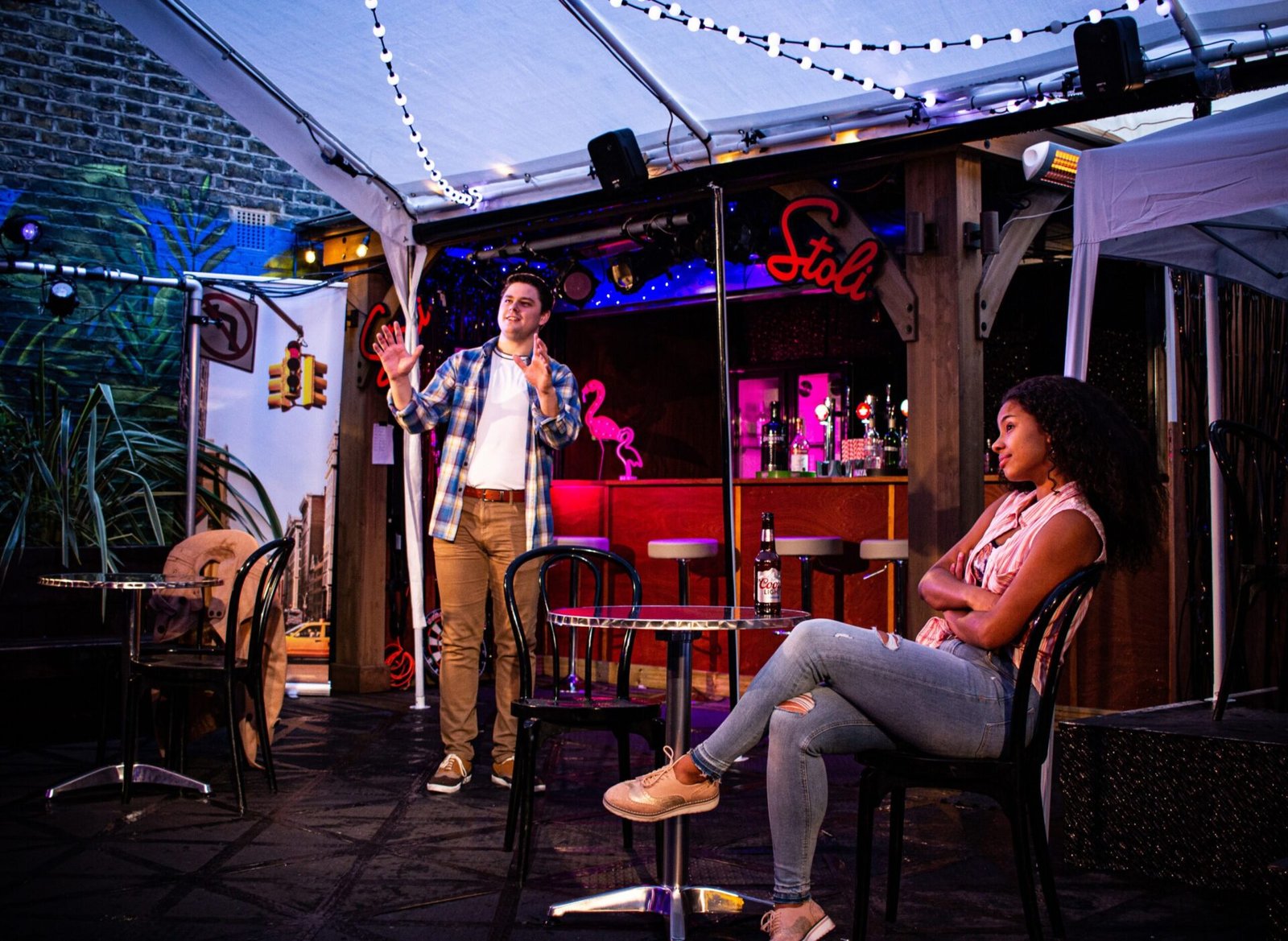 Next Thing You Know, music by Joshua Salzman and lyrics by Ryan Cunningham is a boutique musical set in New York in the world of four late twenty somethings who are on the cusp of a change of lifestyle, employment and commitment.  Waverly (Bessy Ewa) has trained as an actress but is working in the "Little Bar on Sullivan Street" while she goes to auditions which are few and far between.  She is trying a semi-change of direction and has started working for a law firm part time.  Darren (Nathan Shaw) is Waverly's live in boyfriend who works as an office temp while spending his spare time writing plays.   The fourth character is Luke (Callum Henderson) who is playing the field and whose father just happens to be a theatrical agent. 
Also working at the café is Lisa (Amelia Atherton) a professional Mezzo Soprano whose ambition is to leave New York and move to California unless she meets her Ms Right first.  Lisa's musical ambition has faltered and she sings in the bar.  Waverly and Lisa who were at university together are BFFs and share their dreams and disasters.  Darren dated Lisa before she came out as a Lesbian.
Waverly is reluctant to make the jump to commitment to either her legal job or to a more permanent arrangement with Darren.  She sings "Stay" with Lisa hoping to keep things the same. 
Luke's comic "Morning After Omelette" has witty lyrics from Ryan Cunningham as Luke tries to articulate what he wants from a relationship with a girl,  "I wanna get you in the sheets like thread-counts."  It turns out he has no-one to make the perfect omelette for.  My perfect omelette hails from New Orleans and is green pepper, onion and emmental!
Waverly tries to get Darren to understand why going full time at the law firm is such a big deal for her as it means relinquishing her acting career, he misunderstands and goes for greater commitment which terrifies her.  Waverley and Luke rethink their approach to dating with fun results.
At Darren's temp job, Luke works in the same company in Sales.  Luke makes contact through the message system at work and their online only conversation on their laptops is amusingly rendered through electronic voices after they hammer away at their keyboards.   The sound synchronisation is well done!   
Anyone who has been to New York will remember those loud, deeply self indulgent conversations at the very next table in the restaurant, with very non stiff upper lip, intimate details.  Here Ryan Cunningham nails it,  "There's conversations like ours, in all New York bars, everyday/ And everyone's got the same attitude/ Sharing empty cliché or an overused platitude." 
The song "Hungover" is choreographed with all four, two in interesting dressing gowns, two more in duvets and reminds us all of the dreaded morning after. Their lyric,  "Sometimes I drink too much, sometimes I get too drunk/ But every time I wake up, I think to myself I love being hungover"  sounds like self denial when you look at their tired faces and wasted bodies. 
I well remember Robert McWhir's directorial skill at the Landor in Clapham and he is an expert at producing musicals in a small, intimate space. The set at the Garden Theatre at the Eagle is a realistically detailed bar with the audience close to the bar seating.  Aaron Clingham is at the keys and Ash Blasse plays the guitar. 
The performances are tip top.  I really liked "You Can't Be Everything You Want" which is Amelia Atherton's stand out number with brilliant vocals.  Bessy Ewa's narrative drives much of the show and her strong singing voice and acting convince.  The men too are both strong performers and we appreciated the almost comic references to covid precautions, the elbow bumps, face masks and distancing.
This musical at the Garden Theatre at the Eagle has pretty tunes from Joshua Salzman and Ryan Cunningham's surprising, witty and perceptive lyrics. I'd love to see more of Cunningham's lyric writing.  Together in 2006 they wrote I Love You Because, a musical based on Jane Austen's Pride and Prejudice but set in modern day New York. 
This production is cast with 2020 graduates all of whom are faced with graduating in the middle of the pandemic with job opportunities non-existent.  So again the Garden Theatre at the Eagle shows the way to larger producers, back in August it was how to put on a show with the delightful Fanny and Stella and then a stripped back Pippin and now how to give hope to young performers.
Prelude
Little Bar On Sullivan Street
Stay
Morning After Omelet
As Good As I Get
We're Gonna Go Out
The Way to Get a Girl
Manhattan Bridge
How 'Bout You
Don't Say Another Word
We're Gonna Go Out (Reprise)
Hungover
And I Breathe
If She Were Coming Home
I Wish There Were a Reason
You Can't Be Everything You Want
Next Thing You Know
All That I Want Is You
Next Thing You Know Finale
Home Calls
Next Thing You Know

Music by Joshua Salzman
Lyrics by Ryan Cunningham
Directed by Robert McWhir


Cast
Starring:
Amelia Atherton
Bessy Ewa
Callum Henderson
Nathan Shaw
Creatives
Director: Robert McWhir
Designer: David Shields
Choreographer: William Spencer
Musical Director: Aaron Clingham
Lighting: Richard Lambert
Information
Running Time: One hour 30 minutes with a brief interval
Booking until 31st October 2020
Theatre:

The Garden Theatre at The Eagle
349 Kennington Lane
London SE11 5QY
Tube: Vauxhall
Reviewed by Lizzie Loveridge at the Garden Theatre on
23rd October 2020