Cinderella of Goth and Grunge is gorgeous!
'It was early in 2019 that I was told Andrew Lloyd Webber's got a new project and he wants you to be a voice on some demo.  It wasn't until I actually got in the room that Andrew said, "It's Cinderella, but not the Cinderella we all think of – She wears Doc Martens, she's covered in black lace…" and I was sat there in my black lace dress wearing my Doc Martens.  Then I understaood why they called me.'
Carrie Hope Fletcher
I remember a small girl being traumatised at a Young Vic fairytale play which had gone back to the gruesome Charles Perrault original story but which had since become a prettified family favourite.  The Brothers Grimm often built on the French originals and made sure that each fairy tale had a cruel aspect.  In Aschenputtel, the Grimms' Cinderella, one ugly sister cuts off her big toe to make the glass slipper fit and the other cuts off part of her heel.  At the end of the story after Cinderella marries her prince, both sisters are blinded and have to live as beggars.  In Andrew Lloyd Webber's Cinderella, Cinderella rhymes with salmonella. 
Princes are decidedly out of fashion with today's feminist mothers with their experience of kissing frogs but many little girls have been seduced by Disney's Frozen which opens as a musical in London soon.  Andrew Lloyd Webber's show is definitely aimed at adults with plenty of wit from David Zippel's lyrics and Emerald Fennel's book.  You may have seen Ms Fennel playing Camilla Parker Bowles in The Crown, who has her own Cinderella story.
With all the Covid related delays to this production of Cinderella, we at least had the wonderful song "Bad Cinderella" sung by Carrie Hope Fletcher promising us a Cinderella with a difference and looking forward to the music. 
Set in a one town kingdom called Belleville, France, where everyone is beautiful and has perfect hair, the statue of Prince Charming is defiled by graffiti and a bra as if the prince had been associated with the Slave Trade.  For 49 years Belleville has been awarded the crown of most attractive town.  Prince Charming is missing in action against a dragon and his mother the Queen (Rebecca Trehearn) is distraught and has to accept that her younger son Prince Sebastian (Michael Hamway the understudy to Ivano Turco) will become king.   Belleville loses its award because of the state of the statue and the town's witch hunt is set in motion.  They are convinced that there is only one culprit, bad Cinderella.
Shy Sebastian, the lyric describing him makes prince rhyme with wince, has to marry and goes from being the least sought after man to boyfriend material.  His childhood friend is Cinderella (Carrie Hope Fletcher) a girl who defies the cult of beauty in favour of Goth, dark straggly hair, black lipstick and dark clothes with grey net skirt imitating cobwebs, black lace wrist cuffs and Doc Martens.  I rather liked her style and was pleased to see at least one audience member copying her. 
Cinderella lives with her stepmother (Victoria Hamilton-Barritt), think Cruella de Ville without the blonde hair streak meets Wallis Simpson, the Duchess of Windsor, long cigarette holder and a very deep, throaty voice honed with years of cigarettes. The two stepsisters Adele (Laura Baldwin) and Marie (Georgina Castle) are a pair of air heads whose first song is to whine "Unfair, unfair".  Both are blonde, Adele with pink streaks and Marie with a green swathe and heavily into pink, frilly clothes.  Their mother describes one as imbecilic and the other as being only half as bright!
I found the Belleville residents lacking in interest, doll like girls in rose, apricot and Elastoplast pink frocks and the men, the knights so self absorbed with getting muscles at the gym, that they haven't developed their brains.  The other problem is that the topless knights' choreography is all machismo and fight dance, nothing like as attractive as the Magic Mike dancers, whose dance is original.  But then they are not meant to be attractive but figures of fun. 
Cinderella and Sebastian sing of their friendship in the pretty ballad "Only You, Lonely You". The Queen and the Stepmother discover that they have a joint past in the Pigalle, the red light district of Paris in the song "I Know You".  These two provide much of the show's comedy.  The sisters get ready for the ball and leave Cinderella at home. 
The Godmother, more Mafia Godmother than Fairy Godmother (Gloria Onitiri) takes Cinderella in hand and organises a full makeover.  Her shop and beauty lab has a circle of pale mannequins who eerily come to life. Godmother says she's an artist but she is scary.  The extreme procedure involves surgery as well as new clothes and hair and the shoes are agony but covered in crystals.   They might as well be full of crystals as Cinderella cannot walk in heels and she is the only Belleville woman who can't. 
So to Act Two and the ball uses the revolve that many will remember from the first production of Cats at this theatre. The issue is that Sebastian is waiting for Cinderella at the ball but fails to recognise her.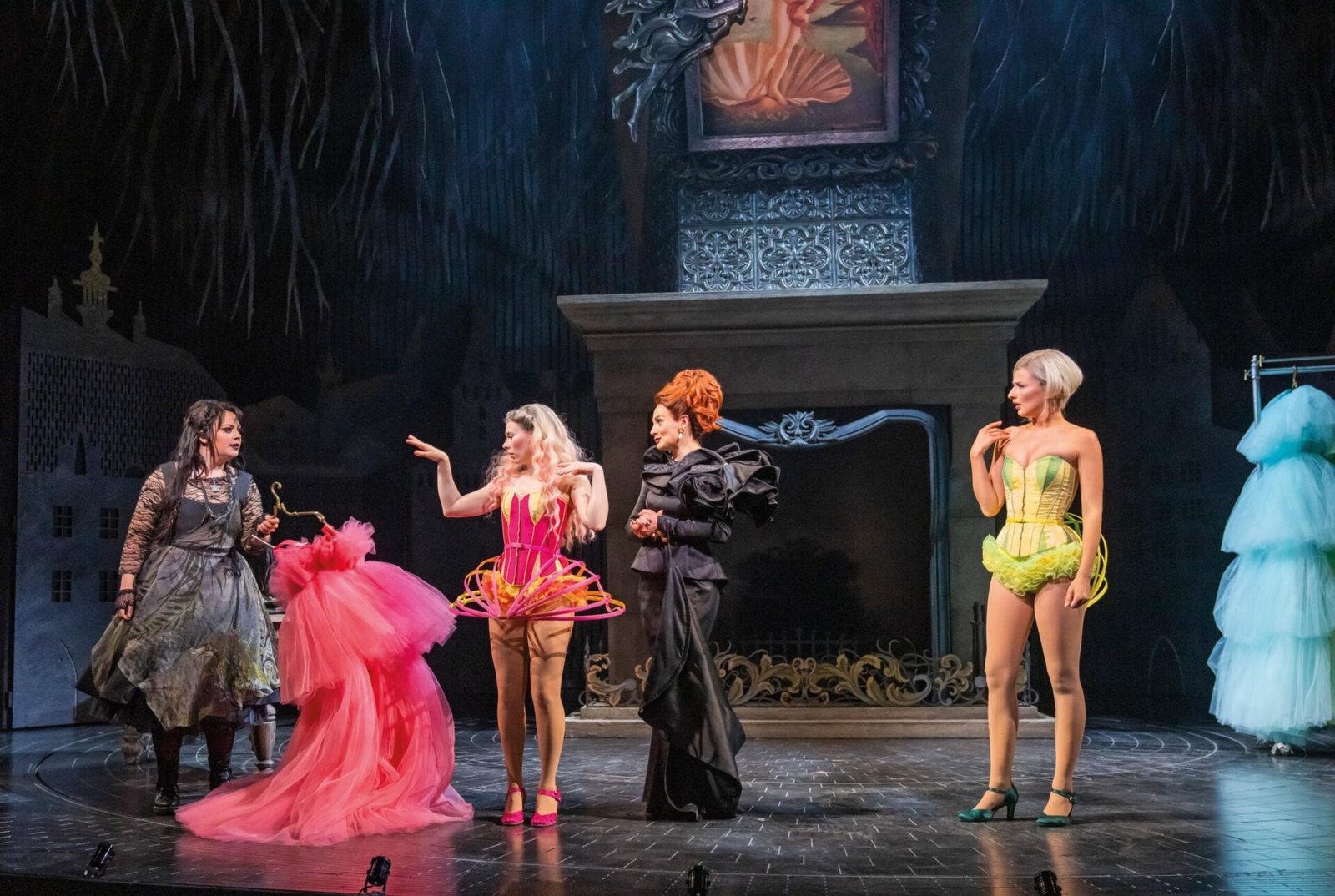 Carrie Hope Fletcher is a real asset to this show, she sings like a dream and has a super personality with lashings of humour which the other women all seem to lack.  I saw Ivano Turco's understudy Michael Hamway as Sebastian who is operatically trained and his singing is gorgeous but his dance moves are decidedly odd.  Prince Charming (Caleb Roberts) reappears and springs his surprise on his delighted mother who sees a fresh opportunity to attract more tourists.   The return of the heir lets Sebastian off the royal hook. 
Cinderella has sumptuous costumes and palatial sets, statues, draped velvet, paintings, a cathedral of lit arches and a rose window, but I almost preferred the silhouetted tree branches hanging from the flies for scenes in the forest with castles at the edge like views in the Rhineland.  The more ornate branches spread into the auditorium. Lighting changes the time of day and stars twinkle at night.   
The show's charm pivots on Carrie Hope Fletcher and of course Andrew Lloyd Webber's accessible tunes and David Zippel's witty lyrics and I'd like to see it again!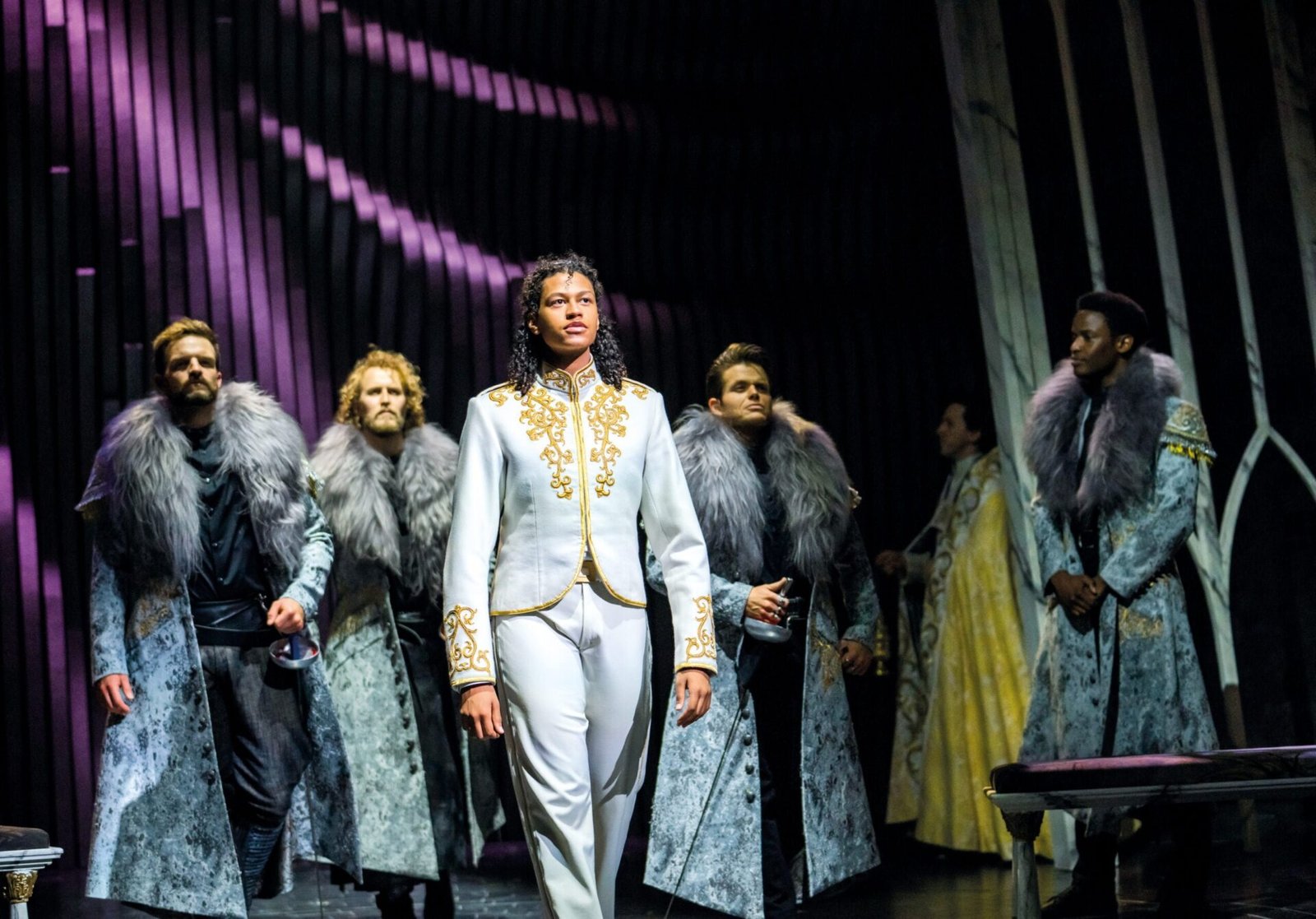 Act One
Buns 'n' Roses
It Has To Be Her
Bad Cinderella
So Long
Unfair
Unbreakable
Hunks' Song
Man's Man
So Long (Reprise)/Introduction to
Only You, Lonely You
Only You, Lonely You
I Know You
The Village Square
Unfair (Reprise)
Beauty Has A Price
Act Two
The Cinderella Waltz
The Ball
I Know I Have A Heart
Act Two Scene Two
I Am No Longer Me
Moment of Triumph
Far Too Late
Ego Has A Price
The Wedding March
Man's Man (Reprise)
Marry For Love
Cinderella's Soliloquy
The Wedding Party
Finale
Andrew Lloyd Webber's Cinderella
Music by Andrew Lloyd Webber
Original Story and Book by Emerald Fennell
Lyrics by David Zippel
Cast
Starring:
Carrie Hope Fletcher
Victoria Hamilton-Barritt
Rebecca Trehearne
Ivano Turco
Georgina Castle
Laura Baldwin
Gloria Onitiri
Caleb Roberts
Georgina Onuorah
Michael Hamway
With:
Michael Afemaré
Lydia Bannister
Michelle Bishop
William Bozier
Lauren Byrne
Sophie Camble
Tobias Charles
Vinny Coyle
Nicole Deon
Jonathan David Dudley
Dominic Adam Griffin
Leah Harris
James Lee Harris
Kate Ivory Jordan
Jessica Kirton
Kelsie-Rae Marshall
Andy Rees
Sam Robinson
Giovanni Spano
Laren Stroud
Georgia Tapp
Matthieu Vinetot
Rodney Vubya
Alexandra Waite-Roberts
Creatives
Director: Laurence Connor
Set and Costume Designer: 
Gabriela Tylesova
Choreographer: Joann M Hunter
Musical Director: Ben Van Tienen
Co-Musical Supervisors:  
David Andrew Wilson and John Rigby
Lighting Designer:  Bruno Poet
Sound Designer: Gareth Owen
Orchestrations: Andrew Lloyd Webber
Information
Running Time: Two hours 45 minutes with an interval 
Closing London 12th June 2022
Theatre:
Gillian Lynne Theatre
166 Drury Lane
Holborn
London WC2B 5PW
Box Office: Online
Website: https://lwtheatres.co.uk/whats-on/cinderella-musical/
Tube: Holborn or Covent Garden
Reviewed by Lizzie Loveridge
at the Gillian Lynne Theatre on 25th August 2021