Thrilling for Teenagers, Terrifying for Adults!
"It's not an ocean, it's a duck pond!"
The Boy
Fly Davis's magnificent set is a mysterious tangle of tall, bristly, overarching hedges.  The opening scene recalls those RSC plays of the 1980s and 90s where a funeral takes place in the rain with the dramatic view of black umbrellas making their carriers look like alien creatures silhouetted in the graveyard.  But there are much scarier alien creatures to come in Joel Horwood's dramatisation of Neil Gaiman's fantasy novel.
Alex as a grown up (Nicolas Tennant) has come to a funeral where he lived as a boy.  Here he meets Old Mrs Hempstock (Penny Layden) and while they are both looking at the lake, she recalls that he was her granddaughter, Lettie's friend. This lake was what Lettie called the ocean. 
We flash back to when Alex was a boy (James Bamford).  This startles with the suicide of Dad (Nicolas Tennant)'s lodger using his landlord's car.  The Boy is asked back to the old farmhouse kitchen where three generations of mysterious Hempstock women live.    We also see Dad trying to cope with bringing up his children after the death of his wife and perpetually burning the toast.  The Boy has a sister, Sis (Grace Hogg-Robinson) who has a high squeaky voice and is skilled at winding up her brother and who made me both laugh and squirm.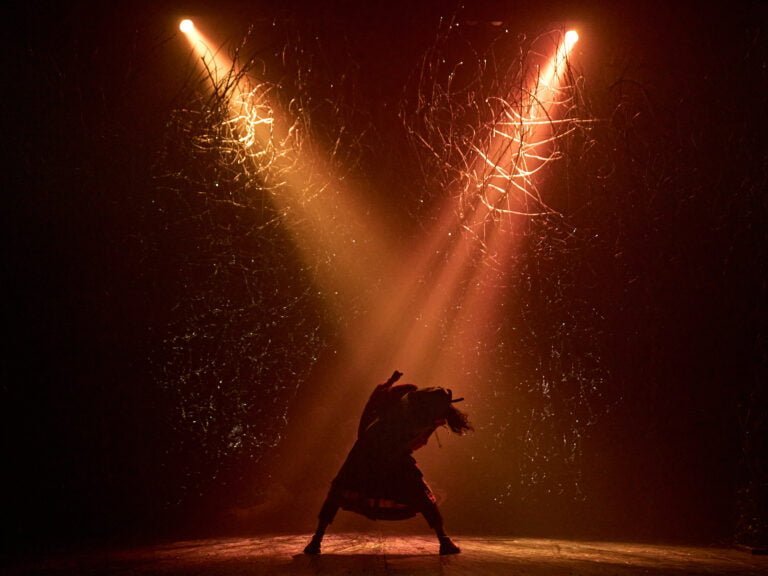 These early scenes reminded me of The Curious Incident of the Dog in the Night-Time, because the Boy has the frankness of Christopher and an oddness which means he is teased and bullied at school. Lettie (Nia Towle) and the Boy bond and she invites him on her magic mission to intervene with a spirit stuck on the edge of two worlds.  During this episode a battle takes place with a terrifying spider that fills all the stage.  Lettie and the Boy are meant to hold hands but he lets go and something enters his body making a wormhole in his foot. 
The Boy goes home and a day later his father has a new lodger Ursula (Laura Rogers) who looks like Marilyn Monroe and who is beastly to the Boy whilst pleasing his sister with favouritism.  After the Boy crosses Ursula, Dad punishes him in the most frightening way, that makes this play unsuitable for young children.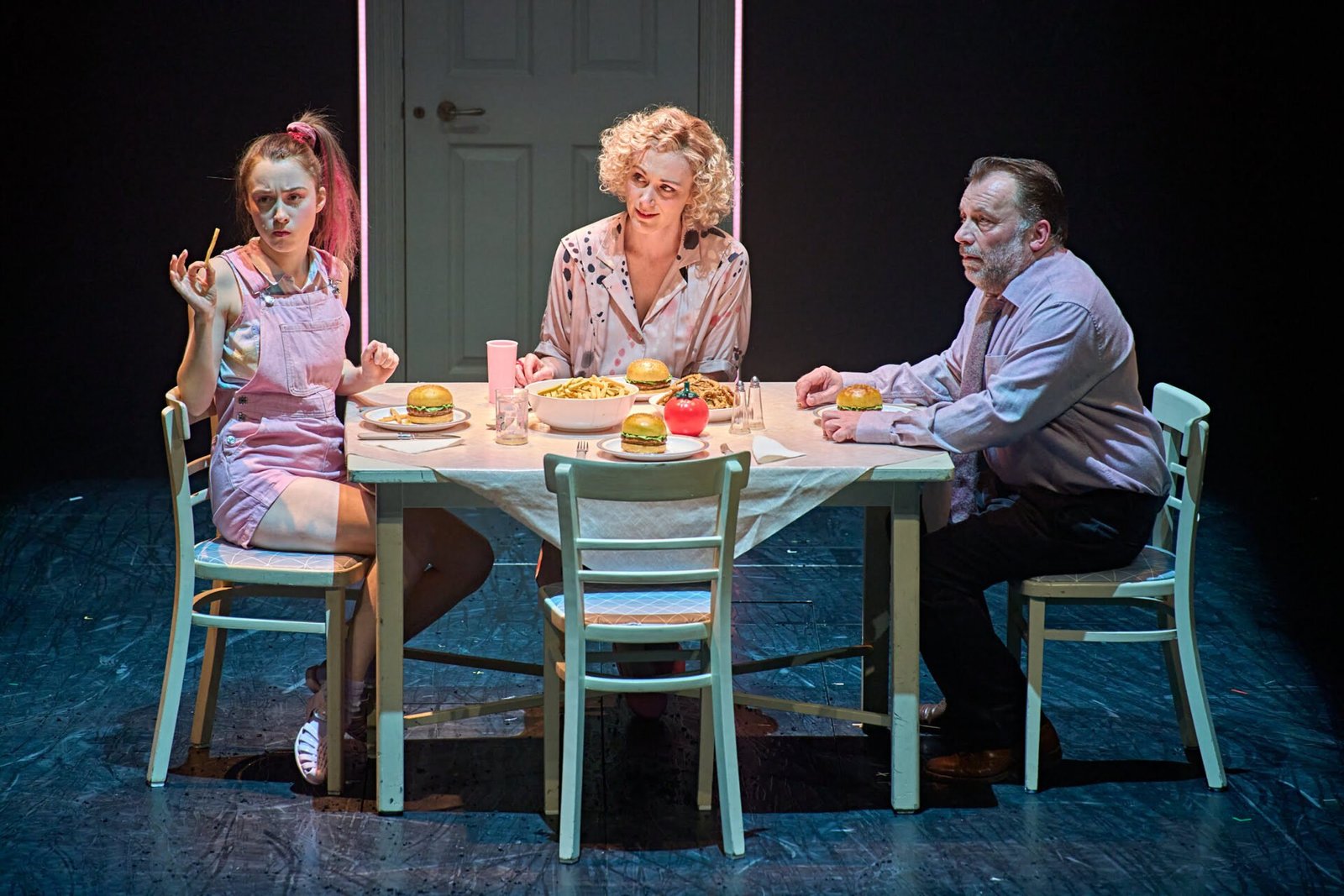 Steven Hoggett's very special movement talent combined with Finn Caldwell's puppetry make this production extraordinary and exciting, although there are also times when I jumped out of my seat in terror. Illusions by Jamie Harrison and Paule Constable's dramatic lighting enhance this spectacular show under Katy Rudd's direction.  The murder birds are huge, fearsome, animated puppets, dark as ravens who attack people.  Now which bird is it where the collective noun is a murder?  Crows. 
The performances are excellent and I especially liked James Bamford and Nia Towle as the Boy and Lettie, but Grace Hogg-Robinson was obnoxious as the brat of a sister.  I risk the censure of those who deny gender differences, but the production of The Ocean at the End of the Lane is perfect for those teens that fill the Fortune Theatre's The Woman in Black.  
The Ocean at the End of the Lane
Adapted by Joel Horwood
Based on the novel by Neil Gaiman
Directed by Katy Rudd
Cast
Starring:
James Bamford
Nia Towle
Siubhan Harrison
Penny Layden
Grace Hogg-Robinson
Laura Rogers
Nicolas Tennant
With: 
Ruby Ablett
Emma Bown
Charlie Cameron
Jeff D'Sangalang
Kieran Garland
Miranda Heath
Tom Mackley
Charleen Qwaye
Peter Twose.
Creatives
Director: Katy Rudd
Set Designer: Fly Davis
Costume and Puppet Designer: 
Samuel Wyer
Movement Director: Steven Hoggett
Lighting Designer: Paule Constable
Composer: Jherek Bischoff
Magic and Illusions Director:  
  Jamie Harrison
Puppetry Director:  Finn Caldwell
Fight Director: Kev McCurdy
Information
Running Time: Two hours 35 minutes with an interval
Booking to 14th May 2022
Theatre: 
Duke of York's Theatre
104 St Martin's Lane
London  WC2N 4BG
Phone: 03330 096 690
Website: atgtickets.com
Tube: Charing Cross
Reviewed by Lizzie Loveridge at the
Duke of York's at the matinée
on 11th November  2021