The Glitterati of Moulin Rouge light up London
"Soubrettes and Sodomites"
Zidler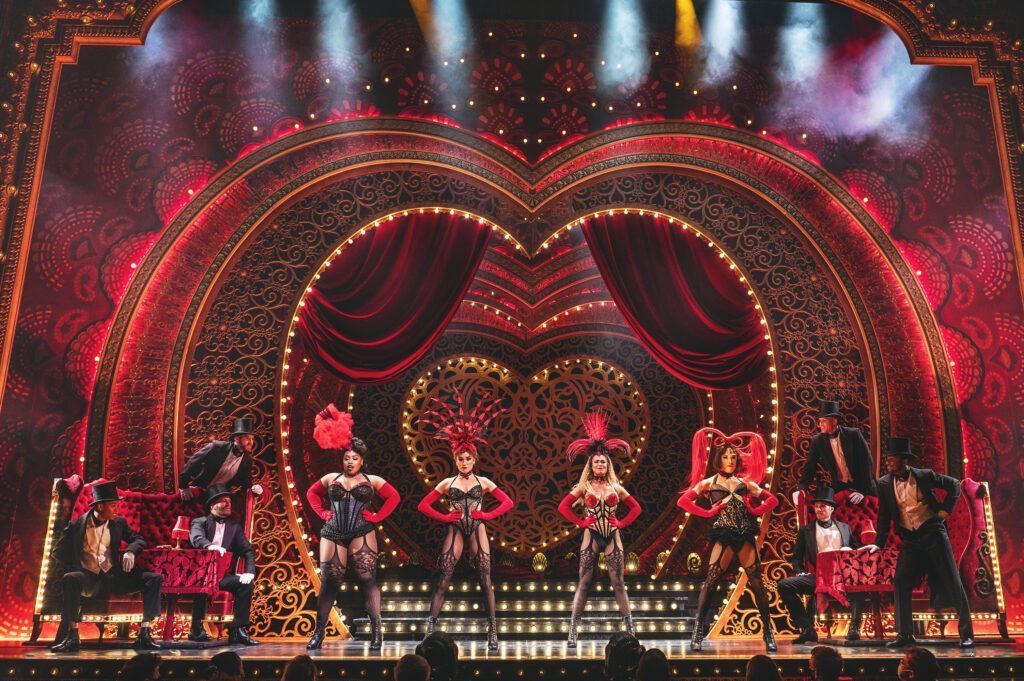 Long awaited is the Broadway transfer to London of the musical based on Baz Luhrmann's 2001 musical film of the same name.  And what a sparkling opening few minutes it is!  Unlike Cabaret  which was designed to show the sordid nature of depraved Berlin, this show is all colour, fabulous costumes and big money with diamonds that look real.  It is a really exciting pre-show display of the larger than life figures at the famous Parisian nightclub at the Montmatre site of the red windmill. 
OK so with the cancan we don't have the authenticity of the split drawers that made the dance so shocking with its snatched display of intimate anatomy, and I would have preferred lacy cotton drawers, albeit with a gusset, to sequinned full briefs!  However the frilled cancan skirts are a colourful triumph.
The first four burlesque dancers Arabia (Zoe Birkett), La Chocolat (Timmika Ramsay), Baby Doll (Johnny Bishop) and Nini (Sophie Carmen Jones) do not have an inch of cellulite in sight wearing tan tights under their fishnets.  Shhh!  Don't tell anyone but one of these gorgeous girls is a chap. They are a refreshing mix of sizes and not afraid to show off their delicious derrières in thrilling choreography by Sonya Tayeh.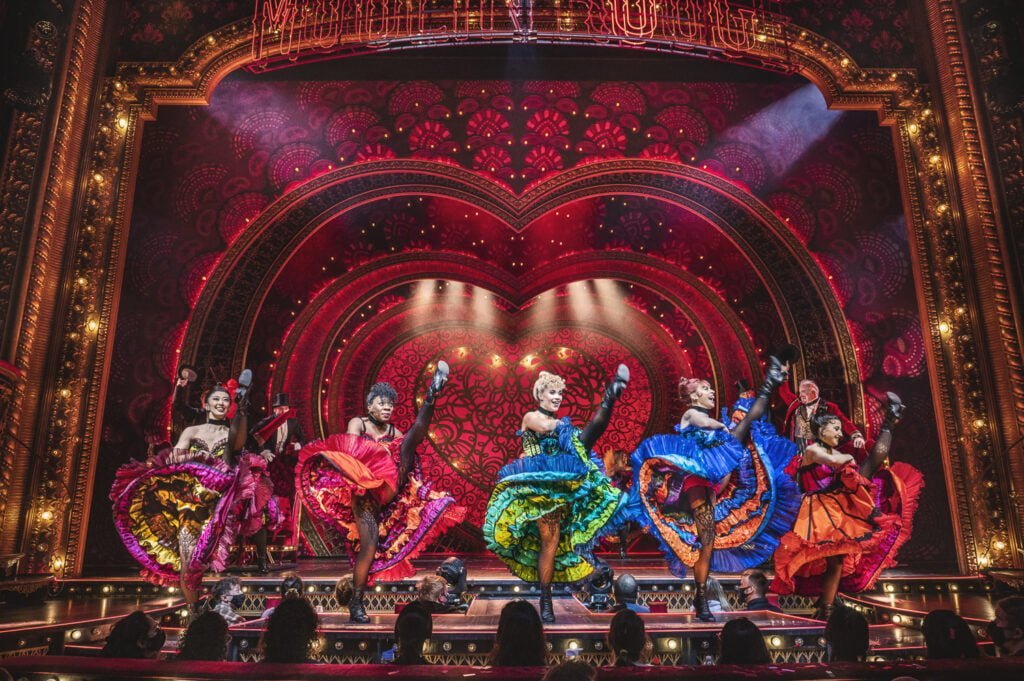 Moulin Rouge  is called a jukebox musical because of its use of popular music in snatches.  Some of the lines are so short, you could call it a musical sound byte musical.  It means many of the tunes are great, iconic pop numbers but sadly this encourages some of the audience to join in.  I am seriously thinking of getting cards printed which say "You might prefer to attend a Relaxed performance if you are neuro-divergent or have Autism, Alzheimer's, Tourettes and can't leave the singing to the cast!"
Liisi LaFontaine is delightful as the consumptive courtesan heroine – the plot of this Baz Luhrmann Moulin Rouge appears to be La Traviata meets La Bohème but was in fact the last part of The Red Curtain trilogy, preceded by Strictly Ballroom and Romeo and Juliet.   Its strength is not the story line or book of the musical with composer Christian (Jamie Boygo)  representing the Bohemian element with his musical writing partners, the artist Toulouse Lautrec  (Jason Pennycooke) and the Argentinian Santiago (Elia Lo Tauro).  Lautrec's drawings of the Parisian nightclub scene are used in the musical as inspiration for some of the scenic designs.   You will want to see this musical for its outstanding sets and costumes.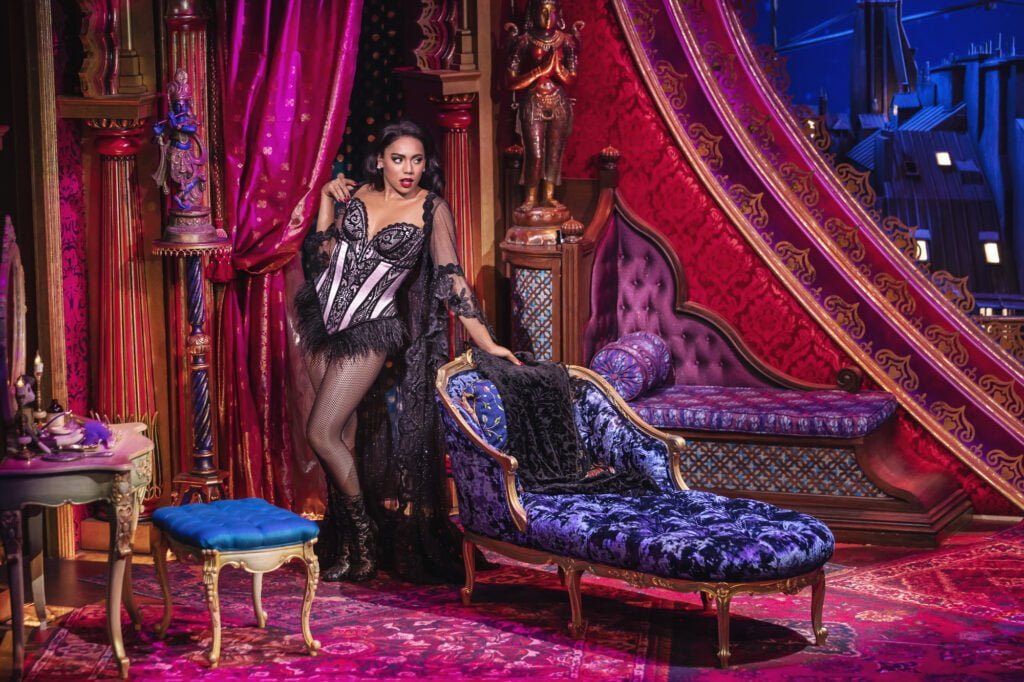 The voluptuous Liisi LaFontaine, her real name is worthy of Moulin Rouge billing, sings wonderfully as Satine the woman used as a pawn to save the bankrupt Moulin Rouge and has good stage presence.  Appearing in his first West End role is RADA graduate and Adam Driver lookalike, Jamie Boygo.  We can understand why Satine falls for Christian, even if his tunes are totally derivative!
I took issue with the Duke (Simon Bailey) trying to intimidate Lautrec using his aristocratic roots when the real Lautrec was a Comte and a member of the French aristocracy who escaped 1789.  However Jason Pennycooke's French accent is very good having had all that practice in Hamilton as Lafayette.  Shame Simon Bailey's Duke doesn't know the Champs Elyseés is not pronounced Eli-seee but Eli-say and Clive Carter's Zidler needs to know that the French word Apogée is said Apo-jshay not Apog-eee.  Still the Australians were always bad at French! 
You cannot fault Derek McLane's  spectacular sets and Catherine Zuber's extravagant costumes in Moulin Rouge with atmospheric lighting from Justin Townsend.   McLane also designed Anything Goes. I watched the film online recently and was so much more impressed by seeing the magical cast of Moulin Rouge in their luxurious venue.   
Act One
Welcome to the Moulin Rouge  
Money, That's What I Want
Bohemian Ideas 
Truth Beauty, Freedom, Love 
Children of the Revolution
The Sparkling Diamond  
Diamonds Are a Girl's Best
Shut Up and Raise Your Glass
Firework 
Your Song
So Exciting! 
(L'amour est in oiseau rebelle)
Sympathy For the Duke
You Can't Always Get What
Nature Boy  
Elephant Love Medley  
Pride (In the Name of Love)
Can't Help Falling in Love
I Love You Always Forever
What's Love Got to Do With It
I Will Always Love You
Act Two
Backstage Romance
Bad Romance
Tainted Love
Seven Nation Army
Sweet Dreams (Are Made of This)
Only Girl In A Material World
Only Girl in the World
Diamonds are a Girl's Best Friend
Material Girl
Chandelier
El Tango de Roxanne
Roxanne
Crazy Rolling
Crazy Rolling in the Deep
Your Song (Reprise)
Come What May
Your Song
Heroes
Come What May (Reprise)
More More More!
Lady Marmalade
Hey Ya!
Because We Can (Fatboy Slim)
Minnie the Moocher
Bad Romance
What's Love Got To Do With It
Don't You Want Me
Crazy
Gallop Infernal
Moulin Rouge!
Book by John Logan
Based on 2001 20th Century Fox Motion Picture Written by Baz Luhrmann and Craig Pearce
Directed by Alex Timbers
Cast
Starring:
Liisi LaFontaine
Clive Carter
Simon Bailey
Jason Pennycooke
Elia Lo Tauro
Sophie Carmen Jones
Timmika Ramsay
Zoe Birkett
Johnny Bishop
With:
Tanisha Spring
Ensemble: 
Femi Akinfolarin
Robson Broad
Ian Carlyle
Jonathan Cordin
Anthony Cragg
Katie Ella Dunsden
Luke Jackson
Ciro Lourencio Meulens
Melissa Nettleford
Craig Ryder
Tinovimbanashe Sibanda
Katie Singh
Toyan Thomas-Browne
Amy Thornton
Lily Wang
Walking Covers
Adam Gillian
Jon Tsouras
Swing:
Fletcher Dobinson
Tamsin January
Alicia Mencia
Georgia Morgan
Ian Oswald
Ebby Sama
Elly Shaw
Ope Sowande
Misty May Tindall
Tommy Wade-Smith 
Creatives
Director  Alex Timbers
Choreographer: Sonya Tayeh
Set Designer: Derek McLane
Musical Supervisor,
Orchestrator, Arrangements
and Additional Lyrics: Justin Levine
Lighting Designer:  Justin Townsend
Costume Designer:  Catherine Zuber
Sound Designer: Peter Hylenski
Musical Director: James McKeon
Information
Running Time:
Two hours 35 minutes with an interval
Booking to 23rd June 2022 
Theatre:
Piccadilly Theatre
16 Denman Street
London W1D 7DY
Box Office: 0844 871 7615
Tube: Piccadilly Circus
Reviewed
by Lizzie Loveridge
at the Piccadilly Theatre
on 19th January 2022