State of the Art Theatre : Warhol and Basquiat
"Is it too much or am I just getting old? …….. So ugly and angry."
Warhol
"He's old hat. He's one of those pianos that plays all by itself …………….
I paint a rif by Dizzy Gillespie."
Basquiat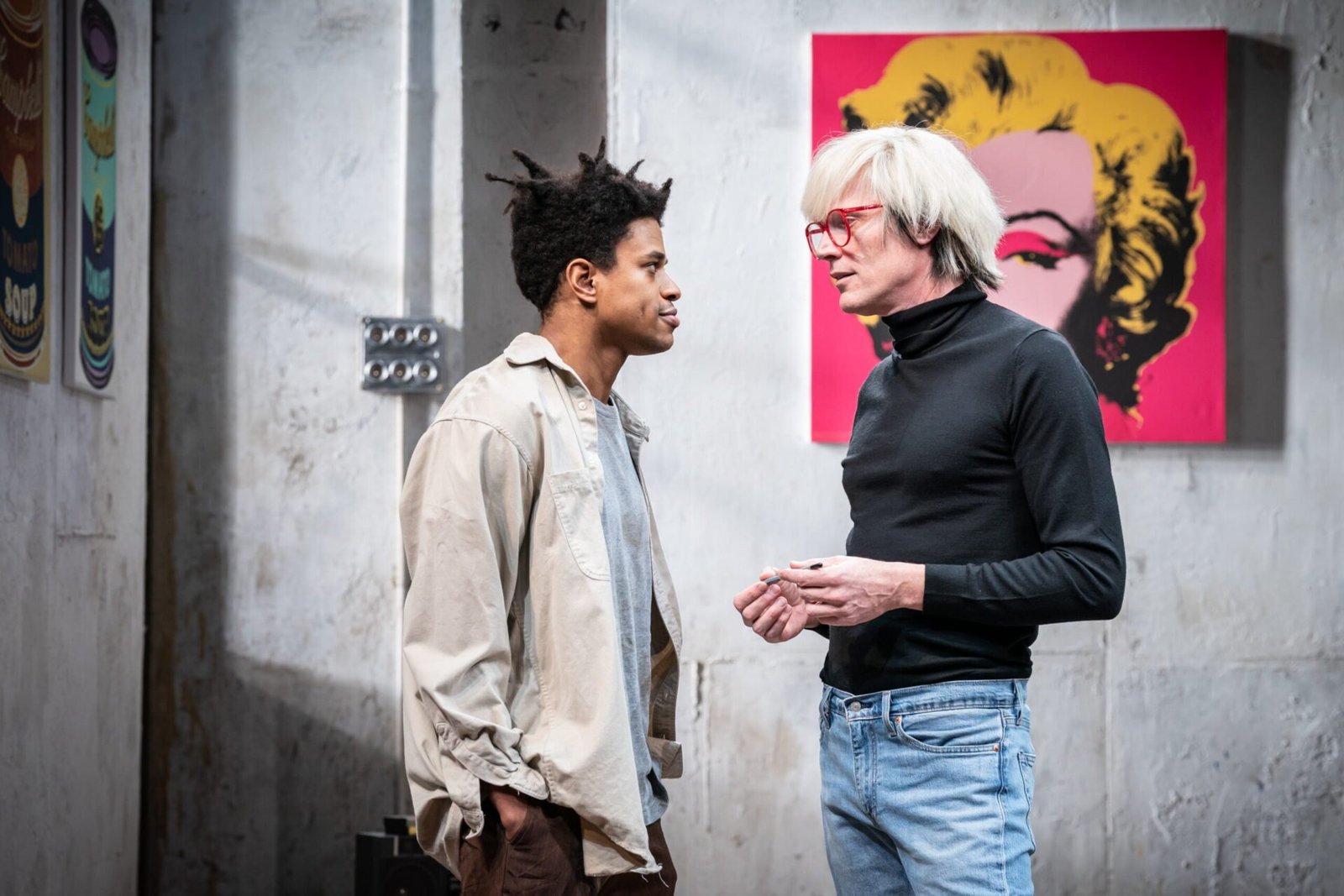 All too often plays about art and artists fail to nail the drama, so it is all the more exciting when a play like The Collaboration brilliantly illustrates  the working relationship between Andy Warhol (Paul Bettany) and a street artist newcomer Jean-Michel Basquiat (American Jeremy Pope).  Both artists are so likable, complex and finely described, I saw the play and wished I could have met them in real life.
The two men meet when Swiss Art dealer and agent Bruno Bischofberger (Alec Newman) suggests a collaboration between them in New York in 1982.  For some years Warhol has not painted but produced his iconic silk screen prints, most famously of Marilyn Monroe, Coca Cola bottles and Campbell's Soup tins.  He states that he is more interested in making films. 
Warhol is not attracted to the idea of working with the young rebel but as the price of his art is falling, while Basquiat's is on the rise, Bischofberger persuades him to consider it.  With true entrepreneurial skill, or lying, the art dealer tells the equally reluctant Basquiat how Warhol is excited at the prospect of working with him. 
The playwright, New Zealander Anthony McCarten, obviously has an affection for both painters and this means his audience can join in admiration of the two men. Kwame Kwei-Armah directs with the same level of warm commitment to conveying their stories. 
Warhol is the son of Eastern European immigrants; Basquiat is born in the USA, his parents are from Haiti and Puerto Rico.  Warhol grew to fame as an illustrator and later designer of fashion shoes.  Basquiat is a painter, his pictures more difficult to fathom with his figures of the military or menace overlaying in black the multicoloured backgrounds.  Basquiat is in his twenties and on the edge of the New York drugs scene. 
Warhol has a phobia about germs and we see his concern as he gets out the vacuum cleaner to clear up after Basquiat. Warhol tells Basquiat  about losing his pigment, hence the white blonde hair and pale features.   He did suffer a childhood illness and he was shot by a paranoid,  radical feminist. 
Warhol has wonderful stories from the party crowd he mixes with but he also reveals his insecurities to his fellow painter.  We see both men painting and drawing in the air as they collaborate on a General Electric logo or a Pan Am poster.  A graffiti artist, a friend of Basquiat's is shot by the police when using spray cans.  Basquiat says, "I am painting because I want to bring the dead back to life." This play is full of quirky humour tinged with sadness. 
The acting is superb.  I wouldn't have thought Jeremy Pope particularly looks like Basquiat but his dread locks are exact and defining and his performance affecting.  There has been so much attention to detail making this production work.  Paul Bettany is too rare a performer on the London stage but the offers will flood in after his masterly portrayal of the famous artist.  I felt I was there in Warhol's studio, helped of course by Anna Fleischle's light warehouse set and DJ/VJ Xana's hip hop introduction in music and video of the back streets of New York.     
Tragically, Basquiat is dead at 27 in 1988.  An auction in 2017 sold his painting  "Untitled" for $110.5 million, the highest price for any American artist.  Warhol is dead aged 58 in February 1987,  from a heart attack after gall bladder surgery needed from the shooting by Valerie Solanas. 
The Collaboration is so engrossing it feels peopled by more than its cast of four.  It is a rich experience of 1980s New York and not to be missed at the Young Vic.  This is a five star theatrical experience.   
The Collaboration
Written by Anthony McCarten
Directed by Kwame Kwei-Armah
Cast
Starring:
Paul Bettany
Jeremy Pope
Alec Newman
Sofia Barclay
Creatives
Director: Kwame Kwei-Armah
Designer: Anna Fleischle
Lighting Designer: Mark Henderson
Composer: Ayanna Witter-Johnson
Sound Designer: Emma Laxton
Video Projection: Duncan McLean
DJ/VJ: Xana
Information
Running Time: Two hours with an interval
Booking to 2nd April 2022
Address:
Young Vic
66 The Cut
Waterloo
London SE1 8LZ
Tube/Rail : Waterloo/Southwark
Telephone: 020 7922 2922
Website: youngvic.org
Reviewed by Lizzie Loveridge
at the Young Vic
on 23rd February 2022