Legally Blonde - Fizz, Fun and Frivolity
"What is that smell?"   Emmett
"Subtext by Calvin Klein"  Elle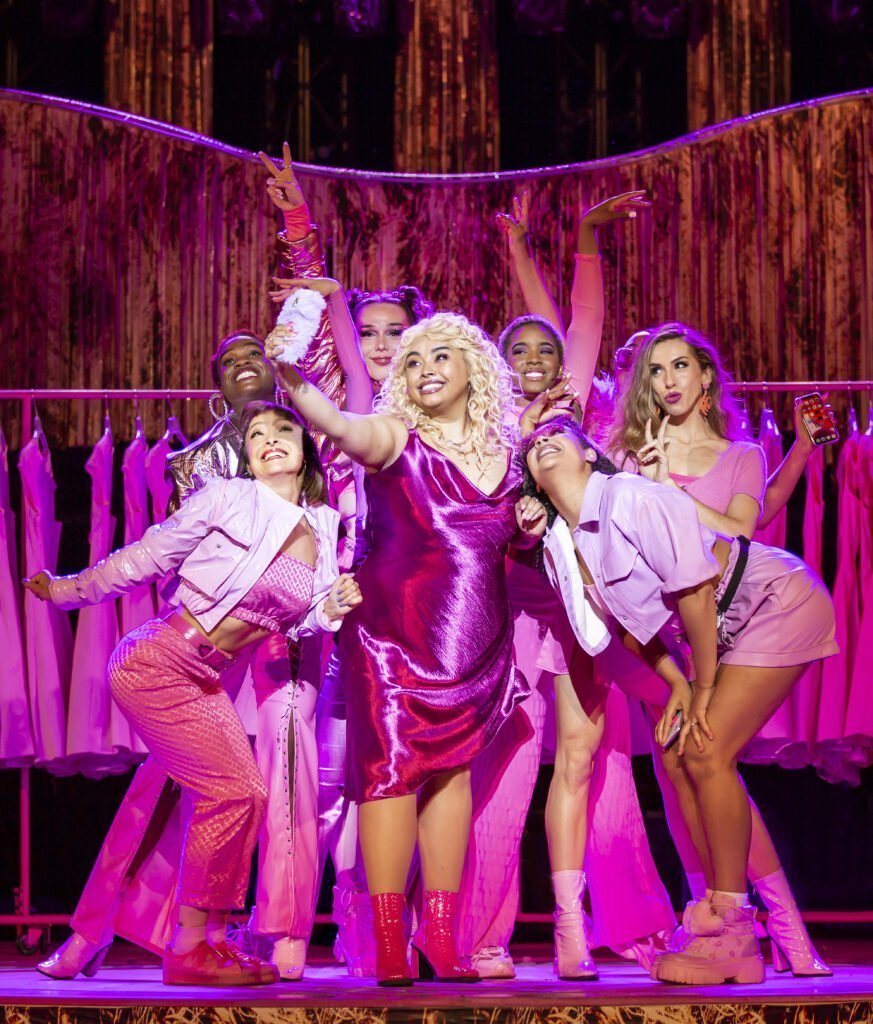 It is 12 years since Legally Blonde the musical opened at the Savoy Theatre in London.  That is before Lucy Moss the co-creator and co-director of the phenomenon that is Six hit the West End and Broadway.  So under Lucy Moss's direction, here at Regent's Park Open Air Theatre on a chilly summer evening is the hottest musical in town.  
Courtney Bowman takes the lead.  She was a very successful Anne Boleyn in Six, although not quite right for me because the only exceptional physical quality recorded about the tragic queen was her exceptionally long neck.  I was wrong.  Bowman has since set the new body shape for casting successive Anne Boleyns because of her stellar performance and now she embodies a scintillating Elle Woods from Californian air head, retail specialist to Harvard legal eagle. 
This transformation is the Pygmalion story but there is no Professor Higgins architect, just Elle Woods's natural ability to think outside the box.  Taking herself off to Harvard after the boyfriend, Warner Huntingdon III (Alistair Toovey), who dumped her for someone more serious, Elle faces prejudice from staff and students.  Her glittering pink costumes separate her from the browns and greens of snooty Harvard but I was impressed with her professional navy outfit and tamed, "up" blonde hair for appearing at court. 
The costumes are a whole load of fun, riotous pinks and spangles for California in primary school girl heaven, even the Californian men wear co-ordinated pale pinks and pale lavender.  The lighting matches as well but is seen in full in the second half of the show as night falls.  There are the striking mango and oranges of the Hair Affair salon owned by Paulette (a superlative, stand out Nadine Higgin, last seen as Sir Toby Belch in the Globe's Twelfth Night).  She will find her Irish dancing UPS postman with a chip on his shoulder, Kyle (Dominic Lamb) in UPS Orange.
Then there is turquoise as Brooke Wyndham (Lauren Drew)'s skipping routine has the audience jaw dropping in wonderment.  She is accused of murdering her husband and Elle will come to her defence.  The state of the art skipping is jail yard exercise as fitness instructor Brooke awaits trial.  Together Elle and Brooke deliver the lightning fast UCLA Delta Nu Sorority hand jive of greeting and celebration.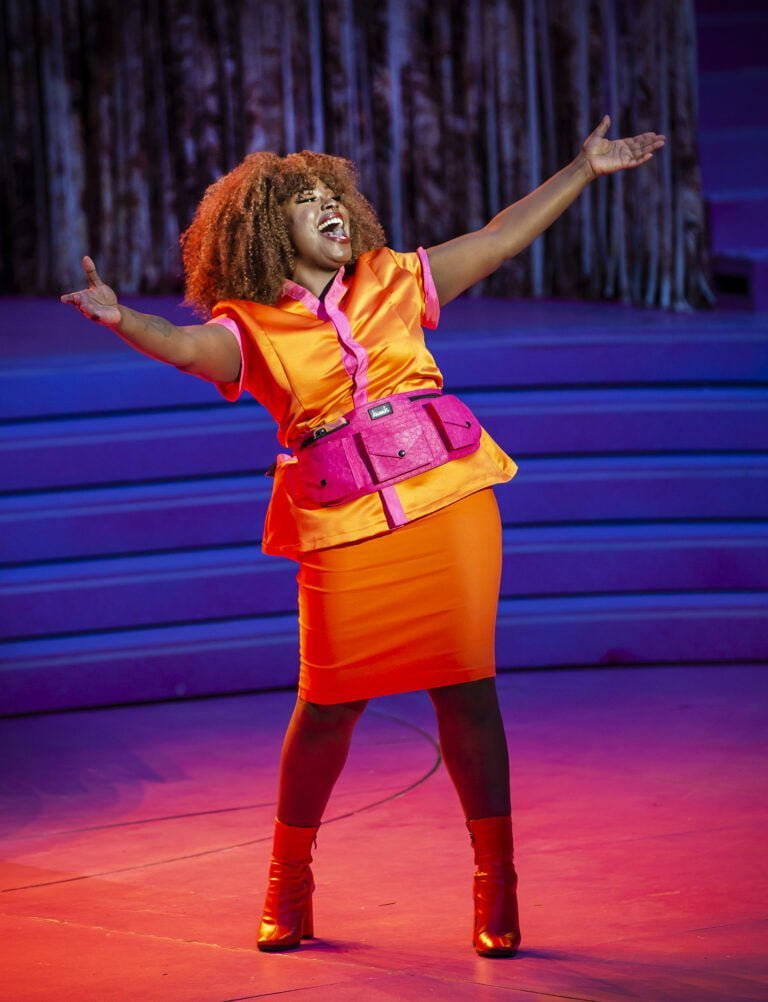 Elle's dog Bruiser is played with great aplomb and style by wide smiling Liam McEvoy, though maybe her chiahuahua might have had a lurcher father but Paulette's bulldog Rufus has had a pink transformation into a standard poodle (Joe Foster) but these doggie characters augur well for the next Open Air musical of 101 Dalmatians !  Bruiser with his effervescent personality is an audience hit!
Ellen Kane's choreography has moments that remind of Busby Berkeley great dance formations and at one point I thought the pink women dancers might be channelling the testudo formation of the Roman military.  This dance is Elle's personal essay in her Harvard application where all the girls wear pink spectacles.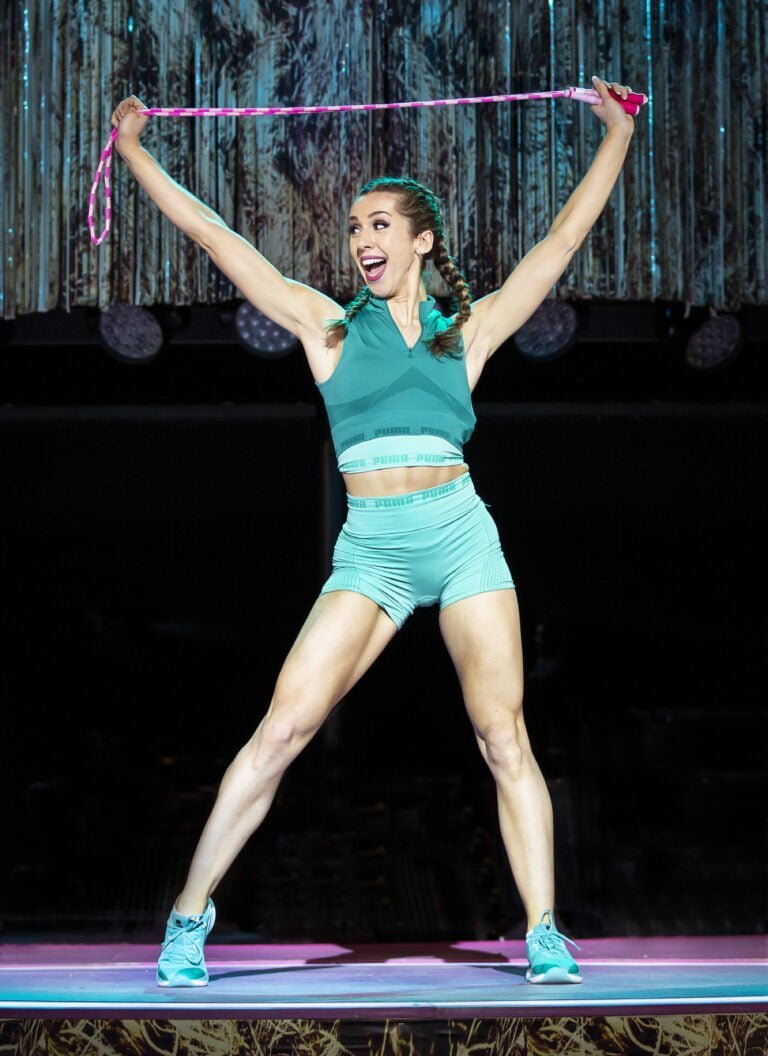 At Harvard Elle meets Emmett (Michael Ahomka-Lindsay) a genuine hard working student from a working class background, who teaches her to do what needs to be done to be a successful law student and she in turn, gives him an elegant makeover using her merchandising skills from her old life. 
Posh student Vivienne (Vanessa Fisher) demonstrates that girl bonding is more important than career advancement and sexual rivalry after Elle rejects Professor Callahan (Eugene McCoy)'s sexual advances in a heart warming moment.  Omigod this is a review of a musical and I haven't mentioned the tunes.  Courtney Bowman and Nadine Fisher belt out their numbers with really strong singing voices and the emsemble support has good diction. 
There has been so much attention to detail in this fabulous production of Legally Blonde, I feel sure it is destined for a successful West End run where it will thrill and charm and give the Six fans another show to mob. 
Act One
 Omigod You Guys
Serious
What You Want
Harvard Variations
Blood in Water
Positive
Ireland
Ireland (reprise)
Serious (reprise)
Chip on My Shoulder
So Much Better
Act Two
Whipped into Shape
Take it Like a Man
Bend and Snap
Gay or European?
Legally Blonde
Legally Blonde Remix
Scene of the crime
Find My Way /Finale
Legally Blonde
Music and Lyrics by Laurence O'Keefe and Neil Benjamin
Book by Heather Hatch
Based on the novel by Amanda Brown and the MGM movie
Directed by Lucy Moss
Cast
Starring:
Courtney Bowman
Hannah Yun Chamberlain
Lauren Drew
Joe Foster
Nadine Higgin
Vanessa Fisher
Isaac Hesketh
Dominic Lamb
Alžbeta Matyšáková
Eugene McCoy
Liam McEvoy
Grace Mouat
Shakira Simpson
Alistair Toovey
Michael Ahomka- Lindsay
With:
Gabriella Benedetti
Lucca Chadwick-Patel
Jasmine Colangelo
Allie Daniel
Esme Laudat
Billy Nevers
Swing:
Ashley Rowe
Biancha Szynal
Paulo Tiexeira
Creatives
Director: Lucy Moss

Choreographer: Ellen Kane
Set Designer: Laura Hopkins
Musical Supervisor: Cat Beveridge
Lighting Designer:  Philip Gladwell
Sound Designer: Tony Gayle
Costume Designer: Jean Chan
Musical Director: Katharine Woolley
Musical Director: Dan Glover
Information
Running Time:
Two hours 30 minutes with an interval
Booking until 2nd July 2022

Theatre:
Open Air Theatre
Regent's Park
Inner Circle
London NW1 4NU
Tube: Baker Street
Reviewed by Lizzie Loveridge at the Open Air
on 24th May 2022