The Man Who Killed Gandhi
"Gandhi is diluting our culture"
Nathuram Godse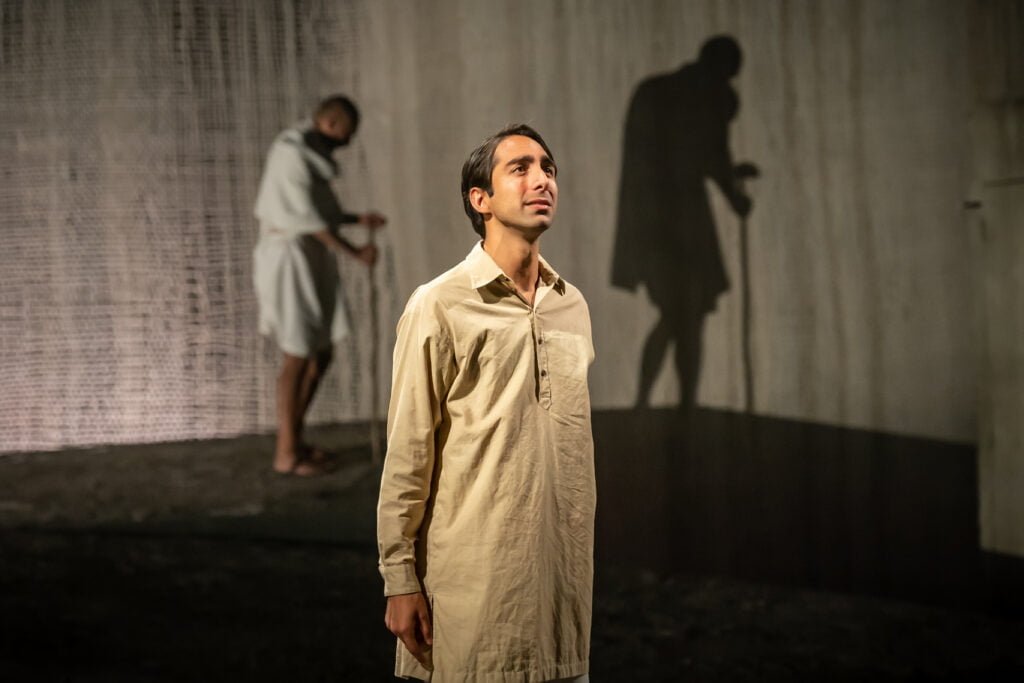 I have seen two other plays about Mohandas Mahatma Gandhi in the last year.  There was Tanika Gupta's play about his coming to London as a law student, The Overseas Student  in Out West at the Lyric in Hammersmith.  In Richmond at the Orange Tree this year I saw Two Billion Beats by Sonali Bhattacharyya about a British Asian schoolgirl studying BR Ambedkar who was a political contemporary of Gandhi and who represented the lowest caste and wanted an independent political system for the Untouchables.  Gandhi on the other hand wanted to unite all India and went on hunger strike to achieve this. 
It was Gandhi's assassin who also opposed this unity as it embraced Muslims as well as Hindus.  Anupama Chandrasekhar's play about the assassin, Nathuram Godse (Shubham Saraf), traces why he felt committed to murder India's most revered leader.  Scenes from Godse's life are interwoven with events where Gandhi (Paul Bazely) was involved in major decisions and also events leading to India breaking away from the British Empire towards independence.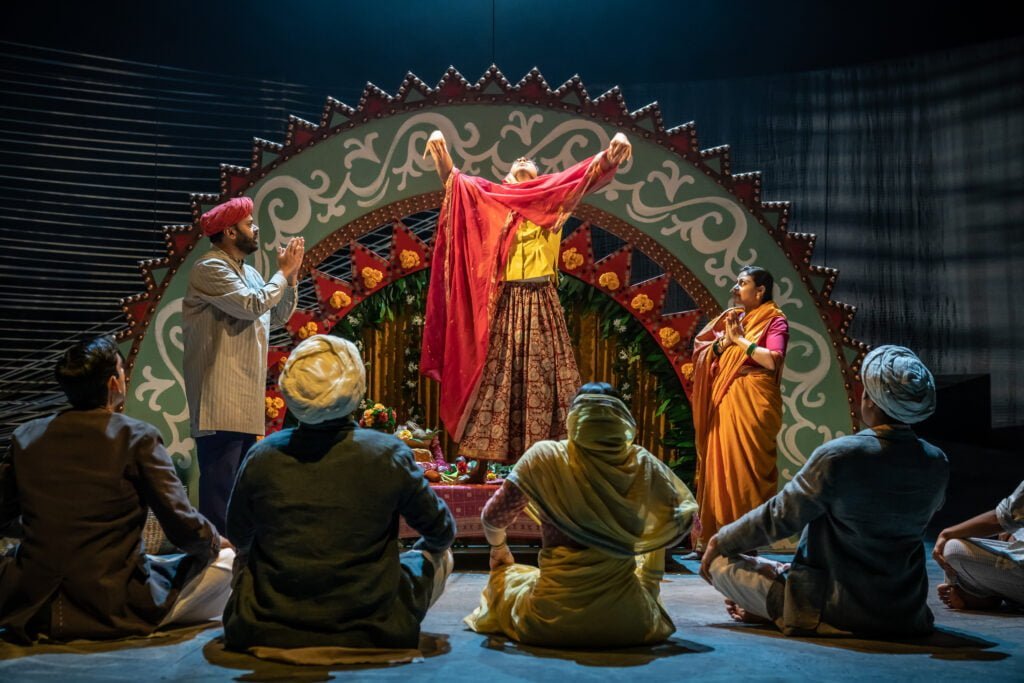 It is an ambitious play which has the guiding hand of Indhu Rubasingham, our leading British Asian theatre director and artistic director of The Kiln, to intertwine multiple and complex scenes of Indian history.   Artistic licence has been taken so it is not a history play per se.
In a blood stained shirt, Shubham Saraf as Godse opens by telling us he is the man who murdered Gandhi and yet his simple, humble charm and open conviction mean we listen to him rather than judging him for the outcome which shocked the world. In a meta-theatrical moment, he tells us to forget the Attenborough film.  We do not know that much about Godse but what we do is fascinating. 
His childhood is curious in a modern transgender way.  After his parents, his mother Aai (Ayesha Dharker) and father Baba (Tony Jayawardena) lost three sons in infancy, and out of superstition, they bring him up as a girl.  He has long hair, wears skirts and is given a nose ring so that his name instead of Ramachandra, he is called Ram with the nose ring (nath), or Nathuram.  As a child he becomes an oracle for a goddess and people bring gifts of flowers and fruit to leave at his shrine for his foretelling the future.  This is just one of the humorous scenes in his lifestory.  Breaking the fourth wall, he tells us to suspend our British scepticism as he describes the oracle. 
Rajha Shakiry's momumental set is the threads from a giant loom being interwoven, metaphorically it is the interwoven stories in this play but also a reference to Gandhi's withholding cloth made in India from the British Empire and the spinning wheel he is often pictured with.  Godse did badly at school, probably you don't need to study when you are an oracle, and ended up working in a tailor's shop.  Here he often fails to flatter customers and annoys the owner in moments of light relief.
In March 1930 Gandhi's non-violent protest resulted in the Salt March, a 241 mile march to the town of Dandi on the Arabian Sea where the British had controlled the salt trade since the 19th century.  Salt was essential in India's hot climate and Gandhi thought Indians should be allowed to own it and trade in it rather than buying it from the Raj at exorbitant prices.  This scene is beautifully lit. 
Godse begins by admiring Gandhi until he meets Vinayak Savarkar (Sagar Arya) a founder of the member of a political organisation promoting  Hindu-ness, a cornerstone of Indian right wing politics today and is converted to this anti-Muslim cause.  They led Hindu marches through Muslim areas.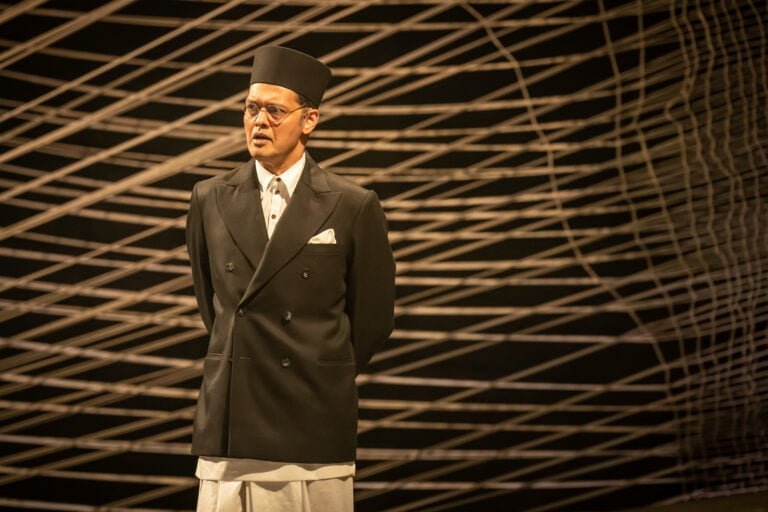 The Father and the Assassin looks at the Partition in 1947, lines crudely drawn and explained in Howard Brenton's play Drawing the Line.  15 million people, Hindus, Sikhs and Muslims moved as a result and it led to the First Kashmir War over Kashmir and Jammu states. 
On 13th January 1948 Gandhi started a hunger strike to appeal for Muslim and Hindu unity.  On 20th January there was an attempt to kill him with a bomb which failed.  On 30th January he was shot at point blank range three times by Nathuram Godse and died. 
Anupama Chandrasekhar's play will stay with you.  The performances of Paul Bazely as Gandhi and Shubham Saraf as Godse linger in your mind and there is a fine ensemble directed by Indhu Rubasingham full of atmosphere. 
The Father and the Assassin
Written by Anupama Chandrasekhar
Directed by Indhu Rubasingham
Cast
Starring:
Ayesha Dharker
Dinita Gohil
Halema Hussain
Maanuv Thiara
Marc Elliott
Nadeem Islam
Paul Bazely,
Peter Singh
Ravin J Ganatra
Shubham Saraf
Sid Sagar
Tony Jayawardena
Irvine Iqbal
Creatives
Director: 

Indhu Rubasingham
Designer: Rajha Shakiry
Composer: Siddhartha Khosla
Musical Director: David Shrubsole
Lighting Designer:  Oliver Fenwick
Sound Designer: Alexander Caplen
Movement: Lucy Cullingford
Fight Directors: Rachel Bown-Williams, Ruth Cooper-Brown
Information
Running Time: Two hours 30 minutes including  an interval
Booking to 18th June 2022 
Theatre:
Olivier Theatre
National Theatre
South Bank
London SE1 9PX
Tube/Rail : Waterloo
Website: nationaltheatre.org.uk
Reviewed by Lizzie Loveridge 
at the Olivier Theatre  
on 26th May 2022