My Fair Lady for the best of music!
"The difference between a lady and a flower girl is not how she behaves, but how she's treated."
Eliza Dolittle

George Bernard Shaw was not happy with his play Pygmalion being made into a musical.  Rodgers and Hammerstein tried.  Shaw felt a musical would be too sentimental. He died in 1950 but had revised the ending of Pygmalion to make it absolutely clear that Eliza does not fall in love with Professor Higgins. 
The Lerner and Lowe musical was produced in 1956 and with its glorious tunes, the book issues conflicting with Shaw's wishes have been largely forgotten.  That is until Bartlett Sher took over the director's reins at the Lincoln Centre in New York.  This is the production now at the Coliseum in London. 
The musical has a lovely new star in Amara Okereke who has a beautiful soprano voice and a penchant for comic acting.  We know that Eliza Dolittle is a diamond in the rough and that her vowels are egregious but it isn't just her Lisson Grove accent which is rough but her over the top and lack of class, screeching.  This has to be a directorial choice, maybe to help Americans understand the differences in English accents and the way these are class indentifiers.  From Eliza's accent you would think Lisson Grove was in Bermondsey not Marylebone-St John's Wood borders!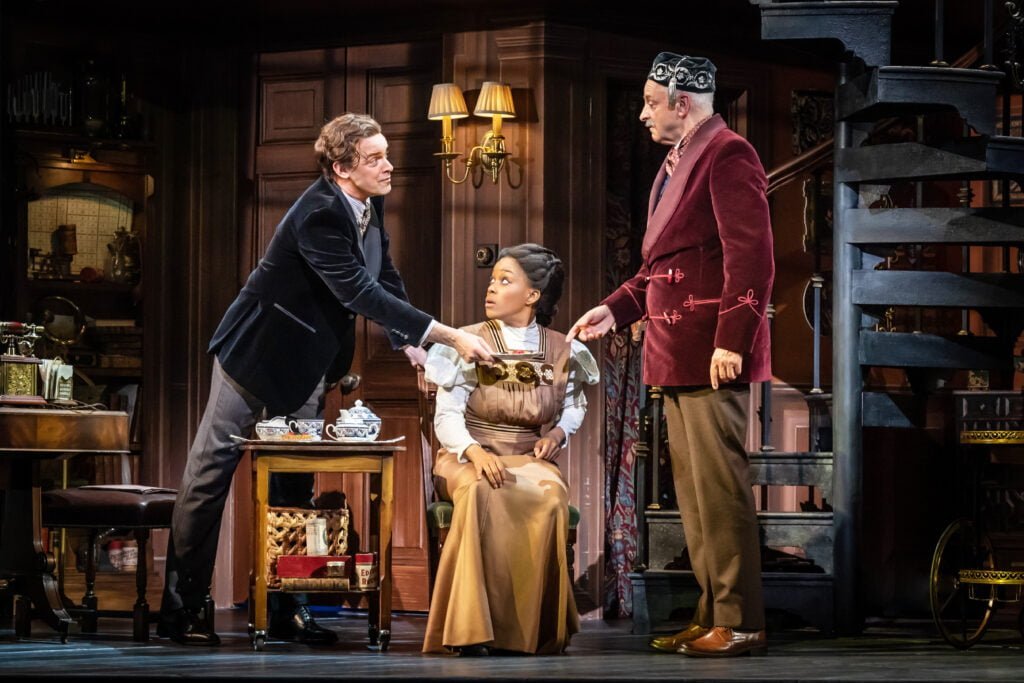 Whereas Eliza maybe doesn't know any better, Professor Henry Higgins (Henry Hadden-Paton, Eton College and brought up in a stately home in Hertfordshire) surely should, but his behaviour is selfish and in the modern vernacular, entitled.  He treats Eliza like an animal.   He also is drowned out by the 36 piece orchestra until "The Rain in Spain" which also shows Eliza's gift for imitation which comes to the fore at Ascot.  Thank goodness Maureen Beattie, as his sensible Scots housekeeper Mrs Pearce, can remind Higgins of his unacceptable behaviour and duty to the young girl.
It is down to Henry's mother (Vanessa Redgrave, but on the night I saw, Annie Wensak) to teach Eliza how to behave in society, not just how to speak.  She is at least kindly to Eliza.  How wonderful it must have been to see the late Diana Rigg in the role on Broadway in 2018! Higgins's friend and fellow linguist Colonel Pickering (Malcolm Sinclair), too is a gentleman. 
Stephen K Amos doesn't quite fill the Alfred Dolittle role as, the night I saw, his witty sung lyrics were hard to hear.   The rousing "Get Me to the Church on Time" has can can dancers, again with the wrong knickers  (see Moulin Rouge), some of whom are transgender in a fashionable nod to theatrical diversity, but irrelevant to My Fair Lady.
Although Alfred Dolittle and his daughter Eliza are played by Black British actors, any racial divide equating with class does not hold up as the Ascot and ball scenes have women of class and colour.  But the audience, not yet fully understanding colour blind casting, chuckle away as Higgins explains that Eliza is not a relative.
This Fair Lady has numerous impressive sets with circular staircases but the costumes are breath taking visions of Edwardian glamour, hats to die for and frocks with sumptuous, silken and taffeta flounces by Catherine Zuber.  The production is touring after its stay in London so let's hope it can take the sets with them.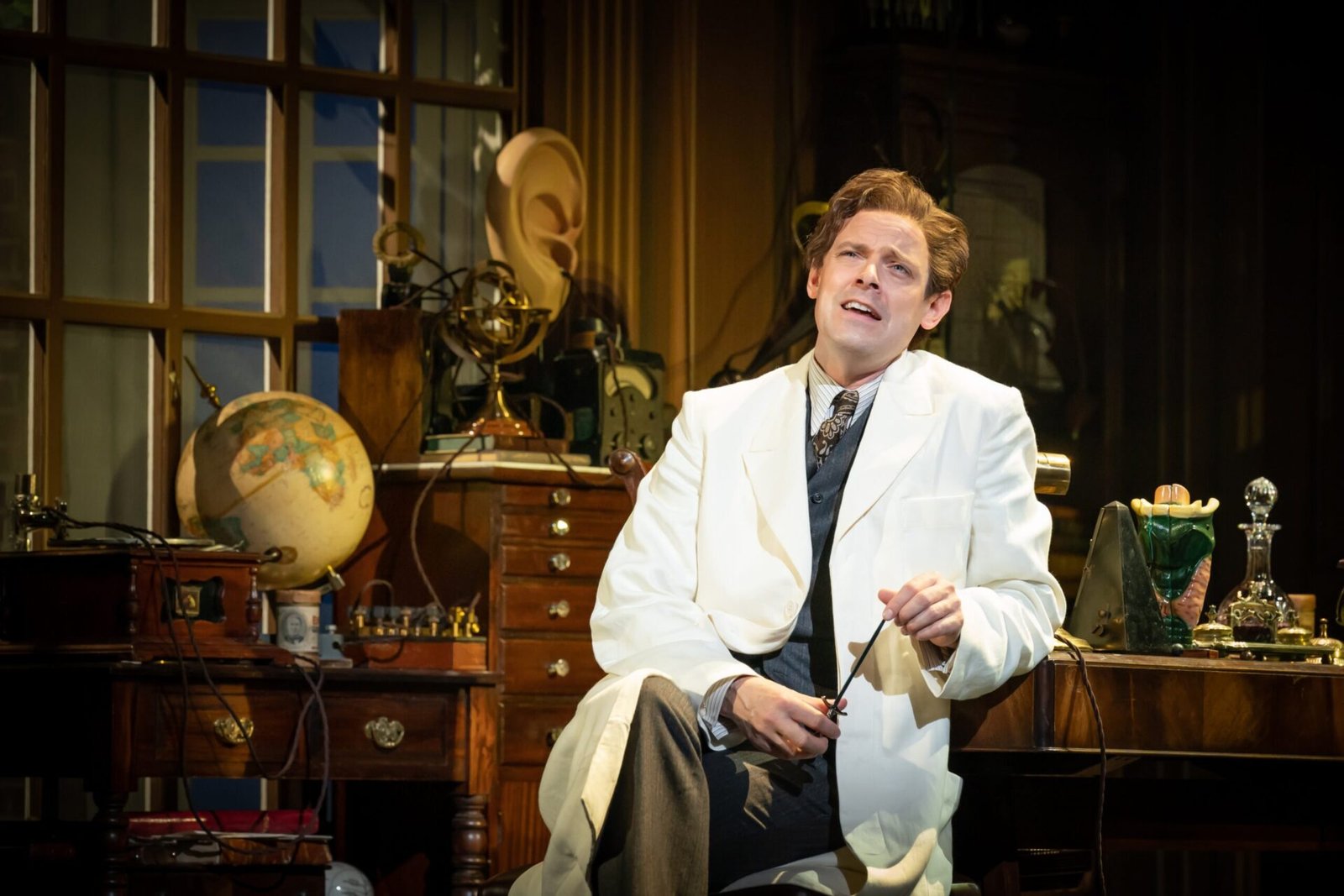 There is no sexual chemistry between Eliza and Higgins nor with the young blade of Pygmalion, Freddie Eynsford-Hill (Sharif Afifi) who is not only besotted but such a wimp, a spirited Eliza couldn't possibly find him attractive.  And his mother is ghastly.  Shaw was persuaded to change his ambiguous ending to his play Pygmalion but made it very clear that Higgins does not win Eliza's heart.
You will go to see My Fair Lady  for the gloriously sung tunes, hats and costume and a reminder on the intractable sexism and arrogance of the middle aged bachelor whose mother has failed to educate him in how to behave.  What I don't think you will necessarily love, on this occasion, is Bartlett Sher's direction.  See My Fair Lady  for the music and To Kill a Mocking Bird  for his creative direction!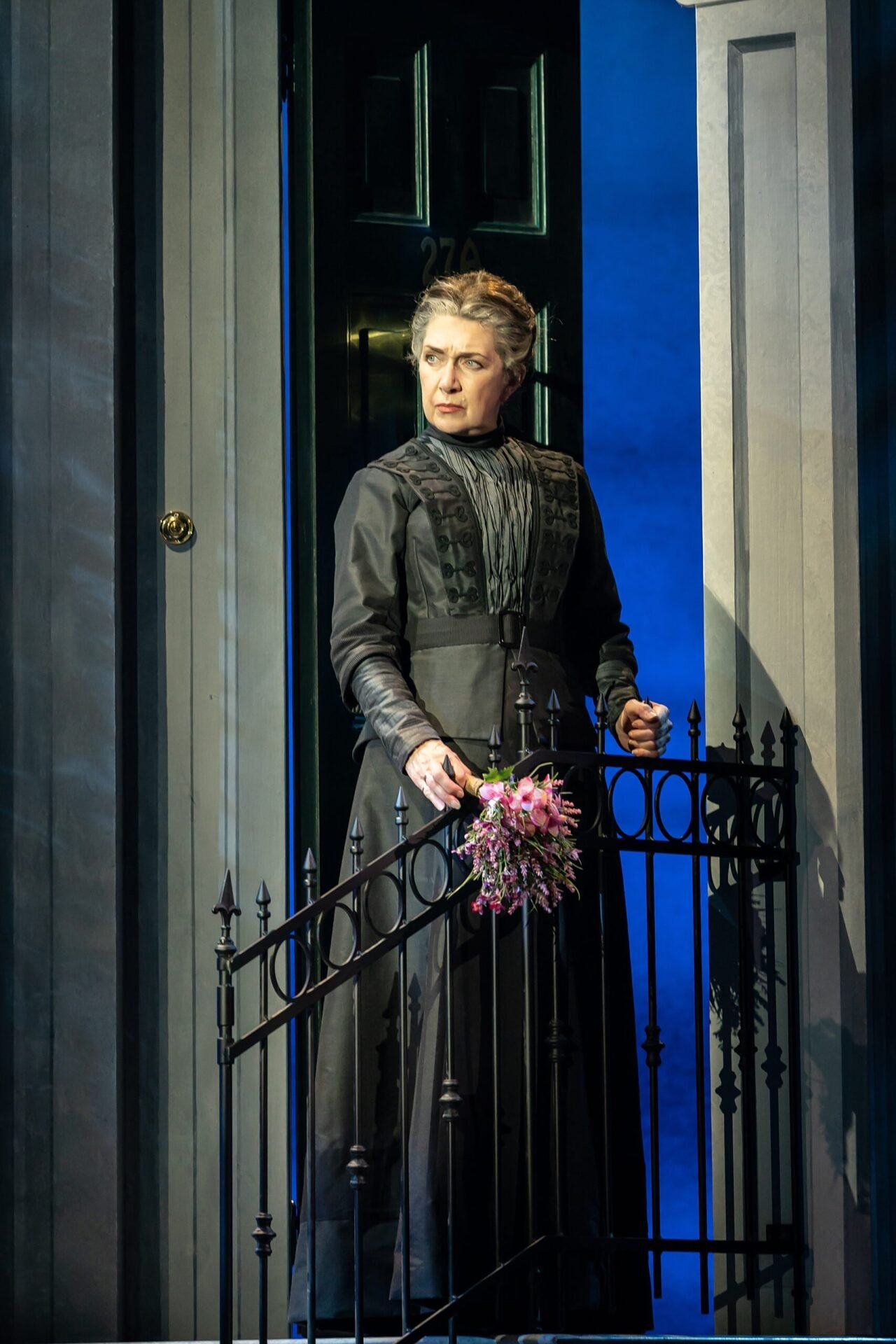 Act One
 Overture  
 Why Can't the English?  
 Wouldn't It Be Loverly?  
 With a Little Bit of Luck  
 I'm an Ordinary Man  
 With a Little Bit of Luck (Reprise)  
 Just You Wait  
 The Servants' Chorus
 The Rain in Spain  
 I Could Have Danced All Night  
 Ascot Gavotte  
 On the Street Where You Live  
Act Two
Embassy Waltz  
 You Did It
 Just You Wait (Reprise)
On the Street Where You Live (Reprise)  
 Show Me  
Wouldn't It Be Loverly? (Reprise)  
Get Me to the Church on Time  
 A Hymn to Him  
 Without You  
 I've Grown Accustomed to Her Face  
My Fair Lady
Book and Lyrics by Alan J.  Lerner
Music: Frederick Lowe
Choreographed by Christopher Gatteli
Directed by Bartlett Sher
Cast
Starring:
Malcolm Sinclair
Vanessa Redgrave
Amara Okereke
Harry Hadden-Paton
Maureen Beattie
Sharif Afifi
Stephen K Amos
With:
Dammi Aregbeshola
Bernadette Bangura
Joseph Claus
Jordan Crouch
Jamie Cruttenden
Francesca Daniella-Baker
Barry Drummond
Bethany Huckle
Heather Jackson
Emma Johnson
Charlotte Kennedy
Sinead Kenny
Jenny Legg
Tom Liggins 
Rebekah Lowings
Carl Patrick
Tom Ping
Dominique Planter
Joseph Poulton
John Stacey
Joshua Steel
Oliver Tester
Adam Vaughan
Annie Wensak
Paul Westwood
Creatives
Director: Bartlett Sher

Choreographer: Christopher Gatteli
Set Designer: Michael Yeargan
Costume Designer:  Catherine Zuber
Musical Supervisor: Ted Sperling
Lighting Designer:  Donald Holder
Sound Designer: Mark Salzburg
Video and Projection: Douglas O'Connell
Musical Director: Gareth Valentine
Orchestrations: Robert Russell Bennett and Philip J Lang
Information
Running Time:
Three hours  with an interval
Booking until 27th August 2022

Theatre:
London Coliseum
St Martin's Lane
London WC2N 4ES
Rail/Tube : Charing Cross
Reviewed by Lizzie Loveridge at the
London Coliseum on 7th June 2021